Tips for attending Life is Beautiful in Las Vegas
The Life is Beautiful music festival will return to downtown Las Vegas Sept. 23 - 25, 2016. The festival features some of the hottest acts in the music industry, plenty of food and drink, a learning center, art and even a Ferris wheel. The festival offers so much, we thought we'd offer some tips on what we learned during our first experience at Life is Beautiful.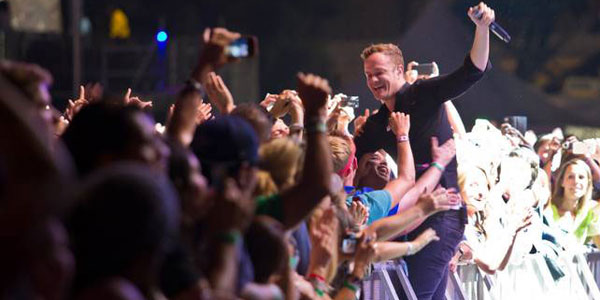 Here are the days and the lineup:
Friday, Sept. 23:
Mumford & Sons, G-Eazy, The Shins, Tegan and Sara, Zhu, Galantis, Bloc Party, City and Colour, Kehlani, Kongos, Pete Yorn, Banks and Steelz, Keys N Krates, Kaytranada, Catfish and the Bottlemen, Kamasi Washington, Raury, The Heavy, Highly Suspect, Gryffin, NF, Rezz, Coast Modern, Durante, Aaron Jackson and Brumby.
Saturday, Sept. 24:
J. Cole, Empire of the Sun, Bassnectar, Jane's Addiction, Leon Bridges, Die Antwoord, Dirty Heads, The Temper Trap, Crystal Castles, Excision, The Naked and Famous, Gramatik, Bob Moses, Seven Lions, Snails, The Strumbellas, Oh Wonder, The Wombats, Bomba Estéreo, Jess Glynne, Ghastly, Finish Ticket, Sir the Baptist, The Shelters, Spag Heddy, AAZAR and The Lique.
Sunday, Sept. 25:
Major Lazer, The Lumineers, Flume, Chromeo, Young the Giant, Jimmy Eat World, Duke Dumont, Third Eye Blind, Snakehips, Iration, Alunageorge, Atlas Genius, Warpaint, Band of Skulls, Nothing but Thieves, Jack Garratt, Mr. Carmack, The Wild Feathers, Bishop Briggs, Lany, Autograf, Mija, Hey Marseilles, Lewis Del Mar, CID, Anevo and Brittany Rose.
Figure out meeting times and places before splitting from your group – and stick to them. When Life is Beautiful kicked off in 2013, cell service was spotty at best. Forget posting to social media, too. The cell lines are jammed as everyone is trying to find their friends – sometimes text messages didn't arrive until the wee morning hours, long after you've stumbled back to your hotel room.
VIP packages are pricier, but at the same time allow you to get up close to the stage, instead of being crammed in with the masses, especially for the big names performing at Life is Beautiful. These passes also get you into parties, on-stage for some performances and golf cart transportation. Also, last year folks with VIP passes had access to air-conditioned, flushable toilets. That, right there, is reason enough to splurge.
Plan your time wisely. There's more than great music acts at Life is Beautiful. There's also art, a culinary area and a beer and spirits garden. Celebrity chefs from around the valley cook up mean dishes you won't want to miss during your time at the festival. If you are planning to go all night you will definitely need food to fuel your fire. Spend some time looking at the lineup, the must-sees on the schedule and at which stage they are performing. After you have your personal lineup mapped out, check out the local art scene in the meantime while you wait for your favorite bands. A map is your friend. Don't rely entirely on the app. You might not be able to access it.
If you're driving, parking will cost you (last year it cost $40/day for those paying last minute), but worked like a well-oiled machine. Pay, park, board a bus, and bam, you're there. Carpool if you can.
Small bags are allowed in, but expect them to be searched before you're allowed in. Leave your paraphernalia at home. Blankets, unopened bottled water (up to one liter) and glow sticks are among the items allowed. Not allowed: illegal drugs (duh), hula hoops, weapons, outside food and beverages, and pets (sorry, Fido).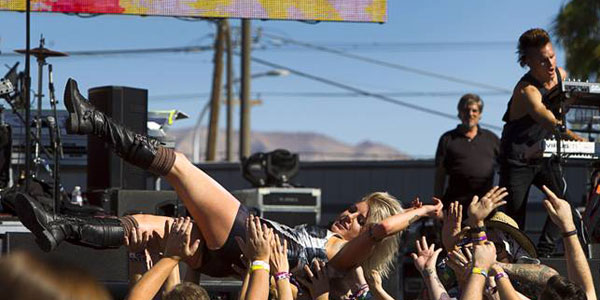 If you're getting to the open-air festival before sunset, wear sunscreen. Also, bring layers. Fall in Vegas can either be warm or cool (our weather can be temperamental, like our dealers) and if you show up dressed for summer heat, you might be shivering by the end of the night. Of course, this might make for the perfect opportunity to cuddle up to that special someone.
Keep hydrated! And not just with beer (even though it can be argued certain beers are just flavored water). Although the festival is in the fall, we're still in the arid desert. Your not-as-bad hangover will thank you in the morning.
Prices can be a bit inflated downtown during the festival, even in the restaurants inside the casinos. Plan to pay at least $10 for a meal, and $8 for a drink. The good thing, though, is there's a lot to choose from, but if you have certain dietary restrictions, plan accordingly.
Book your hotel room early. Life is Beautiful is held in downtown Las Vegas, so hotels there sell out fast during the music festival. If sold out, the Las Vegas Strip isn't too far away, but unless you're OK walking a good distance, you'll have to budget $40 for a shuttle to take you downtown.
General admissions guests will be permitted one exit and one re-entry per day. If you exit, you must be back inside the gates by 9 p.m.