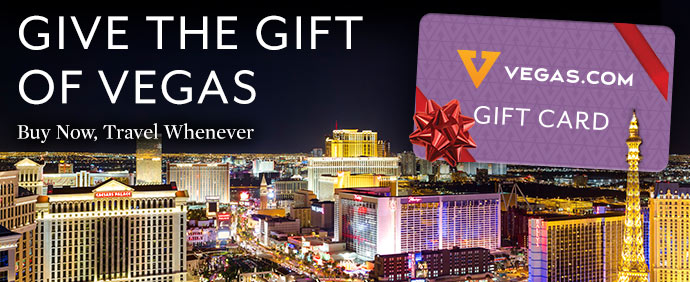 It may not be today, it may not be tomorrow, but you'll be coming to Vegas sooner or later. Vegas.com eGift Cards are the perfect way to get that pesky part of planning your trip – actually paying for it – over with so all that's left is the fun stuff. Use the card yourself or give the gift of Vegas to a close friend (hopefully one who will bring you along for the ride). And you never have to worry about your card expiring or your dreams of Vegas going out of style.
Vegas.com eGift cards are:
Redeemable same-as-cash for products that Vegas.com sells.*
Simple as receiving an email.
Need more information about your Vegas.com eGift Card? Check out our handy FAQ page.
VEGAS.com eGift Card Terms
*Vegas.com eGift Cards must be redeemed on Vegas.com or through our call center. Our eGift Cards are valid for the following product purchases: hotel rooms, show tickets, air + hotel packages, tours and nightclub passes. eGift Cards not valid on non-transactional products such as dining, spas, golf, and transportation. They cannot be returned or redeemed for cash. Vegas.com eGift Cards do not expire.