VEGAS.com Press
Adweek Creative Coverage
Vegas.com
October 20, 2002
By Mark Dolliver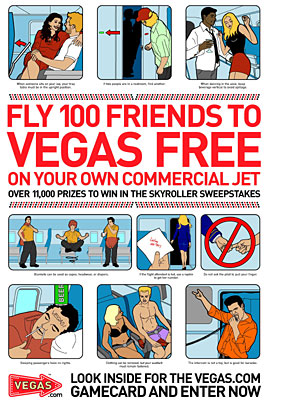 Ads that urge us to have a wild time often have an air of trying too hard. There's nothing like a self-congratulatory "aren't we naughty" tone to make a grown-up wince. That could have been the fate of this ad promoting a sweepstakes by Vegas.com, the one-stop-shopping e-commerce site for travel to Las Vegas. (The ad was printed on polybags used for delivering copies of the Los Angeles Times. The side not shown here displayed the brand's distinctive logo.) The ad is nothing if not risque, as when it advises in a caption at top center: "If two people are in a restroom, find another." But by mimicking the style of an airline safety-instruction guide, the ad manages to sustain a suitably deadpan tone. The result is to augment our appreciation of the Las Vegas mystique. Getting there may not be half the fun, unless you win the sweepstakes and get there for free. But the ad helps us believe the city is so much fun that the mere anticipation of arriving there frees people from their workaday inhibitions. Among other helpful tips in the captions: "The intercom is not a toy, but is good for karaoke" (lower right) and "When someone sits on your lap, your tray table must be in the upright position" (top left). One advantage to a series of jokes like this is that it's not a closed system, concluding with a thud of finality. Rather, fun-loving readers will feel inspired to concoct their own jests about airborne high jinks. It's always a bonus for any advertiser when the reader gets actively involved with the ad. And it's especially useful for an ad that's delivering a direct call to action?i.e., look inside for the sweepstakes game card "and enter now." That's one instruction this ad's target audience will be inclined to take seriously.
Agency
Kirshenbaum Bond & Partners West, San Francisco
Client
Vegas.com, Henderson, Nev.
Creative director
Noel Cottrell
Art director
Colin Pearse
Copywriter
Alex Taylor
Print producer
Lauren Elliott
Illustrator
Ben Rose