2014 Life is Beautiful Lineup
The Life is Beautiful music festival announced its eclectic lineup for its sophomore year in downtown Las Vegas Oct. 24-26, 2014.
Headlining Life is Beautiful are Kanye West, Foo Fighters and OutKast. Some 70 musicians are slated to perform in the open-air festival, including Arctic Monkeys, Lionel Richie, Skrillex, The Flaming Lips, The Roots, Fitz & The Tantrums, Panic! At The Disco, St. Lucia, Rusty Maples, Neon Trees and a special performance by The Beatles LOVE by Cirque du Soleil and the Las Vegas Philharmonic.
This year's festival is planned with four stages with acts scheduled over three days. General admission tickets start at $199.50 plus fees. Other musicians announced are: The Weeknd, Girl Talk, Alt-J, Broken Bells, TV on the Radio , A-Trak, Kacey Musgraves, Phantogram, The Head and The Heart, Matt & Kim, Neon Trees, Jenny Lewis, G-Eazy, OK Go, Tycho, Mayer Hawthorne, Switchfoot, tune-yards, MS MR, RAC, Holy Ghost!, Dizzy Wright, Trampled By Turtles, Galantis, St. Paul & The Broken Bones, Ryan Hemsworth, Mø, DJ Mustard, Vintage Trouble, J. Roddy Walston and The Business, The Orwells, Ásgeir, M4SONIC, Sleeper Agent, The Preatures, DJ Cassidy, MisterWives, ASTR, holychild, Night Terrors of 1927, Nostalghia, Catfish and The Bottlemen, Paper Route, Moksha, Ekoh, Sabriel, American Cream and Rabbit!
"Life is Beautiful is about inspiring people," Founder Rehan Choudhry said. "It's about offering messages of hope and encouragement through a unique experience. "We've been so fortunate to work with the world's most talented and authentic set of musicians, chefs, artists and speakers, who will once again join us in Downtown Las Vegas for an unforgettable weekend, and we are thrilled to finally let the world know who we're showcasing in 2014."
Several culinary villages, led by an advisory board of more than a dozen world-class chefs, will be woven into the music experience. This year, festivalgoers will be able to visit one of the many culinary villages without straying too far from the stages.
The advisory board co-chairs are Bruce Bromberg and Eric Bromberg of the Blue Ribbon restaurants at Brooklyn Bowl.
Chefs on Stage demonstrations allow foodies to watch chefs' techniques up-close. Culinary stars participating in this year's festival are a veritable who's who of the food world, including Hubert Keller, Giada De Laurentiis, Cat Cora and Rick Moonen.
The festival's official kick-off party, Grills & Guitars, is scheduled to start at 7 p.m. Oct. 23 at Gold Spike. The VIP party is ticketed separately from the festival. Cost is $175.
The festival also includes art programming that includes street art, large-scale murals, fine art displays and performance art. A Learning is Beautiful speaker series is also planned. That lineup has yet to be announced.
Tips for attending Life is Beautiful in Las Vegas
The Life is Beautiful music festival is set to return to downtown Las Vegas Oct. 24 – 26, 2014. Last year's inaugural two-day festival featured some of the hottest acts in the music industry, plenty of food and drink, a learning center, art and even a Ferris wheel. Some 60,000 people attended the festival in 2013, spread over 15-city blocks. The festival offers so much, we thought we'd offer some tips on what we learned during our first experience at Life is Beautiful.
1. Book your hotel room early. Life is Beautiful is held in downtown Las Vegas, so hotels there sell out fast during the music festival. If sold out, the Las Vegas Strip isn't too far away, but unless you're OK walking a good distance, you'll have to budget $40 for a shuttle to take you downtown.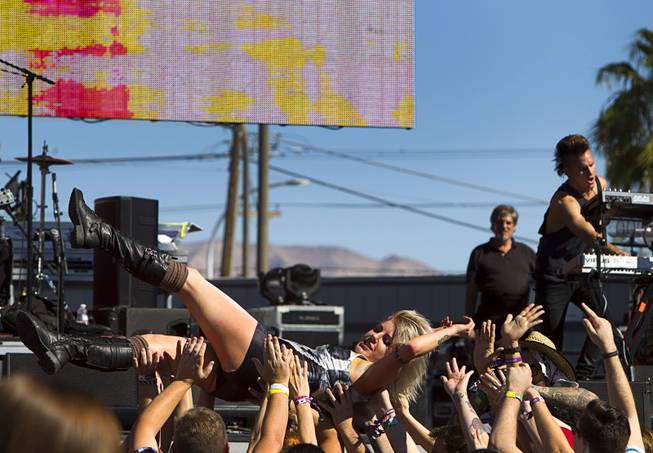 2. Figure out meeting times and places before splitting from your group – and stick to them. When Life is Beautiful kicked off in 2013, cell service was spotty at best. Forget posting to social media, too. The cell lines are jammed as everyone is trying to find their friends – sometimes text messages didn't arrive until the wee morning hours, long after you've stumbled back to your hotel room.
3. VIP packages are pricier, but at the same time allow you to get up close to the stage, instead of being crammed in with the masses, especially for the big names performing at Life is Beautiful. These passes also get you into parties, on-stage for some performances and golf cart transportation. Also, last year folks with VIP passes had access to air-conditioned, flushable toilets. That, right there, is reason enough to splurge.
4. Plan your time wisely. There's more than great music acts at Life is Beautiful. 2013's inaugural festival also featured art, a culinary area and a beer and spirits garden. Spend some time looking at the lineup, the must-sees on the schedule and at which stage they are performing. A map is your friend. Don't rely entirely on the app. You might not be able to access it (see No. 2).
5. If you're driving, parking will cost you (last year it cost $40/day for those paying last minute), but worked like a well-oiled machine. Pay, park, board a bus, and bam, you're there. Carpool if you can.
6. Small bags are allowed in, but expect them to be searched before you're allowed in. Leave your paraphernalia at home. Blankets, unopened bottled water (up to one liter) and glow sticks are among the items allowed. Not allowed: illegal drugs (duh), hula hoops, weapons, outside food and beverages, and pets (sorry, Fido).
7. If you're getting to the open-air festival before sunset, wear sunscreen. Also, bring layers. October can either be warm or cool (our weather can be temperamental, like our dealers) and if you show up dressed for summer heat, you'll be shivering by the end of the night. Of course, this might make for the perfect opportunity to cuddle up to that special someone.
8. Keep hydrated! And not just with beer (even though it can be argued certain beers are just flavored water). Although the festival is in October, we're still in the arid desert. Your not-as-bad hangover will thank you in the morning.
9. Prices can be a bit inflated downtown during the festival, even in the restaurants inside the casinos. Plan to pay at least $10 for a meal, and $8 for a drink. The good thing, though, is there's a lot to choose from, but if you have certain dietary restrictions, plan accordingly.
10. If you enter one of the casinos from the festival grounds, expect to have to go through security again to re-enter. Last year some casinos only had one way to exit for festival-goers, and it wasn't always easy to find.