Best Rate Guarantee: How It Works
Vegas.com Best Vegas Rate Guarantee
| How It Works | Terms and Conditions | Claim Form | FAQs
How It Works (An Example)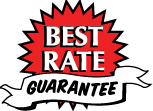 Here's an example of how the Vegas.com Best Vegas Rate Guarantee works:
For example:
--After accepting the Terms and Conditions, you book your Vegas stay through Vegas.com for a rate of $110.
--While searching the Internet, you locate a room rate of $100 on other publicly viewable website for the same date(s), same room type, same hotel, and for the same number of guests.
--You notify Vegas.com by filling out and submitting the Vegas.com Best Vegas Rate Guarantee online alert, including your booking details, within 24 hours after booking your original reservation through Vegas.com. Please note: Only one claim can be submitted in a 24 hour period.
--If a Vegas.com reservation specialist confirms that:
a) the competing rate you have cited is publicly available, bookable and is priced lower than any available Vegas.com rate, and;
b) confirms your Vegas.com reservation, then;
c) the Vegas.com reservation specialist will give you double the difference back, up to $150. In this example, you would get $20 back! You will be notified and your credit card will be credited the difference. (Math will differ depending on cited room rate. Up to $150 total refund.)
It's that simple!