Grand Canyon and Valley of Fire Helicopter Weddings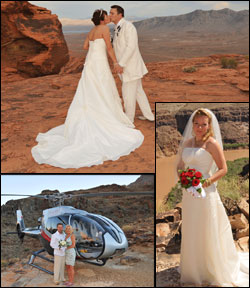 Years ago, you probably imagined arriving at your wedding in a stretch limo, or maybe on a white stallion if you were a little more adventurous. But what about a helicopter?
Ride the wind from Las Vegas to either the Grand Canyon or the Valley of Fire and have your ceremony in a scenic setting you'll never forget. You can even bring along a small wedding party – we recommend choosing the people least likely to get air sick.
Helicopter wedding packages can include a variety of special services, including limo rides to and from your hotel, minister fee, flowers, cake, special catering or beverages, music, videographer, photographer and more.
What companies offer these ceremonies /services: Maverick Helicopters, Sundance Helicopters.
Red Rock
This one's not just for geology nerds – though the 500 million years of geological history represented by the strata of the exposed rocks is fascinating. But anyone looking for a spectacular view of natural wonder rivaling any Las Vegas stage act can marvel at the brilliant splash of sandstone at Red Rock.
After a short 20 mile trip from Las Vegas, you can get married amidst boulders and pinnacles in exquisite hues of red, white and everything in between. Weathered iron composites give the rock its color, but visitors like you prove its value.
Red Rock is visible from a number of areas around Las Vegas, including golf courses and country clubs in the Summerlin area. You also can check with the Red Rock Canyon National Conservation Area for renting picnic areas.
Springs Preserve
For nature-conscious couples, the Springs Preserve is the green way to get married in Las Vegas. From the courtyard rotunda's grand staircase to the arboretum's lush botanical gardens to the courtyard plaza's trees with white lights, this 180-acre cultural center offers several options for your environmentally-friendly wedding. Springs Preserve can also accommodate receptions at the Springs Cafe which offers a 180-degree view of Las Vegas from floor-to-ceiling windows and an outdoor balcony.
Mount Charleston
If you really want to get back to nature, Mount Charleston is the place to find the crisp mountain air and scenic tours that make Nevada a truly spectacular sight. Ski down the mountain in winter or take weekend tours during the summer and scout out your ideal wedding locale atop Nevada's fifth highest mountain. Two large picnic areas are available for reservation if you'd like an outdoor wedding. Contact the U.S. Forest Service at (702) 872-5500 for more information. Or, if you'd like a more formal wedding with the romance of a mountain backdrop, try the Mount Charleston Hotel & Restaurant at (800) 794-3456.
Las Vegas Ski and Snowboard Resort
You're just as pure as the driven snow or close enough for Las Vegas, so why not get married at the Las Vegas Ski and Snowboard Resort? Even when it isn't snow season, the Aspen trees, Bristlecone trees and wildflowers still offer an inspiring setting for intimate ceremonies. Located at Mount Charleston's Lee Canyon area, LVSSR offers guests access to 20 groomed trails and 250 acres of lift-served and side country terrain via three chairlifts and one surface lift. That's right, you get to ride the chairlift in your formal attire! 
Lake Mead
We're so dedicated to your special day that we built the largest man-made lake in the Western Hemisphere just for weddings… and as a massive water reservoir. But mostly it's the wedding thing. At Lake Mead, you can glide across the water surrounded by towering granite cliffs, or wed along the beach while the waves applaud. Lake Mead has eight campgrounds, five motels, six RV campgrounds with hookups, four marinas, boat and jet ski rentals, beaches and restaurants and year-round recreation on 1.5 million acres of water and 820 miles of shoreline. You may already feel like you need a day at the beach just from reading all of that. So why not get married while you're there?
Spring Mountain Ranch
For a glimpse at the history of the West, experience the legacy of Spring Mountain Ranch State Park. Once home to cattlemen, the ranch also belonged to Willard George, a prominent Hollywood furrier who raised chinchillas, in 1929; Chet Lauck, famed for his character as Lum on the "Lum and Abner" radio show, in 1944; and Vera Krupp, wife of German munitions industrialist Alfred Krupp von Bohlen und Halbach, from 1955 to 1967. To add to the historic ambiance, Krupp's bedroom and secret passageway are just as they were when she owned the ranch. Whether you're a history buff, marrying a history buff or just want the location for the mountain scenery, this historic ranch house makes an ideal spot to marry.