More than 5 percent of all marriages in the United States take place in Las Vegas, making Nevada the No. 1 location in the nation to get married. We have romance in our veins and more than 50 wedding chapels to help you tie the knot. But you don't have to take vows to enjoy the romance of Vegas. With gourmet dining and sexy shows, Vegas is the perfect spot for lovers and honeymooners. Check back often as we are always updating the listings.
Five ways Vegas pours on the romance
What? You thought Las Vegas was just filled with boozy bachelor / bachelorette parties, guys handing out flyers for "in-room dancers" and women in g-strings posing for pictures on the Strip? Sure, that's why we got the moniker "Sin City." But underneath our rhinestones and make-up beats a romantic heart to rival Paris. It may be hard to spot Vegas' softer side other days of the year but on Valentine's Day we wear our heart on our pasties, leaving no doubt that Vegas is the place for romance Feb. 14.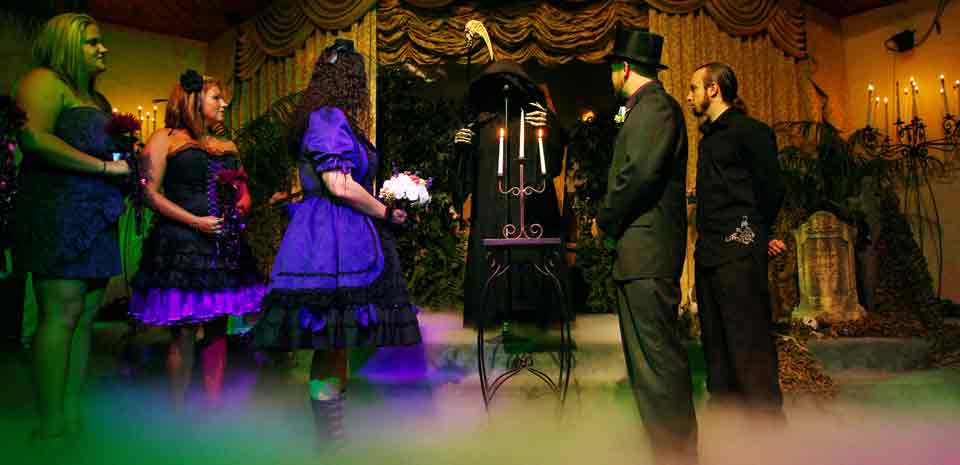 Vegas leads the nation in marriages and a lot are done by Elvis
Vegas is the wedding capital of the United States with about 4 percent of all U.S. weddings taking place here each year. In 2014, 80,738 couples tied the knot in Clark County, more than any other county in the United States. Maybe it's because we have no waiting period and don't require a blood test. Nah… it's because you can get married by Elvis. In Vegas we understand you want your wedding to be special and we work hard to make your dream wedding come to life, whether it's walking down the aisle to "The Imperial March" from Star Wars or tying the knot in elegant, flower-covered chapel. This year marks the first Valentine's Day since gay marriage was legalized in Nevada so now there are even more reasons to celebrate.

You can propose in style
Vegas has a dozen red roses worth of romantic spots to pop the question. The city has co-opted romantic locations from around the world (Eiffel Tower, Venetian gondolas) and invented its own (Bellagio Fountains, atop the High Roller in a private pod). Vegas may be a major metropolis, but we even have romantic natural locations within driving distance including Red Rock Canyon and the one of the seven natural wonders of the world – the Grand Canyon. But to ensure your proposal is YouTube worthy, there's over-the-top options too, including proposal by Colossus slot machine, street magician, at a Vegas show, on the Fremont Street Experience screen, with a flash mob on the Fremont Street Experience or jumping off the Stratosphere (don't get the ring out until you land). But if you are really over the top, we'll let you buy out a nightclub and hire professional dancers and singers.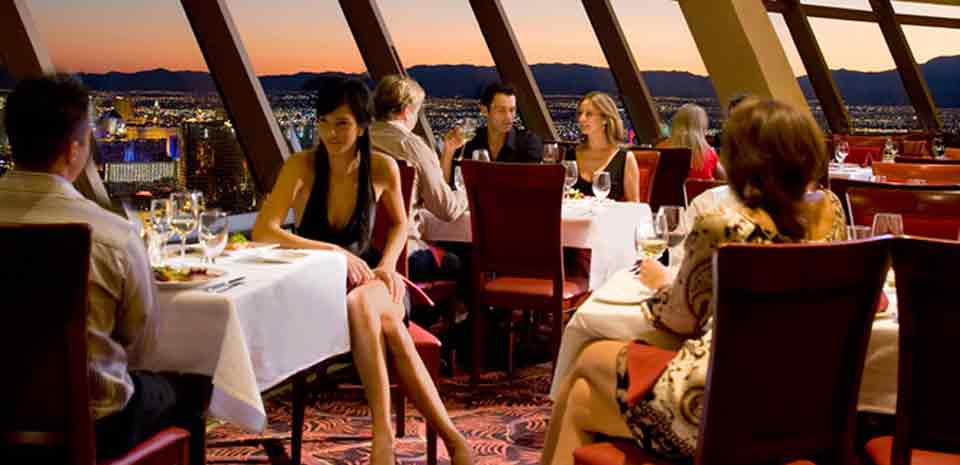 Romance begins in the stomach
So many restaurants, so little room to elaborate. Look, Vegas has got the romantic dinner of your dreams whether those feature beer and bratwurst or gourmet French cuisine. Of course we have the obvious – the Eiffel Tower restaurant, Top of the World, Alizé, Mix and Twist  (all restaurants with romantic views) and every gourmet restaurant in town. Pretty much every restaurant, chocolate store and bar in town has something for romantic for you, but sometimes the easiest items are the best. Stop by M & M World at New York – New York and customize some candies for your sweetheart. Plus you can pick up some chocolate sauce for later.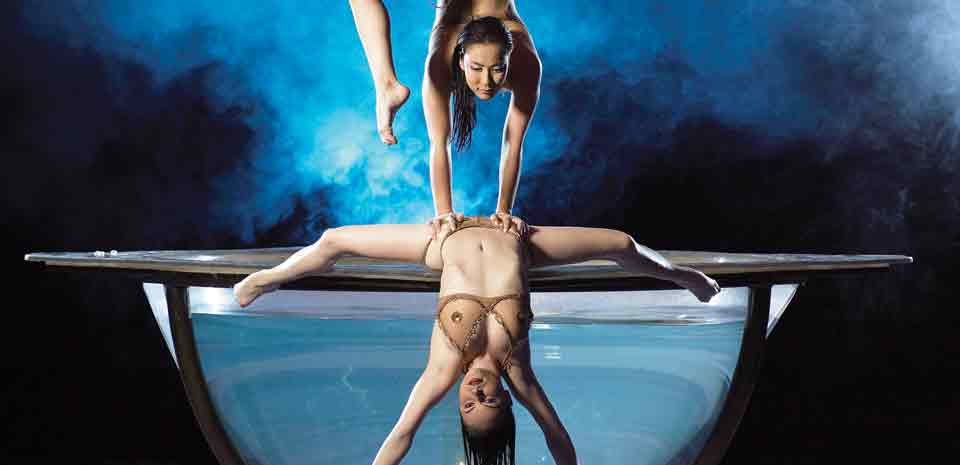 Our shows are so sexy they'd be banned anywhere else
From acrobats to zombies, Vegas' shows are sexy. So sexy, they'd probably be banned or regulated out of existence anywhere else but here. On Valentine's Day we prefer a love story, a zombie love story. Yes "Zombie Burlesque" is sexy, sassy and there's also love. But don't stop there, check out roses and romance from Boyz II Men (they've given away 5,472 roses in one year), experience the sexy acrobatic maneuvers of "Zumanity" (the Kama Sutra seems tame compared to these performers) and explore if laughter really is an aphrodisiac with "50 Shades!The Parody."  Throw in so many adult shows – "Fantasy," "X Burlesque," "Crazy Girls," "Chippendales," "Thunder From Down Under" – we couldn't list them all here and you have no excuse for not being in the mood.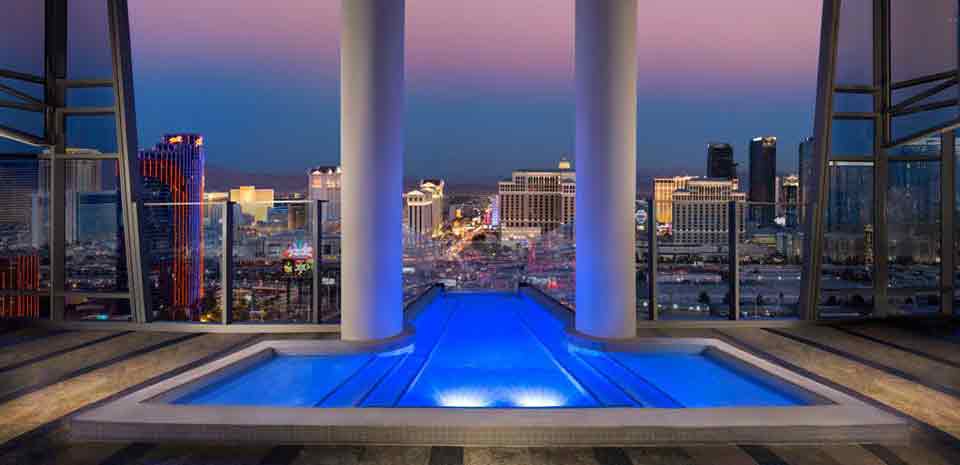 Our suites are sweeter than yours
Romantic, sexy and just plain XXX, Vegas hotel rooms provide everything you need to celebrate your love or lust. Imagine popping the cork on a bottle of Champagne while sitting in a private pool that overlooks the Strip in a 9,000-square-foot suite. The Sky Villa at The Palms Las Vegas, will bring sophistication to your Valentine's Day. Too tame for you? Then perhaps you need a suite that will whip you into action. The Provocateur Suite at the Hard Rock Hotel & Casino is black and red throughout with a master suite bed the size of three queen beds, a suspended cage and a giant cross with handcuffs. Did we mention the in-room amenities include a whip, paddle and silk rope? Forgot to bring your toys? Don't worry, the Provocateur Suite also features 24-hour delivery from Love Jones, the hotel's rock 'n' roll lingerie and accessories store. You can also find suites with stripper poles and "intimacy kits" are becoming a common in-room amenity.
Valentine's Day 2016 Dining
La Cave at Wynn
La Cave will deliver diners to four romantic cities: San Francisco, Venice, New York City and Paris. The menu will begin at the Golden Gate in San Francisco with a Seafood Cioppino. The menu will continue across the pond to Venice with an Italian-style Mascarpone Cavatelli followed by an entrée inspired by the Big Apple, New York City, with a New York Black Angus Sirloin. Guests will finish the meal in the "City of Love," with Parisian-inspired Opera cake, Eiffel Tower cookie, and a selection of profiteroles. La Cave's Valentine's Day food flight is priced at $89 per person.
CRUSH at MGM Grand
CRUSH will celebrate Valentine's Day weekend with a four-course meal available from Feb. 12 - 14. Dinner begins with roasted baby beets and prosciutto served with a crispy polenta cake, figs and yellow beets. The next course includes Mediterranean sea bass with beech mushrooms in a port wine reduction. The main course is an aged grilled sirloin Steak served with a potato gratin strudel. The meal will conclude with an array of hand-selected chocolate. CRUSH will also offer the Punch, Drunk, Love, a blend of mint-infused Hendricks gin, Lillet Rosé, fresh watermelon juice and fresh lime juice, priced at $14.
Carson Kitchen, 124 S. 6th St.
Carson Kitchen will celebrate Valentine's Day with a romantic prix fixe dinner priced at $100 per couple, complete with beverage pairings. The dinner will begin with one "Devil's Egg" with crispy pancetta and caviar, accompanied by a glass of Cava. The second course is blood orange and root, mixed with salsify, parsnip and celery root; and veal meatballs with sherry foie gras cream, paired with Pineridge White Blend. Guests will then enjoy a choice of entrée: turducken pot pie; Shepard's 3.14 with gnocchi, lamb and natural jus; or Cocoa-Espresso NY Strip, paired with Annabella Cabernet Sauvignon. The meal will conclude with a bourbon fudge brownie with brown butter bacon ice cream, paired with Ballast Victory at Sea.
Oscar's at The Plaza
From Friday, Feb. 12 through Sunday, Feb. 14, Oscar's steakhouse will be offering a special three-course Valentine's Day menu. The menu is priced at $65 per person and includes the choice of a caprese or arugula salad, a choice of a pan seared scallop with white truffle risotto or an 8-ounce filet mignon with roasted fingerling potatoes and baby vegetables and either chocolate marquee or a traditional chocolate covered strawberry for dessert.
TREVI at The Forum Shops at Caesars
TREVI will celebrate Valentine's Day by offering a three-course prix fixe dinner and specialty love-themed cocktail. Priced at $39 per person, the menu will start with a first course featuring the choice between heart of palm salad or a traditional Caesar salad. Entrée selections will include: heart-shaped lobster ravioli with confit apples and sherry cream; shrimp saltimbocca wrapped in prosciutto served with grilled asparagus and potato purée; or chicken and spinach ravioli with pomodoro sauce. A rocky road brownie sundae with vanilla gelato and caramel sauce will be offered for dessert. Also available exclusively for Valentine's Day will be the Love Potion No. 9 cocktail, priced at $9. The martini is a blend of Sobieski Citron, Raspberry Torani, sweet and sour and pomegranate juice.
Carmine's at The Forum Shops at Caesars
Carmine's is celebrating Singles Awareness Day on Valentine's Day by offering two packages for guests to grab a group of their single friends and enjoy a meal. The Girls Gone Garlic menu is $125 and includes a choice of salad, a choice of pasta, the Titanic Sundae for dessert and a bottle of Prosecco. The My Heart Will Not Go On package includes a Titanic Sundae and bottle of Prosecco for $65.
NOVE Italiano at the Palms
NOVE will offer a four-course menu for $85 per person. The dinner includes mozzarella di bufula and eggplant, shrimp Francese, roasted squash salad, a choice of braised short rib gnocchi, pomegranate chicken bake or pan seared salmon; and red velvet cake and gelato for dessert.
HEXX Kitchen & Bar at Paris
HEXX will offer a Valentine's Day prix fixe menu beginning with an amuse-bouche of butternut squash soup, followed by a poached apple salad topped with Carr Valley Mobay cheese, frisée, baby mâche and hazelnuts. For the main course, there will be a choice between roasted filet mignon, prepared "prime rib-style" with Maryland Blue Crab, asparagus and béarnaise sauce; or a pan-roasted branzino Provençal topped with zucchini, eggplant, tomato, fresh basil and rock shrimp. The meal will conclude with rich strawberry panna cotta, topped with Madagascar dark chocolate ganache, made in-house in HEXX's chocolate kitchen, and a hazelnut crumble. Guests will also be presented with a tasting selection of HEXX's house-made chocolate. Dinner is $65 per person.
Ferraro's
Ferraro's will offer a special, prix-fixe menu for $75 per person, as well as its full regular menu. Each couple dining that evening will receive a single red rose to take home. The first course includes strawberry gazpacho, kusshi oyster, basil blossom and crispy guanciale OR beef carpaccio, arugula, shaved parmigiano and truffle oil. The second course is lobster ravioli, chanterelle mushrooms, pea shoots OR homemade, small veal ravioli, parmigiano cheese reduction and truffle sauce. The third course is a five-ounce seared filet mignon, butter-poached Maine lobster, asparagus and goat cheese mashed potatoes. For dessert, enjoy coconut panna cotta, compressed pineapple and passion fruit sauce.
Alizé
Spend Valentine's Day enjoying a five-course dinner while admiring the 280-degree panoramic view of the Las Vegas Strip, inside Alizé at the Top of the Palms Casino. The Valentine's Day tasting menu will be available from 5:30 to 10 p.m. and will feature an amuse bouche of cucumber panna cotta and tomato confiture. The first course is a choice of chilled foie gras terrine, porcini mushroom and Parmesan bisque or a greens and herb salad. The second course includes a choice of prime beef carpaccio, seared scallop or pumpkin gnocchi. For the third course there's a choice of filet of beef, chicken breast, veal Wellington, salmon trio or pan roasted tempeh. Dessert is a duo of strawberry and rose sorbet and red velvet cheesecake.
Strip House Las Vegas
Strip House will feature dinner specials Feb. 12 - 14 in honor of Valentine's Day. Specials include chili-roasted lobster with citrus nage, shell beans and fennel, priced at $24; all-natural grass-fed 8-ounce filet mignon, priced at $56; black winter truffle gnocchi, priced at $18; red velvet for two with whipped cream cheese frosting, priced at $18; and a special Sweetheart Cocktail comprised of Tanqueray gin, vanilla syrup, blood-orange juice purée, fresh lemon juice and Fee Brother's Cherry Bitters, priced at $15.
Via Brasil, 1225 S. Ft. Apache Rd.
Starting Friday, Feb. 12 through Sunday, Feb. 14, a special $199 Couples Wine package will be available at Via Brasil in addition to the restaurant's usual offerings of all-you-can-eat rodizio steak dinners. The package includes one bottle of either Rodney Strong Symmetry or Veuve Cliquot Champagne, two Rodizio Sterling dinners and one dessert per couple (total $240 value). On Sunday, Feb. 14, diners will have several options at Via Brasil. The restaurant will be serving a $54.99 Rodizio Sterling menu with 21 meats all-you-can-eat including porterhouse steak, grilled shrimp and Brazilian top sirloin, which on Valentine's Day will include one dessert per couple.
Delmonico
Delmonico will offer a special a la carte menu featuring items such as Japanese pumpkin bisque ($12), Gulf prawns in smoked tomato broth, roasted fennel and petite greens ($17), lola rosa salad with red king crab ($18), veal osso bucco ($60), seared sea scallops ($42), and for dessert, chocolate truffles ($10) or chocolate soup ($12).
Table 10
Table 10 has a special a la carte menu throughout the weekend including French kiss oysters with osetra caviar, blood orange mignonette and champagne cloud ($20); lobster stuffed filet of beef Wellington with smoked bone marrow ($65); and for dessert, petit gateau with valrhona chocolate pomegranate jam and salted caramel brittle ($12).
The Barrymore in Royal Resort
Guests can enjoy a three-course prix fixe menu with choices of lobster ravioli or duck confit and frisee; diver scallops with crab risotto or filet mignon au poivre; and an orange and chocolate crepe filled with dark chocolate custard and Grand Marnier berry compote, topped with crème fraiche sherbet and caramelized cocoa nibs, for $70. 
D. Vino
D. Vino offers a four-course menu Feb. 12 - 14 including braised pork belly with arugula; heart-shaped spinach and ricotta ravioli; grilled flat iron steak; and chocolate covered raspberry mousse for $56 per person plus tax and service fee.
Morels French Steakhouse & Bistro at The Palazzo
Guests can dine either Saturday or Sunday with a five course menu for $122 per guest (plus $60 for optional suggested wine pairings) with tuna carpaccio, shrimp bibb salad, lobster ravioli hearts, tableside tomahawk and king crab legs and baked Alaska dessert. Brunch is also available Saturday and Sunday with signature dishes and $25 bottomless mimosas.
Anthony's Gourmet Burgers & Brews
will offer a three-course prix-fixe menu starting with a shrimp cocktail, followed by a mushroom-crusted beef tenderloin with roasted root vegetables and potato gratin, and for dessert, a raspberry chocolate bar & orange-caramel toffee mousse. The menu is priced at $29.95 per person and served from 4 to 10 p.m.
Primarily Prime Rib
The restaurant will serve a three-course menu and a complimentary cocktail or glass of wine for $29 per person from 5 p.m. to close, including: a choice of sea scallops, salad or chicken consommé Valentino; a choice of prime rib, Alaskan salmon or green peppercorn-crusted New York steak; and a choice of fried banana split or white and dark chocolate trifle for dessert.
Silverado Steakhouse
The restaurant will serve a three-course menu and a complimentary cocktail or glass of wine for $49 per person from 5 p.m. to close, including: a choice of lobster medallions, salad or onion soup; a choice of filet mignon, Alaskan salmon or veal Francaise; and a choice of vanilla mousse and poached rhubarb with pickled ginger, vanilla ice cream and macadamia nuts; or Decadent Chocolate Trio, a selection of chocolate dessert including chocolate strawberries, chocolate mousse and chocolate cake served with seasonal berries.
Flour & Barley
Flour & Barley is offering a three-course menu for $50. This dinner for two starts with your choice of meatballs or an arugula and kale salad topped with oven roasted tomato, mushrooms, artichoke, shaved parmesan, toasted pine nuts, and balsamic vinaigrette. Next up is an option of The Big Apple, topped with pepperoni and mozzarella, or Verdure pizza, garnished with zucchini and cheeses. Finish your meal by sharing a cannoli
Andre's
Andre's is offering a six-course tasting menu for Valentine's Day from 5 p.m. - 10 p.m. The price is $155 per person. Dinner includes an amuse bouche of blood orange panna cotta with foie gras mousse. The first course is pear and Roquefort salad. The second course is tomato and celery root soup. Third course selections include lobster sausage, duck pot pie and artichoke tortellini. Fourth course selections include grilled center cut ribeye, pan roasted poussin breast, seared diver scallops and roasted carrot risotto. For dessert, enjoy red velvet cheesecake with rasperries and Amaretto Anglaise.
DB Brasserie
DB Brasserie will serve a special menu Feb. 12 - 14 for $65 per person. The first course is ahi tuna crudo, followed by a second course of diver scallops and Santa Barbara prawn. The main course is a duo of Oregon Wagyu strip and halibut cheeks. Pre-dessert is vanilla passion pot de creme and dessert is a decadent chocolate heart gateau for two.
Buddy V's
Buddy V's will have a special menu for $45 per person. The first course is a choice of jumbo lump crabcake or baked potato gnocchi gratin. The main course is a choice of veal ragu with housemade pappardelle or Dover sole Milanese. Dessert is chocolate covered strawberry - a layered strawberry cake with Frangelico chocolate shell.
Blue Ribbon Fried Chicken at Downtown Summerlin
Blue Ribbon is serving up the Sweetheart Special for Two for $30. It includes six fried chicken tenders with small mashed potatoes and gravy, small corn and bacon and two milkshakes.
Grotto Italian Restaurant
Guests can enjoy a romantic dinner for two, while enjoying a view of Golden Nugget's famous Las Vegas shark tank pool. On Feb. 14 from 11:30 a.m. to 10:30 p.m., the restaurant will feature a special a la carte love-inspired menu. Highlights include torta di granchio (jumbo lump crab cake, herb aioli; $13), barbabietole d'inverno (roasted winter beets, candied spiced pecans, Maytag blue cheese, pomegranate vinaigrette; $10), and salmon alla puttanesca (grilled salmon, aromatic tomato sauce with olives, capers, white wine and herbs, creamy polenta; $24) and more.
Phil's Italian Steakhouse
The special menu will be available for $75 per person for Valentine's Day. The menu includes oysters on the half shell or crab cakes; lobster chowder or Caesar salad; a 12-ounce prime New York steak, herb crusted halibut, chateaubriand for two or crispy roast citrus chicken. Dessert is chocolate coeur a la creme with raspberry compote.
Top of the World
Top of the World invites sweethearts to indulge this Valentine's Day with four courses more than 800 feet above the Las Vegas Valley for $195. The first course includes oysters Rockefeller, soup or salad. The second course includes Maine diver scallops or beef short ribs. The third course is a choice of filet mignon with blue crab or Chilean sea bass. Dessert is a chocolate-shaped heart filled with a delectable raspberry trifle for two.
Spago
Spago will offer several Valentine's Day specials including macaroon & smoked salmon ($26); Maine lobster and crab risotto ($30); Dover sole Meuniere ($55); veal medallion Wellington ($56) and raspberry white chocolate torte ($14).
Lupo
Lupo will offer several Valentine's Day specials including king crab tortellini ($23), lobster and day boat scallop carpaccio ($25); grilled langoustines ($38); and wood grilled lamb porterhouse ($59).
Wolfgang Puck Bar & Grill
Wolfgang Puck Bar & Grill at MGM Grand will offer specials for Valentine's Day including grilled Kusshi oysters ($20); hamachi crudo ($23); grilled big eye tuna ($42); porcini crusted prime filet ($52); and white chocolate cheesecake ($14).
Jardin
This Valentine's Day, XS Nightclub and Jardin at Wynn Las Vegas invite couples to combine love and luxury with the $100,000 "Amour" package. Designed to impress, this curated package features a five-course tasting menu at Jardin, plus the ultimate VIP experience at XS Nightclub, which includes personalized shout outs, the venue's signature $10,000 Ono cocktail and exclusive on-stage access with DJ Eric D-Lux. Guests will also receive a couple's massage and lodging. The five-course tasting menu includes dishes paired with wines hand-selected by Wine Director Mark Thomas, including Beausoleil Oysters, Chef's Presentation of Caviar (Salon, Les Mesnil Blanc de Blancs 2002); Whole Foie Gras for Two (Château D'Yquem 1997) and Charred Filet Mignon with Spinach, roasted trumpet mushrooms, Madeira sauce (Domaine de la Romanée-Conti, Echezeaux 2002).
Hofbräuhaus Las Vegas
The special Valentine's Day menu includes tomato cream soup, a Tower for Two, which includes shrimp linguini, grilled chicken breast and potato pancakes and chocolate mousse for dessert.