So you want to see a water show in Las Vegas, eh? We don't blame you. After an afternoon or evening spent going full throttle at the craps table or maxing out at one of the numerous other things to do in Las Vegas, you've earned a bit of Namaste. But, this is still Las Vegas! You can sip a eucalyptus tea at your local Zen garden any day of the week. In Las Vegas, we go about achieving mindfulness and serenity (and any other "-ity", really) in a much different manner, no Himalayan salt lamp needed. These are the best Las Vegas water shows.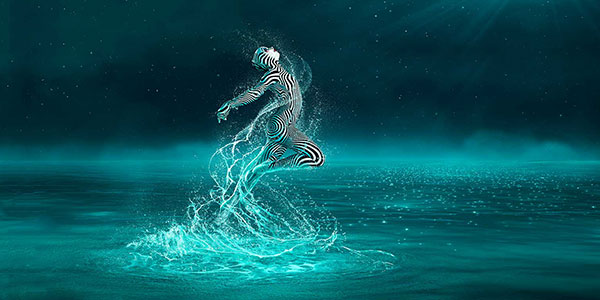 O by Cirque du Soleil at Bellagio Las Vegas
If there's one question we get asked daily, it's, "What's that Las Vegas Cirque du Soleil water show called?" In an attempt to satisfy the masses (and stop the redundancy), we're going to scream this from the rooftops: it's called, "O!" "O" is fun, whimsical and easily the wettest Cirque show of them all. The show literally takes place in, above and on a 1.5 million gallon pool. But don't trip, the "splash zone" is minimal, if not entirely non-existent. Basically, what we're telling you is: wet stage + cool stunts AND a dry audience = one of the best shows in Las Vegas.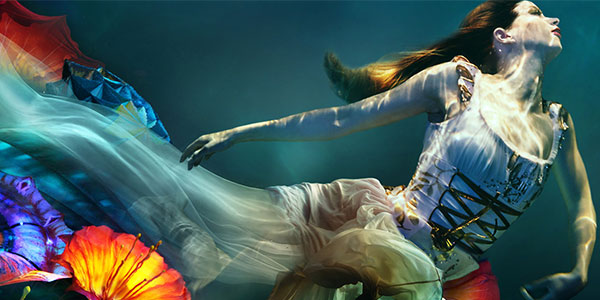 Le Rêve at Wynn Las Vegas
In a word, Le Rêve is as magical as we are sleepy. But don't get our sleeping habits confused with this show's majesty -it literally means "The Dream" in French. And if this show is someone's dream, we're guessing it's under the sea, that's how much water is in this thing. A theatre in the round, the performers in Le Rêve spend so much of their time submerged, your inner lifeguard might kick in. Blow your metaphorical whistle all you want, these people are professionals and your days of lifeguarding at a Las Vegas waterpark are over.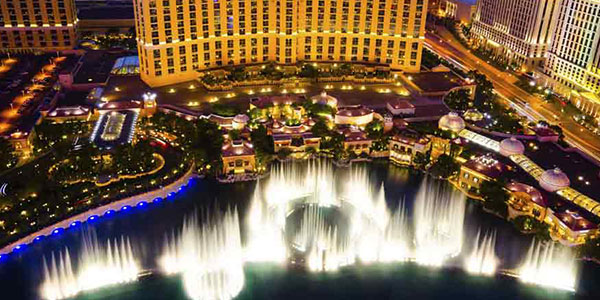 Fountains of Bellagio
Dun, dun, dun, dun, dunnn! Which list of Vegas water shows would be complete without the granddaddy of them all? Fountains of Bellagio are to Las Vegas what Beyonce is to Destiny's Child -hard to replace. This gigantic 8.5 acre lake is home to 1,214 jets. And when asked nicely, or persuaded by one of more than 30 songs, these bad boys can launch up to 460 feet into the air. Even better? It's free. Want to know the Bellagio water show schedule? It varies from time-to-time, but for the most part, expect to see the waterworks once every 30 minutes during the day and once every 15 minutes in the evening.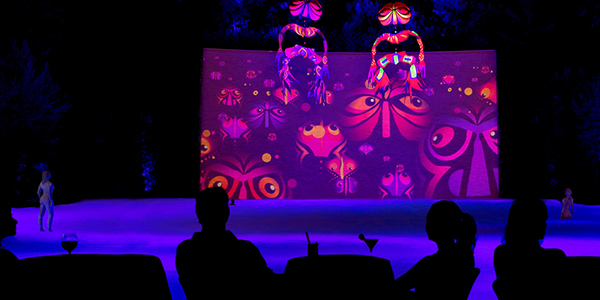 Lake of Dream at Wynn Las Vegas
The best things in life are free. And Lake of Dreams proves that. Once night hits, this unsuspecting lake transforms into one of the greatest gems on the Strip. It has all the ingredients for an amazing Las Vegas show: 40 foot waterfall, check. Fresh mountain air: you betcha. Wild, unexpected hilarity arising from choreographed beauty: umm… duh. This water show comes to life with music, lights, puppets and holographics nightly, every half hour from 6 p.m. until 11:30 p.m.  And as one of the best restaurants in Las Vegas, SW Steakhouse offers views of the action, too.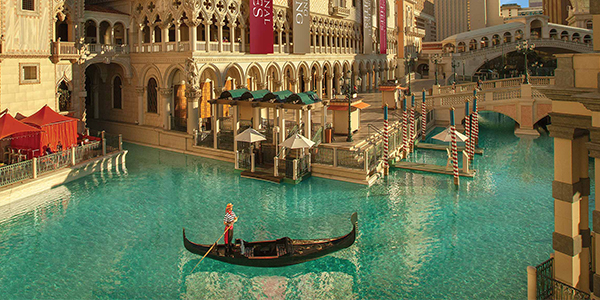 Gondola Rides at The Venetian
Ok, so this isn't technically a "Vegas hotel water show." But a gondola ride is still more enjoyable (and in our opinion, offers more benefits than) a cup of chamomile tea. We're not takin' shots at the herbal elixir, we just happen to think that the benefits of a graceful glide down the Grand Canal last a little longer. Even better, you can choose between an indoor and outdoor ride. Add to that a singing gondolier, and we have a clear winner. Score, and the victory, goes to the gondola ride.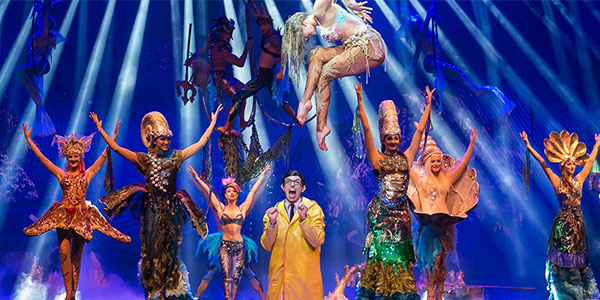 WOW - The Vegas Spectacular at Rio 
Oh those warm summer days when we used to play in the kiddie pool in the backyard. If you're looking to reminisce on the happy times while watching a Vegas show, we recommend WOW – The Vegas Spectacular inside Rio. This whimsical and humorous show has a variety of acts that will make you laugh and say "WOW," see what we did there? It might not have a lot of water acts, but it's totally worth it just to see the kiddie pool. Memories are a wonderful place to go back to, so go check out this Vegas water show and put a smile on your face.