A common misconception about Las Vegans is that we all live in hotels on the Strip. C'mon people, if we did, where would you guys stay? Even though most locals live out in the suburbs, some Vegas residents live in some really, shall we say, interesting digs. Check out these unique Las Vegas homes and be prepared to have your mind blown.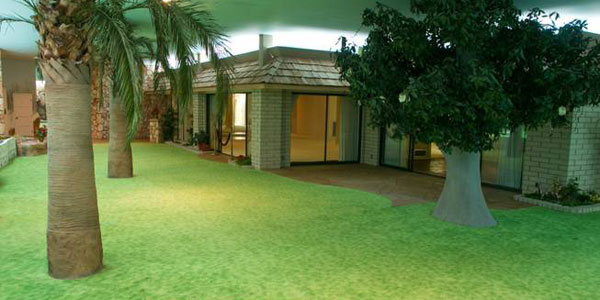 The Underground House
3970 Spencer St. 
You've seen the show "Doomsday Preppers," right? It basically follows these borderline crazy people (yea, we're judging) who are preparing for the apocalypse to arrive. We're talking underground bunkers, non-perishable food and the whole nine. Well, if "Doomsday Preppers," was around in the late '70s, businessman Girard B. Henderson would've for sure been on the show.

Henderson built this bunker near Flamingo Rd to protect himself from nuclear attacks (you know, because Americans were more freaked out about that happening then, than they are now). This two bedroom, three bathroom home was built 26 feet underground, beneath a normal house. And according to a Vegas INC. article the home is more than 5,000 square-feet and comes tricked out with a four-hole putting green, pool, two jacuzzis, a sauna, bar, barbecue pit, casita and even a dance floor with a small stage! Forget the apocalypse, this place sounds like a really awesome place to have a house party!
Photo courtesy of Vegas Inc.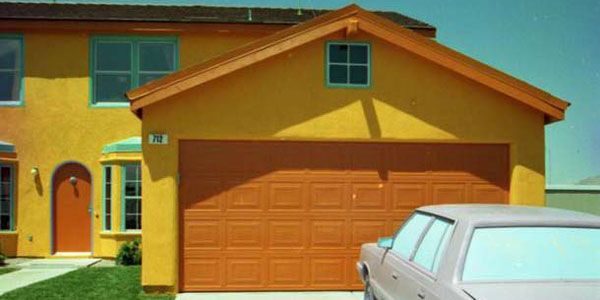 The Simpsons house 
712 Red Bark Ln.
Everyone knows "The Simpsons." It's been dominating pop culture since the late '80s and shows no signs of slowing down. Speaking of dominating pop culture, back in 1997 the show did just that by running a promotion with Pepsi and Fox that could allow you to win a real-life Simpsons house.

This is no joke either! A 2,200 square-foot, four-bedroom mirrored image of the show's home was built in Henderson. And the house was fully loaded too. Duff cans, Bart's tree house, Maggie's bottles, it was all there.  The bummer though was that the contest winner opted to take a cash payout instead of the house. So the home was put on the market and sold a few years later. Now the home is just a regular suburban home, with no glorious touches in sight. Oh, what could have been.
Photo courtesy of Las Vegas Weekly.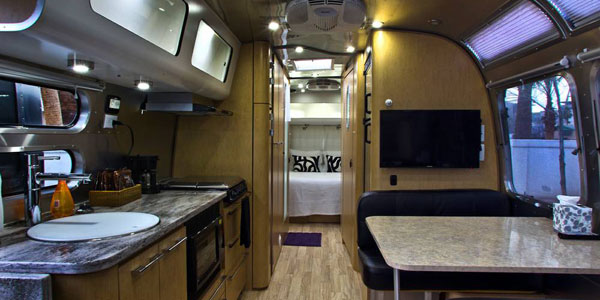 Llamapolis/Airstream  Park 
N 11th St. & Fremont St. 
Have you ever wanted to park your Airstream trailer and live in downtown Las Vegas? Well, apparently so did Zappos CEO Tony Hsieh. This isn't your typical RV Park though. Like everything Hsieh is involved with, the Airstream Park is super hip. The community features a Bluetooth stereo system, Wi-Fi, a shared kitchen and a campfire (guitar player not included, but you're welcome to slap the bass if you have one).

Oh, so the name "Llamapolis." Well, the nickname comes from two of the park's most famous residents: Marley and Triten. They're Tony Hsieh's pet alpacas and don't worry, he normally keeps them in a pen (but you can totally go say hi whenever you want).
Photo courtesy of Las Vegas Weekly.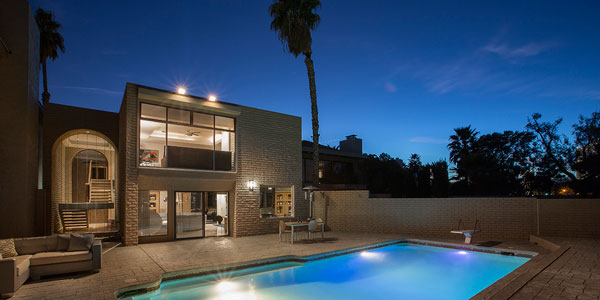 Lefty Rosenthal's house 
972 Vegas Valley Dr. 
The former home of Lefty Rosenthal is your typical Vegas dream home, country club location, lush landscaping, sparkling pools, gun safes and bulletproof doors and windows. Well… the last part may not be part of your dream home, but when you're connected to the mob it is kind of a necessity, right?

Located in Vegas' first guard-gated community, Las Vegas Country Club, this home was ballin' back in the day. Two-stories and three-bedrooms wasn't enough apparently, because the home was tricked out with an extra half-a-million dollars worth of upgrades. Hidden gun compartments and soundproof rooms so the feds couldn't listen in on his conversations were just a few of Rosenthal's personal additions. There's even a suspected bullet chip in one of the windows, but we're pretty sure that's an accessory Rosenthal would've preferred to not have.
Photo courtesy of JPM Studios.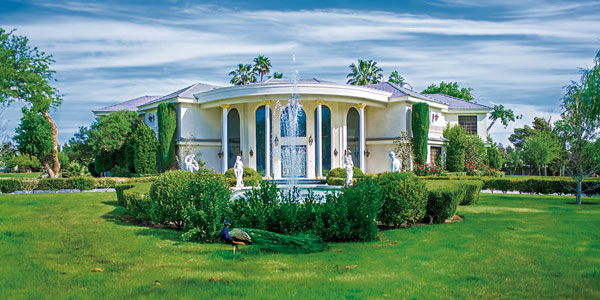 Casa de Shenandoah 
3310 Sunset Rd. 
It wouldn't be a list of "Unusal Las Vegas Homes," without mentioning Mr. Las Vegas himself, Wayne Newton. And if you ask us, we're not sure if Casa de Shenandoah is more unusual today or back when it was built. Luckily for the public, you'll be able to decide for yourselves, because back in 2015 the estate was turned into a museum and is open for tours.

This place is really over-the-top, even for Vegas. The property is a ginormous 52 acres and features everything from classic cars and a private jet (that you can totally take a selfie in), to a movie theatre and a crazy assortment of animals. Newton's love for animals is well documented, but reading about it doesn't come close to doing it justice. This place has penguins (yea, you read that right- penguins in the desert), monkeys, birds and horses. Ohhh, the horses. Newton loves horses so much that he built them their own swimming pool! That's a Rose and Jack type of love right there.  
Photo courtesy of Casa de Shenendoah.