Though we don't have a subway system in Vegas, we do offer a multitude of ways to get around. Depending on the hotel you're staying at, a shuttle from the airport may be offered (look in our hotel info section). Of course, taxis (make sure you jot down the cab number and driver's name), limousines-for-hire and rental cars are almost always available, and CAT (Citizen Area Transit), our public bus service, is pretty efficient, and now offers double-decker buses running on the Strip. The Las Vegas Monorail is good for scenic, resort-to-resort, air-conditioned travel. And you could always walk ...
Parking garages
In a town that caters to tourists, offering free parking is a must. Most hotels have free parking garages, and the ones that don't will validate -- which seems like an inconvenience, but it's better than paying. Valet parking, which is offered at most hotels, is almost always free, but tipping is highly recommended (we suggest a $2- $5 for the valet, more if you want him to leave your car in one of the coveted spaces up front).
Las Vegas hotels also bumped up security after 9/11, so don't be surprised if you are asked to stop your vehicle and possibly submit to a search before entering certain parking garages (such as the Bellagio), especially if you are driving a truck or van.
We've told you how wonderful it is to have free parking garages here in Las Vegas. And it really is. But there's one small fact that we neglected to mention. Each garage is different, and they're not always easy to navigate. Since we have yet to crack the special code to parking garage design, the only tip we offer is to look for the arrows. They almost always send you in the right direction. You also might want to peruse our parking garage guide, for helpful hints. Don't forget, though, to look for other drivers who didn't have the foresight to check our Vegas Guide first.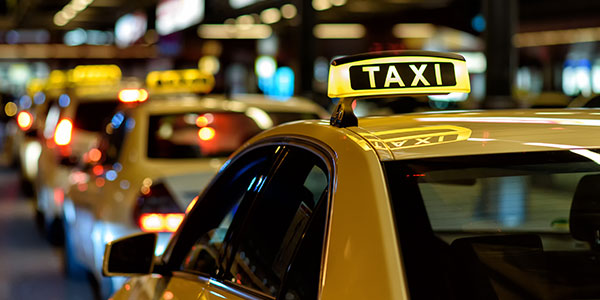 Don't get long-hauled
After a couple of hours on the plane, you've arrived in Vegas ready to party. Don't make your trip to the hotel longer or more expensive. When you get in the taxi, tell the driver you want to be taken to your hotel via Swenson Avenue, NOT the airport tunnel. The airport tunnel may seem faster because it connects to the freeway and has fewer lights, but the route is several miles longer resulting in cab fares that are $5 to $10 more. This is called "long-hauling," and taxi drivers can be ticketed and fined if they are caught. Besides, if you hit the airport tunnel route during rush hour (8 a.m. - 10 a.m. and 4 p.m. - 7 p.m.), any time savings you gain using the freeway will disappear in the exhaust of the morning or evening commute. So say NO to the airport tunnel (the only tunnel in Vegas) and use the extra cash for an extra cocktail instead.
Arrive in style
Your flight made it to McCarran, you claimed your bags, now you're ready to travel to the hotel. You look around at the hotel shuttles, the buses, the taxis, and then you notice the limo. Wouldn't it be great to drive up to your hotel in style? For around $10 per person, several limousine companies offer hotel shuttle service. You may have to share a ride with other people, but you probably need to brush up on your conversational skills anyway.
Share that cab!
Imagine you're club- or casino-hopping in Vegas. You've been drinking, so you don't want to drive, and walking to the next destination is out of the question (you know, too far or a big waste of time). What do you do? Get a cab. If you want to save money, grab one of those mini-van cabs and split the fare with others who are going your way. After all, you may need that extra cash for the cover charge at the next club.
Go to a hotel to grab a cab
Although you might be tired of walking, take those extra few steps to a hotel to get a cab. Taxi drivers are encouraged to pull in to hotel taxi stands to wait for customers instead of holding up traffic by pulling over on the Strip. Waiting at a hotel also is safer for all involved.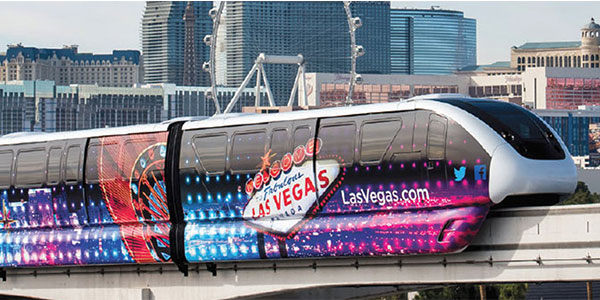 Free rides
Walking from hotel to hotel seems like a good idea. After all, you don't want to miss the beautiful décor, the fountains or the neon. But after you walk for a while (particularly if it's the middle of the day in August), you've had enough. How about a free ride? A few hotels have constructed trams between their properties. Now trams connect the following: Mirage and Treasure Island; and Mandalay Bay and the Excalibur, with a stop at Luxor and Bellagio and Park MGM, with a stop at the Crystals shopping center. Click here for our guide to hotel monorails.
Rail with a view
Visitors to Vegas can take heart in the Las Vegas Monorail. You can avoid the hustle and bustle of Las Vegas Boulevard traffic by gliding from one end of the Strip to the other in as little as 14 minutes. The monorail connects seven resorts and nine convention facilities, including the Las Vegas Convention Center. Get more details by clicking here.
Crossing the Strip by foot
If you ever wonder where your gambling money goes, (besides the miniature Eiffel Tower, the dancing fountains or plaster Obelisk) thank the county commissioners (well, some of them) and the major casinos next time you're walking on the pedestrian skywalk.
Shaken, not stirred traffic tips
OK, OK, we get it. It has been brought to our attention that it's difficult to drive a car in Vegas -- at least on and around the Strip. Here are a few tips to keep in mind when venturing out of the casino and onto the roads.
Stop that car: When renting a car, try to reserve one before you get here. If you happen to be here and decide you need one, you may have to wait a couple of days for availability. There are times we can't figure out why everyone is in town (convention, three-day weekend, boxing match, millionaire wedding), but don't be surprised if the car isn't there waiting for you.
Location, location, location: That mantra might work in real estate, but here in Vegas we chant convenience, convenience, convenience. You could wait along the Strip for a taxi or the CAT bus, but where will that get you? Just down the Strip, perhaps, or even all the way downtown if you're lucky. Why not rent a car and have the freedom to come and go as you please? You can explore Vegas off the Strip -- don't worry, we do it all the time. You'll be able to get in touch with nature or just visit other casinos in residential neighborhoods.
I feel free: Rental cars also are helpful for shortcuts around the Strip. For example, you just finished eating at Top of the World in the Stratosphere Hotel Tower and need to be down at the Luxor for the Fantasy performance. Since it's Saturday night, there is bumper-to-bumper traffic on the Strip. Get in your car and drive west on Sahara Avenue, then south on Interstate 15. As long as there are no accidents, you should be able to exit at Tropicana eastbound, turn south on the Strip and park at the Luxor, all in time to slip into your showroom seat. Suppose the show is over, and you want to grab an exotic drink at the VooDoo Lounge at Rio Las Vegas. Travel west on Tropicana Avenue, make a right on Industrial and a left on Rio Boulevard, which will terminate at ... that's right, the Rio Hotel.
The shortcut truth
Everyone has their own idea of what the fastest route from point A to point B is in Vegas, so let us help you sort out the good, the bad and the ugly.
The Koval crapshoot: Once upon a time, this small road just east of the Strip was a good way to get from one hotel to another without encountering much resistance. But in recent years, especially since the opening of the Venetian and Wynn Las Vegas, the traffic-signal-heavy street has become congested with all sorts of commercial traffic. The road can still provide easy access, but it's not always guaranteed.
Frank Sinatra Drive: Designed to draw unnecessary traffic away from the Strip, Frank Sinatra Drive connects major resorts (via their parking lots and back entrances) from Mandalay Bay to Caesars Palace. More importantly, it provides a nice alternative to Las Vegas Boulevard, especially during rush hour. Be warned, however: The only way off FSD once you're on it -- not counting hotel parking garages -- is via Russell to the south and Industrial to the north. Frankie passes Tropicana and Flamingo but does not provide direct access to any of them.
Dean Martin Drive: A longtime local secret, Dean Martin Drive (formerly known as Industrial Road) runs parallel to the Strip and I-15 and spans a good distance, connecting the southern edge of the valley with downtown Las Vegas. Though it can get a little heavy during rush hour, Dean Martin can quickly connect you to locations like the Las Vegas Outlet Center, the Fashion Show mall and Circus Circus Adventuredome.
Get on the bus
If you arrive in Vegas with just a carry-on bag and you're staying downtown, try catching the CAT bus from the airport to downtown Vegas, with no transfers. The bus may not get there as quickly as a taxi would, but you'll save a few bucks. That extra cash could be your ticket to financial freedom (if you happen to win MegaBucks). Or it could buy you a lot of shrimp cocktails.