Bloody Mary took some vodka, gave her mother 40… what rhymes with vodka? Latkes? That doesn't make sense. Who wouldn't want 40 latkes? They're delicious. And they probably go pretty well with Bloody Marys, which is what we're actually here to talk about. They're the hangover helpers, the celery sensations and the terrific, tomato tinctures that totally get you tipsy. Now that we've tickled your taste buds, let's get moving to some of the best Bloody Marys in Las Vegas.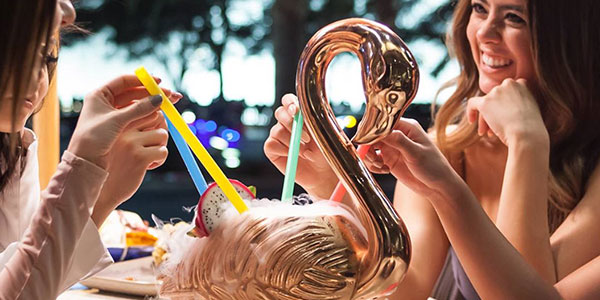 HEXX Kitchen + Bar
What's in it: Vodka, celery, bacon, beef jerky, jumbo prawn, Alaskan king crab leg, pickled asparagus, pickled green bean, stuffed olives, lime wedge and a cucumber wedge.To say that HEXX has an obsession with using fresh ingredients is like saying that there's gambling in Vegas. It's literally the most obvious thing ever. But HEXX really takes their obsession to the next level by dumping an entire farmers market into their Colossal Bloody Mary. A lot of people like to throw the word "colossal" around, but HEXX's bloody really fits the bill. This thing comes packed with fresh, crisp asparagus and grean beans, stuffed olives, cucumber and a lime wedge. Oh, did we forget the protein? Well, HEXX didn't because they tossed some bacon, beef jerky, a jumbo prawn and an Alaskan king crab leg in there for good measure.  Can someone deliver us a wheelchair? There's no way we're walking after this.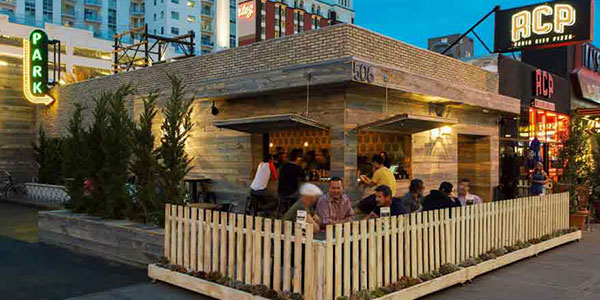 Park on Fremont
What's in it:
Texas Tuxedo: Vodka, cucumber, basil, grape tomatoes, fresh house-made Mary mix
Lady Cave: Vodka, fresh house-made Mary mix, salt and pepper rim, celery stalker
Derby Breakfast Club: Bacon-infused vodka, hickory smoke, fresh house-made Mary mix, crispy bacon, pickled egg
We say lots of nice things about Park on Fremont. It's just a really great bar. And its Bloody Marys fit perfectly with its hipster-ski-lodge vibe. Sit out on the patio and pretend your Bloody Mary was made just for you by whatever plaid shirt and ironic suspenders wearing faerie creatures probably live out there, or sit inside and stare at a meat dress—your call. Have some delicious food with your Mary and just enjoy the atmosphere. If it's morning and the air is crisp, this is a great place to people watch. If it's late at night and you're for some reason ordering a Bloody Mary, live it up. At Park on Fremont, you're never the weird one.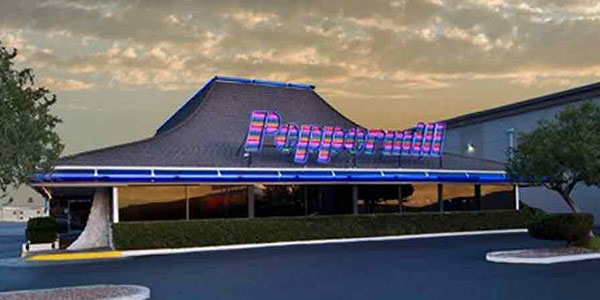 Peppermill 
What's in it: Vodka, tomato juice, zesty mixes and delicious garnishes
When you step inside the Peppermill, you don't really see a lot of things that remind you of tomatoes with celery. It's very purple and the indoor trees make you feel like you're in a psychedelic apple orchard full of apples you probably shouldn't eat without a babysitter. But you should eat everything at Peppermill because the food is fantastic and the atmosphere is out of this world. It's open 24 hours, so you can pop in whenever the hangover hits you and get your Bloody Mary fix, or you can start your night with a Bloody Mary and a trip to the bathroom then do everything in reverse. If you take that approach be sure to get a DD, sobriety doesn't actually cooperate with plans.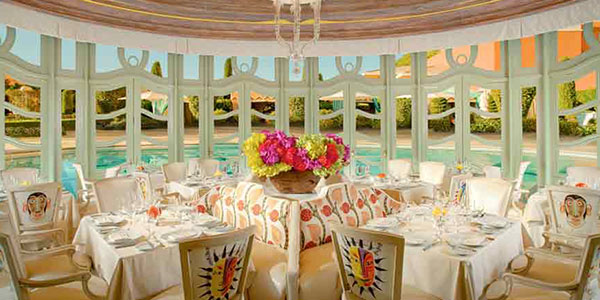 Tableau at Wynn
What's in it: Absolut Peppar vodka, house-made Bloody Mary mix, wasabi powder
Wasabi. Wasabiiii. We like wasabi. And when you add it to a Bloody Mary, aside from just being a genius and our new BFFFE, you create a taste experience that's spicy, sultry and full of attitude. Tableau is one of Wynn's finest fine dining restaurants, and the food alone is worth the trip. When you order the wasabi Bloody Mary, you're getting something that will make at least a little bit of your vacation memorable. Even if you don't like Bloody Marys that much, but have still read this entire post about Bloody Marys, give this one a shot. It's a tasty way to have a high-end brunch while still feeling like a bit of a bad-ass for ordering wasabi in your Bloody Mary. If there's anyone there who happens to be long-dead Russian royalty, use the boost of confidence you get from this cocktail to tell them off—it's what Bloody Mary herself would want.
Honorable mention:
While we accept that many things about this post make absolutely no sense, the Bloody Mary choices are pretty solid. That said, we couldn't hope to have every delicious Bloody Mary in this town represented. So, to provide some more options without really ranking anyone, we want to give a bloody shout out to: Burger Bar, Culinary Dropout, Hash House a Go Go, The Henry, Todd English P.U.B and Veranda for all having outstanding Bloody Marys. Keep up the good work.