If you have to take a deuce anywhere, it should be in a golden throne bathroom with pyrotechnics. Well…maybe not pyrotechnics, but our bathrooms are so hoppin' you wouldn't feel guilty if you spent half your day in them.
We picked our favorite and most over-the-top hotel bathrooms in the ultimate pissing match. But budget travelers beware: Ornate chandeliers and marble countertops don't come cheap.. So either hit it big on the casino floor or become Daddy Warbucks before you book one of these suites.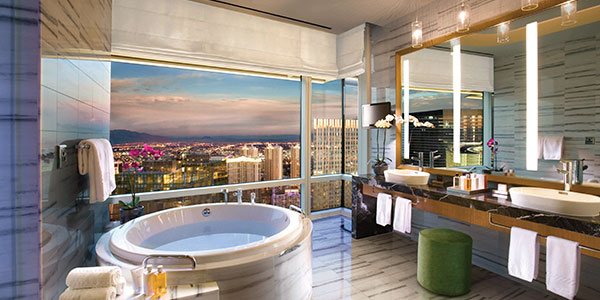 Sky Villa at Aria
Head up into the clouds. *Cough cough* or the 58th floor. It's time to join the gods when you enter into the most pristine bathroom you've ever seen. The larger-than-life shower has a seat in it for all of you who can't bear to stand up with that horrible hangover. If you time your shower just right, you can dry off to the desert sun rising or setting through your floor-to-ceiling windows. Be prepared to pony up the Benjamins to enjoy this luxury. Sky Villas will run you between $3,500 to $7,500 per night.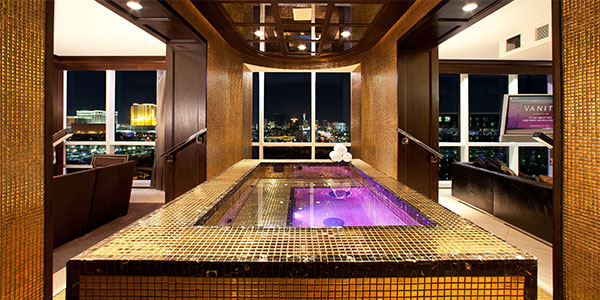 Specialty Suites at Hard Rock Hotel
If there's one thing this hotel does right, it's making you feel like a rock star, even in their suites' bathrooms. Whether you pick the Celebrity Suite that features a walk-in shower big enough for you and your groupies or the Penthouse Real World Suite created for the hit reality TV show, you can do no wrong. But, if it was up to us, we'd choose the penthouse. From its mosaic spa tub with a view of the Strip to enough space for five people could get ready at the same time, this is the bathroom for you. If a bathroom could talk, oh the stories this room would have.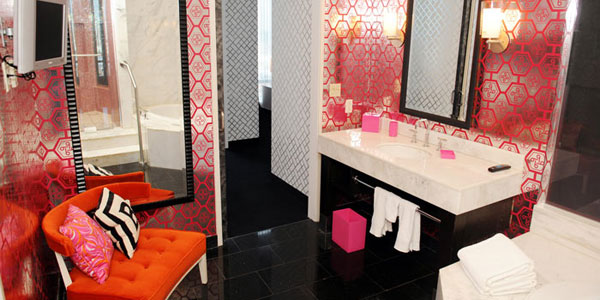 Fantasy Suites at Palms
You're not living in a fantasy anymore; this bathroom is a reality. Make your childhood dreams come true in the Hot Pink Suite, formally known as The Barbie Suite. Don't lie, you know you always wanted a real-life Malibu Barbie Dream House, even if you had to share it with your sisters. But this dream house is just for grown ups—one of its 3.5 bathrooms has a stripper pole. Bow chicka wow wow. You'd be a fool not to have your bachelorette party here.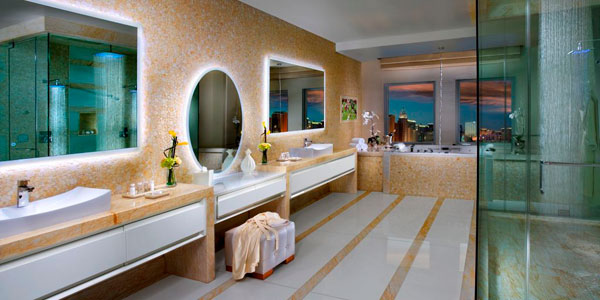 Sky Villas at Tropicana
If you were to get married tomorrow and buy a house, this is the only bathroom layout that would be acceptable for any newlywed couple. There's more than enough room for two people because there are two of everything: two walk-in steam showers, two toilets, and two separate sinks to get ready at. No more fighting for space—this bathroom is a dream come true.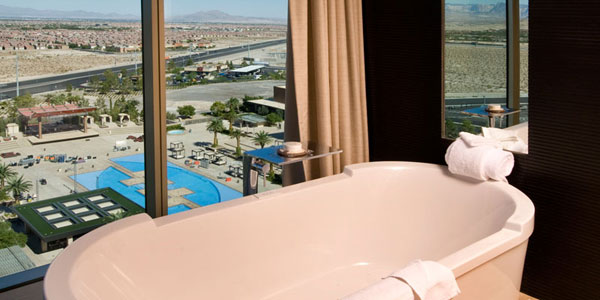 Flat Suite at M Resort
Views on views on views. This resort bathroom will have you questioning, which is better: the room or the bathroom? Located off the Strip, this suite has a birds-eye-view of all the madness that is Las Vegas Boulevard. Sink into your large tub and view the glorious city for what it is. With your floor-to-ceiling windows, it would be a mistake not to bust out your camera and take a snapshot.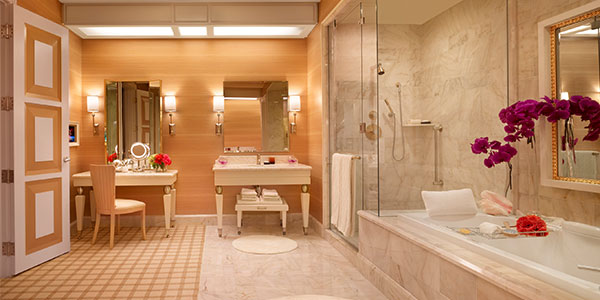 Parlor Suite at Wynn
Now this is something you'd see in a good old fashioned Hollywood movie. Brush your hair at your vanity table and feel like you're the crown jewel of the city. Are you a three suitcase kind of traveler? Perfect, because you can step into your walk-in closet while your hair is up and drying. This bathroom is the best place to put on your own personal fashion show—montage music and BFF required.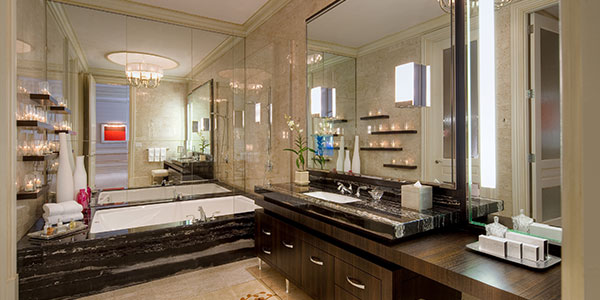 Villas at Mirage
Are you feeling yourself? If not, you will be after staying in this villa. With large mirrors surrounding the bathroom and enough shelf space to put candles up for your own spa experience, this bathroom is the place for some R&R. And since nobody's watching, now's the time to practice your dance moves in the shower. It's soo big you can kick, move, and sashay all in on space.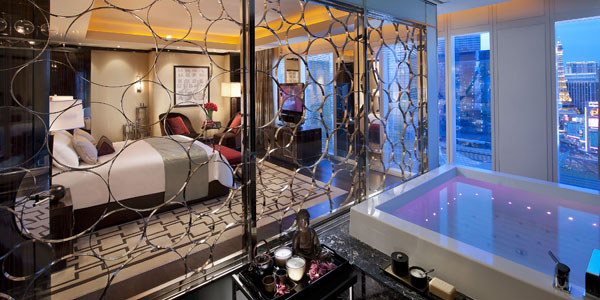 What is better than one bathroom? Obvi, two. And the Mandarin Suite delivers all that is holy in a bathroom. It takes "Netflix and chill" to a whole new level. With a huge tub that can easily fit a plus-one and a TV mounted on the wall, you can bet you'll be taking your time while scrubadubdubbing in the tub.
Constantine Villa at Caesars Palace
Once you enter this bathroom, you'll be convinced Caesar did in fact live here. This bathroom is as big as your first apartment. With the huge tub in the middle, bathe like the gods did. The only thing you're missing is a fan boy and someone to feed you grapes. It's Vegas, so we're sure that can be arranged. With two sinks, two vanities, and two toilets, you could move a family in there and there'd be enough space for everyone.
Now's the time to start saving that cash flow for the greatest bathroom experiences you can find in the beautiful city of Las Vegas. Luxuries are an honor, not a handout. Make it work, and we promise you won't regret one single dollar.