Are you from SoCal and considering a weekend getaway to Vegas? After a rough week, there's nothing like packing your bags, channeling your inner Elvis or showgirl, and heading to Sin City for glitz and good times! According to statistics compiled annually by the Las Vegas Convention and Visitors Authority, approximately 26 percent of tourists who come to Las Vegas are from Southern California. If you're considering making the drive, here are a few things you should know.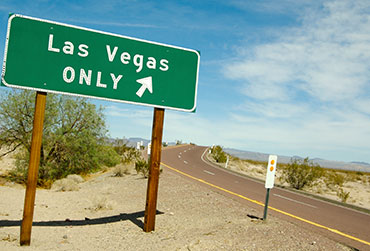 Route
Map your route out in advance. Depending on what part of Southern California you're from, you're likely to be driving between 250 and 320 miles. Much of your travels will be based along the Interstate 15 heading north. Be aware that it's not a particularly scenic drive. In fact, from Barstow into Las Vegas, you'll be looking out at the open desert almost the entire way.
Drive time
The average drive time from Southern California to Las Vegas is just over four hours. If you drive straight through and encounter little traffic, you might be able to do it in 3.5 hours. Of course, if you're like some travelers, you may want to stop and go bargain hunting at the outlet malls in Barstow or Primm. Perhaps the billboards for shakes, gyros and burgers at The Mad Greek diner will turn your head in Baker. Then you'll be looking at a drive time of more than five hours.
Traffic
Statistics show that the average daily auto traffic from the I-15 at the Nevada/California border numbers 42,143. Basically, this means there will always be traffic into and out of Las Vegas. Pertaining to weekend trips, most visitors tend to leave Southern California between Friday morning and very late Friday night, and then everyone heads back to L.A. between noon and 8 p.m. on Sunday. The trip to L.A. is almost always slower than the trip to Vegas. If you can take Thursday or Monday off and travel then, you're guaranteed to encounter a lot less traffic. (Note: If you're coming to Vegas on a holiday weekend, be prepared for the longest road trip of your life. It's not uncommon for the drive to Vegas to take as long as seven hours and the return trip as long as 11 hours. That's not a typo! And if the holiday happens to be New Year's weekend, add on another hour or so -- i.e., six to eight hours to get to Vegas and between 10 and 12 hours to get back.)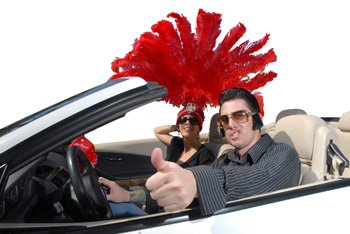 Gas and food stops
Know your mileage and try not to let the gas level fall below one-quarter of a tank. This may seem trivial, but there are a couple of sections on the I-15 without gas stations for more than 30 miles. In an approximate sense, Victorville is about the one-third mark, Barstow is the one-half mark, Baker is the two-thirds mark and Primm is the "We're in Nevada -- only 45 minutes left!" mark. Barstow has lots of gas stations and fast food joints, while Baker and Primm have only a handful.
Don't speed
Although the I-15 can be long, flat and tedious (especially the stretch through the Mojave Desert), fight your need for speed. The California Highway Patrol and Nevada Highway Patrol are always ready to hand out tickets for speeding – and for moving violations. That means when traffic is slow, remember to be a polite driver and don't do things like tailgate or cut off other cars. Plus, a Zero Tolerance program, which aims to reduce accidents, is in effect targeting the 26-mile stretch of the I-15 from Primm to St. Rose Parkway. So expect to see strict enforcement of the 70 mph speed limit there.
Water
Nevada is a desert so staying hydrated is a must. Summer temperatures in Las Vegas sometimes reach higher than 115 degrees. With that in mind, carry lots of water -- for you and your passengers as well as for your radiator in case of overheating. A gallon per person and an extra gallon for the car is a good rule of thumb.
Traveling with children
Children should be properly secured in booster seats and car seats -- and don't forget that adults must have their seat belts on too. If you're looking to avoid traffic and drive in peace, consider making your journey at night. When kids have nodded off, you'll be able to log some serious miles without bathroom and snack stops or the whiny "When will we get there?" question. If you travel by day, a portable DVD player will be a godsend. It's also a good idea to plan some "I spy" spotter games and storytelling.
Ways to pass the time
Since you're headed to Vegas, why not turn your car into a mobile showroom? There's nothing better to get you in the Sin City mood than a collection of Vegas-themed songs for the road. Some of our recommendations: "Viva Las Vegas" by The King himself, "Luck Be a Lady" by Ol' Blue Eyes and "Danke Schöen" by Wayne Newton. Also, be sure to bring information about Las Vegas with you. You can start to make plans. If you have great phone or wireless service, you can even make room reservations, buy show tickets, get VIP nighclub passes, book sightseeing tours and find wonderful last-minute deals at VEGAS.com.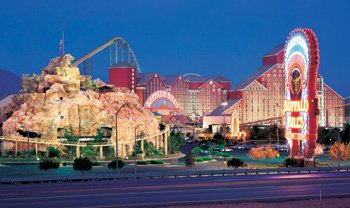 Stop at the border
Why not spend the night in Primm on your way to Las Vegas? Sure, it seems silly to pull over when you're just 45 minutes away, but this little roadside "town" is a perfect pre-Vegas stopping point. Room rates at the Primm Valley Resort & Casino, Whiskey Pete's and Buffalo Bill's are cheap. If you're traveling with kids, the area is home to rides like the world-famous Desperado roller coaster. Adults can enjoy outlet shopping, gambling and affordable eats. Plus, everyone can get up refreshed the next morning to finish off that last little bit of driving and begin their Vegas vacation.
Service your car
Due for an oil change? Need coolant added? Tires low on air pressure? As the cliché goes, an ounce of prevention is worth a pound of cure. Or, to put it more clearly, get your vehicle checked out and thoroughly serviced before you drive to Las Vegas. You should bring basic repair essentials with you to handle a flat tire. Jumper cables, a flashlight and warning devices (like flares or reflective gear) are also recommended.
With all of these things in mind, have a safe trip and don't forget to have fun. After all, you are heading to Vegas on vacation!