Cheap buffets and free limo rides to Vegas strip clubs are for the birds (actually, If you can get the hookup, who are we to turn down a good deal). Vegas is an upscale town full of upscale bars. We've got views to die for, mixologists who're changin' the game and vibes that set the city on fire. Speaking of fire, raise that Pappy Van Winkle 23 and kick your feet up on whatever sorry sap of a manservant makes the best foot stool. It's time to enjoy the best upscale bars in Las Vegas.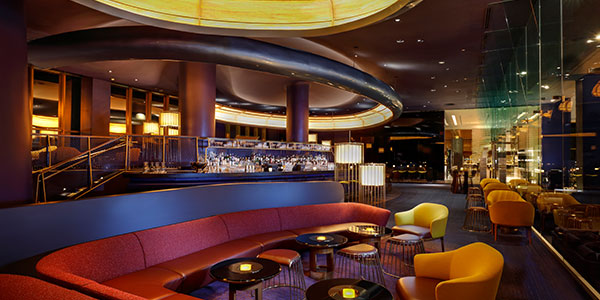 We're going to try our hardest to not make a corny James Bond joke here. Skyfall Lounge at the Delano has one of the most unique views in Las Vegas. Couple the vistas with an innovative cocktail menu (appropriately arranged by categories including Shaken and Stirred, their words not ours) and it's easy to see why this place is a hit. And if you're really feeling like a baller, the bottle service menu allows you to enjoy spirits made tableside. Not too shabby, eh?  Just remember that Skyfall isn't for your eyes only. OK, sorry for the joke. We couldn't resist.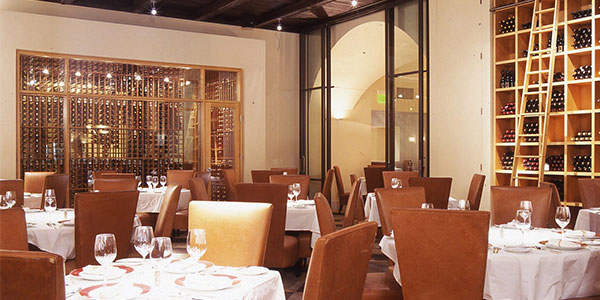 The brainchild of celebrity chef Emeril Lagasse, Delmonico Steakhouse at The Venetian doesn't skimp on the "Bam," that the chef is known for. But unlike that sad attempt of a joke, Delmonico is a classy broad. We're talkin' white linen tablecloths, lighting that'll kick start the bow-chick-a-bow-wow and a hand crafted cocktail menu that'd make Don Draper blush. Remember where you're at, just because Emeril can shout a loud and ridiculous catchphrase doesn't mean you can (unless, you know, you do it when no one is looking).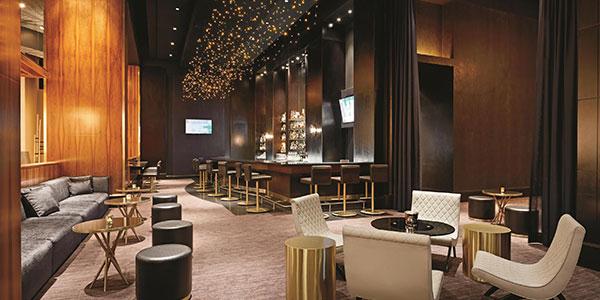 This isn't any ordinary lobby bar. Tucked into the Delano, Franklin Bar has an air of sophistication all its own. It's dark, rich color scheme and sweet fireplace make it feel like a gentleman's cigar lounge (sorry guys, there's no bear-skin rug). But that's the kicker; this is a smoke-free joint. So breathe easy knowing that you're not going to have to worry about hitting a wall of smoke. Parlay that with craft cocktails, tasty apps and tiny firefly looking lights, and you have yourself an upscale Las Vegas bar.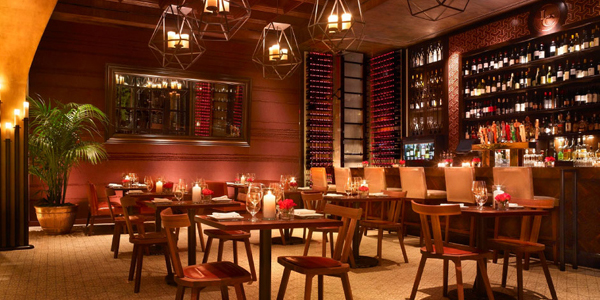 La Cave Wine and Food Hideaway
Brilliant things happen when food and drink are perfectly paired, like a unicorn and a koala bear. La Cave inside the Wynn is upscale in every sense of the word (like it could be anything else considering it's the Wynn). Their uh-maze-zing wine selection was literally designed to pair perfectly with their small plates-menu. These pairings pull in flavors that your blue-blood taste buds could only dream of. La Cave is an upscale bar for classy people who love classy drinks in a classy ambiance. Any more class and you'd have to talk to a guidance counselor about setting up next semester's schedule. Zing!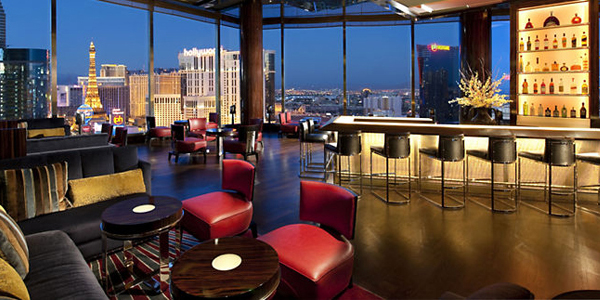 Upscale, high class, classy AF, whatever adjective you want to use, Mandarin Bar is all of that. Besides the top-notch mixology options and the intimate, low-light ambiance, Mandarin's Strip views make it a literal sight to see. The cocktail menu is huge and the food menu is clutch with its light, Asian-inspired bits. Pair that with a live jazz band and you have the makings of a perfect date spot. The fact that Mandarin Oriental is a non-gaming property that you have to weave through the City Center maze to get to, naturally makes tourist traffic pretty light. So if you really want to impress someone or just have a nice night to yourself, Mandarin Bar is where it's at.
Coming to the desert just naturally makes you want to cozy up next to a fireplace and a big rug (that might sound weird, but trust us on that). So walking into Foundation Room on the top floor of Mandalay Bay totally sets you at ease, because they have a fireplace AND big rugs. This place is all about chillin' on a sofa and enjoying another's company. But don't get it twisted, this place turns up on weekends, just ask the DJ spinning on the ones-and-twos or one of the artists that hit the place up after a set at the House of Blues. And the lush décor, ugh, it's like going to your rich grandma's house. You know, where everything is so pretty that you're afraid to touch it? But no worries, they're totally cool with that sort of thing.   
The centerpiece of STK steakhouse inside The Cosmopolitan of Las Vegas, STK Bar is unlike any other restaurant bar in town. For one, the music bumps. Like, for real, there's a DJ spinning music in the dining room. The sleek, modern, dark wood backdrop just screams "cologne ad," in all the right ways (maybe try to rub up against it you know, for the fragrance). Super hip, super cool, 100% upscale. Like we said, sexy is the vibe here, so dress to impress and get down on some tuna tartare while guzzling down a Hennessey Ginger Mojito or some other trendy cocktail creation. Your belly and your image will thank you.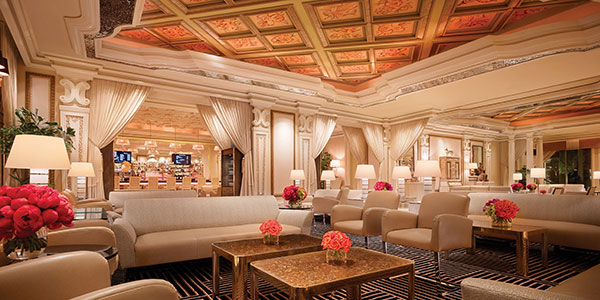 Yea, this is a lobby bar, but that doesn't stop Tower Suite Bar at Encore from being one of the most upscale bars in Vegas. Steve Wynn basically belches glitter, and you get that whiff as soon as you walk in. The furniture in the place looks like it's straight from a fashion magazine for crying out loud. So bring your camera, make sure the lighting is right and que that fashion magazine photo shoot for Vogye's sake. #Glam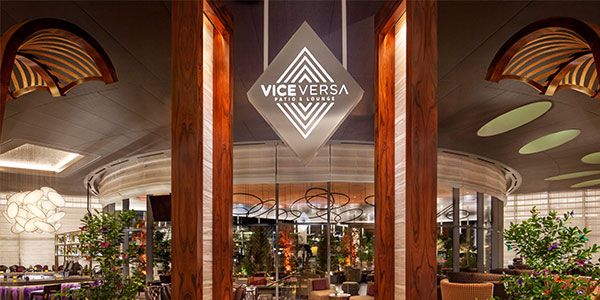 Vdara has no gaming or smoking. So when people are looking for something to do on property, Vice Versa is where it all goes down. The bar has a gorgeous indoor space and an outdoor area that is arguably more fab, complete with firepits and beautiful flora that separates the guests from the randos walking the sidewalk. That leafy wall and submerged fire pits are great distractions as they make you feel like you're hidden in a mountain getaway. Or a dryer sheet commercial, your call. But it's the etched crystal glassware that really classes this place up. We wish that our attention to detail was that great in school.