Vegas thrill rides are just the attitude (and altitude) adjustment a thrill seeking tourist needs. There are tons of extreme thrills both on and off the Las Vegas Strip. Here's how to get your heart pumping during your visit to Las Vegas.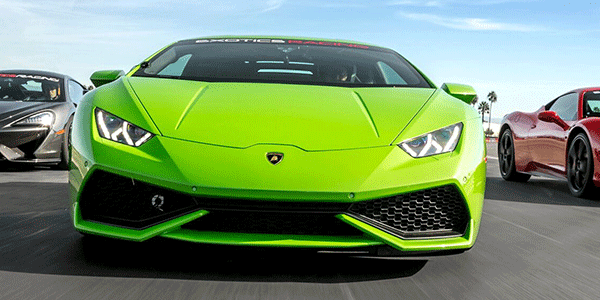 Exotics Racing
Speaking of cars, this is where all your fantasies come true. Put your pedal to the metal in a Ferrari, Lamborghini (Lambo if you're cool), Aston Martin, Porsche, or Audi at Exotics Racing. You'll be paired up with an expert, watch a video, and then it'll be time to hit the pavement. If you've always dreamed about being on the Fast & Furious crew, here's your chance.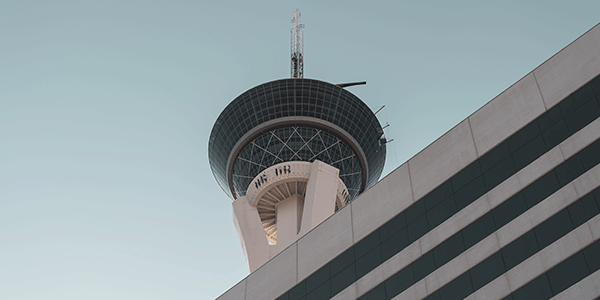 SkyJump Las Vegas
What's more exhilarating then seeing the city on the 108th floor of a hotel? Jumping off it, of course. Skyjump at Stratosphere gives you the thrill of walking off a building with no scratches. Turn the camera on, this one's for you, Mom.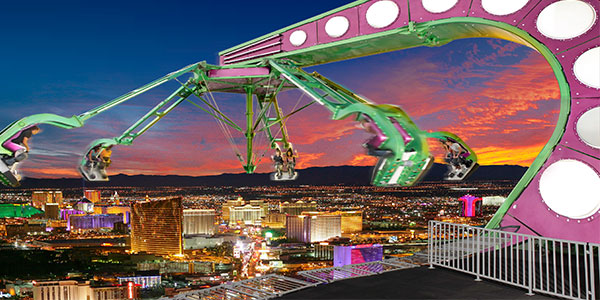 Stratosphere Attractions
If jumping off buildings is a little too extreme, the Stratosphere still has you covered. As if building the tallest structure west of the Mississippi wasn't impressive enough, they also decided to put a mini-theme park on top. The X-Scream shoots you over the side of the tower (don't worry not all the way off), while Insanity spins you round and round. No, you're not drunk, you're just seeing double from the spins and adrenaline rush. If 108 stories isn't high enough for you crazy thrill seekers, then you should also try the Big Shot, which shoots you up 160 feet in the air at 45 mph. If you really think about it, that's about the average speed you drive your car on the daily.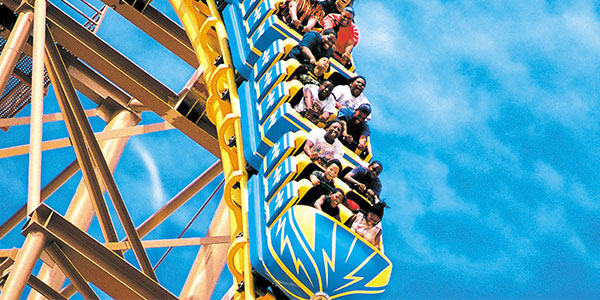 Desperado Roller Coaster
Okay, okay. Now we're getting on to the more traditional route. Don't get us wrong, we love a weird experience thrill ride, but nothing beats a classic roller coaster. Hit the road to the town of Primm and experience what we like to call a "What did we get ourselves into this time?" kind of ride. The Desperado roller coaster gives you a beautiful view…until you plummet downwards and hit 90 mph, that is. And you thought you were having a good hair day—so much for that!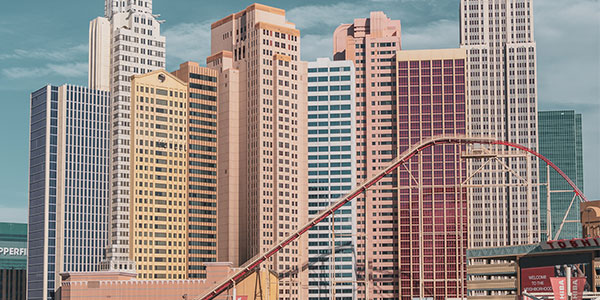 Roller Coaster at NY-NY
If you're walking the Strip and hear faint screams, it's not a ghost or just the alcohol talking. It's people slowly falling to their death—just kidding. The New York New York roller coaster gives you a big bite of the big apple all while doing loops next to the Statue of Liberty. And while you're up there, say hi to Lady Liberty for us—we're the best of friends.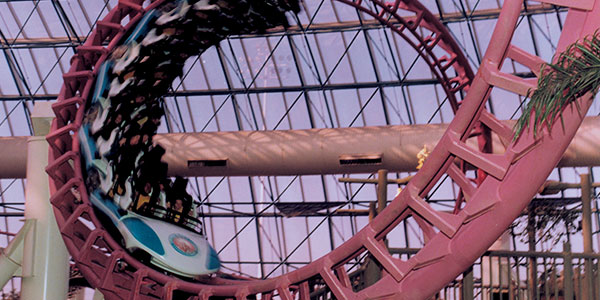 Canyon Blaster at Circus-Circus
Buckle up and get ready for blast off. Head over to Adventuredome and blast through the red canyons on Canyon Blaster for a heart pounding thrill. And after you've flown through the canyons walk through the rest of the park and see what else you can get your hands on, because that is only one of the many thrill rides they have. When it's 110 degrees outside, you'll think us for recommending a theme park that has AC. No one likes to be shot through a blow dryer.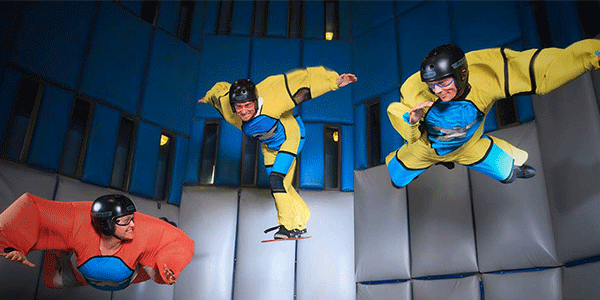 Vegas Indoor Skydiving
Jumping out of a plane was sooo last year. That's why we have Vegas Indoor Skydiving. It gives you all the perks of skydiving without the fear of death. If you ask us that's a win-win situation for everyone. Suit up and fly like an eagle, you're about to jump into a wind tunnel that has wind speeds up to 120 MPH. Once you jump in, you'll be flying high for about five minutes (trust us, that's a long time). It's time to fly, either you jump or we'll push you (no pressure or anything).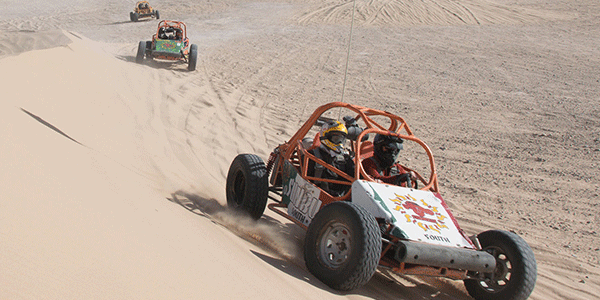 Vegas Mini Baja Chase
If you're not one who likes a controlled environment, Vegas Mini Baja Chase is for you. Hit the dunes in your colorful Tinker Toy on wheels. This is not for the faint of heart, because you truly don't know what to expect with the desert's unpredictable terrain. It's time to kick up some dust and slam on the pedal, we're going full force on this one.