Las Vegas is far more than legalized gambling and hardcore partying. There is a natural side to the city and surrounding areas that is often overshadowed by the shimmering neon. Remarkable greenery, unique hiking grounds, ski slopes, lake activities and even one of the seven natural wonders of the world are anywhere from a short 30 minute drive to five hours away.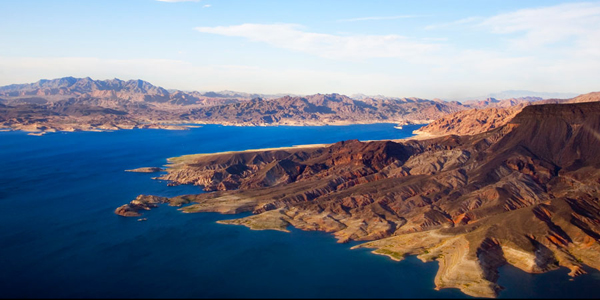 Lake Mead
One of the largest man-made lakes in the world, Lake Mead is a fun escape from the city and less an hour's drive southeast of the Strip. You can swim, boat, water-ski, fish or kayak in the waters of Lake Mead or even hike around in the surrounding area. Facilities include shaded picnic areas, RV campgrounds with hookups and three marinas. For a romantic outing or a fun party, brunch, dinner and sightseeing cruises are available.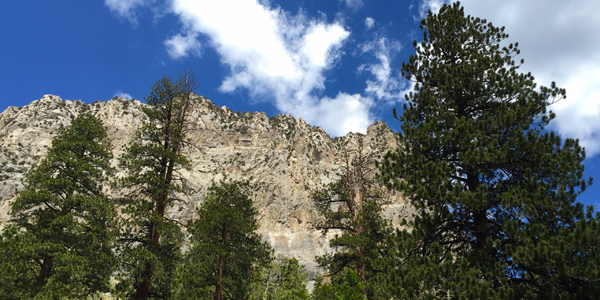 Mount Charleston
Escape the desert on a 35 mile drive northwest of Vegas to Mount Charleston and enjoy towering pine trees, cool mountain breezes and animals like wild burros, birds, deer and desert tortoises. Cooler than Vegas, Mount Charleston is a refuge from the heat in the summer months and a place to see the foliage change colors in the fall. Spring, summer or fall are great for a hike, a picnic or camping. Winter brings snowboarding, skiing and sledding.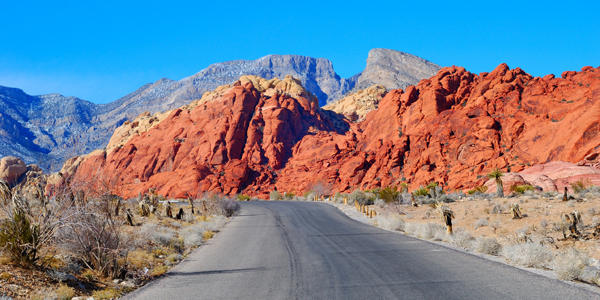 Red Rock Canyon
Desert beauty comes in beautiful shades of red just 15 miles west of Las Vegas at Red Rock Canyon. Tourists, sightseers, joggers, hikers and rock climbers will find the towering red cliffs full of wildlife, including burros, rabbits, coyotes, bighorn sheep, red tailed hawks, golden eagles, hummingbirds, wild horses, bobcats and mountain lions.
Drive the 13-mile scenic loop for photo and hiking opportunities or enjoy a drive the through Red Rock Conservation Area on an exotic car driving experience or go off the beaten path or enjoy horseback riding tours.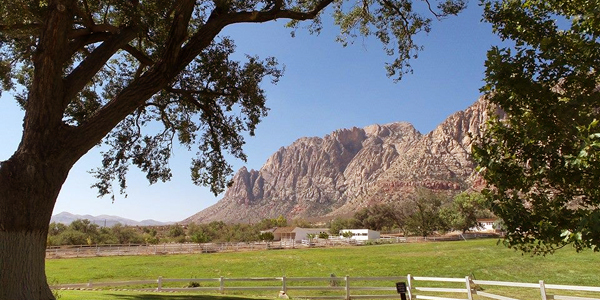 Spring Mountain Ranch State Park
Spring Mountain Ranch sits beneath beautiful mountains offering amazing hikes and gorgeous views. You can also find musical theater in the summer and a night time flashlight hike. Explore historical sites including a ranch house, cemetery, blacksmith's shop and two-hole outhouse or take in the beauty of Lake Harriet. Ducks and fish call the lake home while plenty of other animal life, including lizards, snakes, bighorn sheep and mule deer dwell in the area.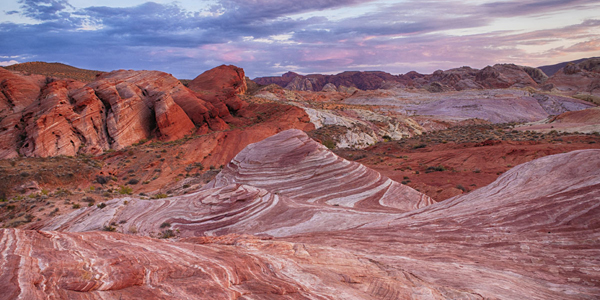 Valley of Fire
Named for its fiery red sandstone, Valley of Fire offers breathtaking views and some of the oldest natural rock formations known to mankind. About an hour drive north from the Las Vegas Strip, Valley of Fire is considered Nevada's oldest state park. Be sure to keep a look out for the petroglyphs at Atlatl Rock, Mouse's Tank, Rainbow Vista, Seven Sisters and Elephant Rock. The area's inhabitants include rattlesnakes, kangaroo rats, kit foxes, coyotes, bighorn sheep and white tailed antelope ground squirrels.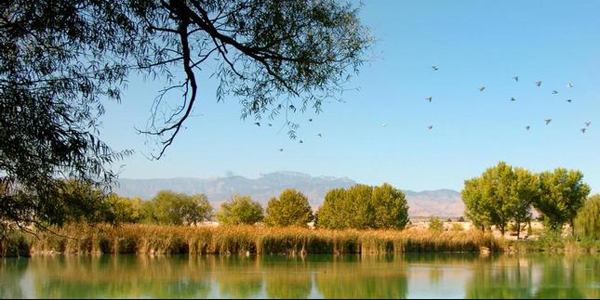 Floyd Lamb Park
Located about 20 miles from the Strip, Floyd Lamb Park is a Pleistocene paleontologic site with thousands of years of history. Today, the expansive park has four stocked ponds, picnic areas, barbecues, scenic paths and volleyball and horseshoe facilities on 2,040 acres in northwest Las Vegas. Visitors will come face to face with beautiful peacocks, ducks and geese. Those with a Nevada fishing license can reel in rainbow trout in the park's ponds (three fish per person limit).
Death Valley National Park
Only two hours from Las Vegas, Death Valley is like a museum for geological history as well as some plant life, Old West remnants and contemporary offerings. A great day trip, your visit to Death Valley will include several stops including China Ranch, a working family farm that harvests dates and Scotty's Castle, a Spanish mission-style castle with a 1927 Welte theatre organ. The park's headquarters in Furnace Creek include a visitor's center and plenty of lodging if you want to stay more than a day.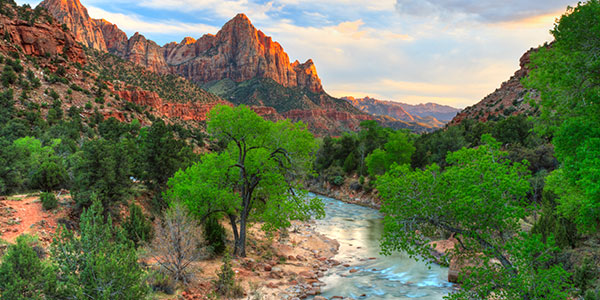 Zion National Park
One of the most beautiful parks in the world is only a two-and-a-half hour drive from Vegas. Zion features beautiful hiking trails, colorful sandstone and cliffs standing 3,000 feet tall. You'll see remarkable carvings and the largest sandstone walls in the world.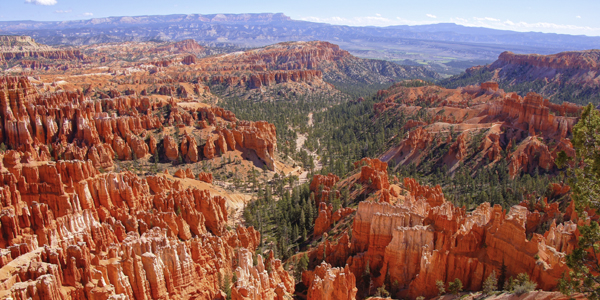 Bryce Canyon National Park
About four hours northeast of Las Vegas, sightseeing at Bryce Canyon is like none other with deep red, golden, tan and white towering rock spires and arches offering stunning contrast to the green forest and clear blue skies. Take in fascinating rock tower hoodoos and vistas from different stops or take a hike. You might catch a glimpse of a mountain lion, pronghorn antelope or a variety of other wildlife. During the winter, Bryce Canyon is a destination for cross country skiers.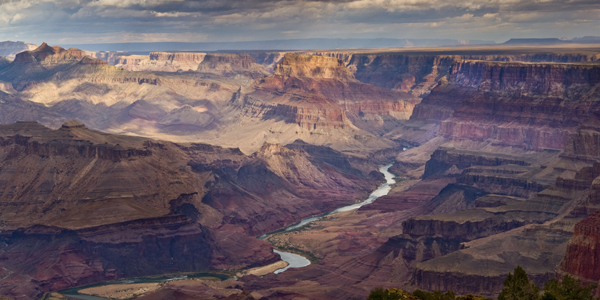 Grand Canyon
One of the seven natural wonders of the world, the Grand Canyon is about a four to five-hour drive from Las Vegas, while a helicopter or airplane ride is less than an hour. The South Rim is the deepest, widest, most accessible and most visited part of the Grand Canyon. Along with scenic overlooks and historic man made architecture like the Desert View Watchtower and El Tovar Hotel, it also houses the park's Visitor's Center, lodging, a gift shop and restaurants. While many people enjoy exploring the Grand Canyon on their own, several guided tours are available via bus, Jeep, helicopter, airplane or even a combination of a few modes of transportation.