It's time to get a little wet, and by that we mean at the hotel pools – get your mind out of the gutter. Vegas gets hot, hot, hot so we have become the experts on how to cool down when the pavement feels like lava. We might not be graced with an Oceanside view, but we still know how to bring the beach to the desert. With pools at almost every resort, it's hard to choose which ones are the best. But, here goes nothing; it's time to dive into the deep end. Here are some of the best pools in Vegas to take a plunge when you want to beat the heat.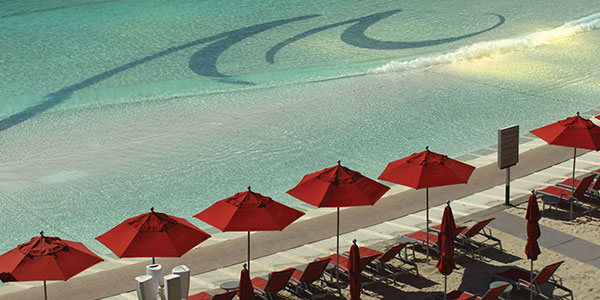 Mandalay Beach at Mandalay Bay
If you can't go to the beach, we'll bring the beach to you. That's Mandalay Bay's motto. The 11-acre playground has three large pools, a lazy river, 2,700 tons of white sand and a "toptional" pool club. If this hasn't convinced you that it's an island oasis, ride the wave in their 1.6 million gallon wave pool. Bonus points: there's an elevated stage that's built in the wave pool where you can stand thigh-deep and jam out to live performances at the Beach Concert Series all summer long.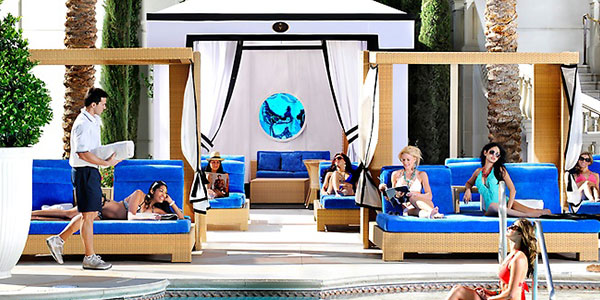 Garden of the Gods at Caesars Palace
With a name like Garden of the Gods, you're sure to feel like you're on Mount Olympus. There might not be glowing people like in the Disney movie "Hercules," but you have a chance to become a god if you sunbathe enough. Caesars Palace racks up all the points for sticking to a theme. The pools are named after Roman Gods including Venus Pool Club. With eight different pools, you have tons to choose from. Fun fact: if you think the pool looks stunning during the day, wait till the sun sets behind the beautiful mountains. Trust us, it's Instagram worthy.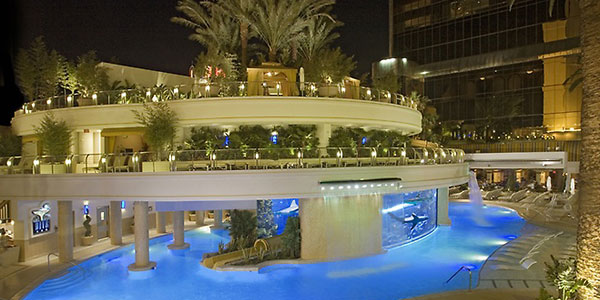 No need to DVR Shark Week this year, Golden Nugget's pool has you covered. The Tank, as they like to call it, is their pool that hosts a 200,000-gallon tank filled with SHARKS! You read that right, sharks. Here's the even cooler part: you can ride down the water slide which gives you the best view of them. And that's because the water slide goes through the shark-infested tank. Now that your kids are distracted for the next couple hours.  Head upstairs to The Hideout for the ultimate adult pool experience. No one under 16 is allowed up there, so you don't have to whisper profanity under your breath or have PG talks all the time.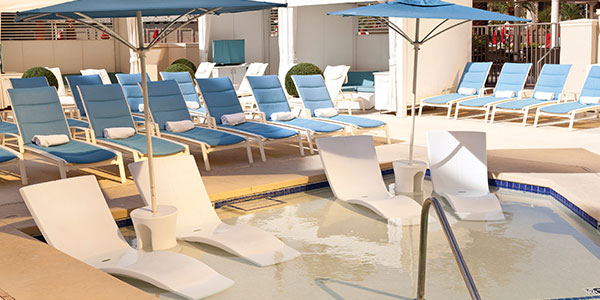 Challenge your wits and your ability to handle your liquor. Delano adds a certain"fun" element you won't find all over the city. It has a chess set that has pieces half your height. If you're a big Harry Potter fan, this is your chance to live out your fantasy of playing wizard's chess (apostrophe or no?). They might not be lifelike, but it's close enough. The pool is as luxurious as its amenities. If hammocks are more your style, they have those just for you (cabana boy included).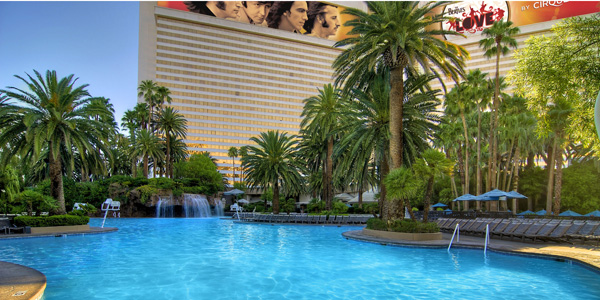 Slip away to the oasis, The Mirage is one big lagoon that looks like something out of a movie. No, it's not the heat that is making you see things, this is a reality. As soon as you step into the light, you'll feel like you're on a tropical island somewhere for half the cost. This pool is open and heated all year, so everyone who likes to travel in the winter, you still have a chance to soak up the sun and escape to paradise.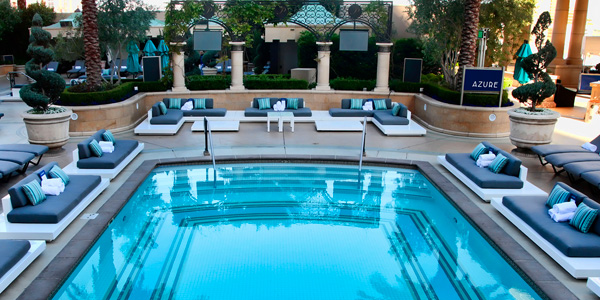 The Venetian Pool Deck at The Venetian Las Vegas
You don't need to be bathed in diamonds to be part of the luxe life. Head over to one of the eight pools at The Venetian Las Vegas and you'll start believing that you are on an episode of "Lifestyles of the Rich and Famous." Not only do you have multiple pools to choose from, you also get fancy grub from the celebrity chef himself, Wolfgang Puck. Walk in and feel like royalty, this pool day is for you.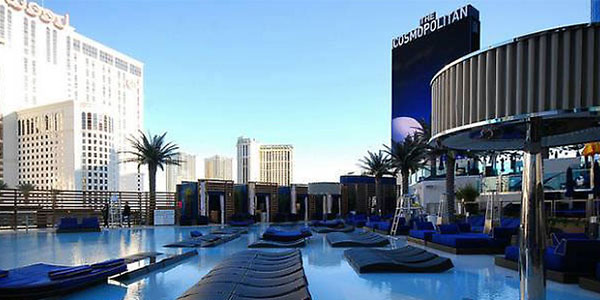 Boulevard Pool at The Cosmopolitan of Las Vegas
If you're looking for an oasis, look no further. The Boulevard Pool at The Cosmopolitan is a great way to let your boyfriend loose while you sit in the pool and get that perfect sun-kissed tan.  This is only one large pool, but it has shallow ends where you can sit in the water on your lounge chair. Feed your competitive streak with games like ping-pong and foosball. If you're looking for a pool with a killer view, this is your winner. It's on the third floor of the hotel and overlooks The Strip. Bust out your phone, it's time to make all your friends jealous.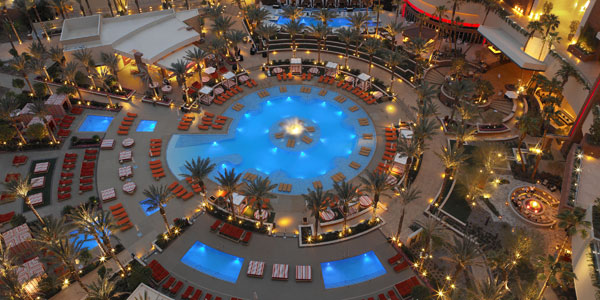 The Backyard at Red Rock Casino, Resort & Spa
No need to leave the house, this pool is in your backyard….well, if your backyard is a three-acre aquatic complex. Red Rock Casino, Resort & Spa gives locals and visitors who don't want to join in the chaos that is The Strip, exactly what they need. Eight small pools, a few hot tubs, two bars and poolside gaming. It hosts special events and even has an exotic sunbathing island for those who want to escape to paradise. Ditch the madness and relax.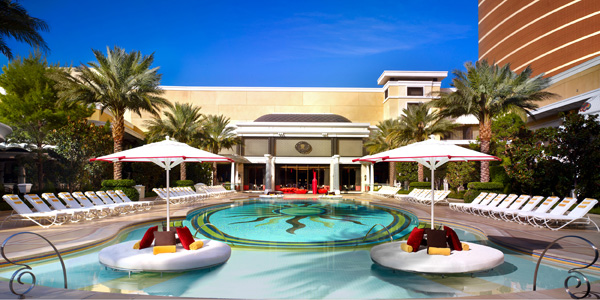 We like shiny things just as much as any other person and that's exactly what you'll get when you walk into the pool scene at Encore. The sparkling diamonds..water, we mean water, will have you feeling fancy. Drop your bag off on the nearest comfy couch and take a dip to cool off. Surprise, the bottom of the pool is just as luxurious as the water itself. Vibrant painted butterflies grace the floor while you take a dive in the deep end. Bathe in luxury, leave feeling refreshed. Encore is where it's at.