Put down your passport. You don't need to make a trip across the border to find great Mexican food. You can find it right here in Las Vegas. We have places to go when you just need a quick taco fix. And we have places that are so authentic that you won't find things like nachos on the menu. No matter what kind of Mexican food you're looking for, we have a restaurant that will satisfy your craving. These are the best Mexican restaurants in Las Vegas. 


Bandito Latin Kitchen & Cantina
You can't spell "Mexican restaurants in Las Vegas" without including Bandito Latin Kitchen & Cantina. Maybe that's not quite true, but our grammatical shortcomings aside, Bandito knows Mexican food. We know people like to throw around the word "fresh." But the guys and gals of this locally owned joint make their tortillas, sauces and salsas from scratch DAILY! Dishes like the seafood ceviche, al pastor tacos, brick pressed roasted chicken and habañero shrimp helps Bandito stand above the competition. And they double down on that quality by servin' up some equally impressive drinks. Cocktails like the Smoking Bandito, La Paloma Blanca and the Bandito House Michelada are only a few of the favs. Fancy yourself a non-drinker? Look no further than the agua frescas. Available in a variety of flavors, these drinks will keep you more hydrated than an IV bag filled with coconut water. Needless to say, Bandito Latin Kitchen & Cantina is freakin' delicious.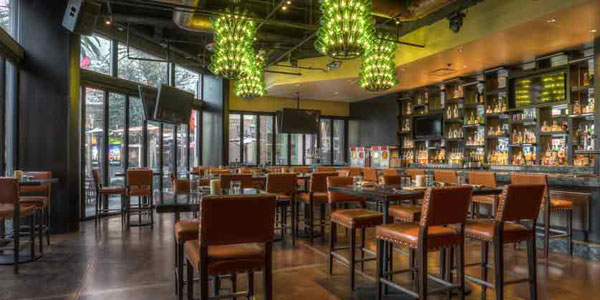 Chayo Mexican Kitchen at The LINQ Promenade
A large selection of tequila. An outdoor patio with views of the High Roller observation wheel. A mechanical bull. These are just a few of the things we love about Chayo. Oh, and there's also the authentic cuisine from Chef Ernesto Zendejas, who serves Mexican dishes that speak to his hometown, Mexico City. Start out with small bites like ceviche, queso fundido or guacamole served with pork rinds or tortilla chips. Entrees include dishes like pork tenderloin, fajitas, chicken enchiladas, tacos, pork sopes and more. For dessert, try flan or tres leches. Drinks include a wide variety of tequilas as well as beer, wine and specialty cocktails. After you've had a few tequila shots, hop on Chayo, the wild bull the restaurant is named for, and see if you can last 8 seconds. If not, you can always head down the street and enjoy a smoother ride on the High Roller.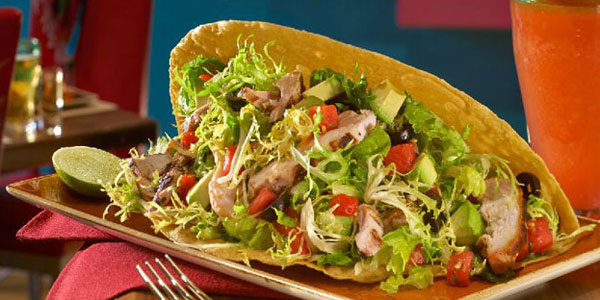 Hecho en Vegas inside MGM Grand
We appreciate Hecho en Vegas' fun menu items like the Viva Las Fajitas, the MGM Grande Taco Salad and the Day of the Bread (a burger or hot dog on local Mexican bread). Hecho en Vegas specializes in the Sonoran-style cooking of Northern Mexico. You'll find tamales, street tacos and signature dishes like the Sonoran Dog, a beef hot dog with charro beans, jalapeno street salsa, tomatoes, mustard and mayo. Monday doesn't have to be the worst day of the week if you make a stop at Hecho en Vegas. From 5:30 – 7 p.m. you can celebrate Margarita Monday with $5 house margaritas and $7 flavored margaritas. They also serve mojitos and margaritas by the pitcher. Enough said.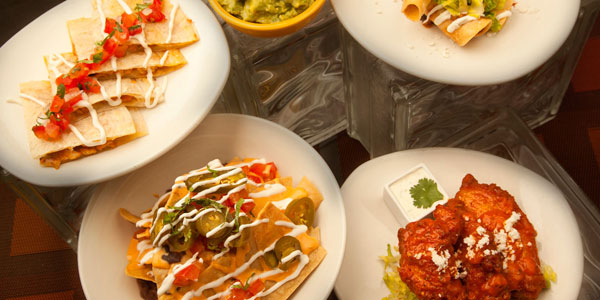 Tacos & Tequila inside Luxor
This is where to go if you want a party with your Mexican food. The restaurant has a high-energy vibe and stylish, modern décor with aluminum, dark woods, leather and bright colors. Along with the traditional enchiladas, burritos and tacos, you'll find an extensive tequila list and lots of drink specials. For $29 you can enjoy the Seis y Seis – 6 tacos and 6 Sol beers. For $59 there's the Macho Borracho – 6 tacos, 6 Sol beers and 6 Jose Cuervo shots. Now that's a party! The fiesta continues with T&T's Mariachi Brunch every Saturday and Sunday. Grab two-for-one margaritas and bloody Marias, sit back and listen to live Mariachis. You'll swear you're in Mexico City.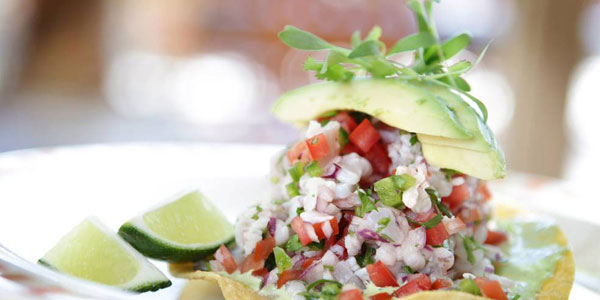 Border Grill inside Mandalay Bay
Fans of celebrity chefs will want to try Border Grill, which serves food from Mary Sue Milliken and Susan Feniger of Bravo's "Top Chef Masters" and Food Network's "Too Hot Tamales." If you ask us, this is one of the best places in town for brunch. You can sit outside on the patio next to Mandalay Bay's pool and enjoy unlimited small plates for $35. Another $10 gets you bottomless mimosas. Totally worth it. The brunch dishes include green corn tamales, bacon jalapeno PBJ, chicken and waffles, and machaca chilaquiles, made with smoked beef brisket, crispy corn tortilla chips, Mexican cheese and roasted chile cream sauce. Top it all off with churro tots – dulce de leche infused churros with cinnamon sugar, chocolate ganache and passion fruit puree.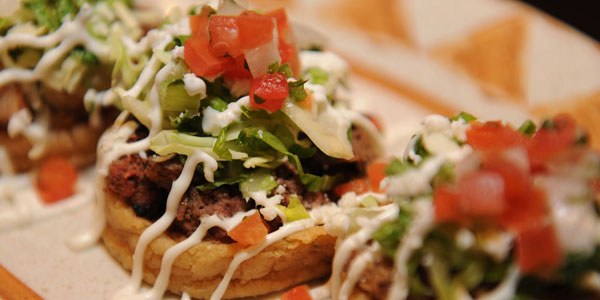 Hussong's Cantina inside Mandalay Bay
Hussong's Cantina, which is a landmark in Ensenada, Mexico, claims to be the spot where margaritas were invented by bartender Don Carlos Orozco in 1941. With a claim to fame like that, how could we not include them on our list? Hussong's has been party central for visitors to Ensenada since 1892. The Las Vegas branch hasn't been around quite that long but they serve up the same festive atmosphere, famous margaritas and a plethora of tequilas as the original. The food is an equal match to the steady flow of tequila. The delicious cuisine includes tacos, enchiladas, nachos with bubbly cheese and taquitos.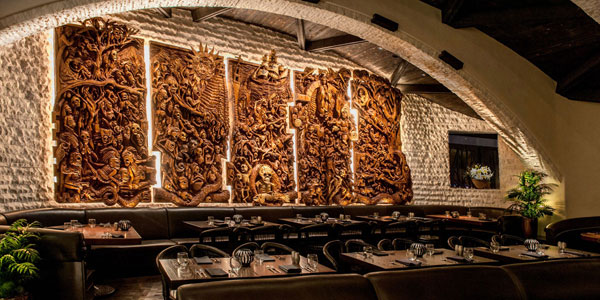 Javier's inside Aria
Aria has brought a little piece of Mexico to Las Vegas with Javier's. The 9,000-square-foot restaurant serves authentic Mexican cuisine derived from generations of co-founder Javier Sosa's family recipes. The menu includes seafood, steaks, pork, chicken and vegetarian options. Try the mouthwatering carne asada, made with a New nter cut, grilled and served with a pasilla chile stuffed with cotija and Monterey Jack cheeses. If you can't decide on just one dish, there are combination plates featuring tacos, enchiladas, chile rellenos and more.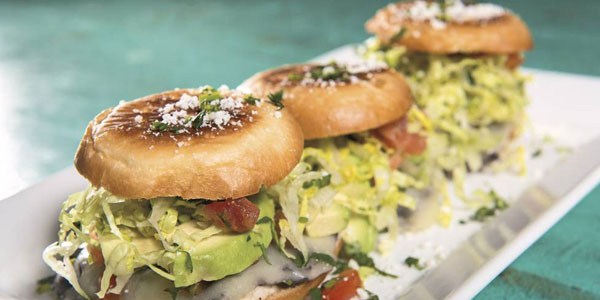 Pink Taco inside Hard Rock Hotel
A slight Central American-Caribbean fusion makes this menu interesting. Sure, it has all the classics — a great guacamole, enchilada, etc. — but also house specialties like sabana de pollo and a special marinated carne asada. Appetizers include a churrasco skewer, made with grilled shrimp, steak and chicken served with chili butter, and bacon-wrapped jalapenos, stuffed with blended Mexican cheese and smoked ranch. Be sure to try the trademark pink taco, which includes homemade corn tortillas and black beans topped with chicken, salsa, pickled onions and avocado. Want to eat healthy? Pink Taco has items like the tostada salad, served with shredded salad, chipotle dressing and your choice of chicken or vegetables. Want to eat the complete opposite of healthy? Challenge yourself or your friends to the Ultimate Burrito, which weighs in at more than 3 pounds with chicken or steak, refried beans, Mexican cheese, guacamole, sour cream, pico and lettuce.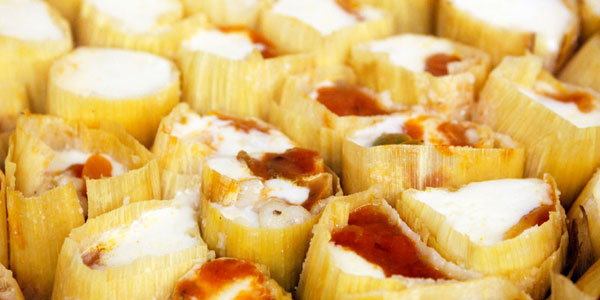 Doña Maria 901 S. Las Vegas Blvd.
This restaurant has been a favorite in Las Vegas for more than 35 years. It's where you go if you want cooking like your grandma's cooking. Doña Maria is famous for their tamales, which come in a variety of flavors. Red features pork in a mild sauce, green is chicken in a spicy sauce, cheese is made with Monterey jack and green chiles and there's even a sweet tamale for dessert with pineapple and raisins. The tamales are sold single, by the half dozen or dozen. The restaurant also serves things like tacos, enchiladas and burritos but let's face it, you're going here for the tamales.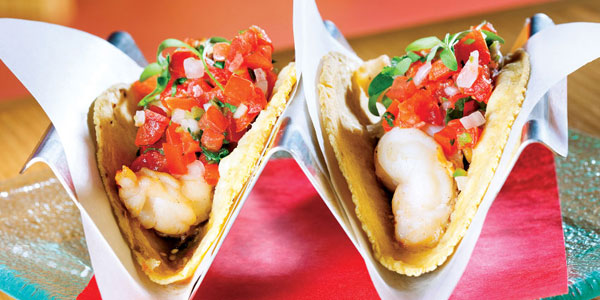 China Poblano inside The Cosmopolitan of Las Vegas
This restaurant, from chef José Andrés, is a unique concept with a Chinese menu and a Mexican food menu under one roof. Sounds weird, but trust us, it works. If you're celebrating Cinco de Mayo, go for the Mexican side of the menu and you won't be disappointed. A few highlights include the guacamole, which is made fresh to order and served with warm, made-on-the-spot tortillas. The carnitas tacos, filled with pork rinds and braised pork are excellent, as are the lengua tacos (beef tongue) or the setas with wild mushrooms and guacamole. We also like the queso fundido and the col de Bruselas – caramelized Brussels sprouts with arbol salsa.