Interested in pampering yourself with decadent accommodations? Desire a romantic retreat to celebrate a marriage proposal, honeymoon or anniversary? Feel like partying with a group of friends in a uniquely themed playpen? Look no further! Here are the best suites in Las Vegas you can actually book. They span a wide range of sizes and prices.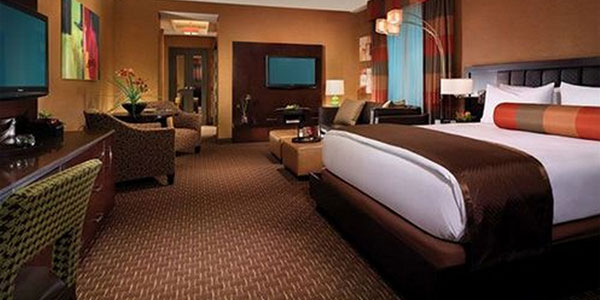 The Rush Tower Junior Corner Suite at Golden Nugget
This suite epitomizes the historic property's modern outlook. Located at the heart of downtown Las Vegas, it's decked out with contemporary décor utilizing fiery hues and rich woods. Comfort abounds here. There's a 42-inch plasma television with a DVD player as well as a pillow-top mattress, feather down comforters and a deep soaking tub.
Featured amenities: There are at total of 70 junior corner suites at the Golden Nugget that offer a variety of memorable views – including the Las Vegas Strip (to the south), the Spring Mountains (on the horizon to the west) and The Tank, the Golden Nugget's outdoor swimming pool that is home to an aquarium filled with sharks! Many of these suites also provide a dramatic perspective of Fremont Street Experience.
Size: 611 square feet.
Bed(s): One king bed.
Perfect for: Anyone who's after some run-of-the-mill excess without hurting their pocketbooks.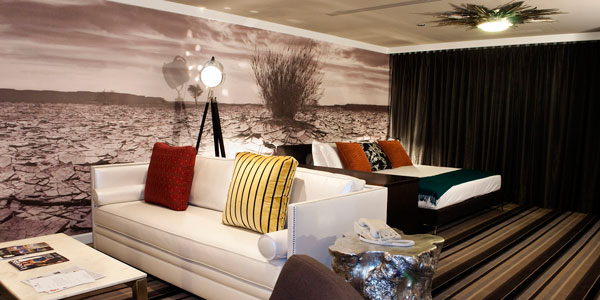 The Big Sleep at El Cortez
This is one of four different Design-A-Suite accommodations available at the downtown Las Vegas resort. In 2010, El Cortez held a contest in order to select the designs now showcased at the property. Among the winners was The Big Sleep, which has a vintage Vegas vibe that's both comfortable and fun. Many elements of the one-room suite evoke the long-gone days of the mob. For example, the gray-and-black-striped pattern on the carpeting brings to mind a gangster's pinstripe suit. There's also a white sofa accented with colorful pillows to suggest the bright lights of the Strip. A tumbleweed lamp and faux crocodile skull are guaranteed to grab your attention as well.  
Featured amenities: There's a wall-sized mural of the desert along with a decorative bowl of bullet casings.
Size: 600 square feet.
Bed(s): One king bed.
Perfect for: Anyone who wants to immerse themselves in a classic Vegas atmosphere.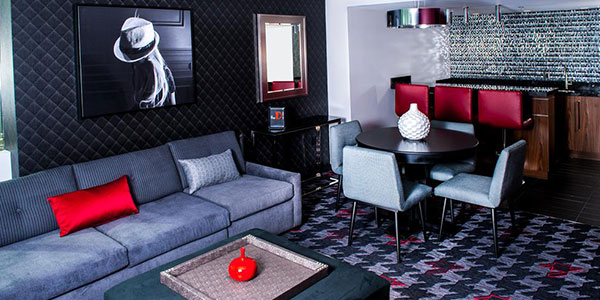 The D Suite at The D Las Vegas
Also located in downtown Las Vegas – right on Fremont Street  Experience – The D Las Vegas offers this affordable two-room luxury pad. It features contemporary décor with gaming-themed artwork and spectacular views of the city and surrounding mountains. There's chic bedding, an iHome clock radio, two refrigerators and a lavish bathroom with a separate tub and walk-in shower.
Featured amenities: The living room boasts an entertainment center with three flat-screen TVs as well as a wet bar with black marble countertops.
Size: 600 square feet.
Bed(s): One king bed.
Perfect for: Sports lovers who'd like to invite friends over to view the day's big games.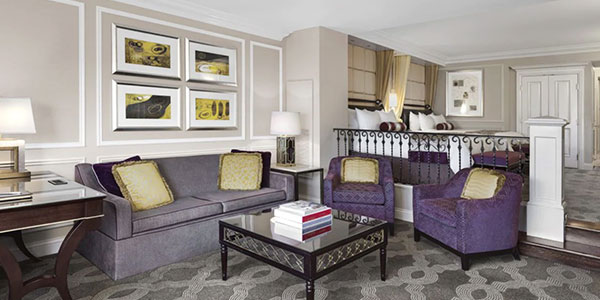 Bella Suite at The Venetian
It's only natural that Italian-oriented amenities are hallmarks of this lavish suite. Upon entering, you'll discover the pinnacle of luxury. The pillow-top bed is snugly ensconced by drapes and 400-count wool blankets. Tech-savvy guests will appreciate the remote-controlled Roman shades and 32-inch flat-screen TVs. Plus, there's a sunken living room with elegantly upholstered furnishings including a sofa and oversized ottoman. A dining table seats three, and there is a fully stocked refreshment center.
Featured amenities: The 130-square-foot Italian marble bathroom has a jetted tub as well as a separate glass-enclosed shower and a 17-inch flat-screen LCD HD TV.
Size: 700 square feet.
Bed(s): Two queen beds.
Perfect for: Admirers of Old World opulence.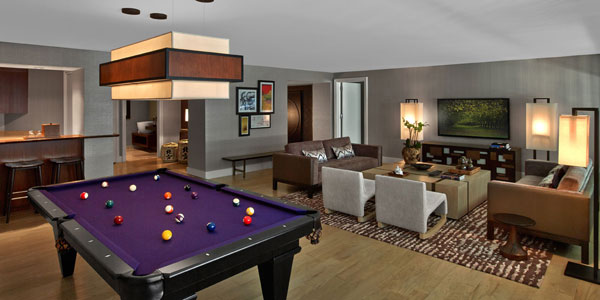 The Sake Suite inside Nobu Hotel at Caesars Palace
This Japanese-themed boutique hotel is co-owned by celebrity chef Nobu Matsuhisa, actor Robert De Niro and film producer Meir Teper. Elements of Eastern and Western cultures have been fused together throughout the property, which is situated in its own tower within Caesars Palace. Masterfully designed by David Rockwell and his firm the Rockwell Group, the Sake Suite is inspired by traditional Japanese sake drums. In addition to amenities like high-definition TVs, an open entryway and a central bar/pantry, you can expect to receive unparalleled personal service – beginning with the signature green tea ritual as your welcome.
Featured amenities: The spacious living room contains a billiards table.
Size: 1,300 square feet (a two-bedroom option spans 1,950 square feet).
Bed(s): One king bed.
Perfect for: Fans of Chef Nobu's cuisine. Not only is the world's largest Nobu Restaurant & Lounge situated next to the lobby, but guests can also indulge themselves 24 hours a day through a special in-room dining menu, which includes sushi and a selection of bento boxes for a customary Japanese breakfast.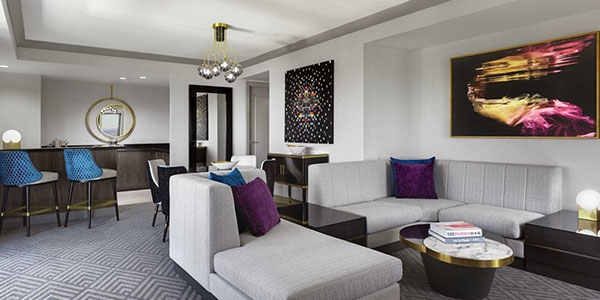 The Wraparound Terrace Suite at The Cosmopolitan of Las Vegas
This fabulous suite is situated at the heart of the Las Vegas Strip in one of the city's trendiest resorts. It's stocked with everything you could ever wish for. Not only is there a separate bedroom, but you'll also have a full-service kitchen (complete with a Sub-Zero refrigerator, microwave and stove), a washer/dryer set, a stylish living room and a dining area at your disposal.
Featured amenities: A 480-square-foot private terrace furnished with an extended wicker loveseat and ottoman is the perfect place to see the Strip in all its glory.
Size: 1,200 square feet.
Bed(s): One king bed.
Perfect for: Those seeking an incomparable view of the fireworks on the Strip for New Year's Eve.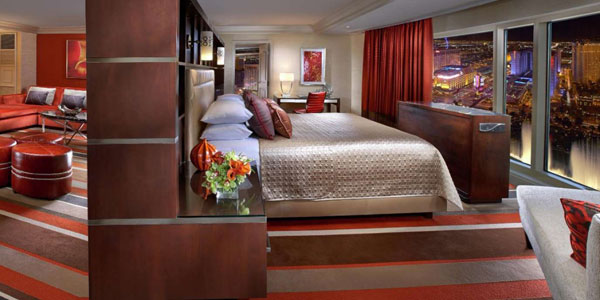 The Cypress Suite at Bellagio
Thanks to the open-plan, arc-shaped layout, you'll be surrounded in comfort. Imagine these luxuries: a marble foyer, a 42-inch HDTV with surround sound, a DVD player, an iHome clock radio, automatic drapery controls, fine linens and plush robes. As if that's not enough, the bed faces large windows with magnificent views – especially if you request a suite overlooking the resort's manmade lake.
Featured amenities: There are two separate Italian marble bathrooms – one for him with a steam shower and one for her with a soaking whirlpool tub.
Size: 1,525 square feet.      
Bed(s): One king bed.
Perfect for: Couples who adore watching the Fountains of Bellagio, which are among the most iconic and beloved attractions in Las Vegas.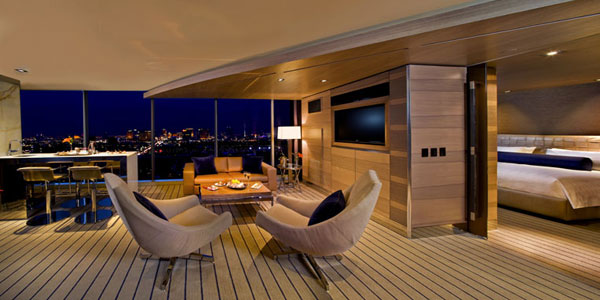 The Flat Suite at the M Resort
Exhibiting classic glamour, guests enter this sophisticated suite through an expansive foyer. A unique triangular layout results in a lengthy living area with plenty of seating, a top-notch entertainment system and a conversation bar. Other elegant details include the etched-glass sliding doors and mirrored closets.
Featured amenities: The M Resort's elevation is higher than that of hotels located on the Strip, so you'll delight in breathtaking 270-degree views of the Las Vegas skyline through floor-to-ceiling windows.
Size: 1,440 square feet.
Bed(s): One king bed.
Perfect for: Visitors who don't wish to be on the Strip but still yearn for an incredible view of it on the horizon.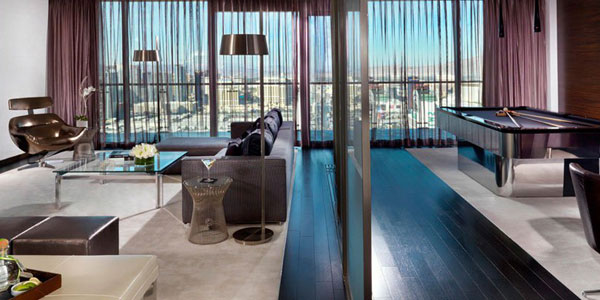 Penthouse A at Palms
Sitting high atop the Fantasy Tower are three different models (A, B and C) of one- and two-bedroom penthouses. Penthouse A is the largest and can accommodate up to eight guests or be used to host events for 75 people. Not only will you sleep in palatial comfort on Egyptian cotton bedding, but you can also take advantage of luxurious living in your mansion away from home with a full-island kitchen, a walk-in closet and a fireplace. There's even a game room with a pool table.
Featured amenities: The pièce de résistance is a cantilevered spa that extends out from the balcony. Imagine taking in the sparkling cityscape below while sitting in the sparkling waters of this truly grand hot tub!
Size: 3,650 square feet (Penthouse B and C are 3,120 and 3,000 square feet, respectively).
Bed(s): Two king beds.
Perfect for: Business people who want to make a great impression on clients by hosting an unforgettable party or anyone who wants to enjoy the high life in Vegas with their family and friends.