Meat. Cheese. Buns. Couple of toppings. Ketchup. Mustard…simple, right? No way. Anybody can make your typical drive-thru or backyard barbecue burger. But if you want a burger to really write home about, you'll want to check out our list of Las Vegas' best burger places.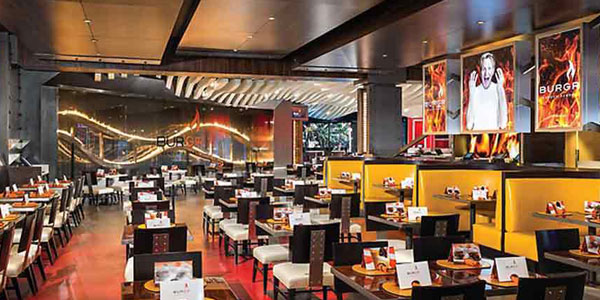 Gordon Ramsay BurGR at Planet Hollywood
Designed by celebrity chef Gordon Ramsay, BurGR is a burger lover's paradise, thanks to awesome flavor combinations and crispy, hand-cut fries. The patties themselves aren't your average grocery store ground beef. They're made from the perfect blend of short rib, brisket, and chuck, basted in Devonshire butter, cooked over an open flame, and served on brioche buns that are made fresh daily. If you're feeling spicy, we recommend the Hell's Kitchen burger, which is made with asadero cheese, roasted jalapeños, avocado, and roasted tomatoes.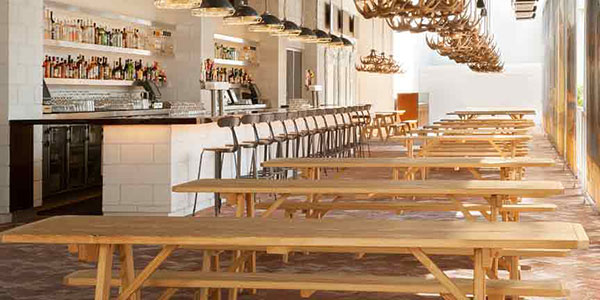 Umami Burger at SLS
Umami was named "Burger of the Year" by GQ Magazine. So what's their secret? The patties are made with house-ground premium steak and enhanced with a unique blend of seasonings and sauces. Choose from toppings like shiitake mushrooms, house beer-cheddar, roasted Hatch chiles, and smoked salt onion strings. Oh, and if you're the I-need-a-beer-with-my-burger-type (we are too), you can stuff your face while sitting in the outdoor beer garden, overlooking the Las Vegas Strip.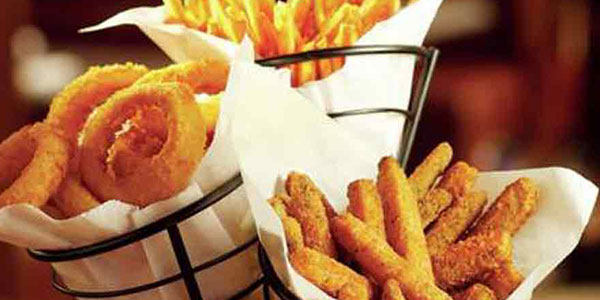 The upside? This Hubert Keller restaurant is a build-your-own burger concept. The downside? That means you have to make so. many. decisions. Like if you want a beef, lamb, or buffalo burger, and which kind of bun you want. Oh, and you're not off the hook yet. Options for toppings include everything from coleslaw to pineapple to fried eggs. Feeling fancy? Treat yourself to the Rossini Burger, a Kobe-style Wagyu beef burger with sautéed foie gras and shaved truffles.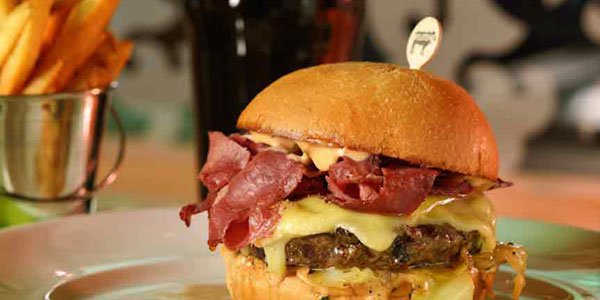 Holstein's at The Cosmopolitan of Las Vegas
Holstein's puts on a show, with décor that includes life-sized neon pink cows, pop art from local artists, and multiple TVs for watching the big game every weekend. Delicious burger combinations include the Gold Standard (a dry aged sirloin burger with smoked bacon, aged goat cheddar cheese, tomato confit, baby arugula, and garlic-chive aioli) and the Rising Sun (a Kobe beef burger with teriyaki glaze, nori furikake, crispy yam, spicy mayo, and tempura avocado). Their menu recommends beer pairings for each burger, but we prefer to go big with one of their bam-boozled shakes, only for grown-ups.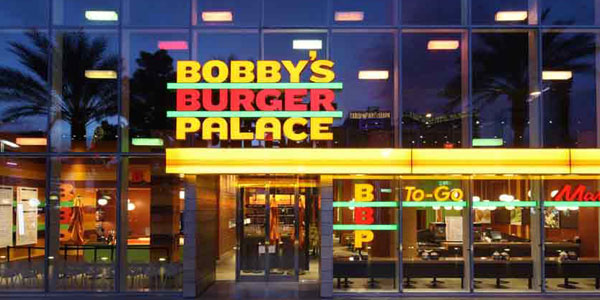 A casual dining concept from chef Bobby Flay, this restaurant gives you the choice of beef, turkey, chicken, or veggie burgers with crowd-pleasing toppings including avocado relish, queso sauce, and fried eggs. Pair yours with cheese fries, buttermilk onion rings, or sweet potato fries with honey mustard-horseradish sauce. Milkshakes (some with booze, obvi) round out the menu.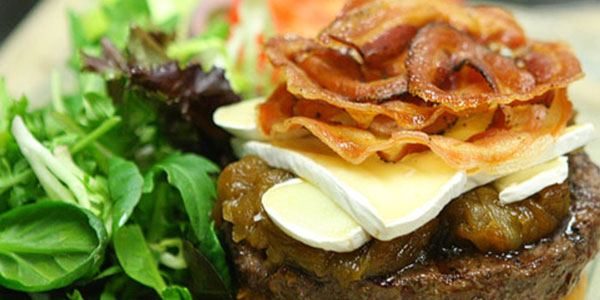 Burger Brasserie inside Paris Las Vegas
We know what you're thinking: what does a French hotel know about burgers? Follow us though, because one look at Burger Brasserie's 777 Kobe beef and Maine lobster burger and it'll all make sense. And just so we're clear, the burger really does cost $777. Thanks to the aforementioned Kobe beef and Maine lobster patty, it's totally worth it. And that's not even considering the pancetta, goat cheese seared foie gras, arugula or 100 year-aged balsamic that comes with it. Along with the burger, you'll also receive a BLT salad and a nice bottle of Rose Dom Perignon Champagne. Bon appétit.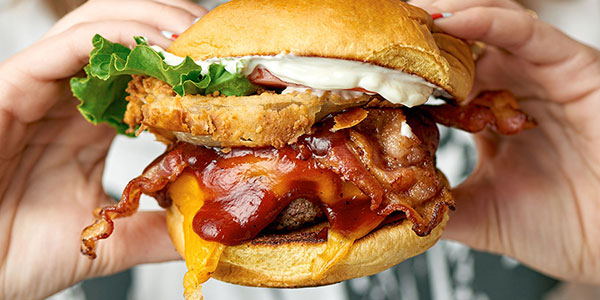 Black Tap Craft Burgers and Beer inside The Venetian of Las Vegas
It's hip. What's hip? At Black Tap, delicious craft burgers are just the norm. Crazy shakes and hip-hop get a ton of attention at Black Tap, but it's the burgers that keep you coming back. So slide in and enjoy a Texan Burger, which comes loaded with bacon, barbecue sauce, mayo and oversized onion rings, or try the Crispy Chicken Sandwich which features Korean bbq, buttermilk coleslaw, cilantro, fresh lime and spicy mayonnaise. If you're a sucker for the classics, their All-American burger is out of this world.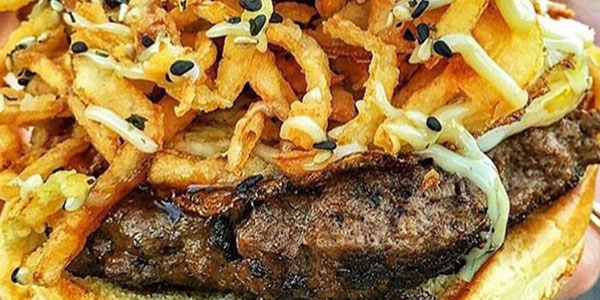 Fukuburger located in Chinatown
FuKuburger is exactly what it sounds like. They offer juicy all-American burgers with a Japanese twist, and we have to say, it's the perfect sweet and spicy combo. Exhibit A: the popular "FukuBurger," features an all-beef patty with American cheese, lettuce, tomato, onions and comes coated in their famous wasabi mayo and house-made Fuku sauce. This burger is everything "East meets West" and we can't get enough of it. Take your burger to the next level when you pair it with the "Jazz fries." These fries feature a crispy garlic coating and come smothered in brown gravy and their special "crack sauce." It's a must-eat.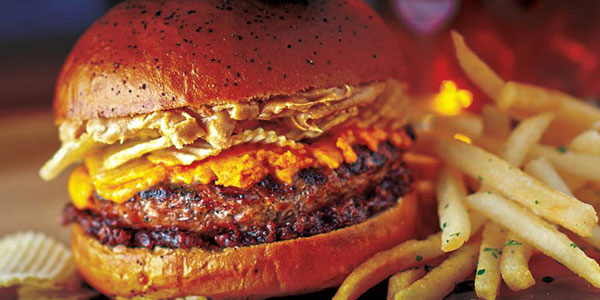 Michael Mina Pub 1842 inside MGM Grand
When you think of Michael Mina, you think of fine dining. At Michael Mina Pub 1842, chef has taken that trademark excellence and made a menu full of mouthwatering burgers. And while you won't find a bad burger in the bunch, the Peanut Butter Crunch burger will always own a special place in our hearts. It might sound odd at first, but trust us, you're first bite will have questioning all the other things the world has called "weird." Who knew peanut butter, bacon jam, pimento cheese and potato chips would work so well on a burger? Score one for innovation, Michael Mina.
Lagassee's Stadium inside Palazzo at The Venetian of Las Vegas
When Emeril Lagasse creates a burger, BAM! He creates a burger. Lagasse's Stadium offers an impressive lineup full of delicious burgers, but you can never go wrong with the Stadium Burger. This half-pound patty of Angus beef is a classic that features fresh lettuce, tomato and a red onion. It becomes elevated when you choose between Tillamook Cheddar, Gruyere or three chile pepper Gouda cheeses. Or, if you're staying with the theme of classics, there's nothing wrong with a little American cheese. Hand us a bib, because we're drooling.