We can't even lie, it used to be damn hard to find a decent beer in Vegas. Seriously, it would've been easier to get off that island in "Lost" than it would've been to find a halfway decent IPA in this town. Luckily for us, oh how times are a changin'. Vegas is currently undergoing a "beer renaissance" of sorts, and we couldn't be more school girl giddy. Personal adulation aside, some of the best places for beer in Vegas are, in fact, located on the Strip (and they're on this list because they are THAT good). Don't let that deter any Strip-detesting locals out there, because these places are worth fighting through the locust-like crowds that swarm Las Vegas Boulevard. Plus, there are still plenty of off-Strip, hole-in-the-wall places listed here to keep everyone happy (yeah, we're talking to you, pinky-sticking-out beer snob). Without further ado, here are the best places for beer in Las Vegas.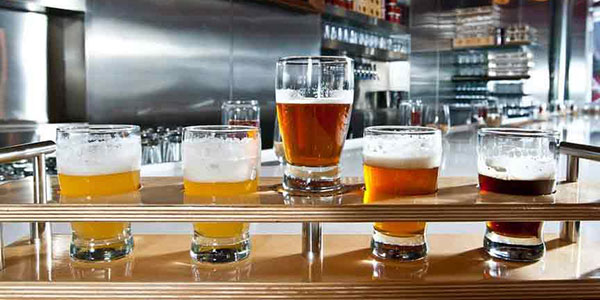 Banger Brewing at Fremont Street Experience
Like an ex-girlfriend, Banger Brewing is gonna burn ya and then leave you coming back for more (we should mention that we're talking about their jalapeno hefeweizen).  Little known fact: Banger is thee first brewery on Fremont Street, which is pretty rad, but that's not enough to get them on this list. It's their Perfect Ten pale ale, Black Eye.P.A., Golden Sours and various other assorted beer concoctions that wet our whistle (which is hard to do considering that we don't even know how to whistle).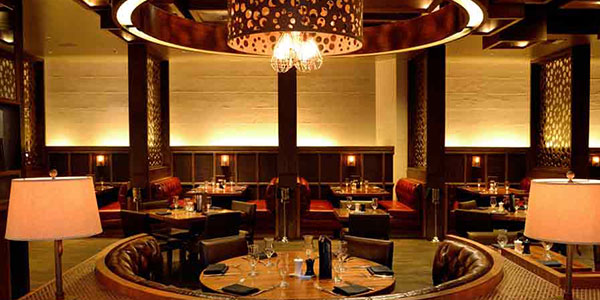 Public House at The Venetian
If a beer lover died and went to heaven, came back to life and created their dream pub, it would be Public House inside The Venetian. This place is legitimately cool, refreshing and an instant hit all without trying (it's basically the Bruno Mars of beer places). Before you dive right in, let us warn you: Public House has a FOUR-PAGE beer menu. This is not a drill, people. Let us repeat: FOUR-PAGE BEER MENU. If you're still a little overwhelmed, don't worry, they also have a beer cicerone (which is a fancy word for "beer expert") on staff to help you make a selection. I think we just died and went to beer heaven…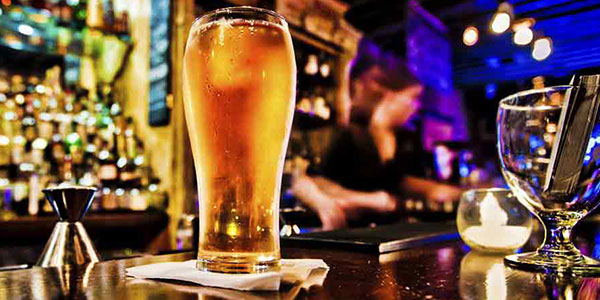 Sin City Brewing Co. at Miracle Mile shops at Planet Hollywood
There's something to be said about people who go against the grain and create something all their own. That's exactly why we're enamored with Sin City Brewing Co. Opened in 2003, it's safe to say that they got out in front of the microbrew trend (if only we had the foresight to dodge that Ed Hardy train. Ugh, the internet will never let us live that down). Sin City has been able to expand into four Strip creations on the back of their small batch creations (they only make 100 kegs of a particular brew at a time).  Even cooler, they only use raw materials in their beer (something tells us this isn't just a fad).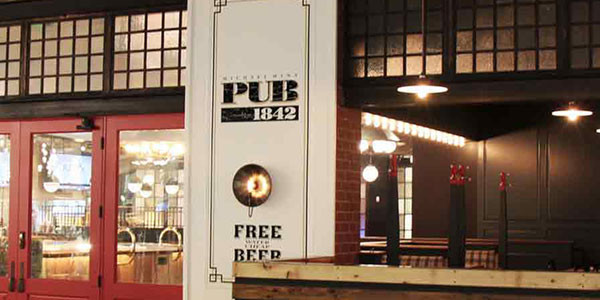 Michael Mina Pub 1842 at MGM Grand
Did you know when Pilsner was invented? We do, but only because it's in this brew pub's name. Michael Mina Pub 1842 inside MGM Grand offers a refined approach to beer, which is refreshing because everyone else is about dumbing it down. Chef Michael Mina uses his knowledge and expertise to create a beer list that includes both American and international selections in can, bottle and tap form. He's also an expert on food and beer pairings (so no, you can't ask him about pairing a Libra with a Capricorn. Or maybe you can, we don't know). If you're a little green to the beer scene, Mina's has awesome tasting flights and beer cocktails to help you expand your beer IQ.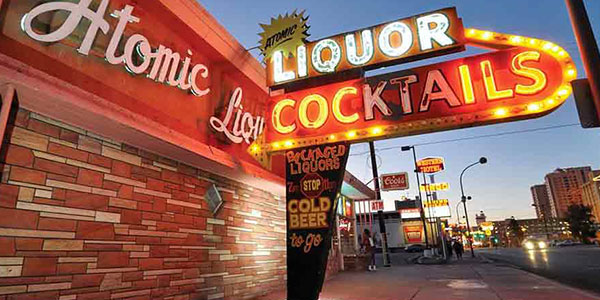 Atomic Liquors at Downtown Las Vegas
Who doesn't like a little history with their brewski? Well, Atomic Liquors in Downtown Vegas was the first watering hole to get their Nevada Tavern license. More history for ya (because we're basically a young Aristotle or Jaime Escalante): when Atomic opened people would grab a cold one, hop up on their roof and watch the nuclear explosions at the nearby test site. AND IF THAT'S NOT ENOUGH, the Rat Pack used to kick it here. And there's a reason they did: because the beer selection was really really good. They have 20 microbrews on tap, bottled beers and even throw beer release parties. Who says drunk history isn't a thing?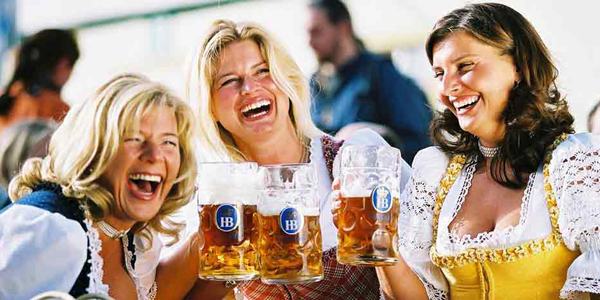 Hofbrauhaus
If we know anything about Germans, it's that they know how to party. Ok, maybe that's overly generalized typecasting, but Hofbrauhaus lives up to all of our wildest dreams about Deutschland. Modeled after one of the oldest breweries in Munich, this place is authentic as it gets, thanks to their classic and seasonal brew selections, killer indoor beer garden (for playing even more authentic drinking games) and a delicious assortment of Bavarian grub. Sure, you can call us drunk, but we just think that we're doing our best German impersonation.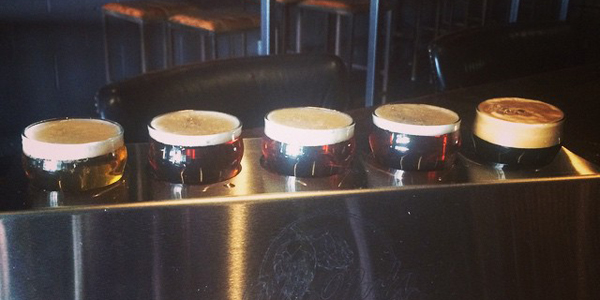 Hop Nuts Brewing at Downtown Arts District
Hop Nuts Brewing is a sweet surprise to the Vegas beer scene. Nestled into the up-and-coming Downtown Arts District, Hop Nuts is the perfect place to grab some suds with friends and enjoy some art and convo. Hop Nuts brews its own selection of beers, but they're not conceited about it, because they have a host of guest taps on hand(le) for patrons to rip into as well. Like any good community, this place is all about drinking good beer and helping people out. Now let's see if they'll help us out to the cab when we eventually get too drunk to make our way home.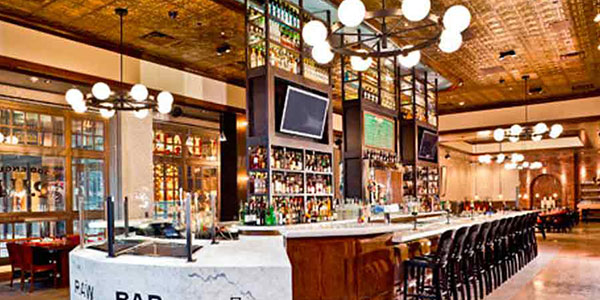 Todd English P.U.B. at The Shops at Crystals
We're not exactly sure how Todd English P.U.B. got tucked between Aria and The Shops at Crystals. What we do know is that we're not mad about it. We're just going to be honest for a second, if we had to guess where a really good place for beer would be, let's just say that our first guess wouldn't have been here, ya dig? But once you step inside the pub it becomes less about where you were and more about where you are. Their beer menu is longer than a fake weave and has more variety than a Spotify playlist. Even better, you can release your inner Game of Thrones because they have real-life mead! So get comfortable, grow out a beard the Wildlings would envy and knock back a brewski. You're welcome for this one.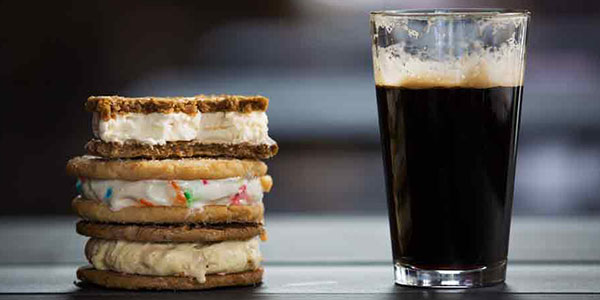 Beerhaus at The Park Vegas
What's more serene than strolling through The Park with a beer in hand? Smashing your friends at a game of ping pong or cornhole is the answer we're looking for. Sorry, just the thought of friendly competition turns us into the Hulk. Sweaty back, ripped clothing and all. Anyways, Beerhaus at The Park is the closest Vegas gets to having a backyard beer with your friends. Seriously, there are 23 beers on tap ranging from big beer brands to local favorites and special guest taps. Even better, they complement that with a solid food menu that comes loaded with beer favorites like soft pretzels and brats (it's basically the Sonny to their Cher). And there's never a shortage of things to do while drinking your beer because in addition to games like cornhole, ping pong and shuffleboard, they have a weekly pub quiz if you're really feeling brave.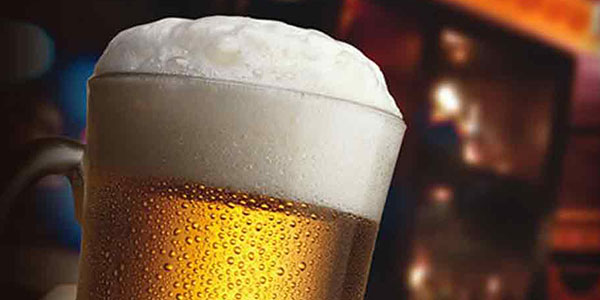 ameriCAN Beer & Cocktails at The LINQ Promenade
What else should one do once you've already spent an entire career spreading great brews and killer vibes throughout the valley? You give the people something they didn't even think they needed: ameriCAN Beer & Cocktails. Jonathan Fine (the dude behind The Rockhouse, PKWY Tavern, Chayo, etc.) is Vegas' version of The Dark Knight: he may not be the hero Vegas wanted, but he's the one Vegas deserves (we think that's how it goes). Anyways, in a space where it's so easy to follow trends, ameriCAN Beer makes its own. Having created the first beer can bar in town, ameriCAN has more than 70 canned beers to choose from, plus a specialty cocktail menu to boot. Even cooler, they ENCOURAGE you to BYOG (Bring Your Own Grub). Great beer and we don't have to splurge on food? Jonathan Fine, you ARE the hero Vegas deserves.