This was a hard one. Vegas is a unique town and we've got a lot of unique bars. We seriously spent way longer than we're proud of narrowing down this list and trying to figure out our exact motivation for including what we did. And we're not even going to try to put them in a specific order, so we just went alphabetically. We won't bore you with the process, but trust us when we say these are the bars with vibes and atmospheres you won't want to miss. But if anyone not listed asks, we totally just picked bars at random. *wink*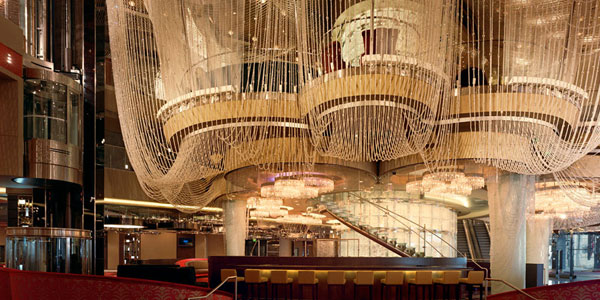 Why have one bar when you can have three? Well, the answer to that is probably so you don't have to walk while drunk. But at the Chandelier you don't have to worry about walking too far. This bar is unique in that it combines three separate spaces, each with its own feel and dimension, to create what we have frequently called (just made up this second) a layered cake of libations. The first floor is a casino bar with live music, the third floor (which is actually on the second floor of the building) is a suave lounge offsetting the shopping space and the middle level, accessible only through the other two, is a private cocktail room with its own mixologists. So take your unique personality to the Chandelier and find the level that's right for you – or at least right for you right now.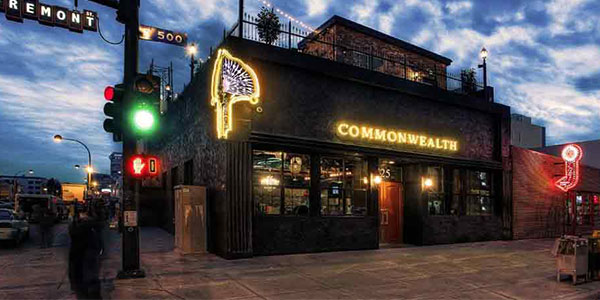 The uniqueness of Commonwealth is less obvious than some other spots on the list. It's not weirdly decorated and it doesn't have video games. But what it does have is a rich personality and plenty of space to entertain, express or invite a little closeness. Starting in the main bar, the room feels like the loft of the coolest person you've ever met, until you realize they're just a ghost and you're going mad. *GASP* But then you calm down and get a drink from the expert bartenders who mix outstanding cocktails from scratch. Up the stairs you find the roof with its own bar, DJ spot and seating – all of which overlooked Fremont Street creating a unique vantage points for people watching or the various events that take place. It's all unique in the way precision and personality are unique in a city built on excess and losing your shirt. Of course, if you do lose your shirt there's also a secret bar in Commonwealth called the Laundry Room. But that's another story all together.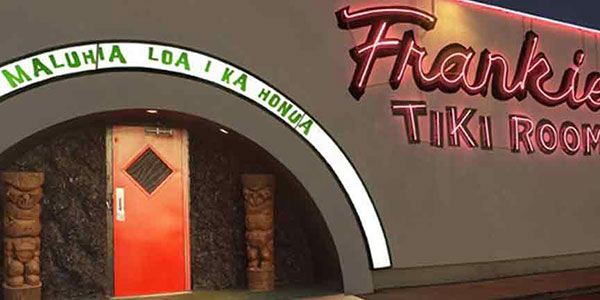 It's a freakin' tiki room. When was the last time you saw one of those? If you're under 60 the answer is probably never. But now you've got the chance to experience what people thought was way rad or whatever they said in 1957. Frankie's Tiki Room is unique because, and hold your boats for this one, it's a tiki room. It's got the tiki statues, bamboo, special drinks with little umbrellas in them and even a shrunken head that may or may not have a little umbrella stuck in it depending on how drunk people got last night. The statues were custom designed just for the bar and everything about it screams "we've managed to create a tiki bar that's entertaining and still lands just this side of racist." If you want a unique experience with affordable and strong drinks, head to Frankie's. Just don't break any of the tikis. You won't get cursed or anything, but the owners will be really bummed.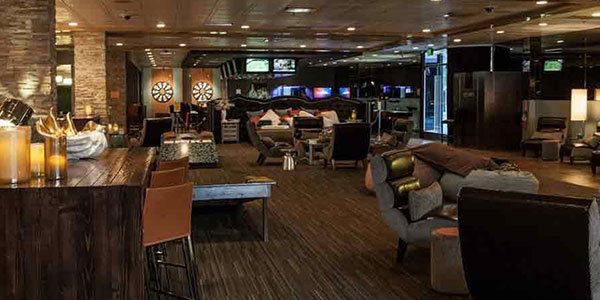 Have you ever wished that your summer camp were a bar? Or did you just spend your summers as a kid hanging out at a bar while wearing a fake moustache and pretending to be a 35-year-old optometrist named Raul? If you did that last one then props to you. You're hardcore. But if you just want to live it up like that, Gold Spike has a variety of games and opportunities for fun that make it a unique place to drink. In addition to the typical pool and darts, they've also got bean bag toss (which apparently goes by many names depending on where you're from – the funniest of which being "corn holer"), giant Jenga and plenty of board games. There's also a bed. We don't really know what to do with that either. Lay on it? Lie to your SO on it? Probably not the best idea to fall asleep on it. But it is unique. And that's the important thing here.
It's like Oktoberfest every day of the year at Hofbräuhaus. And, while we hate them for making us look up how to put umlauts on letters in our blog software – and how to spell umlaut – we love them for the incredible beer and German attitude you don't really see much of in the desert. The building is a replica of the original Hofbräuhaus in Munich, which we guess makes it a little less unique, but it's still special to us. And if you disagree with that the Germans will… bail out your banking system probably. They've changed a lot over the years. With authentic music and a lively atmosphere,Hofbräuhaus is the place to go to drink beer and meet new people. With the family seating you're pretty likely to meet a new drinking buddy. But with the quality of the beer just be careful about overindulging. You might get booted out with a hearty, "Aussteigen!" (That means "get out" in German. We have no idea if that's what they would actually say. We can hold our beer.)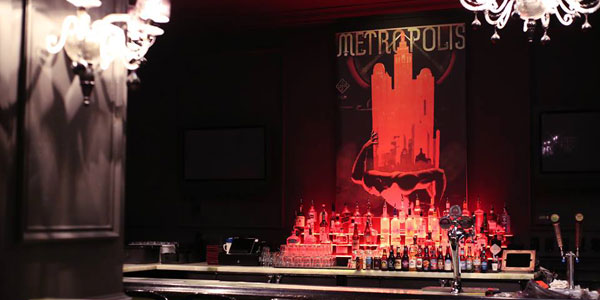 So you want a place where you can drink and rock your Boba Fett outfit without having people look at you like you just crawled out of a sarlacc pit. You're in luck. Las Vegas has its very own cosplay bar called Millennium Fandom where you can dress up as your favorite characters from sci-fi and fantasy all while downing shots of great cocktails that you can pretend are butter beer or Romulan ale. There's no limit on the cosplay potential, though it should probably still comply to public nudity laws. And if you do dress up as Boba Fett, don't pick a fight with a Jedi. Millennium Fandom is a clever speakeasy where your fandom fantasies come to life.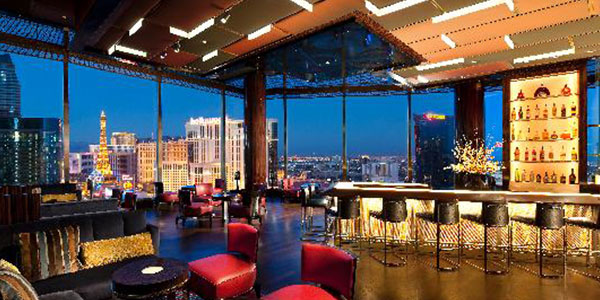 Skybar at Waldorf Astoria Las Vegas
Beauty and sophistication can be unique, especially when they're applied to an area like the Las Vegas Strip where slot machines outnumber books something like 8 trillion to one. But thankfully, Skybar at Waldorf Astoria Las Vegas keeps things classy with an impressive space that feels like a magnificent loft that's actually owned by a real person you would totally hook up with if it meant waking up to that view. Yeah, we need to hit that view pretty hard. It's one of the best in the city and the fact that you're experiencing it from such a warm and upscale locale makes it even more alluring. Add in the live jazz and the delectable cocktail and small bites menus and it's easy to see far and away why Skybar is much more unique than the 30 little casino bars you've probably passed in the last 10 minutes.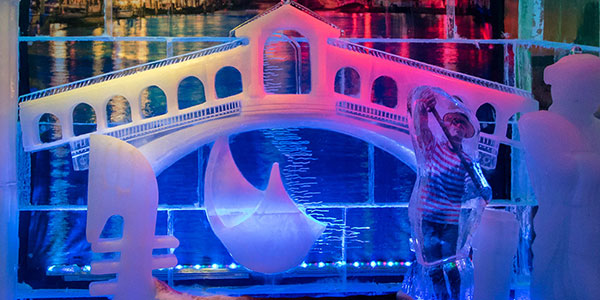 Yes, there are Minus 5 bars in other places. We'll concede that right now. But are any of those in the desert? What's that? We can't hear you. No? That's what we thought. We've got the only two Minus 5 Ice Bars in the desert, because where else would you need to be surrounded by ice? When the sun is blazing and cooking all the tourists like a fine tofurky loaf (some of our writers are veggie), Minus 5 is the only place in town to be surrounded by 360 degrees of 23 degree goodness. If that's confusing to you it's probably a symptom of heat stroke and you should get to Minus 5 as quickly as possible. If you like ice, and weirdly your hotel won't let you hang out in their industrial freezer, Minus 5 is your most unique (and only) option in Las Vegas.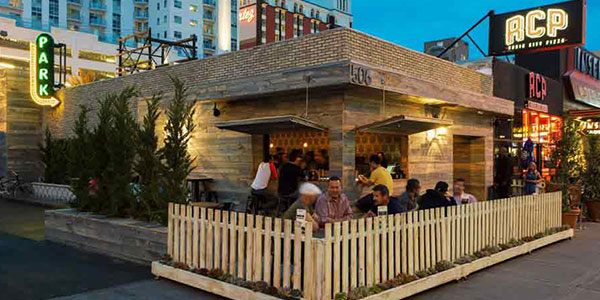 Have you been to Park on Fremont? Unique might be a strong enough word. From the paintings of deranged little girls to the deer head with guns for antlers to the taxidermy birds behind the bar to the books behind the bar to the fireplace behind the bar to the bartenders behind the bar to the sign in the bathroom that says "employees must say 'Bloody Mary' into the mirror three times before returning to work," Park on Fremont is like no place else probably in the world. If Tim Burton opened a bar he would close it like a week later saying he couldn't compete with Park on Fremont. And we haven't even made it to the backyard patio yet. We don't want to run out of space so we'll just say: carriage on the roof, neon green sign that says something we can't print, outdoor fireplace, statues, hidden teeter-totter. And now we'll take a breath and think of all the stuff we forgot. Seriously, just go there. You'll know. Oh you'll know.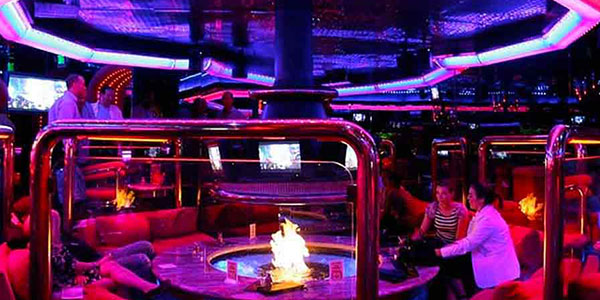 This place is a Vegas classic that remains unique even though it's kind of trapped itself in 1976. The fire pit in the middle of the lounge area would probably be unique enough, but the lighting, the ambiance and the fact that the fire pit has liquid in it all add to the appeal of this lounge. With a full restaurant as well, you can fill up on food before filling up on drinks. And being open 24 hours means you could stop in anytime for a nightcap or to pregame, or you could spend your whole night in one spot. Compared to some of the others on the list, it might seem somewhat more mainstream. But trust us when we say that Peppermill Fireside Lounge knows its identity and is proud to be as unique as it is. If other spots scared you off, but you still don't want to sit at a Chili's and drink, Peppermill is a great, and unique, bar, lounge and restaurant.