Part of a classic Vegas experience is going to a buffet. There's a certain to-do list when guests come to Vegas:
Make it to the top of the Stratosphere.
Eat at a Vegas buffet.
You might think you know what you're getting yourself into, but you've never seen buffets Las Vegas style. The Vegas buffet is known for pounds of shrimp piled high, the prime rib carving station and hundreds of crab legs stuck in a bed of ice. Most people see Vegas buffets as a good value. Others see them as a chance to try a variety of dishes at once. No matter what the reason, buffets are a staple of Las Vegas.
Here is a list of the best buffets Las Vegas has to offer, from a Parisian feast, to a boutique-style buffet and a cost-conscious all-you-can-eat.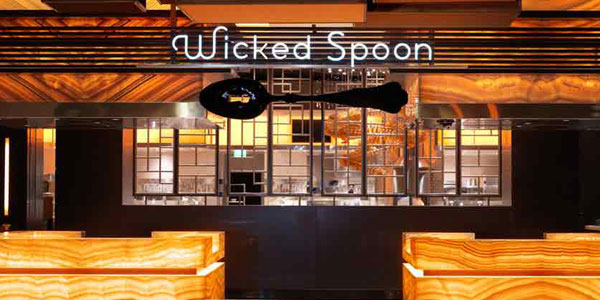 Wicked Spoon buffet
Location: The Cosmopolitan of Las Vegas.
Décor: Modern and elegant with warm brown, orange and gold colors.
Unique Feature: Unique dishes served on individual small plates.
At the Wicked Spoon you don't need to worry about filling up on one thing too quickly or accidentally getting a large helping of something you don't really like. Most items are served in a reasonable portion size on a small individual plate or in a tiny individual metal saucepan.
Much like any buffet, the Wicked Spoon is divided into sections, beginning with a salad area. Remember, you're doing buffets Las Vegas style. Instead of lettuce, dressing and toppings, you'll find Italian panzanella bread salad, chickpea salad, hummus and pita slices and a nice selection of pungent cheeses.
The Wicked Spoon has a traditional carving station, serving things like prime rib and pork, but you'll also find out-of-the-ordinary items like roasted bone marrow and lamb. There are a wide variety of side dishes to accompany the meat. Don't miss the truffled scalloped potatoes and "angry" mac and chesse, which has a smoky, chipotle flavor.
Diners will also find a seafood station, an Italian food area and an Asian station. Save room for the massive dessert selection, which includes cake pops, pastries, cookies and even sugar-free confections. The highlight is the gelato bar which serves the rich, creamy Italian treat in a wide variety of flavors including strawberry balsamic and a mouthwatering salted caramel peanut.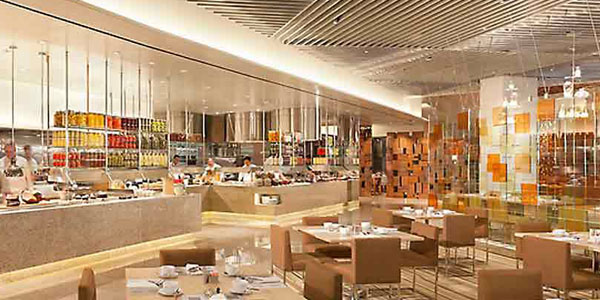 Bacchanal Buffet
Location: Caesars Palace.
Décor: Prestigious Japanese design firm Super Potato created the sophisticated yet welcoming décor with rooms themed around glass, wood and steel.
Unique Feature: A plethora of cooked to order dishes and unique offerings.
Caesars Palace's Bacchanal Buffet is a mammoth 25,000-square-foot room with nine different show kitchens including Mexican, Italian, Chinese, Japanese, American, seafood, pizza, deli (including soups, cheeses and charcuterie selections) and desserts. All the "comfort foods" - from mac 'n' cheese and mashed potatoes to prime rib - is served. Each show kitchen also has an action station with plated dishes and "minis" (small-sized portions of modern cuisine to tempt foodies - like red velvet pancakes, oak-grilled lamb chops and roasted South Carolina shrimp and grits). Among the uniquely crafted items, guests will discover house-smoked barbecue ribs and brisket, fresh tortillas and oyster shucking. Plus, there are plenty of options to please vegetarian, vegan and gluten-free eaters.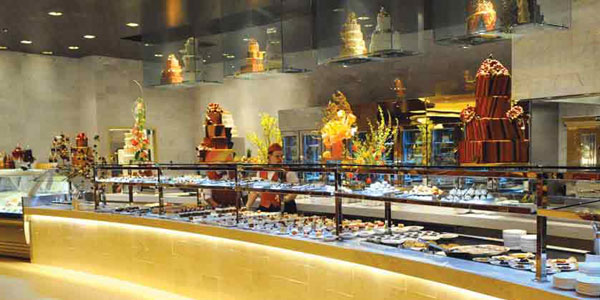 Studio B Buffet
Location: The M Resort.
Décor: In keeping with the general architecture of the M Resort, Studio B combines natural materials and a warm color palette of rich browns mixed with orange, cream and gold. There is soft lighting, while breathtaking bay windows showcase the city through the back of the dining room. A total of 116 video screens span the serving area, grabbing patrons' attention with in-house cooking demonstrations from the show kitchen, hotel promotions and clips of Food Network programs.
Best feature: The selection of foods served here -- at any given time -- is huge. More than 200 different items are prepared fresh daily -- and by "prepared" we mean while you watch!
Voluptuous Hollywood screen siren Mae West said, "Too much of a good thing can be wonderful." At Studio B, it certainly is.
For example, good service is a top priority here. Guests are always welcomed by name, seated as quickly as possible in the chic dining room that accommodates 600 people and then tended to unobtrusively throughout the meal.
Good drinks flow freely as well. During lunch and dinner, you'll discover a corner bar where wine, beer and cider are served. A full range of soft drinks and fruit juices are available from the waitstaff, and meals can be capped off with a hot chocolate, espresso or Irish coffee from the barista.
Now factor in all the good food -- heaps of it! Everywhere the eye can see are artisan breads, fresh-picked fruits, Caesar and wedge salads, soups and vegetables -- including every kind of potato imaginable from roasted, baked and mashed to Lyonnaise, tater tots and English-style chips.
Experience flavors from East to West at Studio B. Sushi, sashimi and nigiri are meticulously arranged in a Japanese-themed area. Pastas and wood-fired pizzas abound in the Italian section. Plus, there's a smorgasbord of Mediterranean (stuffed grape leaves and hummus), Mexican (enchiladas and build-your-own nachos) and Chinese (oxtail soup, panang beef and General Tso's chicken) delights.
Multiple carving stations boast prime rib, pork chops, roasted turkey, ham, barbecued ribs and stuffed pork loin. Seafood lovers can load their plates with cocktail shrimp, clams, mussels, paella and Hunan-style tilapia. This is easily one of the best buffets Las Vegas has to offer.
The dessert station crowns this blockbuster spread. Miniature cupcakes, crème brûlées, lemon meringue pies, molten lava cakes and tiramisus line the truly decadent display cases -- alongside cookies, cannolis, éclairs and macaroons. With three kinds of crêpes and homemade gelato, you couldn't clamor for anything more.
But remember, you can have all you can eat. And what could be more wonderful!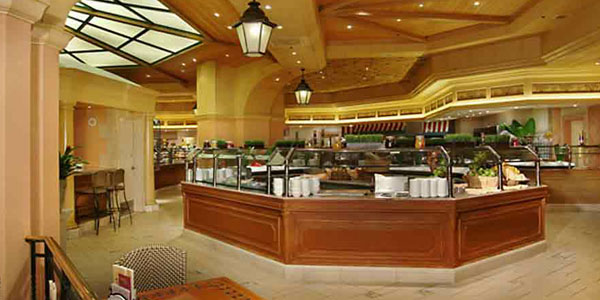 Bellagio Buffet
Location: Bellagio.
Décor: The food area is reminiscent of a village town, complete with lamp posts and plants. The dining area makes you feel at ease with pleasant lighting, bright colors and striking wall art.
Best feature: The buffet at Bellagio offers a wide variety of seafood, salads and desserts that you won't likely find at other buffets. These include ahi poke, tofu glass noodle salad and white chocolate Nutella parfait, to name a few.
This may not be one of the biggest buffets Las Vegas has to offer, but it makes up for that with variety. In addition to crab legs and shrimp cocktail, seafood options include salmon roulade, creamed herring, smoked trout, green lip mussels and calamari salad. Or, sink your teeth into a freshly-cut piece of prime rib, honey and pineapple-glazed ham and rotisserie chicken. Kids and kids-at-heart will love the mac 'n cheese mini bowls. There's also a great selection of pizza, as well as a made-to-order taco station.
Health-conscious eaters are also in luck. The salad bar reminds us of the Whole Foods Market version. Choose from specialty salads like tofu glass noodle, Thai chicken, spinach with bacon and goat cheese or mixed greens with carrots and blue cheese. Create your own and top it with items commonly offered in buffets, like sunflower seeds, kalamata olives and raspberry vinaigrette.
To satisfy your sweet tooth, choose from a great selection of seasonal fruits or parfaits like the white chocolate with Nutella served in a tiny waffle cone. During your feasting, the buffet's pleasant and cheerful atmosphere keeps your mood in high spirits.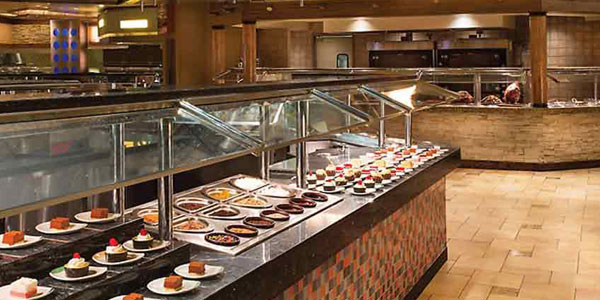 Carnival World & Seafood Buffet
Location: Rio All-Suite Hotel & Casino.
Décor: The vibe and energy is reminiscent of something you'd experience inside a cruise ship.  You can choose to dine in the middle of the action by the brightly-lit buffet stations. For a more quiet experience, there are booths sectioned off in a dim secluded area.
Best feature: The made-to-order teppenyaki station allows you to create your own dish and assures you that your food is going to be fresh and flavorful since it's made right in front of you.
Whether your friends can't agree on where to eat or if you want to try something out of your element, the Carnival World & Seafood (there are more than 70 options) Buffet is guaranteed to make all palates happy. And with a variety of cuisine ranging from Japanese and Italian to seafood and Mexican, you'll feel like you traveled the world by the end of your experience.
The made-to-order teppanyaki dishes at the Japanese food station will leave you craving more. Since your chef cooks your meal right before your eyes, it feels like you're watching a show. Even if you don't eat meat, you can still have a flavorful teppenyaki bowl with tofu, soy sauce and a sweet chili sauce. With all the different combinations available -- and the fact it takes only a couple of minutes to cook your bowl -- you'll find yourself in this line over and over again.
If you're big on sweets, the Carnival World Buffet offers a wide selection of homemade pies, pastries and cakes. Don't leave without having a bowl of gelato, which is made from scratch. Choose from nine different flavors, including a couple of sorbet options suitable for the non-dairy crowd. And while most buffets restrict you from leaving with something, your server will gladly give you a complimentary bottled water to go.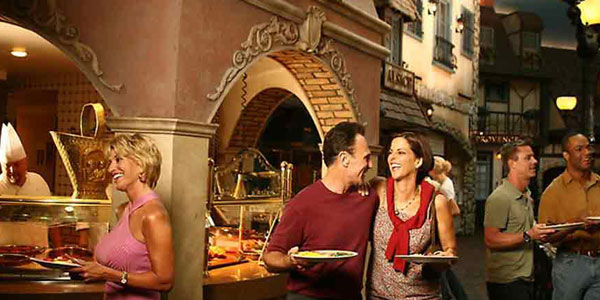 Paris Le Village Buffet
Location: Paris Las Vegas.
Décor: The buffet is decorated like a charming French village. Each food station is themed after a different province in France.
Best feature:  One of the best features is the made-to-order crêpe station, where a chef will create a sweet or savory crêpe for you.
Le Village Buffet at Paris Las Vegas serves traditional buffet fare with a French twist.
This charming Las Vegas buffet transports you to five French provinces through both taste and décor. The buffet is divided into sections like Provence, Alsace and Savoie. Each area is decorated to look like a French village from that region and serves one or two traditional French dishes from that area as well.
One of the highlights of Le Village is the made-to-order crêpe station. A chef will whip up a sweet or savory creation for you. Choose from sweet crêpes like "the monkey," made with bananas, Nutella, whipped cream and hazelnuts.
Savory crêpes are also available, made with items like ham and cheese, chicken and vegetables.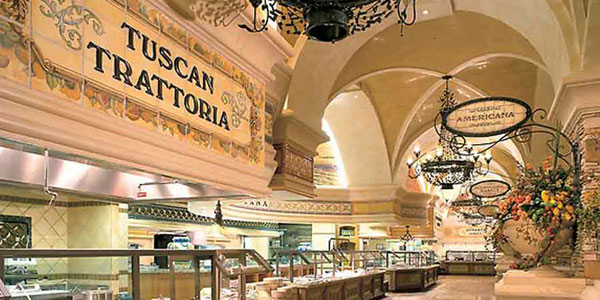 Feast Around the World Buffet
Location: Green Valley Ranch Resort.
Décor: The buffet's interior is open and airy, creating a comfortable spot to indulge in international culinary favorites and plenty of wholesome staples.  There's a slight Mediterranean flair with the tile and marble decor and a number of wrought iron chandeliers.
Best feature: Combines the features of a top Las Vegas Strip buffet with an off-Strip price. And did we mention the made-to-order milkshakes?
The Feast Buffet at Green Valley Ranch is a locals' favorite. With a myriad of food choices from around the world, six live-action cooking stations and a value-driven price, the buffet at GVR is a treat for your taste buds and your wallet. It's a preferred choice for those who want an all-you-can-eat dining experience off the Las Vegas Strip.
The live cooking stations feature Italian, American, Mongolian, Chinese and other international selections prepared for guests on the spot.  An open interior design with elegant décor, neutral tones, vaulted ceilings and tile floor creates an inviting atmosphere for guests to indulge in international culinary favorites and plenty of wholesome staples like prime rib, barbequed ribs and macaroni and cheese.
Open for breakfast, lunch, dinner and Sunday brunch, these Las Vegas buffets offer a bounty of food seven days a week. It opens at 8 a.m. every day and closes at 9 p.m. The meal times are as follows: breakfast 8 -- 11 a.m.; lunch 11 a.m. -- 3:30 p.m.; dinner 3:30 -- 9 p.m. Sunday brunch is offered from 8 a.m. -- 3 p.m.  Prices for the buffet are: $7.99 breakfast; $10.99 lunch; $18.99 dinner; $18.99 Sunday brunch.
The made-to-order options and diverse food offerings put the Feast buffet at GVR on the map for both variety and freshness. That, combined with the refined décor, have earned it a spot on our list of Top 10 buffets in Vegas.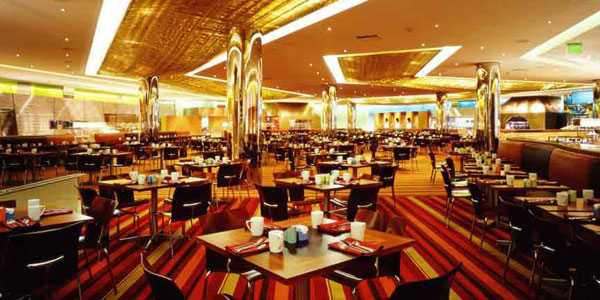 Cravings
Location: The Mirage.
Décor: Cravings has a modern, colorful aesthetic designed by Italian-trained architect Adam Tihany.
Best feature: The buffet features a charcuterie station where you can pick up some crackers, meats, cheese, fruits and bread. You can have a salad custom-prepared for you with premium ingredients and toppings.
Buffets in Las Vegas are diverse. Maybe none are more diverse than Cravings at the Mirage. This buffet has a total of 11 food stations, showcasing a different variety of cuisine from Italian, Chinese and Latin or more specific culinary groupings like noodles, sushi and barbecue. This buffet goes above and beyond at pretty much every single station. Every kind of cuisine they offer goes beyond the Americanized options you see at most buffets and into the realm of authentic dishes.
For example, where most buffets might simply have an "Asian" station, Cravings has separate stations for Chinese, Sushi, Noodles and a few other selections at other stations. Italian cuisine choices include soups, ravioli, and freshly-made oven pizza , while the Latin station features a wide spectrum of choices from Latin America.
Cravings also has a variety of desserts to end your meal on a sweet note, as well as a cocktail menu and fully-stocked sit-down bar if drinks are in store for the evening.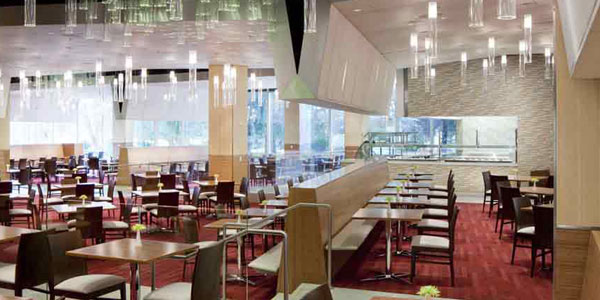 The Buffet at Aria
Location: Aria.
Décor: The buffet has a warm atmosphere with dark colors and primarily wood accents.
Unique feature:Rather than a traditional ice cream case, the buffet has a turning wheel-like gelato station.
The Buffet at Aria features chefs cooking in front of the guests at many stations including seafood, American, Asian, Italian, pizza, Mediterranean, Latin, a carvery and Tandoori. Indian dishes include chicken masala, chana masala and basmati rice. There's even a tandoor oven that bakes fresh naan bread.
At the salad bar, you can pick your fresh ingredients and a chef will mix them up for you.
Save room for desserts, which are made fresh daily. Some of the delights include chocolate pops, grasshopper cupcakes and rocky road Rice Krispie treats. The buffet also has a turning "wheel" of gelato.
To accompany your meal, there's a bottomless premium beer, wine and Sangria option.
The Buffet at Wynn
Location:Wynn Las Vegas.
Décor: It's bright and airy with green colors, marble floor accents, beautiful topiaries and colorful canopies above each live action cooking station.
Unique feature:A large chocolate fountain. We love the assortment of sweets that are hand-dipped in dark, white or milk chocolate including marshmallows, rice cereal treats and a variety of fruit.
The Buffet at Wynn Las Vegas takes your standard buffet and turns it up a notch. Las Vegas buffets are usually pretty casual but this one makes you feel more like you're in a fine dining restaurant. The buffet features 120 new dishes prepared in smaller portions so guests can try a little bit of everything. Among the dishes are Frank Sinatra's family recipe of spaghetti and meatballs, Jonah crab claws, Guinness-braised short ribs, and made-to-order items such as Peking duck buns and fresh sushi. You?ll also find things like street tacos prepared in front of you on a giant rotating griddle. The Buffet at Wynn features a lot of interesting dishes you won't find at most other standard buffets like salmon in truffle sauce and duck leg cassoulet.
Be sure to save enough room for dessert. There are a whopping 39 options including sticky toffee pudding, an assortment of unique gelato, cakes, cookies, pastries and even sugar-free options.