Put on your party pants, because it's buffet time! Just kidding—on buffet day, definitely wear sweatpants. No judgment here. Whether you're heading to a Las Vegas buffet because it's a great value, because you can try a wide variety of delicious foods from around the world, or just because it's sort of a low-key Las Vegas must-do, there's something for every hungry guy and girl, at every time of the day.
Read on for our list of the best buffets in Las Vegas. Bon appétit!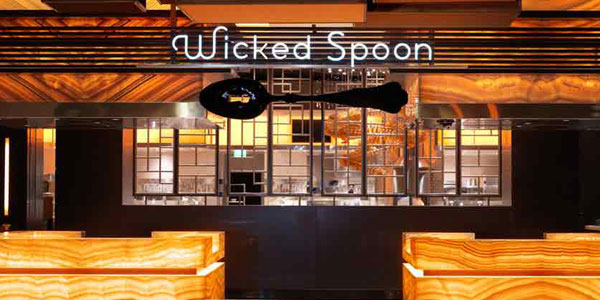 Wicked Spoon buffet inside The Cosmopolitan of Las Vegas

Décor: Modern and elegant with warm brown, orange and gold colors.

Unique Feature: Unique dishes served on individual small plates.
Wicked Spoon, you so fancy. This buffet welcomes you with modern, elegant décor, warm earth tones, and the cutest little individual plates that allow you to try a little bit (or a lot) of everything without feeling like you're carrying around a plate the size of a trash can lid. Wicked Spoon is divided into sections, including a salad area, carving station, seafood station, and areas dedicated to both Italian and Asian fare. Make sure you save room for dessert. The selection includes cake pops, pastries, cookies, and a gelato bar with unique flavors like strawberry balsamic and salted caramel peanut.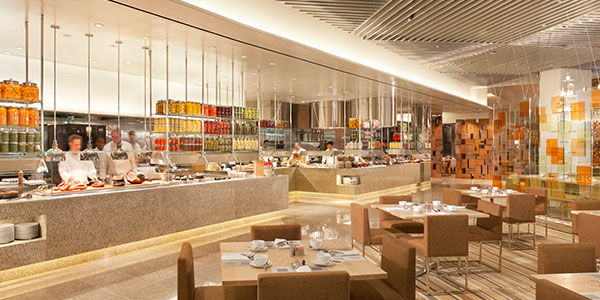 Bacchanal Buffet inside Caesars Palace

Décor: Prestigious Japanese design firm Super Potato created the sophisticated yet welcoming décor with rooms themed around glass, wood and steel.

Unique Feature: A plethora of cooked to order dishes and unique offerings.
Bacchanal was ranked the number-one Las Vegas buffet by USA Today, and it's easy to see why. Their team of specialized chefs whip up amazing culinary creations right in front of you, including Mexican, Italian, Chinese, Japanese, and American comfort food favorites. There are also 15 daily chef's specials, so every trip to the Bacchanal Buffet is deliciously different than the time before. And, we love that there are plenty of vegetarian, vegan, and gluten-free options.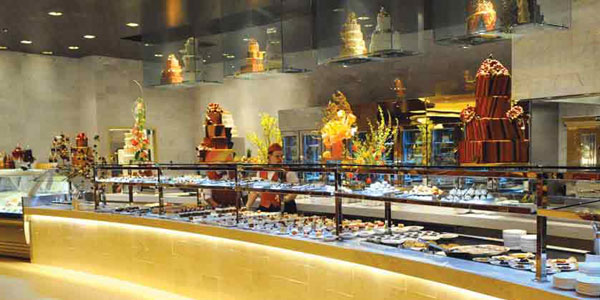 Studio B Buffet inside The M Resort

Décor: In keeping with the general architecture of the M Resort, Studio B combines natural materials and a warm color palette of rich browns mixed with orange, cream and gold. There is soft lighting, while breathtaking bay windows showcase the city through the back of the dining room. A total of 116 video screens span the serving area, grabbing patrons' attention with in-house cooking demonstrations from the show kitchen, hotel promotions and clips of Food Network programs.

Best feature: The selection of foods served here -- at any given time -- is huge. More than 200 different items are prepared fresh daily -- and by "prepared" we mean while you watch!
Variety is the name of the game at Studio B Buffet, as they prepare more than 200 different items fresh every day. Choose from sushi, wood-fired pizzas, build-your-own nachos, paella, barbecued ribs, and—of course—the classic Las Vegas prime rib dinner. Not only is the food great, but the service is, too. Servers greet you by name, effortlessly clear your towering stacks of empty plates, and hook you up with free drinks. That's right—beer and wine are complimentary. Cheers to that!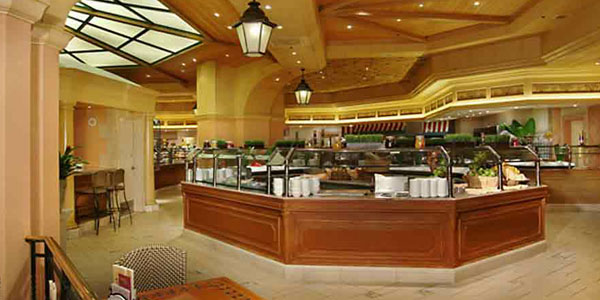 Bellagio Buffet inside Bellagio

Décor: The food area is reminiscent of a village town, complete with lamp posts and plants. The dining area makes you feel at ease with pleasant lighting, bright colors and striking wall art.

Best feature: The buffet at Bellagio offers a wide variety of seafood, salads and desserts that you won't likely find at other buffets. These include ahi poke, tofu glass noodle salad and white chocolate Nutella parfait, to name a few.
With décor reminiscent of a village town, Bellagio Buffet gives off a warm, welcoming feeling from the moment you sit down, but that's not even the best part. It features a lot of foods you won't find at other Las Vegas buffets, like ahi poke, salmon roulade, rotisserie chicken, and honey and pineapple-glazed ham. Seasonal fruits and parfaits await at the dessert buffet, like the white chocolate Nutella parfait, which comes in the cutest little waffle cone. Awww.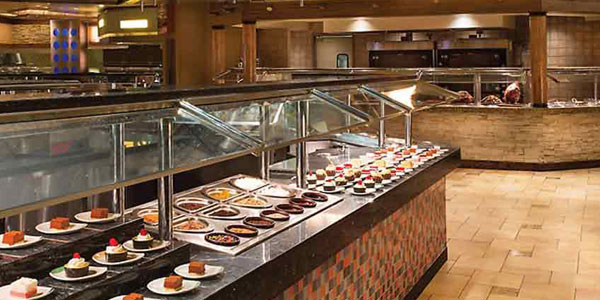 Carnival World & Seafood Buffet inside Rio All-Suite Hotel & Casino

Décor: The vibe and energy is reminiscent of something you'd experience inside a cruise ship. You can choose to dine in the middle of the action by the brightly-lit buffet stations. For a more quiet experience, there are booths sectioned off in a dim secluded area.

Best feature: The made-to-order teppenyaki station allows you to create your own dish and assures you that your food is going to be fresh and flavorful since it's made right in front of you.
The perfect place for dinner when you and your friends or family members can't decide on what they're in the mood for, Carnival World & Seafood Buffet features exciting live action cooking stations where chefs crank out dishes from all over the world, including Mexican favorites, made-to-order Japanese teppanyaki, dim sum, and almost endless seafood options.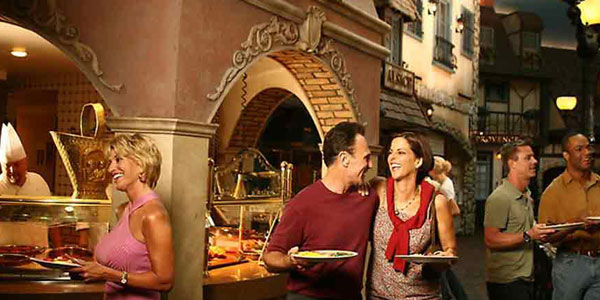 Paris Le Village Buffet inside Paris Las Vegas

Décor: The buffet is decorated like a charming French village. Each food station is themed after a different province in France.

Best feature:  One of the best features is the made-to-order crêpe station, where a chef will create a sweet or savory crêpe for you.
Decorated like a charming French village, Le Village Buffet is a traditional buffet with a French twist. Each food station is themed after a different province in France and offers one or two traditional French dishes, plus all of your go-to buffet favorites. While each station offers great options, you'll want to make sure and save room on your plate (and in your stomach) for the main attraction: the made-to-order crêpe station. Savory crêpes are available, but our favorite is "the monkey," a dessert crêpe made with bananas, Nutella, whipped cream, and hazelnuts.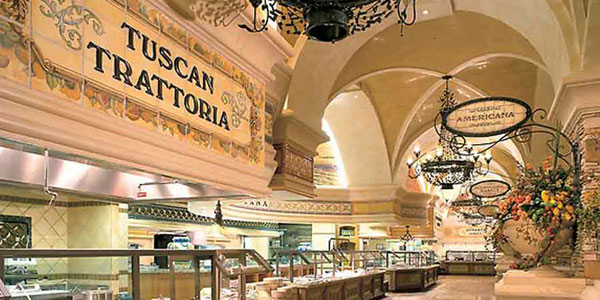 Feast Around the World Buffet inside Green Valley Ranch Resort

Décor: The buffet's interior is open and airy, creating a comfortable spot to indulge in international culinary favorites and plenty of wholesome staples. There's a slight Mediterranean flair with the tile and marble decor and a number of wrought iron chandeliers.

Best feature: Combines the features of a top Las Vegas Strip buffet with an off-Strip price. And did we mention the made-to-order milkshakes?
Green Valley Ranch Resort delivers a buffet experience that's as good as any Las Vegas Strip buffet, but with an off-Strip price. A total win, right? The Feast Buffet is a locals' favorite, thanks to six live-action cooking stations, a popular weekend Champagne brunch, and made-to-order milkshakes for whenever the hankering hits.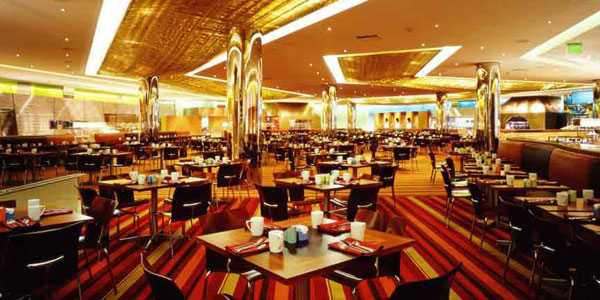 Cravings inside The Mirage

Décor: Cravings has a modern, colorful aesthetic designed by Italian-trained architect Adam Tihany.

Best feature: The buffet features a charcuterie station where you can pick up some crackers, meats, cheese, fruits and bread. You can have a salad custom-prepared for you with premium ingredients and toppings.
Billing itself as "the ultimate buffet," Cravings pulls out all the stops with 11 food stations organized by region (Italian, Chinese, Latin) or by type of food (noodles, sushi, or barbecue), a made-to-order salad bar, and unlimited wine and beer. Yes, take a moment and let that sink in. If brunch is more your thing, check out their Saturday and Sunday Champagne brunch buffet, which is available from 8 a.m. to 3 p.m. and includes unlimited bubbly, of course.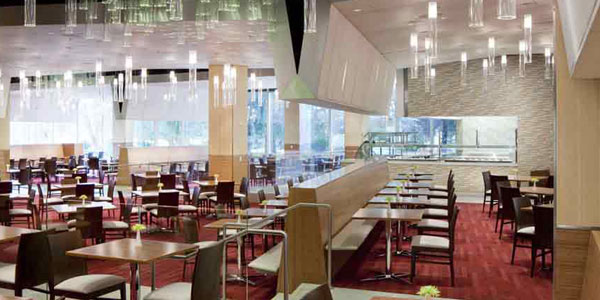 The Buffet at Aria inside Aria

Décor: The buffet has a warm atmosphere with dark colors and primarily wood accents.

Unique feature:Rather than a traditional ice cream case, the buffet has a turning wheel-like gelato station.
Take a culinary trip around the world at Aria's buffet, which features section with Asian, Italian, Mediterranean, and Latin cuisine, plus a salad bar, carving station, fresh seafood station, and delectable dessert table. Our favorite? The Indian station, which features dishes like chicken tikka masala, basmati rice, and tandoor oven-baked naan bread. Looking for your favorite comfort food favorites? They've got that too—think meatloaf, chicken fried steak, and grilled corn on the cob.
The Buffet at Wynn inside Wynn Las Vegas

Décor: It's bright and airy with green colors, marble floor accents, beautiful topiaries and colorful canopies above each live action cooking station.

Unique feature:A large chocolate fountain. We love the assortment of sweets that are hand-dipped in dark, white or milk chocolate including marshmallows, rice cereal treats and a variety of fruit.
This bright, airy buffet at Wynn Las Vegas takes your average ho-hum buffet experience and really cranks it up, combining the variety of a traditional buffet with the atmosphere of a fine dining restaurant—not to mention the sky-high colorful topiaries that surround you. While there are 120 dishes to choose from, some of our favorites are Frank Sinatra's family recipe of spaghetti and meatballs, Guinness-braised short ribs, made-to-order fresh sushi, and street tacos prepared in front of you on a giant rotating griddle. What really tops everything off is their chocolate fountain, where you can cover everything from fruit to marshmallows to cookies in sweet, melty chocolate goodness .