Everyone loves brunch. In fact, if you don't love brunch, we don't want to be friends. And after a long night of partying, there's nothing better than the late-morning (or early-afternoon, tbh) nirvana of delicious breakfast fare paired with booze. Bloody Mary, anyone? So roll out of bed, get yourself upright, put on some clothes (please) and find your way to one of these awesome brunches just stumbling distance from your hotel.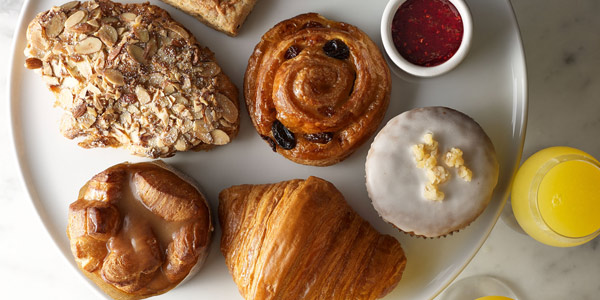 Bouchon inside The Venetian Resort
You don't need to know French to dine at Bouchon inside The Venetian Resort, but the food and atmosphere will whisk you away to the heart of Paris. The pristine white tablecloths, multi-colored tile floors and towering French doors create a perfect harmony during your weekend in Vegas. Grab a seat by the window and stare out at the shimmering pool for the ultimate brunch view. Once you get over the flawlessness of the restaurant, order the Assortiment de Pâtisserie. Every pastry in this bundle is buttery, flakey and filled with fruity goodness. For your main course get the Oeufs Benedict or the Petit Déjeuner Américaine. Tout est bien qui finit bien, in English "all's well that ends well," and everything ends well at Bouchon inside The Venetian.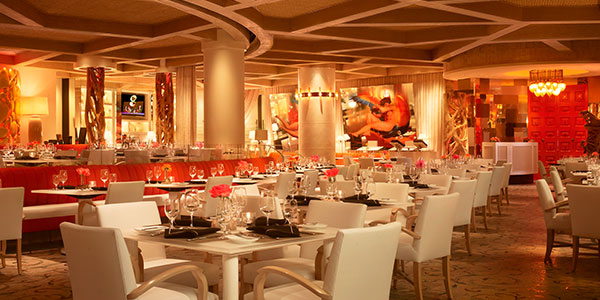 Lakeside inside Wynn Las Vegas
With a waterfall as your backdrop, and live jazz playing in the background, Lakeside inside Wynn Las Vegas created the perfect atmosphere for weekend brunch. The open aired restaurant is a notable destination any time of the year, and the seasonal menu and cocktail list will always deliver a delightful surprise. Executive Chef David Waizog prepares a menu that is changed out seasonally and delivers a seamless balance between savory and sweet using only the freshest ingredients. As an added bonus, you can enjoy a raw bar that includes Alaskan king crab legs, jumbo shrimp, oysters and more. After a long week, it's nice to enjoy the relaxing atmosphere at Lakeside inside Wynn Las Vegas.

Sadelle's inside Bellagio
Tucked away in the midst of all the action at the Bellagio Conservatory, Sadelle's has an Upper East-side feel with cool blue and green tones that overwhelm you with a sense of tranquility. The brunch menu has all the traditional offerings like eggs benedict and steak and eggs, but their caviar service is what makes this restaurant one of the most unique places on the Strip. Although it's hard to imagine caviar service done in a non-traditional way (pinkies up), but the dish comes with silver dollar pancakes, egg salad, chives, potato latkes, shallots and sour cream. It makes caviar more approachable for those who feel like it's only available to the upper-echelon. Sadelle's inside Bellagio is a Sunday brunch anyone will enjoy.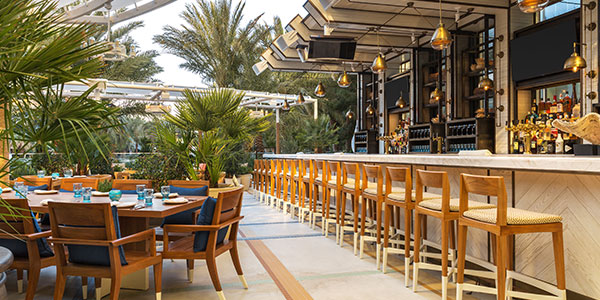 Herringbone inside ARIA
If you love soaking up the rays and are in the mood for a more social brunch, head to Herringbone inside Aria. The southern California coastal restaurant gives guests fresh cuisine with a breathtaking view of Aria, the pool and the surrounding Strip. It's as if you're dining oceanside with chic, comfortable outdoor furniture and a cool breeze. They have other locations in oceanfront areas like La Jolla, Santa Monica, Los Cabos and Waikiki, so no wonder Herringbone has that vibe, the restaurant was basically born out of the ocean. If you can't feel the ocean breeze flowing through your hair, you need another specialty cocktail. After you slurp down a few refreshing drinks, take advantage of their all-you-can-eat option. We know you won't be able to stomach the whole menu, so try the orange ricotta chocolate chip pancakes for a citrusy yet savory flavor and the hearty Loco Moco. Herringbone at Aria is a "beachfront" paradise in the middle of the Las Vegas Strip.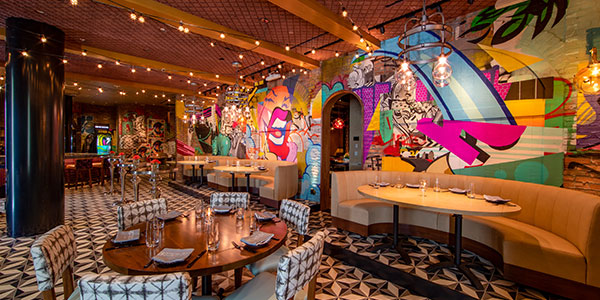 Greene St. Kitchen inside Palms
Just because you're on vacation, does not mean you have time to rest. Greene St. Kitchen inside Palms keeps the party going at Saturday brunch. Perched on the patio overlooking KAOS day club, the restaurant gives you the perks of partying outside without the blinding white rays of the sun, not to mention the scorching heat that comes with it. It wouldn't be brunch without drinking your weight in alcohol, so grab the go big or go home sangria, brunch'n mojito or the la vie en rosé bathtub rosé bottle to get this party started. Whatever you decide, brace for impact because all of these drinks pack a punch. To soak up the tasty drinks, try the Titanic sized sushi boat, the giant pancakes covered in pink frosting (because everything's better with pink frosting) or a whole roasted chicken. Greene St. Kitchen is larger than life and truly embodies the Vegas party spirit.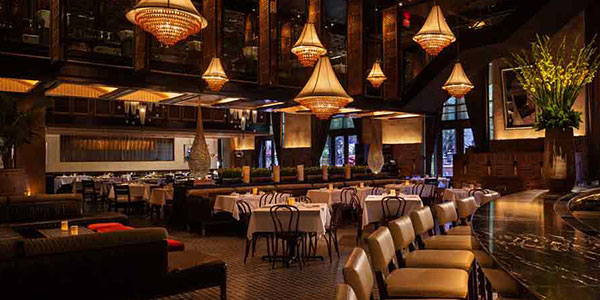 Lavo inside The Palazzo at The Venetian  
Depending on the time of year you visit, Lavo offers two very different brunch experiences. During the summer months, chow down on breakfast favorites like egg dishes, pancakes, and lemon ricotta waffles inside or out on the patio, which overlooks the Strip. If you're visiting from fall to spring, you'll want to put on your party pants on when you roll out of bed. Lavo is famous for it's Champagne brunch. In addition to delicious dishes and an expansive selection of bubbly (duh), you'll be treated to house music, neon lights, and confetti shows. Yes, dancing on the tables is permitted.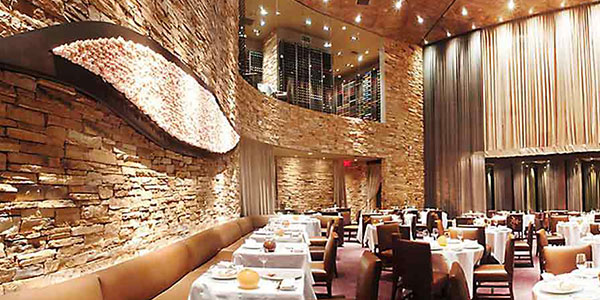 Fleur inside Mandalay Bay 
Beer plus brunch? Now that's a winning combination. Every Sunday you can sample Chef Hubert Keller's brunch menu, with food items perfectly paired with cocktails and beers. Dig into dishes like the hangover Angus short rib benedicts, carnitas hash, or red velvet pancakes. Of course, the build-your-own bloody Mary bar is a must-try.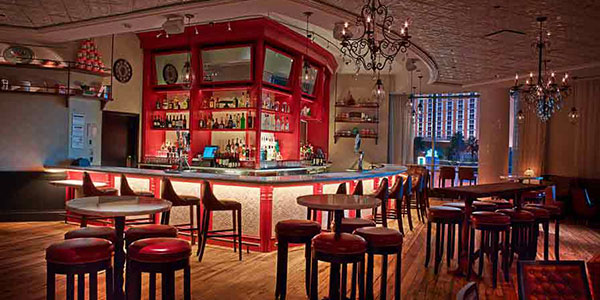 Buddy V's inside The Venetian Resort 
Created by Buddy Velastro of "Cake Boss" fame, Buddy V's offers an Italian family-style brunch, but we won't judge if you just want to stuff your face with cake for the whole meal. Every Saturday and Sunday, you can sample everything from charcuterie and cheese platters to chicken parm, and from chilled seafood to a carving station with maple-glazed ham, spicy Italian sausage, and slab bacon. Of course, there are plenty of desserts on hand, including cannolis, tiramisu, and biscotti.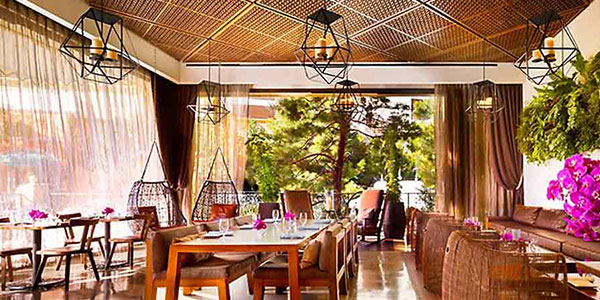 La Cave inside Wynn Las Vegas
The brunch at La Cave is served butler-style, which means you don't even have to get your tired butt out of your chair to take advantage of everything this indoor-outdoor restaurant offers. For one fixed price, you can treat yourself to baked potato loaded tater tots, veal short rib hash, New York-style egg sandwiches, and corn flake-crusted brioche French toast. Don't forget to add bottomless cocktails—you know the drill.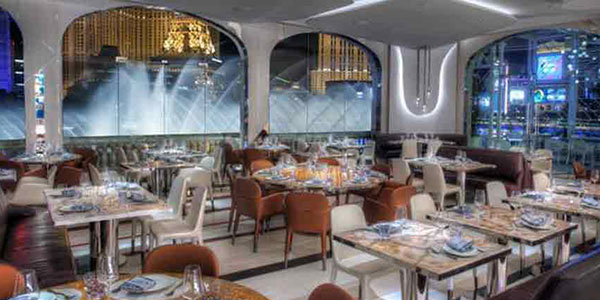 Lago inside Bellagio  
A three-course brunch? Uh, yes please! James Beard Award-winning chef Julian Serrano's brunch tempts with things like braised pulled duck meat with polenta, an eggplant parmesan benedict, and ratatouille bruschetta. Of course, you might go overboard with the family-style pastry basket and not even make it to the main course. After all, who can resist donuts, cinnamon rolls and croissants?