While Las Vegas may be located in the middle of the desert, it's an oasis of food options, from the traditional eat-'til-you-can't-breathe buffets to world-class international cuisine. When you think of Vegas, though, you likely don't think of barbecue, but we think you should. From smoked St. Louis ribs to Texas-style beef brisket to side dishes so decadent your Southern grandma will be begging for the recipe, Vegas BBQ is seriously legit. Read on for our favorites. We hope you're hungry!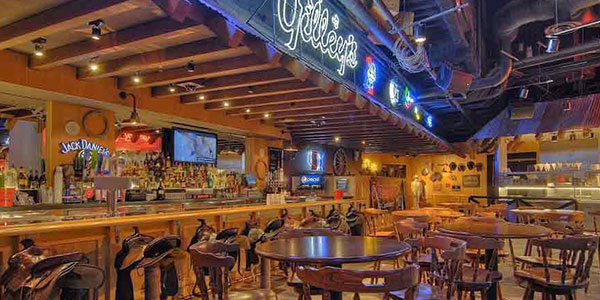 Gilley's is a Vegas mainstay known for many things—their Wild West-inspired saloon, line dancing lessons, live honky tonk music, and mechanical bull, to name a few. But, their BBQ restaurant is the perfect place to start your night. Dig into chili-smothered Texas Nachos Grande, sweet potato fries with house-made molasses ketchup, and fried chicken. If you're really hungry (like, haven't-eaten-in-days-hungry), you can treat yourself to the Ten Gallon platter, which is stacked high with BBQ ribs, rotisserie chicken, pulled pork, and hot links, all with your choice of BBQ sauce. So. much. meat.
John Mull's Meats and Roadkill Grill, 3730 Thom Blvd.

Don't let the name fool you—John Mull's Meats and Roadkill Grill serves only delicious meats you recognize—chicken, rib tip, brisket, hot links, and pulled pork, to name a few. And you know it's going to be good—this local favorite was features on Food Network's "Diners, Drive-Ins and Dives." Grab your grub to go, or enjoy a picnic-style meal on their outdoor patio.
Lucille's Smokehouse Bar-B-Que at Green Valley Ranch or Red Rock Casino Resort

With a menu full of Southern favorites, you just might forget you're in Las Vegas—which may be a good thing depending on how late you partied last night. The appetizer menu alone tempts with fried green tomatoes, crispy fried okra, and spicy shrimp corn fritters, but pace yourself. You won't want to fill yourself up before getting to the main attraction: hickory slow smoked baby back ribs, beef brisket and Alabama chicken.
Rollin' Smoke 3185 S. Highland Dr. near the Erotic Heritage Museum

The stars of the show at this father and son-run BBQ joint are definitely the Southern-style hickory smoked meats, including pulled pork, brisket, hot links, and rib tips. Choose to enjoy yours in a sandwich, as a couple of cute little sliders, on a salad, on top of a baked potato, or just in your bare hands, like a caveman—just kidding, don't do that. Make sure you save room for desserts like Southern peach cobbler, blueberry cobbler, or a classic root beer float.  
TC's Rib Crib, 3655 S. Durango Dr.

The family that owns TC's BBQ Crib fled Louisiana after Hurricane Katrina and settled in Las Vegas, family recipes in hand. More than a decade later, people are still flocking to the restaurant named "Best Local Barbecue" by the Las Vegas Review-Journal. While their ribs, brisket, chicken wings, and pulled pork are definitely delicious, you'll want to try some of their less-standard fare, like fried jalapeños, glazed donut bread, and fried catfish every Friday—get it? "FRY-day?"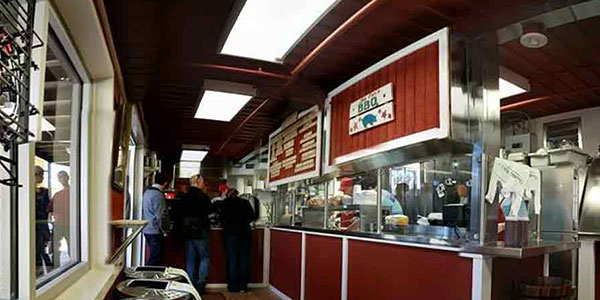 Big Ern's at Downtown Container Park
Located in a can't-miss red shipping container in Las Vegas' unique Downtown Container Park, Big Ern's BBQ keeps it simple—and delicious—with meats by the pound; single-serving sides like mac & cheese, pork & beans, and coleslaw; and delicious racks of St. Louis style ribs. They've even got salads—but we take no responsibility for the side-eye looks you'll get ordering a garden salad at a BBQ spot.
Jessie Rae's BBQ, 5611 South Valley View Blvd. near Mandalay Bay
Award-winning Jessie Rae's offers something for everyone, including classic barbecue, Mexican-American BBQ fusion fare, and their own signature dishes like waffle fries loaded up with your favorite meat and the Jessie Rae namesake dish, which is a sandwich stuffed with pulled pork, coleslaw, and BBQ chips on a custom bun. The hand-made sauces are a must-try, too.
Sin City Smokers, 2861 N. Green Valley Pkwy., Henderson near Green Valley Ranch
Custom meals are the name of the game at Henderson's Sin City Smokers, and trust us—it's worth the drive.  First, choose your meat—brisket, pork spare ribs, BBQ chicken, or even a Southwest grilled veggie mix for the vegetarians you roll with—then decide if you want it in a sandwich, taco, quesadilla, or on top of fries. Throw on sides like jalapeño potato salad or maple bacon sweet baked beans, and you'll need to bring a friend along to roll you out of there when you're done eating.