What's life without a little pow pow action? We're not talking about what happens at the end of the night, but instead of what happens when you're out on the town. Las Vegas puts the "x" in "extreme" when it comes to zip lining experiences. We might be known for our prime time entertainment, but when you think about screaming your head off with your bestie that's the best entertainment possible. There's a few Las Vegas zip lines where you can get your fill of adrenaline and we've listed the best of the best below. We know a zipline in Las Vegas might not have been on your list of things to do, but it is now!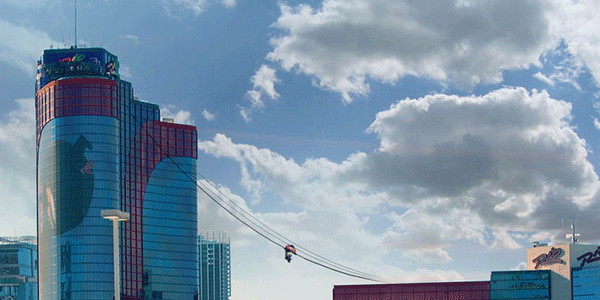 Voodoo Zipline at Rio
If you ask us, cruising down the street with the top down is the same thing as zip lining 490 feet in the air at 35 mph, perspective. Voodoo Zipline at Rio offers the perfect view of the Strip while you're slicing through the air, or praying you don't plummet (depends if you're a glass half full kind of person). But this isn't your typical Las Vegas zipline, instead of being strapped in looking like Superman, you get to sit next to your best friend on a ski lift-like contraption. So instead of having five or six straps protecting you, there's only one. Your heart rate might not like us for this, but you'll thank us after because this is the best rush of your life.

Slotzilla at downtown Las Vegas
For the last time Susan, you did not accidently take two hits of Mitsubishi ecstasy. Slotzilla at downtown Las Vegas is one of those psychedelic experiences without the recreational extracurriculars. As you're flying through the air, just look up at the pretty lights and you'll know exactly what we're talking about. For those who are faint of heart, don't worry they made a kiddie version for you. You can be bold and zoom 114 feet above the ground or you can play it safe at 77 feet. You're already zip lining through downtown Las Vegas, why not go for the big leagues? No matter what you choose, you're in for a wild ride. Don't get us wrong, zip lining in Vegas is fun no matter what, but Slotzilla ups the experience by making sure you're in it for the long haul. You're zipping through the air for 1,700 feet on this one. If you ask us, this is totally worth it.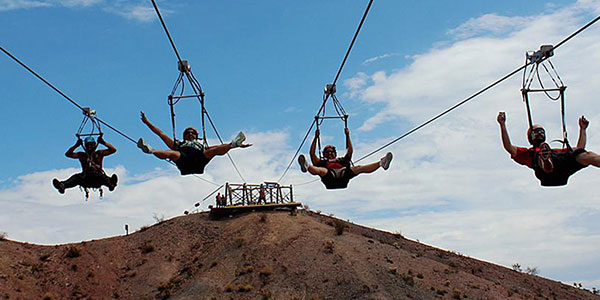 Flightlinez Bootleg Canyon
Don't ride in the helicopter, be the helicopter. At Flightlinez Bootleg Canyon you're going to zoom through the majestic coopery mountains in Nevada while going 50 mph. This isn't your average zipline in Vegas, this is a 180 minute course that takes you on multiple lines. You'll even have the chance to take a 450 foot plunge, NBD right? This is the biggest trust fall of your life, so make sure your wings are ready to fly. Flightlinez is for all those adrenaline junkies looking to scratch their itch. Start up your engine, this Vegas zipline is about to take you on a wild ride.
Buckle up everyone, this is the best way to zipline Las Vegas.