No matter your view on Vegas, there is one issue on which we can all agree -- Vegas offers some amazing, unparalleled views. Here are five ways to capture the most unique views of the Las Vegas Strip, downtown Las Vegas and the Las Vegas valley: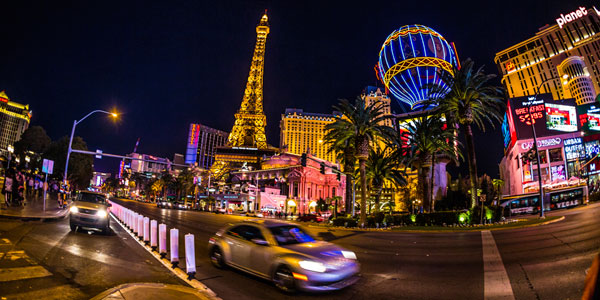 An open-top bus
Cruise the entire Las Vegas Strip (and on through downtown Las Vegas) without battling traffic atop a double-decker bus on an open top sightseeing tour. You'll enjoy unobstructed views of the sights and lights Sin City is so famous for and maybe even catch the Mirage Volcano or Bellagio Fountains in action. Your knowledgeable tour guide will provide you with little-known facts about the city and interesting stories along the way. For instance, there once was a woman who took the tour in her wedding dress. The guide said, "Congratulations on your wedding." The woman answered, "I'm divorced, I just always wear my wedding dress in Vegas. I get better service this way."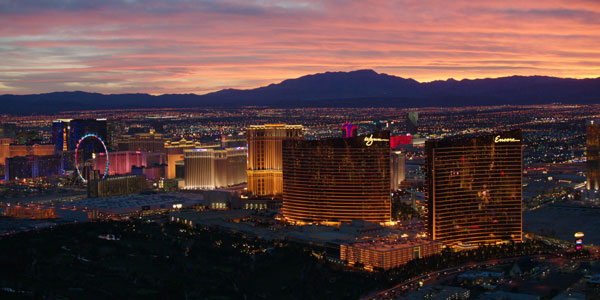 A helicopter ride
For a truly unique perspective of the Las Vegas Strip, fly above it in a helicopter on the Vegas Nights, Apollo Night Flight or City Lights tours. After a limousine picks you up from your hotel (on select tours), your helicopter takes off from a private runway at McCarran International Airport and cruises from the Strip's south end all the way to downtown Las Vegas and back. You'll see what's under construction, enjoy views of the hotels' pools and take in the colorful lights. It's amazing how peaceful this 24-hour party town looks from up above. You'll feel as if you could reach out and touch the tops of these shimmering buildings (but you'll also be thankful you're tightly strapped in). As for those of you with weak stomachs, don't worry, there are barf bags aboard the helicopter -- just in case.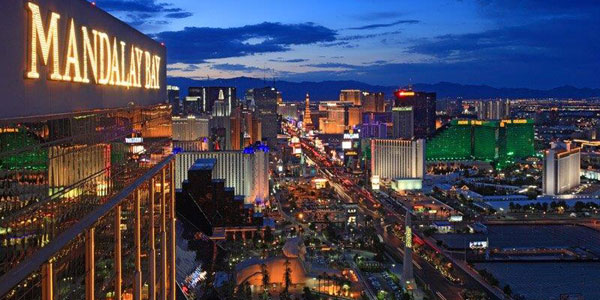 Visionary cocktails and cuisine
Several restaurants, bars and nightclubs on the Las Vegas Strip offer fantastic views. And better yet, you won't have to enjoy the view on an empty stomach!
On the south end of the Strip, the Foundation Room at Mandalay Bay and Mix in THEhotel at Mandalay Bay are both known for their fantastic views.
Mid-Strip, your view is just part of the party at Voodoo Rooftop Nightclub at the Rio. The Tea Lounge at Mandarin Oriental is a relaxing the Eiffel Tower Restaurant at Paris Las Vegas.
Top of the World is located at the north end of the Strip at the Stratosphere, the tallest building west of the Mississippi (and therefore the tallest building in Las Vegas). This fine dining establishment slowly rotates 360 degrees providing a complete view of the city.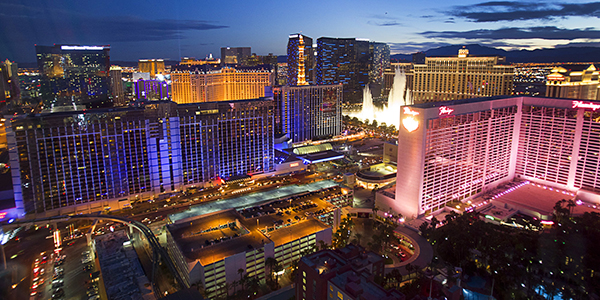 As a High Roller
The High Roller in the LINQ Promenade is 30 minutes of rest, relaxation and panoramic views on the world's biggest observation wheel. And they've got booze. The Happy Half Hour package includes an open bar with the price of admission.
More of an experience than a ride, a virtual tour guide/DJ pipes in a little unz unz unz to get the party started and tells you about what you're seeing. He'll include a couple of fun facts while you're catching flies with your mouth and you'll even see some of the neighborhoods the locals live in. Can you believe we don't live in casinos?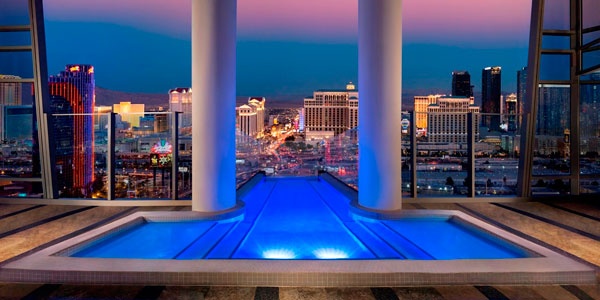 Suite views
Our views here are pretty sweet. So how about a suite view? You'll feel like you're above it all as you enjoy the view from the infinity pool in your two-story Sky Villa at the Palms or take in panoramic views of the skyline in your 180-degree, 1,200-square-foot Wraparound Terrace Suite at The Cosmopolitan of Las Vegas. If you prefer your scenery a little more natural, Red Rock Resort offers a Deluxe Room with views of the dramatic red rock formations at nearby Red Rock Canyon National Conservation Area.