You're staying in Vegas and we're sorry, but that discount lodge down the street just ain't going to cut it. If you really want to ball out, we mean - Ocean's Eleven, money ain't a thang, just put it on my tab- status, then you're going to have to start with a crazy, ridiculous VIP suite. These places are totally pimped out with private pools, private butler service, killer views and top-of-the-line everything. So if you're looking for a place to film your next rap video or you've recently hit the jackpot, these are the best hotel suites in Vegas.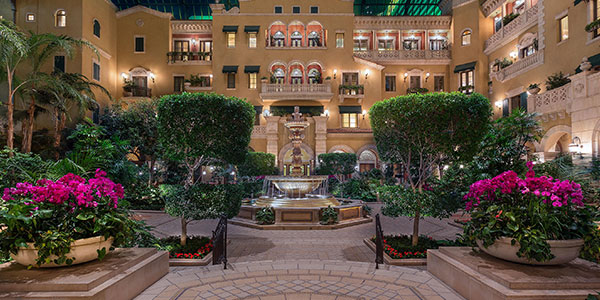 The Mansion at MGM Grand
What are America's most popular mansions? The White House, the Playboy Mansion and the Banks Mansion from "The Fresh Prince of Bel-Air," boom! All of those places are great, but none of them can touch The Mansion at MGM Grand.
This place is huge. Like 29 villas, outdoor garden pool and 290,000 square-feet huge. Don't get it twisted though, while attached to the MGM Grand property, you still have to take a private driveway to reach this Italian-style abode.
Each one- to four-bedroom villa ranges from 2,000 – 12,000 square-feet. We're going to turn up the "baller" level,  because each villa surrounds The Mansion's climate-controlled atrium and garden pool. Let's repeat: CLIMATE-CONTROLLED ATRIUM AND GARDEN POOL. That means that while we peasants have to endure the 100+ degree Vegas heat, you can sit back and toast to 70-something degree weather. And no detail has gone unnoticed, either. Each place has its own collection of expensive antiques, art and private balconies that overlook the pool garden. We can get down with this.
What we love: Chillin' at a climate-controlled garden pool during a blistering summer's day.
Price tag: Invitation only. You have to be a VIP or high roller to enjoy these digs. We're not even cool enough to have seen them IRL.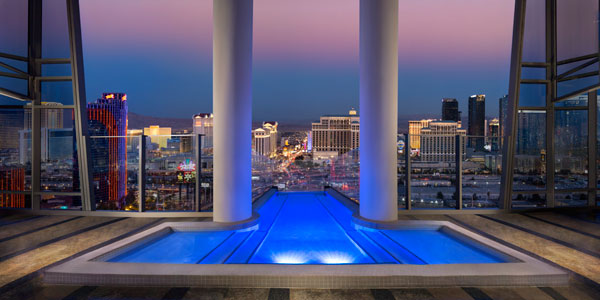 Two-story Sky Villa at The Palms 
An ode to America's favorite playboy, the previously named "Hefner Suite" at The Palms features two-stories and 9,000 square-feet of party -err- living space.
This ultra tricked-out villa includes too many features to count. Sure, the high ceilings, massage and fitness rooms and the 24-hour butler services are pretty cool. But it's the in-suite glass elevator and glass-enclosed cantilevered pool that really has us freakin' out. Yea, you can party at a nightclub, but the infinity pool and Strip backdrop make this place an even better option. Oh, and if you end up partying too hard, the in-room dry sauna is a great way to help you recover from that hangover.
What we love: The pool, duh. The pool alone makes this place dope.
Price tag: $35,000 per night on the weekends. You can save a little by getting this place during the weekday at $20,000 per night.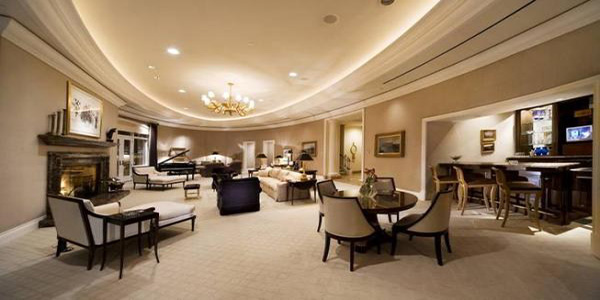 Palazzo Suites at Rio Las Vegas
If you want to get down in Vegas on the down low, then Palazzo Suites at the Rio are the digs for you.
When we say that this place is discrete, we mean it. Ask any local around town and chances are that they've never even heard of the Rio's Palazzo Suites. Tucked on the backend of the property, this gated "palace" has rooms that range from one to six bedrooms and from 3,900 - 13,950 square-feet. Pretty sick, right? 
Each suite gets you "standard" fine furnishings, like bathroom salons, Bulgari bath products, 24-hour butler services and complimentary airport limousine service. But probably the craziest thing about this place is that each suite has its own whirlpool tub on the balcony. So you can sit back and enjoy Strip and city views with some warm jets. And drying off with a regular towel is for the little people. Palazzo Suites went the extra mile to provide towel warmers that'll take your 'cuzzi sesh to the next level.
What we love: The hot tub on the balcony is super sweet.
Price tag: Starting at about $10,000 per night.
Chairman Suite at The Venetian
Are you into art? How about Asian art? If so, then the Chairman Suite at The Venetian is the room to check out. These digs feature so many artifacts that it's basically a museum. There are also a bunch of fountains scattered throughout the suite for you to get your 'zen' on.
This four-bedroom, five-bathroom suite is located on the resort's 36th floor and comes in at an impressive 10,000 square-feet. That's not empty space either. You'll have your own beauty salon, a massage parlor, sauna and a private workout room. It's basically a health club in your hotel room. The extra hook-up is that staying here even gets you round-the-clock butler service and complimentary luxury car transportation.
What we love: The Asian-inspired artwork, obvi. But the in-room spa is pretty sweet too.
Price tag: If you gotta ask, you can't afford it. JK, this pad is invitation only.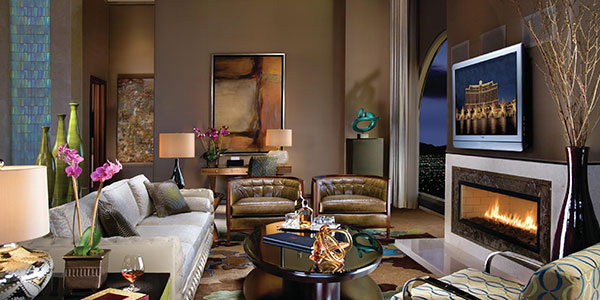 Presidential Suite at Bellagio
Any guesses on what a solarium is? Because the Presidential Suite at Bellagio has one, so we're naturally assuming that it's awesome! If you get down with Mother Nature (and who doesn't?) then you're going to love this suite. Remember that solarium thing we mentioned earlier? Well, it's basically an indoor garden with an insane fountain, so where you at Thumbelina?!
Anyways, this two-bedroom, 4,075 square foot pad has its own fireplace, a six-seat L-shaped bar and a ridiculous whirlpool tub that overlooks the city. And you're totally going to get a round-the-clock butler and
complimentary limo service to and from the aiport. Taking it up a notch, you're going to get your own private VIP check-in area along with access to the VIP Lounge. Bellagio, you can just take our money now, please.
What we love: The solarium is the big winner here. Talk about the perfect place to enjoy some wine or catch up on a good book.
Price tag: $6,000 per night.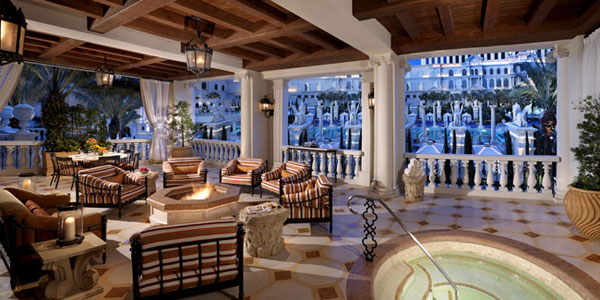 Marcus Aurelius Villa at Caesars Palace 
"Are you not entertained?!" Remember that line from the movie "Gladiator?" We feel like yelling that every time we see this villa.
We can't confirm this, but this 9,500 square-feet room might've actually been built for Caesar. Either way, if it's three-bedrooms and impressive Roman designs aren't your thing, maybe the freakin' private elevator, exotic fish tank and double-sided fireplace are? You can even get your John Legend on by playing a tune on the grand piano. If you're in "chill mode," feel free to catch a movie in the theatre room (BTW, it has theatre-style seating and massage chairs).
The Marcus Aurelius Villa even has an impressive outdoor space, too. Hit the terrace and you can kick-it in the 'cuzzi, cozy up next to the firepit or just enjoy the designs of the nearby Garden of the Gods pool. So we'll ask you again, "Are you not entertained?!" We thought so.
What we love: We're totally in love with the terrace. That architecture combined with the Garden of the Gods pool really makes it feel like you're in Rome.
Price tag: Anywhere between $25,000 and $40,000 per night.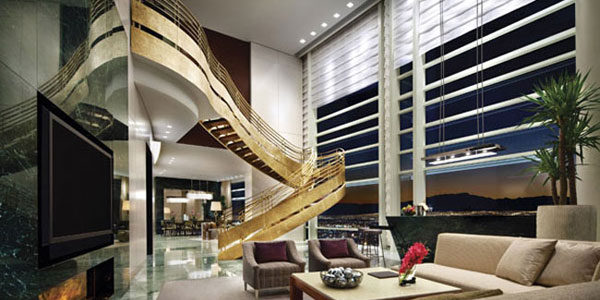 Sky Villa at Aria
Techies rejoice, because the Sky Villas at Aria are some of the most technologically advanced suites in Vegas.  Sky Villa has these sweet in-room tablets that basically control everything. Adjust the lighting, CHECK. Heat or cool the room, CHECK. Open the blinds, you know it. The darn thing can even book you spa or salon services and order you in-room grub. Siri can take a hike, because this room actually listens to your commands. 
These villas have a ridiculous amount of space, like 2,000 – 7,000 square-feet to be exact. And in this villa, panoramic Strip views are the norm. And so are private kitchens, saunas and billiard rooms.
What we love: The swirling staircase is super cool, but the personalized technology is what really excites us. Who wouldn't want to control a room with your voice?
Price tag: These suites are highly limited. But if you can get your hands on one, the rates are usually $3,500 to $7,500 per night.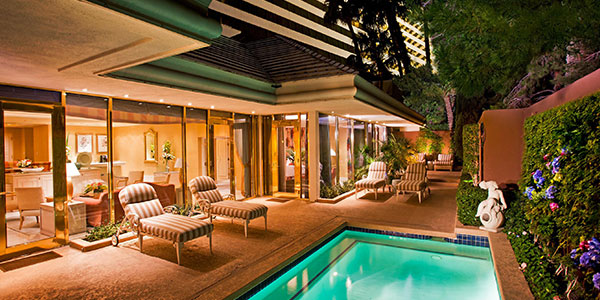 Lanai Villa at The Mirage
It might not be Hawaii, but Lanai Villa at The Mirage is pretty darn close.
Tucked behind a private, gated entrance, this villa offers an impressive 2,650 square-feet worth of space. Did we mention the in-room vegetation and sand-colored flooring? Anyways, they really add to the whole "island getaway" vibe.  Speaking of island getaway, private pool, spa misters and chaise lounges really sets the tone.
Even better though, this place comes with a 24-hour private chef. Add in-room spa and salon services and preferred tee times at Shadow Creek, and this villa is basically the tropical vacation you've always wanted. 
What we love: An island oasis on the Vegas Strip? Umm, yea! All we need is one of those cocktails with a little umbrella and we're in business! And since we're in Vegas, that can totally be arranged.
Price tag: Available on a limited basis, but you can get this villa from $1,500 to $2,500 per night.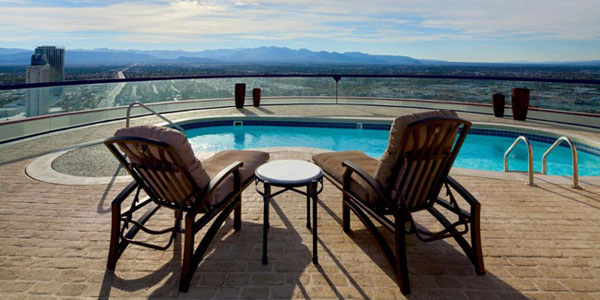 Voodoo Collection at Rio
Folks, we love voodoo. We're not talking about hocus pocus though. The Rio's Voodoo Collection Suite is crazier than anything in Vegas.
This 3,000 square-foot suite is the perfect party pad because of its rooftop pool. Imagine kicking it in that pool enjoying Strip views during pool season or Fourth of July. We can dream, can't we?
If that wasn't enough, you get a special VIP entrance during check-in and complimentary limo service to and from the airport. The butler service is pretty sweet, too.
What we love: The rooftop pool is off the chain. And the fact that the suite isn't technically on the Strip is actually a plus. You get to enjoy LVB from a different angle.
Price tag: Starting at $2,250 per night.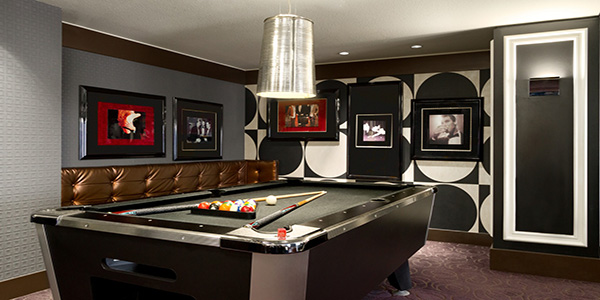 PH Boulevard Suite at Planet Hollywood
Imagine if your man-cave at home just got a Vegas-style makeover. That's basically what the PH Boulevard Suite at Planet Hollywood looks like.
Don't get us wrong, this place is luxurious too. It's got super trendy décor, modern technology and uh-maze-ing Strip views. But what's super suite (see what we did there, eh?) about this place are all of the crazy cool table games that it has. Foosball, pool table, ping pong and the king of them all, air hockey, are all scattered throughout this place. So you can lay the smack down on the competition 24/7. Sitting at 2,190 square-feet, this place has more than enough space for all your –ahem- extra curricular activities.
What we love: Awesome table games in a luxury Las Vegas suite? Sign us up!
Price tag: Starting at $2,155 per night.
If all of these lavish suites inspired you to stay in Sin City, check out our full list of Vegas hotels.