Tea is the most consumed beverage in the world, right after water. So it's not surprising that many of our visitors seek out a nice cup of tea in the desert. Here are our favorite spots to enjoy tea time in Las Vegas.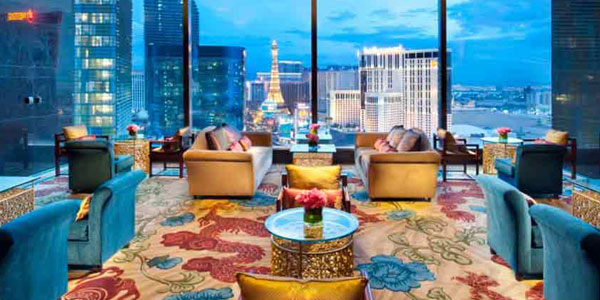 Tea Lounge at Mandarin Oriental
For one of the most elegant afternoon tea services in town (and the best view), head to the 23rd floor of the Mandarin Oriental.
Besides fine teas from around the world, the Tea Lounge also serves coffee, juices, cocktails and sweets like English scones, cupcakes and macaroons.
Be sure to check out the classic English afternoon tea served from 1 – 5 p.m. Monday – Thursday and noon – 5 p.m. Friday – Sunday. You'll sip on a selection of freshly brewed loose leaf teas and snack on pastries and tea sandwiches. There's even the option to add champagne.
The Tea Lounge offers a wide selection of teas including a mandarin orange blend, white tip Darjeeling, Golden Assam, organic lychee green tea, matcha tea and blooming teas.
Want to really relax? Try one of the health and wellness teas like the Peace through Water. The caffeine-free infusion of chamomile, lavender and lemon balm with herbs and flowers will totally calm you.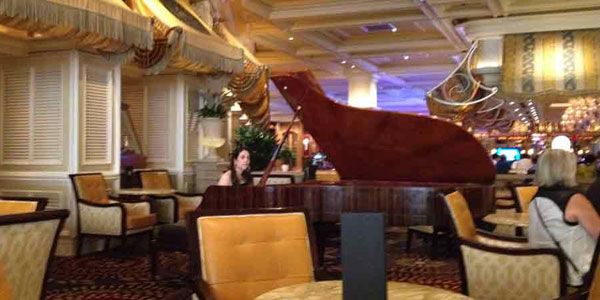 Petrossian Bar at Bellagio
The Bellagio is one of Vegas' most luxurious hotels so it's not surprising that they serve a sophisticated afternoon tea in the Petrossian Bar. We're talking white linen tablecloths, china plates and a silver tea strainer. It's served in a quiet, roped off section of the lounge so it's nice and peaceful.
Tea service runs in the afternoons from 1 – 4 p.m. and includes a selection of finger sandwiches and open-faced sandwiches like smoked chicken Waldorf salad, smoked turkey and brie, classic egg salad and smoked salmon and caviar on pumpernickel bread. You'll also get scones with clotted cream and beautiful French pastries.
The teas are imported from around the world and include loose and bagged varieties like Darjeeling, Earl Grey, English breakfast, vanilla rooibos, monsoon chai and long life green tea.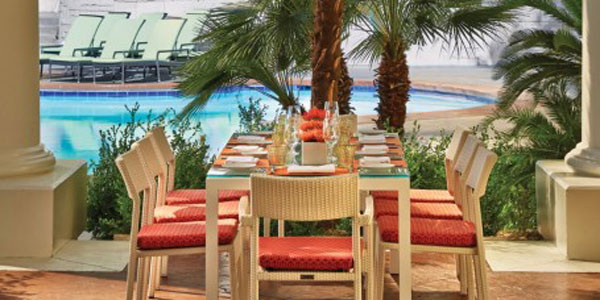 Veranda at Four Seasons
For a nice afternoon escape you can't beat tea at Veranda restaurant. It's tucked away back in a quiet, secluded area of the Four Seasons hotel with a beautiful outdoor patio overlooking the pool. Tea is served Monday – Friday from 3 – 4 p.m. and a 24-hour advance reservation is required.
Tea service features sandwiches like smoked salmon, chicken apple salad and egg and dill salad. You'll also enjoy scones with fresh Devonshire cream, lemon curd and house made strawberry preserve. Pastries include vanilla cheesecake, strawberry tarts and chocolate and candied mandarin velvet cake.
There are a variety of organic teas to choose from including orange pekoe, English breakfast, Russian Earl Grey and golden chamomile flowers. Champagne can also be added on.
If you prefer your tea in an alcoholic form, try the Zen Martini – Absolut White Tea vodka, lemon juice, agave nectar and green tea.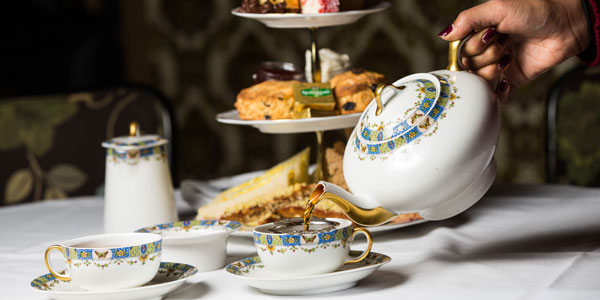 Rí Rá at Mandalay Bay
Rí Rá is an authentic Irish pub and if you want to do like the Irish do, you'll have tea in the afternoon.
Every day from 11 a.m. – 4 p.m., guests can enjoy a tea of their choice with a selection of treats. Priced at $22 per person, the tea includes six finger sandwiches, two fruit scones, four desserts and a pot of tea for two.
Sandwiches include egg mayonnaise, ham and tomato and Irish cheddar and Ballymaloe relish. Sweets include freshly baked homemade fruit scones, served with fresh cream and raspberry or strawberry Irish preserve, as well as miniature desserts such as Napoleons, raspberry roulade, fruit tartlets and chocolate-dipped macaroons.
Champagne tea (an afternoon tea meal followed by a glass of champagne) is available for $30 per person. If you've got a smaller appetite, you can partake in cream tea, a freshly baked scone with cream and Irish preserve with tea for $8.
Rí Rá serves a variety of teas including Barry's Tea Gold loose leaf, decaf breakfast full leaf, Republic Darjeeling black full leaf, Earl Greyer black full leaf, organic Assam breakfast black leaf and more.