Whip through your social media real quick and you can pretty easily find ballerific snapshots of Vegas. The cool thing about Vegas is that yea, you can party like a "G" if you want, but there's still plenty of other cool stuff to do that doesn't require an Amex Black Card. These things to do in Vegas for under $20 are perfect for when you're ballin' on a budget (if you're a high roller, you can get down with these too).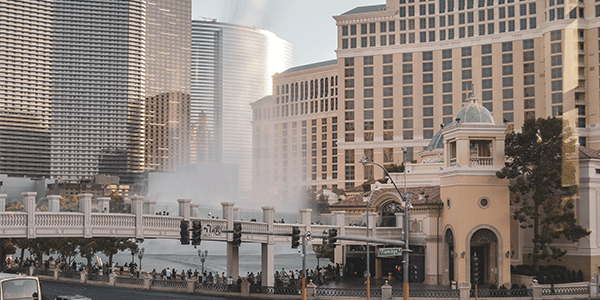 Probably more famous than the showgirls who strut up and down a Vegas stage, the Fountains of Bellagio will get you wet and you won't even have to worry about cab fare. A Las Vegas landmark, this 8.5-acre lake has 1,214 jets that launch streams of water 460 feet into the air. Like a '90s boy band, these jet streams are choreographed to groove along to the beat. Your move, showgirls.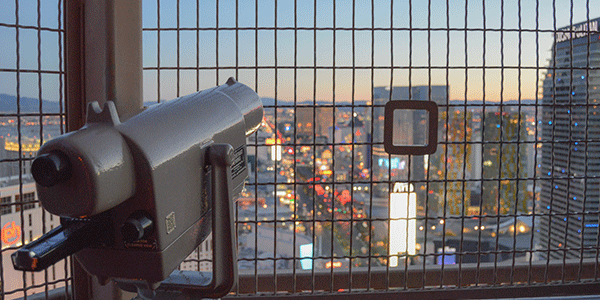 Getting to see the Eiffel Tower without leaving Vegas? Ladies and gentlemen, that's a twofer right there! Some noobs might try to be cute by letting us know that, "it's not the real Eiffel Tower!" Uh, duh. But we'd argue that the real Eiffel Tower doesn't have sweet 360-degree views of Vegas and a ridiculous vantage point to catch the Fountains of Bellagio. Boom! Anyways, just be sure to hit the Eiffel Tower Experience at the half hour mark so you can watch the fountains.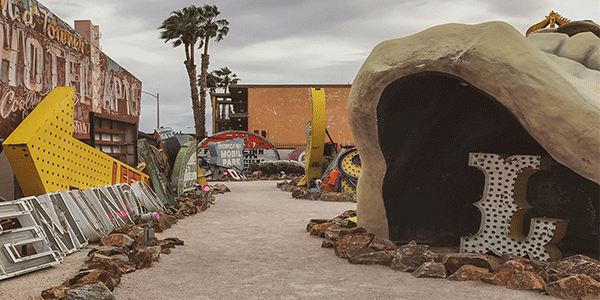 The Neon Museum
$17 daytime tour for adults with local, military, student and senior discounts
One man's trash is another man's treasure, right? Lucky for us, The Neon Museum took that saying to heart and ended up with a collection of more than 120 of Vegas' most iconic neon signs. This "Hoarders" style collection of signage has been restored and put on display for everyone to check out.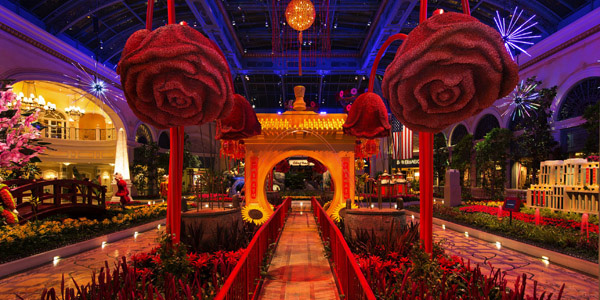 As iconic as its water fountain sister, the Bellagio Conservatory is a total Vegas must-see. Each season this place transforms into a new floral extravaganza. Literally thousands of plants, flowers, trees and décor get used in each display. Even crazier, each display has to be planned a year in advance to make sure that all of the flowers, plants and trees are available. We give extra props to the Bellagio for recycling 90% of the conservatory foliage. Mother Nature definitely approves.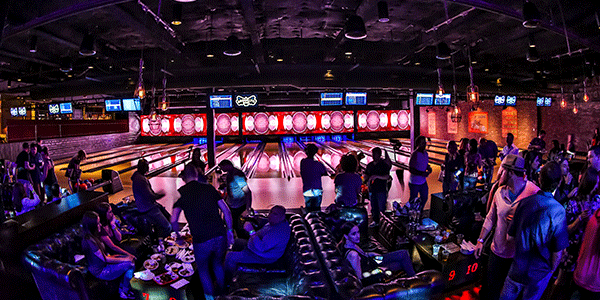 Brooklyn Bowl Bowling Lanes
Sunday - Thursday $20, additional $4.95 for shoe rental
No joke, this is one bowling alley that doesn't reek of stale socks or shoe spray. Brooklyn Bowl Las Vegas is actually a cool little spot where swanky chesterfield sofas and chic cocktail waitresses are the norm. A bowling alley, concert venue and restaurant all wrapped into one, this place is dope.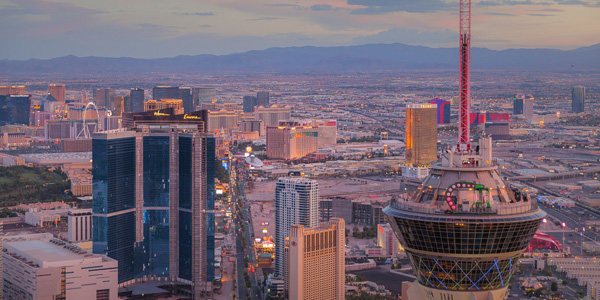 Stratosphere Tower Observation Deck
$20 for adults ($12 for hotel guests), $10 for kids
If you want to get high in Vegas, the Stratosphere Tower Observation Deck is the best place to do it. Soaring 869 feet above the Strip, you can catch 360-degree views of Sin City in all of her glory. If you've got the balls, the Observation Deck is also home to some heart-pounding thrill rides for a few extra bucks.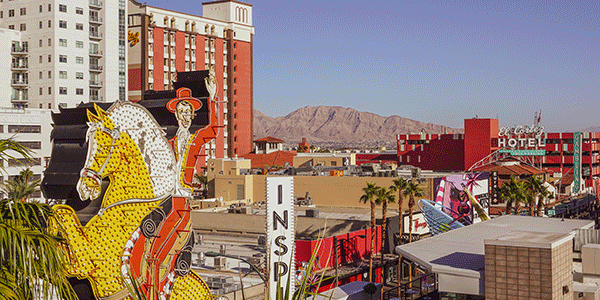 Dine Downtown
Less than $20
Great grub doesn't have to cost you a month's worth of wages. Not just cheap, Downtown Vegas' Fremont East bar district is actually one of the hottest food scenes in the city. The vibe of the area is kinda like if a hipster bar had a baby with a funky old school eatery, and all the kids grew up to become super rad restaurants that combine great grub with great prices. Le Thai, VegeNation, Evel Pie and Carson Kitchen are just a few of the poppin' eateries we vouch for.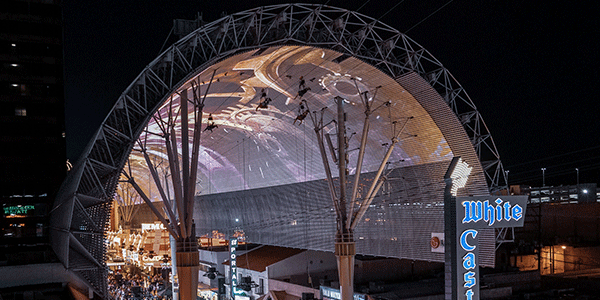 Slotzilla Zip Line
$20 for the zip line
$20 bucks and the cost of a new pair of underwear gets you up to 114 feet above the legendary Fremont Street. An intimidating 12-story structure, Slotzilla launches you 850 feet across the Fremont Street Experience at speeds that'd rival a NASCAR race. There's nothing between you and the open air except for a safety harness, so go ahead and cry for your mommy all you want. Nobody is going to hear you anyways. Another 20 bucks gets you on the Zoomline, it's definitely worth the extra Andrew Jackson.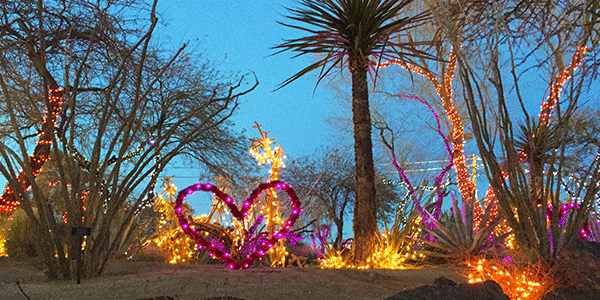 Ethel M Chocolate Factory and Botanical Cactus Garden
Free
It's time to get your Willy Wonka on! Ethel M Chocolate Factory is a Vegas landmark. While there aren't any Oompa Loompa's around (that we know of) the factory tour is still a killer way to see how small batch, gourmet chocolates are made. Chocolate dominance aside, Ethel M even lays claim to the largest botanical cactus garden in the southwest. Coincidence? We don't think so. Because strolling the four-acre garden is the perfect way to walk off all of that chocolate.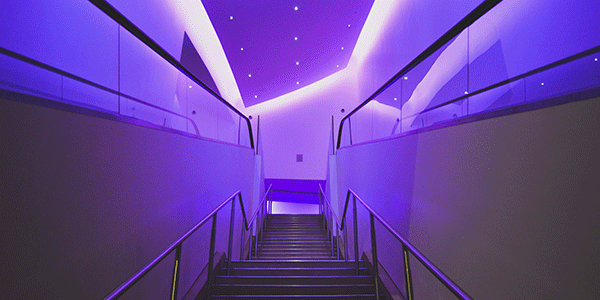 Akhob by James Turrell at Louis Vuitton inside Crystals
Free, but reservation needed
Ever wanted to reenact Drake's "Hotline Bling?" Akhob, by James Turrell gives you your chance. Turtleneck optional. Hidden on Louis Vuitton's fourth floor inside Crystals, Akhob's two chamber space becomes saturated with slowly changing, bleeding light. The vibrant hues hemorrhage from one color to the next, literally melting your body into the piece. Trust us, this is way better than that time you tried mushrooms in college. Admission to Akhob is free, just be sure to reserve a spot at least a week in advance because of popularity. Thanks a lot Drake.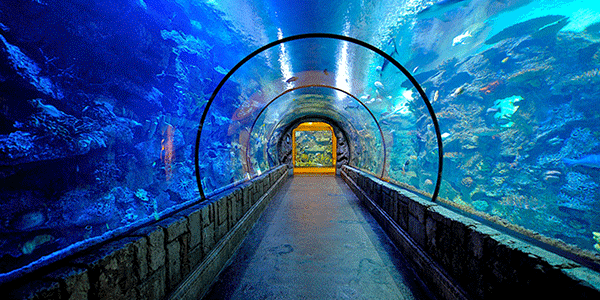 Shark Reef at Mandalay Bay
$20 for adults and $14 for children
"Shark Week" is every week at Shark Reef inside Mandalay Bay. Home to more than 100 sharks from 15 different species, Shark Reef is the most "jaw-some" place in town. Even if you're so-so about sharks, there are more than 2,000 different animals in Mandalay Bay's 1.6 million gallon aquarium. Plus they have a super cool sunken ship and walk-through water tunnel. Now you know what your goldfish feels like when you stare at it.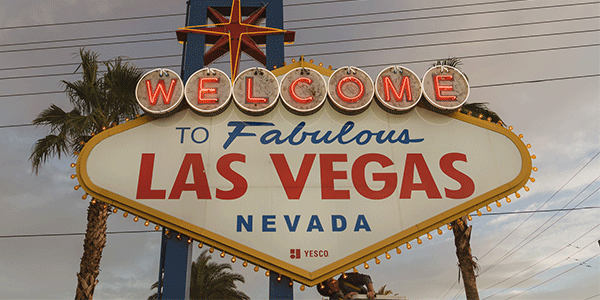 Did you even go to Las Vegas if you didn't post it on social media? A picture at the "Welcome to Las Vegas Sign" is the ultimate Vegas vacation snapshot. Take the pic and hit your friends with a little FOMO.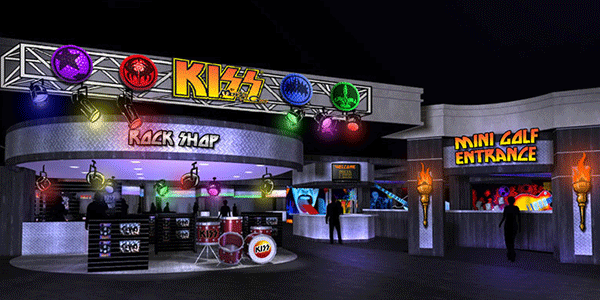 KISS: By Monster Mini Golf
$11.95 for 18 Holes
An 18-hole, glow-in-the-dark putt putt shrine to one of America's greatest rock 'n' roll bands? Sign us up! This indoor facility turned psychedelic KISS tribute is loaded with painted murals and relics of the band's most memorable features. Yea people, we're talking giant platform boots that touch the ceiling and a colossal Gene Simmons replica tongue that you have to use to hit the ball into his mouth. That "replica" tongue may or may not actually be his real tongue, we're not sure.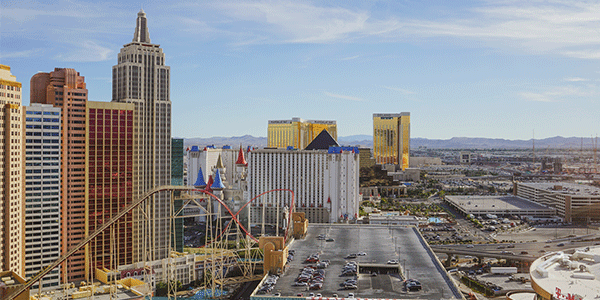 Big Apple Roller Coaster at New York - New York
$15
The Big Apple Roller Coaster at New York - New York is probably a lot like being an actual New York City cab driver. You punch it down towering drops, whip through multiple loops and do it with crazy speed. And if you had to ask, yes, Big Apple obviously has insane Stip views. Just a heads up, it's probably a good idea to wait until after the ride to hit the buffet.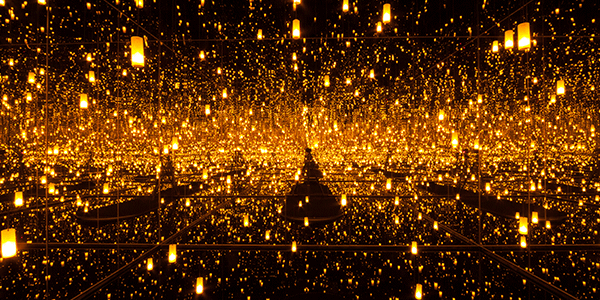 Bellagio Gallery of Fine Art
$18
Stick out your pinky and order a fancy cocktail because the Bellagio Gallery of Fine Art definitely ups the ante for the Vegas art scene. This is a great space to catch world-class exhibits from both famous museums and private collections, some that have never before been seen in public. Monet, Warhol and a who's who of other crazy famous artists have all shared their work here. It's probably a good idea to study up on some big words before you get here, too.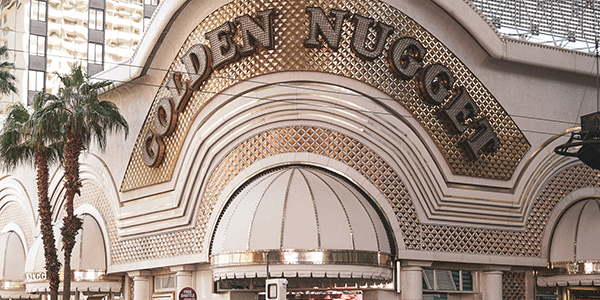 Hand of Faith at The Golden Nugget
Free
It's only fitting that the world's largest nugget of gold calls The Golden Nugget home, right? Named "The Hand of Faith," this 61 pound gold nugget was found in 1980 by some dude with a metal detector. Crazy right?! Go check this out and then immediately go out and start swinging your own. We'll hold your place in line.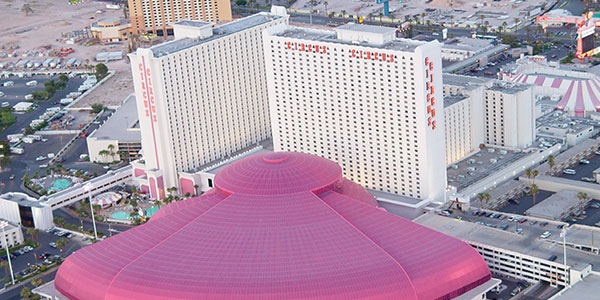 Adventuredome at Circus Circus
$6 - $12 for individual rides
Calling all adrenaline junkies, carnie lovers and midway miscreants, the Adventuredome at Circus Circus is THE place to go to get your freak on. This is America's largest indoor theme park and has more than five acres worth of cool stuff to do. You can experience a mild heart attack on one of the roller coasters, cause a head-on collision on the bumper cars or just win your boo a stuffed animal at a midway game.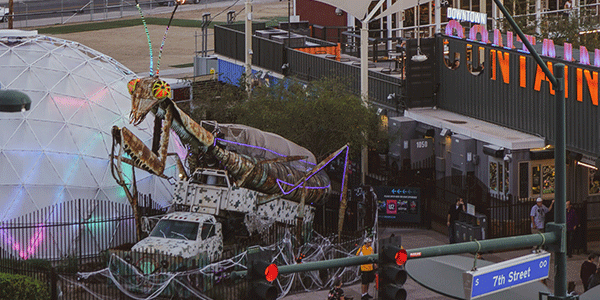 Ever come face-to-face with a giant fire-breathing Mantis? Well, Downtown Container Park gives you the chance. This chic retail/dining/art/hangout space is literally made of refurbished storage containers. Cool, right? In-between a little grubbin' or sippin' on a cocktail, you should climb up the TreeHouse in the middle of the park. When we say "TreeHouse," we mean TREE HOUSE. This thing has a 33-foot-tall slide! Beat that.