Dining with a theme
Las Vegas is a mecca for tourists, and one thing you're sure to find in a tourist town is themed restaurants. Vegas has them all -- from Harley Davidson to Planet Hollywood-- there's something for everyone's taste. So the next time you're in town and want to dine among the memorabilia, just consult our list of Vegas' most popular themed restaurants.
High Tea at the Bellagio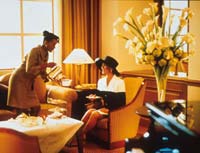 Pinkies up, it's time for high tea. Enjoy an afternoon of elegance at any of these premiere Vegas resorts.
At Bellagio, enjoy high tea at the Petrossian Bar. Ensconced in brocade sofas or velvet high-back chairs, you can sip from a variety of teas while nibbling on open-faced English sandwiches, pastries and scones with Devonshire cream and Baxters preserves. Petrossian serves high tea seven days a week from 2 p.m. to 4 p.m. High tea is $35 per person for assorted teas, $37 for Jasmine tea and $45 per person if guests include sparkling wine. Reservations are requested at least two days beforehand.
At the south end of the Las Vegas Strip, enjoy this English custom at the Verandah in the Four Seasons. This beautiful, elegant room serves what they call English afternoon tea daily from 1 p.m. to 4 p.m. It is $30 per person, or $38 per person with a glass of Louis Roederer Premier Brut Champagne. High tea at the Verandah also includes scones, sandwiches and pastries. Reservations must be made at least 24 hours in advance.
Enjoy an afternoon fit for a Jane Austen novel in any of these luxurious resorts.
The Hard Rock Cafe is the classic themed restaurant and probably Vegas' oldest. The cafe, which sports a 45-foot neon Gibson Les Paul guitar at the entrance, opened here in 1990. Inside, the Hard Rock Cafe pays homage to the ultimate Vegas performer -- Elvis -- with an entire Elvis wall, complete with a life-size statue of the King, plus some of his guitars and gold albums. Some of the other featured memorabilia in the Hard Rock Cafe includes Madonna's jacket, a feathered Elton John outfit and Marilyn Manson's guitar.
Besides memorabilia and a shop where you can buy every type of Hard Rock merchandise under the sun, the cafe offers some great food.
Appetizers include Tupelo chicken tenders (we told you they like Elvis here), Santa Fe spring rolls and handmade onion rings. House specials include home-style meatloaf and honey bourbon New York strip steak. The Hard Rock offers some mouthwatering desserts, and don't forget the drinks -- how about trying the Hard Rock Hurricane, available in a take-home souvenir glass or the Hard Rock Pilsner? Fill it up with your favorite beer or cocktail and take home the 20-ounce glass as a memento of your visit to the ultimate rock 'n' roll restaurant.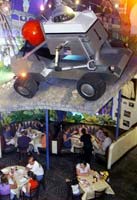 When celebrities come to town, they occasionally make a stop at Planet Hollywood for publicity events, so bring your camera. You never know whom you might run into at this Hollywood-themed restaurant located inside the Forum Shops at Caesars. Here you will find memorabilia from movies and television, as well as personal memorabilia from your favorite celebrities.
While you're dining, you'll be entertained by movie clips playing on screens throughout the restaurant. You also can shop for Planet Hollywood merchandise in the adjacent gift shop.
The menu features Planet Hollywood's signature Crunch Chicken -- chicken strips coated with a crunchy sweet substance (rumored to be Captain Crunch cereal). Other menu items include grilled Tuscan chicken, barbecue pulled pork, burgers, steaks and a variety of pastas.
Like any good themed restaurant, Planet Hollywood also serves up some specialty cocktails. Try the Die Hard Daiquiris or the Indecent Proposal -- a margarita topped with Grand Marnier.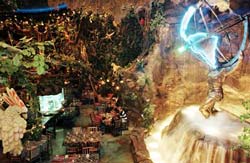 It's a jungle inside this rainforest-themed eatery -- literally. The restaurant is decorated with jungle trees, flowers and rainforest animals. You'll even hear the sounds of the rainforest, including a tropical storm, while you dine.
Among Vegas' themed restaurants, this one has one of the coolest gift shops. The shop features apparel, home accessories, jewelry, plush toys, games and many gift items, which all incorporate the rainforest theme.
Visit the Lava Lounge to find a selection of specialty drinks.
The Rainforest Cafe offers a wide variety of exotic menu items, including Caribbean Coconut Shrimp, Tribal Salmon, Amazon Fajitas and Jungle Steak and Shrimp. Save room for dessert -- the giant "chocolate volcano" features caramel and chocolate "lava."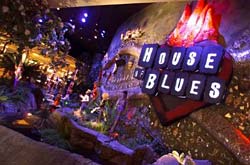 The House of Blues is a Southern/blues-themed restaurant. There also is a concert venue and bar on site, which routinely hosts some of the hottest acts in music.
The House of Blues restaurant is a great place to catch live blues bands while enjoying a menu full of savory Southern selections. Food choices include Crispy Catfish Nuggets, Seared Gulf Shrimp, New Orleans Style Seafood Gumbo, Cajun Meatloaf, Louisiana Crawfish and Shrimp Etoufee and Creole Jambalaya.
Visiting the House of Blues on a Sunday is a special treat. The restaurant hosts the Gospel Brunch, which offers live gospel music and an amazing buffet.
Some of the food selections include smoked Barq's root-beer chicken, rosemary cornbread skillets with maple butter, smoked fish and traditional breakfast items. You must buy tickets if you want to enjoy this entertaining meal.
The House of Blues also has the requisite gift shop complete with T-shirts, shot glasses and more. 
Toby Keith's I Love this Bar & Grill
Toby Keith's I Love This Bar is a themed bar, restaurant and entertainment venue inside Harrah's Hotel & Casino. The restaurant also houses a retail store where you can pick up memorabilia. Offerings include casual American food, and the bar/lounge features the country artist's music and videos, a recording studio, private dining area, stage and dance floor for live country acts and surprise appearances by Keith.