We can sum up New Year's Eve in Las Vegas in one word: Crazy. And we mean crazy in a good way. The entire Strip is shut down to traffic and it becomes like one giant block party for you and 300,000 of your closest drinking buddies. At midnight, the casinos launch a choreographed fireworks display that makes the Times Square ball drop look like child's play. Inside, the showrooms rock with the hottest entertainment and the nightclubs are packed with celebrities and partygoers who are dressed to impress. Book your room now and get the scoop on New Year's Eve parties and events in Vegas below.
Other New Year's Eve Parties & Events
New Year's Eve Tower Parties at the Stratosphere Casino, Hotel & Tower
The breathtaking 360° view of the glittering Vegas panorama from the top of the Stratosphere Tower is unparalleled. Combine that with the full immersion experience, the world-famous Grucci fireworks spectacular, and you have something truly unique. The iconic property is taking guests to new heights as they couple their Tower views with fireworks and unforgettable parties including an amazing, one-of-a-kind Skyline Spectacular New Year's Eve party 108 floors above the Strip, a special, five-course dining menu at the award-winning Top of the World Restaurant and a DJ-fueled after-party to keep the celebration going well into New Year's Day. With a variety of Tower Party packages to choose from, including packages that feature open bars, there is something special and truly memorable for everyone. The fun doesn't stop when the Tower parties end. Guests are able to keep their New Year's Eve celebration going until 5 a.m. with a heart pumping after party. The great entertainment lineup includes live dancers, a custom light show, DJs with the hottest mix of House, Top 40, EDM and more.  So if you are looking for a New Year's Eve experience above the rest, check out the Stratosphere Casino, Hotel & Tower.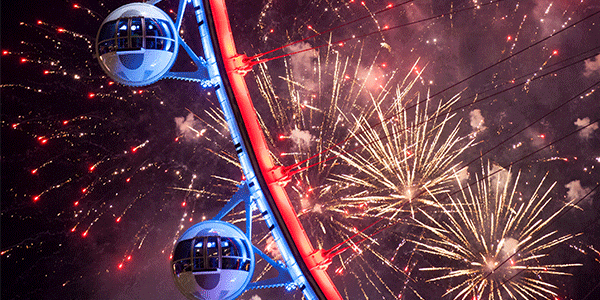 The High Roller and Eiffel Tower Experience
There are two types of people when it comes to partying on New Year's Eve in Las Vegas. The ones who go balls to the walls with the best experience ever and the ones who wander around the LVB (Las Vegas Blvd) trying to unsuccessfully secure a drink at a packed bar. We're going to go with the first one this year. The High Roller (starting at 150 bucks) and the Eiffel Tower Experience (250 bucks) are going all out with the ultimate VIP packages. They both offer open bar, a killer view for the fireworks, and of course, a midnight champagne toast to go along with that kiss you've been dreaming of since last year. Here's your chance to up your game and take it to the next level. Like your dad always said, "Are you a chump or a champ?" We're champs and we're ready to walk into the New Year like the high roller we are, are you with us or not?
Ron Decar's Event Center
Revel in a sophisticated Vintage Vegas New Year's Eve celebration at Ron Decar's Event Center. A live band with singers and dancers, lavish buffet and a champagne toast will accompany a perfect view of Stratosphere's fireworks. Raise your glass in classic Vegas style, tickets start at $125. 
New Year's Eve Las Vegas 2017 - 2018 Tips
New Year's Eve in Las Vegas -- the mere concept can make one tingle with anticipation at the prospects: carte blanche to enjoy the finest drinking, dining and dancing in the Entertainment Capital of the World with 300,000 of your closest friends and more celebrities than a year's worth of TMZ. The key to making New Year's Eve 2017 - 2018 in Vegas successful is planning ahead. So if you're choosing to join the masses ringing in 2018 in Sin City, make like a Boy Scout and be prepared with these tips:
Book early. Hotel rooms sell out early and prices can soar for the holiday, so make sure to book your room as soon as possible to get the best prices and your first choice of accommodations.
 
Traffic can be challenging in Vegas on a regular day and when you throw in hundreds of thousands of extra people to the mix for New Year's Eve, it can be downright nasty. If you're planning to party on the Strip, get there early, even if you're going to attend an event or party within a casino. Las Vegas Metropolitan Police shut down Las Vegas Boulevard (better known as the Strip) between Sahara Avenue and Russell Road to cross-traffic as early as 6 p.m. If you need to travel across the Strip (east-west), use the Desert Inn super-arterial (which runs under the Strip). For north-south travel (parallel to Las Vegas Boulevard), try Frank Sinatra Drive to the west or Koval Lane to the east.

Don't feel like getting behind the wheel? Who are you kidding, you probably shouldn't be on the road anyway. RTC, the local bus system, is providing free rides for everyone who plans on drinking till after the ball drops. They'll be driving 39 fixed routes from 6 p.m. to 9 a.m., so you can have all the fun you want without having to worry about a permanent smudge on your record.  Now we don't want to sound like your parents, but there's no excuse for you to be that busted hussy your friends have to bail out of CCDC. So, drink to your heart's desire and make this a New Year's Eve you'll never forget because there are more than a few alternatives to get home safely. 
 
If you decide to stay on the Strip, the best ways to get around on New Year's Eve are by taxi, walking or using the Las Vegas Monorail. If you have a car and want to park in a hotel garage, you might want to choose one that's near one of the ends of the Strip rather than in the middle. It'll be easier to get out once you decide you've had enough and want to head back to your hotel. But please make sure you have a designated driver. You do want to live to see 2018, right?
 
In the 1960s Petula Clark sang: "Linger on the sidewalk where the neon signs are pretty. How can you lose? … things'll be great when you're Downtown" about New York City. Well, this may not be the Big Apple, but the party that takes place in downtown Las Vegas under the dazzling lighted canopy of the Fremont Street Experience rivals that of New York's Times Square … and is broadcast on just as many stations. You can party all night to the sounds of several popular live bands and watch fireworks on a gigantic Viva Vision LED screen.
 
If you're not a fan of huge throngs of people dancing or huge throngs of people standing around drinking then don't pick a club, Las Vegas Boulevard or the Fremont Street Experience as your New Year's Eve headquarters. A lot of the shows in town do something special for the occasion, too, so you could catch a Broadway show and then toast another year with a bunch of like-minded people.
 
This is Vegas and while the sun is almost always shining during the day and the temperatures can be quite pleasant, it is still the desert and it does cool off quite a bit at night, so be prepared if you're going to join the party outside on the Strip. Bundle up and save your cute little black dress for the indoor parties. On the other hand, don't forget to drink plenty of water.
 
Be aware that if you're trying to get into one of the jam-packed hotels on New Year's Eve, you could run into some technical difficulties. A number of Strip hotels, in an effort to keep the crowds inside within occupancy limits set by county officials, will allow only those with proof they are guests of the resorts to enter the properties during the height of the festivities outside.
 
Know your role. Unfortunately your mom is not a Las Vegas nightclub operations manager, so if you decided to go the club route for New Year's, you're not going to be treated like a celebrity unless you are a celebrity. Enjoy it for what it is and look forward to going back to the office or school and telling everybody you rang in 2018 with Kim Kardashian. We won't tell anyone that she stayed in the VIP area while you struck out with a group of USC co-eds, don't worry.
 
Be yourself, unless "yourself" is someone who makes boneheaded decisions and puts everyone else in danger. A lot of people look at Las Vegas as a place where bad behavior stays isolated, but we assure you, some things are inescapable. Hundreds of Las Vegas Metropolitan Police officers will be out on the Strip in full force for New Year's Eve, so if you decide Sin City is the perfect place to get drunk and assault somebody or get drunk and drive, those stupid ideas will follow you home ... and probably back here for a court appointment and jail time. You want a New Year's kiss, right? You know who's not getting a New Year's kiss? The guy sitting in the drunk tank or the girl checking into the emergency room. Keep the partying peaceful and everyone will have a good time.
 
Get high. If you took that to mean something other than getting to the highest possible elevation you can, then we look forward to seeing you getting arrested on the local news. Fireworks ringing in the New Year here are a great New Year's experience. But if you're sausaged between a bunch of people and bunch of tall buildings on the street, you're not going to see much, so check out places like the tops of parking garages or other buildings for the best view. Do not climb a lamppost. Those people make the news (and the trip down to the police station) every year.
 
It's officially 2018. The last firework has exploded, the final piece of confetti has drifted to the ground and your hangover has started to kick in. The city will begin to clean up the streets almost instantly, but that doesn't mean the party is over. You may want to head indoors, whether it's to get a bite to eat at one of several 24 hour cafes inside the hotels, to join the party at a nightclub or to seek little old fashioned Las Vegas fun in the casino. The Strip does not typically reopen until well after midnight, so if you're in a hurry to leave, you will want to heed our earlier advice on New Year's Eve transportation and travel. Otherwise you may as well plan on spending the first few hours of 2018 stuck in a traffic jam.