Other Memorial Day 2016 Events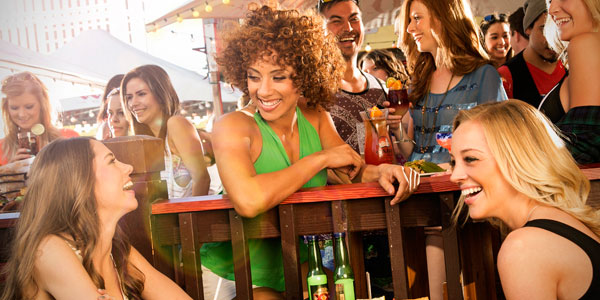 Chateau Nightclub at Paris Las Vegas has your Memorial Day Weekend set with the sounds of DJ Drama getting real. The Drama continues all weekend with ESPN broadcaster, Marcellus Wiley, aka "Dat Dude," on Sunday, May 29. This is the party with the views, the beats and the best of Vegas to make your Memorial Day memorable. Get your tickets and don't miss the action. Get your tickets here and don't miss the action. 
Sky Beach Club at Tropicana is hitting its first Memorial Day Weekend with a cannonball splash featuring Rob Kardashian & Blac Chyna on Saturday and 50 Cent on Sunday. This place is suave, cool and fresh this summer and the perfect place to get your Memorial Day pool party on. Get your tickets here and have a ball. 
Cabo Wabo Cantina, located inside Miracle Mile Shops at Planet Hollywood Resort & Casino will celebrate Memorial Day Weekend with new signature cocktails, drink specials and live entertainment on its Strip-side patio from Friday, May 27 through Monday, May 30. Cabo Wabo's three-day patio party will feature live musical performances from acoustic sensation Shawn Eiferman on Sunday and Monday. Memorial Day Weekend drink specials will include Dos Equis and Heineken beer buckets, priced at $21, and newly introduced signature cocktails including the CW Tropical Rum Punch priced at $39, or $50 including the souvenir glass; the Vegas Beach, made with Devotion Pure Vodka, fresh raspberries, Chambord and ginger ale, priced at $14; and the CW Skinny Margarita, made with premium tequila, fresh lime and sweet agave nectar, priced at $10.
Minus5 Ice Bar will honor veterans with a special ice-themed tribute this Memorial Day weekend. In salute to the troops, the ice bar will offer 2-for-1 entry for all veterans with valid I.D., at all locations.
Beer Park at Paris Las Vegas will celebrate Memorial Day weekend with a military special and the launch of its new extreme sausage eating contest from Friday, May 27 through Monday, May 30. To honor the troops, Beer Park will offer active-duty military and veterans 50 percent off their total bill with military I.D. Continuing the celebration, Beer Park will launch its newest venture, an eating challenge in which challengers must eat a five pound sausage held in a pretzel bun in one hour or less. The mega-sausage will be presented by servers riding tricycles and the competitor will wear an honorary cape during the challenge. Those who complete the undertaking will win complimentary Budweiser for the rest of the day and a shirt to prove they've completed the challenge. The challenge will be priced at $49.95 for those who do not complete it.
Aliante Casino + Hotel + Spa will celebrate Memorial Day weekend with drink specials. Celebrate at The Deck, Aliante's luxury pool with specialty drinks, frozen cocktails, beer and wine. Visitors will be able to enjoy their cocktails by the pool from the hours of 11 a.m. to 9 p.m. through the holiday weekend. Guests can add an additional shot to any cocktail for $5 or enjoy a 58-ounce pitcher, as well as upgrade their drink to a pineapple, coconut or watermelon cup.
Toast to summer this Memorial Day weekend with food and drink specials at Tacos & Tequila. The specialty menu is available May 27 through May 30 and includes cream cheese jalapeno poppers, $7; chorizo potato skins, $9; chicken taquitos, $7 and nacho fries, $8. Drink specials include Dos Equis bottles and Jose Cuervo shots for $5, Micheladas, priced at $8, and T&T's signature Chonga, priced at $20, a frozen daiquiri served with two upside-down 7-ounce Sol beers flowing directly into the drink.
R&B singer and actor, Sisqo, best known for his hit, "Thong Song," will be hosting at the GO Pool at Flamingo Las Vegas on Saturday, May 28. He will hit the stage at 2:30 p.m. DJ Eric Forbes will get things started that day and drink specials include $5 off Coors Light buckets. Don't miss DJ BritStar and DJ Tavo spinning on Sunday, May 29 and Monday, May 30.
MTN DEW KICKSTART and The LINQ Hotel & Casino are teaming up for the MTN DEW KICKSTART Poolside Pre-Game at The POOL at The LINQ, a seven-weekend summer pool party series in Las Vegas featuring live musical performances, guest appearances and unique poolside services and beverages to kick start the night. The afternoon-into-early-evening series starts on Saturday, May 28, giving guests the opportunity to pre-game poolside. Pool-goers will be able to enjoy video games while relaxing in massage chairs, get a fresh look at the poolside hair stylist and try one of the newest flavors of MTN DEW KICKSTART at the 32-seat bar.
Bally's Las Vegas' Blu Pool will kick off its weekly Raft Race series, starting Saturday, May 28, and running every Saturday afternoon through Labor Day. At 4 p.m. every Saturday, guests can test their paddling power, with 1st place receiving a $100 food and beverage tab.
The LINQ Promenade will be bustling with activities during Memorial Day Weekend, Saturday through Monday. From 2-6 p.m., visitors will see stilt walkers roaming the promenade. Guests are also encouraged to interact with the caricature artists, face painters and balloon artists. The High Roller Observation Wheel will thank active and retired U.S. Military members for their service by offering free standard tickets to ride on Memorial Day, Monday, May 30.
This Memorial Day weekend, Grand Bazaar Shops, in partnership with Royalty Exotic Cars, invites locals and Las Vegas visitors to support military and families of veterans through the Las Vegas Fisher House. The Fisher House provides free lodging for families of wounded, injured, and ill military and veterans while their loved ones undergo treatment.From noon to 6 p.m. Saturday, May 28 and Sunday, May 29, Las Vegas Fisher House will have an outpost at Grand Bazaar Shops' Grand Allée, near the entrance to the shops off Las Vegas Boulevard. The activation will sit alongside a luxurious Polaris Slingshot exotic car on display from Royalty Exotic Cars. Guests will have an opportunity to experience a first-hand look at the popular car and donations collected on behalf of Las Vegas Fisher House will be entered into a drawing to receive a three-hour rental of the Slingshot.Those that donate a minimum of $10 will also receive a $10 shopping voucher to use at Grand Bazaar Shops as a thank you for their support.
Pool Club Tips
Las Vegas is known for its raucous pool clubs. During the summer you'll discover no shortage of hot parties (both in temperature and popularity) making big splashes in the Entertainment Capital of the World. Although each one offers a slightly different experience, expect to be enveloped in an adult-oriented water playground of fun where the alcohol flows freely, the music pounds out from the speakers and scantily clad bodies dance the afternoon away. If you're considering bringing a book or basking in a tranquil setting, think again. Pool clubs are loud and often rowdy. Here are some other things you should keep in mind.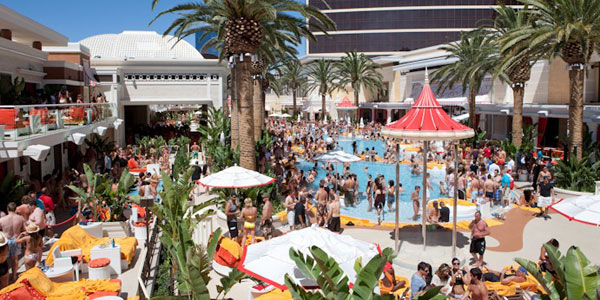 1. Carry proof of ID. Pool clubs are just like nightclubs. Upon entry you'll have to show a doorman that you're of legal age (21 or older). A driver's license, passport or government-issued identification card is usually acceptable.
2. Don't bring a cooler. Leave all beverages and snacks in your room. Although it may seem like a handy and cost-saving idea to pack some supplies for the afternoon, don't bother. You won't be allowed to bring them past the door. Generally speaking, all refreshments must be purchased at the pool club.
3. Expect to have anything you do bring (especially purses, bags and backpacks) searched at the entrance. This won't happen at every pool club, but it's common at the ones that accommodate a large number of revelers. Security personnel at the door will examine every nook and cranny within your belongings. Not even the TSA goes to such extremes! The goal behind this is to keep illegal drugs out. So among the items prohibited and typically confiscated are over-the-counter medications (such as a bottle of Tylenol), vitamins or anything in pill form. An array of liquids – ranging from contact lens solution and eye drops to hand sanitizer – are also banned. Of course, sharp objects and anything that looks like a weapon will be taken from you. You may even have to give up things like a pack of gum or wet-naps.
4. Come early. The line for guests to purchase general admission tickets can be long, especially on weekends. Clearly, you'll want to spend your day socializing by the pool – not waiting to get in. Plus, those who arrive at the beginning can spread their towels and lay claim to prime spots on the deck or near the water's edge. At some dayclubs you'll even be rewarded for showing up when the doors open with a lounge chair at no cost.
5. Avoid the line entirely by reserving a cabana. Procuring seating in advance – whether it be a chaise lounge, daybed, lilypad, cabana or bungalow – will speed up your entry at the pool clubs. In addition, if you're traveling in a group of guys, you really need to make some sort of VIP arrangement to expedite your entrance…or get some ladies to join you while you wait in line! Although pricey, cabanas, in particular, are great because they come equipped with luxuries like a flat-screen TV, a mini fridge stocked with bottled water and a safe for your valuables – all of which will make your afternoon more enjoyable and worry-free.
6. Be mindful of money. Since you're trying to limit the number of possessions you bring to the pool club, what should you do about cash? You can't get it wet and you won't want to leave it unwatched with your other things. Waterproof armbands, wallets or small pouches worn around the neck are a few ideas. Instead of coins and notes, credit and debit cards are handy when you want to run a tab. At some pool clubs, ATMs are in the bars or just a short stroll away inside the casino. At others, like Wet Republic in MGM Grand, there are banks of lockers for guests to use. And it works to your benefit to patronize the pool club located in your hotel because then you can just charge everything to your room.
7. Keep yourself hydrated with water. It's no secret that the heat in the desert can rise to uncomfortable levels. In fact, the average summer temperature in Las Vegas is 106° F. Taking a few seconds throughout the day to sip water will pay off by lowering your risk of passing out or suffering from heat stroke.
8. Bring sunscreen and apply it regularly. If you forget, most pool clubs do sell it. Get one with an SPF of at least 30. The best sunscreens have zinc oxide or titanium dioxide listed among their active ingredients. Be sure to reapply it often if you're swimming or sweating a lot. Those who aren't careful are sure to regret it later – due to a painful, unsightly sunburn.
9. Wear a hat and sunglasses. A hat with a wide brim is a good choice. You'll look mysterious. All the Hollywood stars do it – especially the fair-skinned ones like Anne Hathaway and Nicole Kidman. You'll also want to protect your eyes, as too much sunlight can lead to vision problems and dizziness. Wraparound shades or sunglasses that have UV coating are your best bets.
10. Wait until later to get hammered! Got big plans for the evening? If you don't hold back a little at the pool clubs – particularly when it comes to drinking – you won't be going out later. You'll be passed out in your room instead. Have fun and enjoy a few cocktails, but wait until the sun sets to get really slammed in Las Vegas' world-class nightclubs.
Two more bonus tips…
For the ladies: Put on your trendiest, most stylish swimwear…the sexier the better. You'll want to look your best and strut your stuff when you're poolside. Behind their dark sunglasses, men will be taking notice – and perhaps buying you drinks!
For the gentlemen: If you're at one of the city's "European" pool clubs, which means that tops are optional for women, don't gawk or leer or resort to catcalling. And don't try to take any photographs with a camera or your cell phone. You'll not only be paid a visit from security, but you may also be asked to leave.