Halloween for adults is still all about the sugar. We've just traded in the mini Kit Kats for sweet shots and plenty of eye candy. And it just wouldn't be Vegas without the chance to win some money. All over the Las Vegas Strip, clubs and casinos hold costume contests doling out more money than you could stuff into a little plastic jack-o-lantern. We don't care if your costume is tasteful or trashy, a cartoon character or kinky clubwear, as long as you've come to party. In this town, you're sure to find a treat. We'll just leave the tricks up to your imagination.
Other Halloween Parties & Events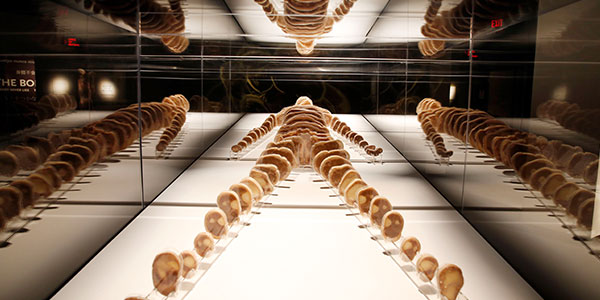 BODIES… The Exhibition at Luxor
Who needs Vampires and ghosts when you can see something even creepier, up-close-and-personal? Naturally, we're talking about the human body. And BODIES… The Exhibition at Luxor has real human bodies in abundance -more than 275 to be exact. See spleens, femurs and clavicles, no CGI or special Hollywood effects necessary. And if you're really lookin' to be freaked out, the exhibition has 13 whole-body specimens for you to exam. Party on, Wayne.
Therapy
Get your drink on at Therapy with the restaurant's special Halloween cocktail, the appropriately named, "Boozy Bat." Don't be confused by its name though, because monsters and ghosts of all shapes, sizes and breeds can sip on this bourbon, dark chocolate liquor, honey syrup and brandy or cognac (your choice!) concoction. And because it ain't no party like a Therapy party, the spirit is topped with Guinness, house-made coconut hazelnut whipped cream, fresh grated cinnamon and naturally, a cocoa powdered bat. Umm, two please?
Titanic: The Artifact Exhibition
It really is a tragedy what happened to the Titanic that night in 1912. But as they say, the Titanic's loss was Halloween's gain. With over 250 artifacts recovered from the famous ship, this is better than any "haunted" house that'll undoubtedly pop up in your neck of the woods. A worthy visit for ghost hunters and historians alike, Titanic: The Artifact Exhibition even recreates some of the ship's most famous rooms. Important reminder: there is no life jacket needed while visiting this attraction.
Crazy Horse III
Worrying about heaven or hell is an issue best left for the afterlife. Until then, have a bit of both at Crazy Horse III's "Heaven and Hell" bash. Starting at 10 P.M.  on Saturday, October 27th, you'll be able to shake your groove thang into the wee hours of the night. And if you're looking to level-up your experience, go ahead and bust out them dolla, dolla bills. And if you really want to be a big baller, take advantage of the club's complimentary limo service. Just be sure to set it up in advance, as it is a popular amenity.
The Haunted Reef at Shark Reef Aquarium
Let's be honest, that Left Shark costume of yours is so 2015. But if you really insist on getting some apex predator action in your life, you gotta check out The Haunted Reef at Shark Reef Aquarium inside of Mandalay Bay. For select days, the aquarium transforms into a dark and spooky experience filled with predators like the ghoulish tiger shark and the super creepy Komodo dragon.