Halloween for adults is still all about the sugar. We've just traded in the mini Kit Kats for sweet shots and plenty of eye candy. And it just wouldn't be Vegas without the chance to win some money. All over the Las Vegas Strip, clubs and casinos hold costume contests doling out more money than you could stuff into a little plastic jack-o-lantern. We don't care if your costume is tasteful or trashy, a cartoon character or kinky clubwear, as long as you've come to party. In this town, you're sure to find a treat. We'll just leave the tricks up to your imagination.
Other Halloween Parties & Events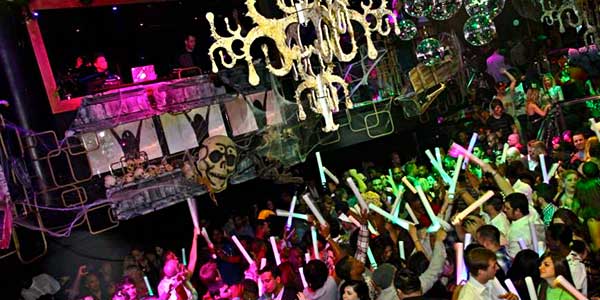 Fetish & Fantasy Ball
Halloween is the one time of the year where you can dress like Adam and Eve (or Steve depending on your preference) and no one judges you. That's the mantra of the Fetish and Fantasy Halloween Ball at Red Rock Casino, Resort and Spa on Saturday, October 28. So, think reaalll hard on what wild costume you want to put on, because the sky is the limit tonight (basically, check the dress code just to make sure). We're still deciding between naughty nurse or bad cop.
The Bank Nightclub at Bellagio
People in the Renaissance era got it all wrong. If you're going to dress up, don't put on that big poofy dress that gets in the way. Instead head out with a corset and BAM, you've got a sexy costume on your hands. Check out The Bank Nightclub at Bellagio for their "Beauty & The Bank" Halloween event. On Saturday, they're giving away $10,000 to the sexiest costume out there. So instead of spending loads of money on that bird cage that holds you back, strip down and take home some money instead.
Wet 'N' Wild
Who says Halloween has to be an adult thing? Wet 'N' Wild Las Vegas is transforming its water park into Spooktacular Halloweenville from October 20 – 31. But before you start putting your swim trunks on because you already miss summer, don't because this is a dry event. So, dress up as a family of vampires or be the next Addams Family. The park has events like trick or treating, a rock climbing wall and even a spooky laser swamp. There's plenty to do, so grab the kids and head out to the most spooktacular event of the year.
Halloween Under the Dome at Plaza
We don't know about you, but we've been practicing our monster mash for ages now. We're unleashing the beast at the Halloween Under the Dome event at Plaza in downtown Las Vegas on Saturday, October 28th. There's a DJ, drink specials and a firework show to Michael Jackson's "Thriller." What more can you ask for? Now, it's time to dig through our closet to find the best Halloween costume that complements our killer dance moves. Oh, and don't worry about those pesky entrance fees, this event is free to enter.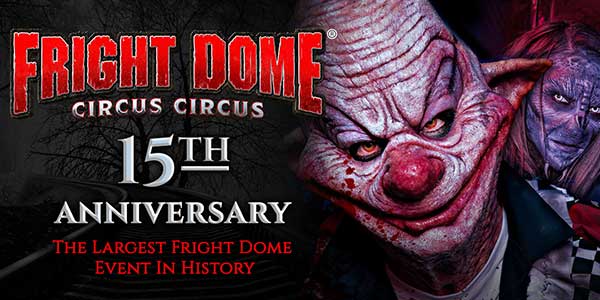 Frightdome
Halloween in Las Vegas is full of great traditions. And nowhere is that tradition of scaring the heebie-jeebies out of people taken more seriously than at Circus Circus' Fright Dome. We're not going to mince words people, Fright Dome is the mecca of haunted houses. Literally, this place has won awards for being one of the best haunted houses in America. This is Fright Dome's 15th anniversary, and normally anniversaries call for a gift of some sort, but we think that we're going to pass on the gift and get ourselves some new undies instead. Open throughout the month of October, something tells us we'll be needing them.

Haunted Vegas Tour & Ghost Hunt
Are you a paranormal aficionado? Maybe you just have an insatiable urge to prove all of those ghost skeptics wrong. Either way, the Haunted Vegas Tour & Ghost Hunt is an experience all its own. Take a moment to get your mind right because for three hours you're going to be exploring haunted buildings and hangouts of some of Vegas' most popular celebs, including Elvis, Michael Jackson and Liberace. Make sure you limber up too because the use of ghost hunting equipment is required, as is the complimentary pizza dinner –assuming you make it out alive.

The Haunted Reef at Shark Reef Aquarium
Let's be honest, that Left Shark costume of yours is so 2015. But if you really insist on getting some apex predator action in your life, you gotta check out The Haunted Reef at Shark Reef Aquarium inside of Mandalay Bay. October 27-29th the aquarium transforms into a dark and spooky experience filled with predators like the ghoulish tiger shark and the super creepy Komodo dragon. And just a heads up, kids under 12 who dress up in costumes on October 26 can expect a few treats, too.