Other Halloween Parties & Events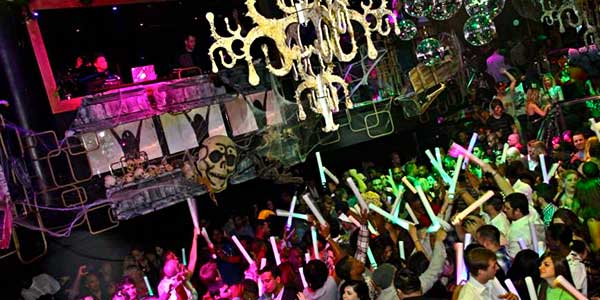 Fetish & Fantasy Ball
The Red Rock Resort, Casino and Spa hosts one of Vegas' wildest parties, the annual Fetish & Fantasy Halloween Ball.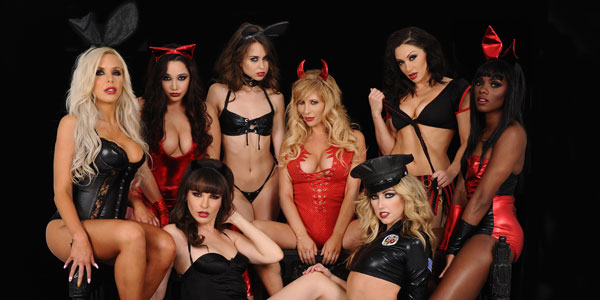 Downtown Pub Crawl
It isn't Halloween unless you're crawling from bar to bar looking like a zombie. Ditch the Strip and head downtown to where the action is. For only $30 you can crawl around in your costume to different bars for great chilling cocktails that are to-die-for and discounted. There's no such thing as starting the party early, meaning at 5 p.m., it's drink o'clock all weekend long. Bring out your best costume work for the chance to win $1,000 at the Citrus Rooftop Pool After Party at the Downtown Grand from 10 p.m. to 1 a.m. The wristband for the crawl will gain you free entrance to the after party.
El Cortez Sin City Halloween
Look Vampire Showgirls! The Fremont Street Experience and El Cortez is being taken over by the world's most famous movie cars. Put on your ghost hunting gear because the "Final Ride Hearse" car show, from 10 a.m. to 10 p.m. on Saturday, Oct. 29, will display 12 – 15 show and movie cars, including one from the recent 'Ghostbusters' movie on 6th and 7th street. But that's not all; the event will host a special Q&A session, from 11 a.m. to 3 p.m., with special effects experts Nick Benson and Mick Strawn and stunt men from the movie 'Halloween,' James Winburn and George P. Wilbur. Last, but not least, a Sin City Halloween Parade starting at 7 p.m. Grab your popcorn tubs and sit up front and center because this is better than any movie.
Freakling Bros. Horror Shows
Are you the person in your group of friends that doesn't get scared in haunted houses? Well try this on for size, Freakling Bros are giving you three times the scary. You even have to sign a consent form for one-if you have to sign a form you know it has to be scary. Located at the Grand Canyon Shopping Center, it isn't too far from the Strip or for locals around town. It is open Oct. 7 – 9 and Oct. 14 – 31 7 p.m. to midnight on Fridays and Saturdays, and from 7 p.m. to 11 p.m. Sunday – Thursday. Tickets range from $14 - $35, depending on how scared you want to get.
Ghostbar Dayclub
Ain't not party like a rooftop party, 'cause a rooftop party don't stop. Call the squad and dress up for your chance to win $5,000 hunnies! This is the "Day of the Killer Costumes" and starting at 1 p.m. pretend you're a high roller on the 55th floor of the Palms. Local ladies get in for free, local men and out-of-state ladies $10 and out-of-state men $20
Haunted Harvest
This family-friendly event at Springs Preserve features a haunted maze, trick or treat stations, carnival games, live entertainment and much more. It runs Oct. 14 - 16, 21 - 23 and Oct. 28 - 30 from 5 p.m. - 9 p.m.  Admission is $8. Children age 2 and under get in for free. For an additional $3 for members and $5 for non-members, guests can take a "haunted" train ride.
HallOVeen
Opportunity Village's 3rd annual HallOVeen will turn the Magical Forest into a spooky land of goblins and ghosts. This child friendly event will feature rides and attractions including The Haunted Adventure by Santino and Rocco Panaro, a spooktacular Forest Express Ghost Train, Cheyenne's Enchanted Carousel and Boris the Elf's 3D Experience. Guests will enjoy nightly parades, crafts, spooky movies, story telling, "Scary-oke", the Candy Cabin and special entertainment in the Haunted Castle Courtyard. Each night will feature a different theme with nightly costume contests and prizes awarded to winners.
HallOVeen debuts Oct. 14 and will be open nightly throughout the month of Oct. During the last week of the month, HallOVeen will feature a "Day of the Dead" theme for the final evening. HallOveen hours are 5:30 - 10 p.m. nightly. General admission pricing is $11.99 for adults and $9.99 for children. Opportunity Village is located at 6300 W. Oakey Blvd.
Hershey's Chocolate World
Trick or treat, smell my feet; give me something good to eat. Hershey's Chocolate World, located outside of New York-New York, is drizzling Halloween chocolaty goodness and our sweet tooth is on fire. Guests of all ages who come into the store on the 31st from 9 a.m. to 11 p.m. will receive a complimentary snack size Hershey's Candy Corn Crème Bar to indulge your appetite. You don't have to tell us twice Hershey's, we'll be there.
Lavo 
This is Vegas; the party never stops, even at brunch. Are you a sinner or a saint? Lavo, located inside The Palazzo, is popping champagne bottles for Halloween and we've got our orange juice ready. The Heaven and Hell Halloween Party Brunch is on Saturday, Oct. 29 from 2 p.m. to 6 p.m. So be classy with just a touch of sassy, and make your reservations now because this will be one deliciously good time.
The LINQ Promenade
The zombie apocalypse has come to the Strip, either fight for your life or join the frenzy. The LINQ Promenade and High Roller are throwing a spooktacular Halloween extravaganza with three different events: The Zombie Escape, opening on Saturday, Oct. 8, TRIQ or Treat and a Halloween Celebration on the weekend of Oct. 29 - 31. 
For three days, the LINQ Promenade will be decorated, provide family-friendly music by DJ Miguel, host face painters, stilt walkers and a zombie LED drumline at the top of each hour. Those 21 years and older can also participate in a costume contest for a chance to win $10,000. General admission tickets start at $20. They also offer special packages for all the attractions and goodies. The Zombie Escape will be open every Wednesday - Sunday for the month of Oct., with a special celebration on Halloween night.