Elvis' star continues to shine in Las Vegas
By Kristine McKenzie and Jennifer Whitehair
Welcome to Las Vegas, where Elvis has definitely not left the building. The king of rock 'n' roll still reigns supreme in the "Entertainment Capital of the World."
Elvis' enduring popularity in Vegas is a tribute to the bonds forged between the singer and the city in a seven-year run between 1969 and 1976, a period fondly remember as the "Vegas Years." It's a legacy that continues to this day.
"He was the show in town -- the one everyone wanted to go to because he was just really hot and was coming back with new music," said singer Terry Blackwood, a member of the Imperials who sang backup for Elvis. "Everyone wanted to see Elvis."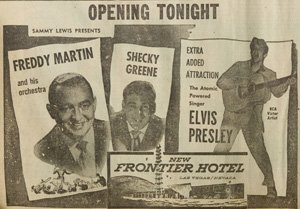 A rocky start then the romance
Elvis first performed in Las Vegas in 1956 when he was just 21 years old. He was booked in the Venus Room at the New Frontier hotel, which billed him as "The Atomic Powered Singer."
While he was already becoming quite popular with teens around the country, Elvis was not the typical Las Vegas Strip entertainer of the time and his shows were met with a cool reception.
Bill Willard, a reviewer for the Las Vegas Sun newspaper, panned Presley's performance writing, "For the teen-agers, the long, tall Memphis lad is a whiz; for the average Vegas spender or showgoer, a bore. His musical sound with a combo of three is uncouth, matching to a great extent the lyric content of his nonsensical songs."
Willard may have captured the dismay that older Vegas audiences had with the young upstart, but Las Vegas resident Ed Jameson caught a vision of the future Elvis would have in Vegas.
Penning a rebuttal to Willard's review, Jameson wrote, "He is not a Rock 'n' Roller nor is he a cowboy singer. He is something new coming over the horizon all by himself and he deserves his ever-growing audience. Nobody should miss him. Parents would do well to take their children to hear him. It would be a good way to get to know and understand your own kids."
Elvis ended his two-week run unable to capture success in Vegas, but that didn't end his relationship with the city. While he wouldn't return to a Las Vegas stage for 13 years, in 1963 he spent several weeks in town to film the hit movie "Viva Las Vegas," which co-starred Ann-Margret.
The movie was a huge success, costing only $1 million to make and earning $5 million. It also spawned what many consider Sin City's theme song, "Viva Las Vegas."
"Viva Las Vegas" also featured a Vegas wedding between Elvis and his co-star Ann-Margret. Four years later, reality mirrored the cinematic fairytale when Elvis' real-life love story played out in Las Vegas. On May 1, 1967, at age 32, he married Priscilla Anne Beaulieu, 21, at Milton Prell's Aladdin Hotel.They were wed in a quiet eight-minute ceremony in Prell's suite at the hotel.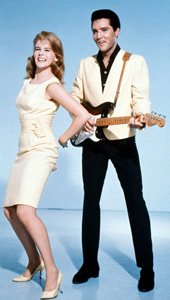 Success onstage at the International
Despite his history in the city, it wasn't until The International hotel opened in 1969, that Elvis truly became synonymous with Las Vegas. While Barbra Streisand opened the showroom at the International, Elvis would make it world famous.
In 1969 Elvis performed his first show at the International to a sold-out crowd and he went on to perform regular engagements at the property for seven years -- a total of 837 consecutive sold-out performances in front of 2.5 million people.
The sheer numbers from these performances are mind-boggling. In one 29-day period Elvis entertained 101,509 guests, bringing in $1.5 million in ticket sales. In the course of his 800-plus performances in Vegas, Elvis sold $43.7 million in show tickets, about $277 million in 2013 dollars. In the months when Elvis was performing, 1-in-2 visitors to Las Vegas saw his show.
The hotel became the Hilton in 1971, the Las Vegas Hotel & Casino in 2012 and Westgate Las Vegas in 2014. Over the years more people saw Elvis perform there than anywhere else in the world.
Blackwood recalled the opening show on July 31, 1969 as a who's who of the entertainment business, with an audience full of celebrities including Tom Jones, Juliet Prowse and Sammy Davis Jr.
"He (Davis) was a big Elvis fan. He was right down in front -- front row center -- and right in the middle of the show Elvis specifically singled out Sammy Davis Jr. and walked down to the edge of the stage where Sammy was seated and took off one of his big rings -- I don't know what kind of ring it was -- but he just handed it to Sammy and Sammy was thrilled of course."
Elvis performed two shows a night -- at 8 p.m. and midnight for a month-long stretch at a time. Blackwood said he'd usually get to bed about 3 a.m. but sometimes the group would be up all night.
"On average of about once a week, Elvis would come to our dressing room and say, 'Hey guys, would you come up to the penthouse tonight -- I'd love for you to come up and just hang out with me.' Of course when Elvis invites you, you can't say no. So we would all go up to the penthouse. He wanted to go up there and sing."
Blackwood said the penthouse would be filled with food, drinks and Elvis' Memphis friends.
"He'd sit at the piano or one of our guys would sit at the piano and would play and we'd sing gospel music and that's about all we would do. Or he had a big stereo and he would play black gospel groups. He loved traditional black gospel music. We'd listen to it and go over and sing it. He had a ball singing ... I would say I've never known a man who loved music more than Elvis."
Janie Steele worked as a camera girl, taking pictures of guests in the showroom during Elvis' 1970s shows. She was also lucky enough to get to socialize with Elvis after the shows.
"I was invited by one of his employees to come up to the suite between shows. I took one of my co-workers with me. He was just so nice and so handsome. I was overwhelmed. I don't think I said very much. We sat with him while he ate his dinner along with lots of other people that were there also."
Steele also often got to watch Elvis' performances. "We were allowed to stand in the back of the showroom or sometimes we could sit on the steps that led down to the floor of the showroom. I saw so many that I lost count -- pretty good for someone who thought she would never see him."
Tickets to Elvis' dinner show were $17.50 and included lobster or steak. The midnight show, which included drinks, cost a little less, but those who wanted a close-up view of Elvis had to pay a bit more.
"The maitre'd had to have made a fortune by being tipped to get down front," Blackwood said. "I'm thinking probably $100 to $200 would have gotten you front row or right near the stage."
The Imperials worked with Elvis until 1972 and Blackwood said the group always enjoyed working with him.
"I really liked Elvis and I really appreciated more than anything his genuineness. He was just a Southern gentleman. He was always kind and polite to people."
Steele agreed. "He was always a gentleman with me, he always acknowledged me when he saw me at work. He was funny and witty. I wasn't disappointed at all. I am still amazed that I saw his shows let alone met him," she said.
Blackwood said he was also struck by Elvis' intense love for people. "I never saw him really be rude to the fans. They could be quite demanding at times and he was always nice to them."
Blackwood said the one thing he wants people to know about Elvis is that he always took his music seriously and gave his all to his fans.
"He was passionate about his music. He was passionate about giving the people his very best. He was passionate about hiring musicians and singers that he felt were the best he could give. In that sense he was really a perfectionist about his music. He was serious about it. I think a lot of the time there are music people who think he was not serious and he was just having fun -- and he was doing that -- but he was very serious about what he wanted the people to experience when he sang."
Even though Elvis was scheduled for more appearances, Dec. 2-12, 1976, turned out to be his last engagement there. Elvis died of a heart attack on Aug. 16, 1977 at his Graceland mansion in Memphis, Tenn.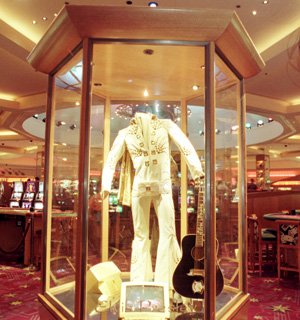 The legacy
Elvis was never to perform again in Las Vegas, but the city never forgot the entertainer. Perhaps it was fated that a city which embraced Elvis the entertainer, would want to hold on to Elvis the myth. Even before his death, tribute artists were performing as Elvis. The King used to love catching Brendan Boyer's impression of him, during the Irish Show Band's performances in the Stardust Lounge in the '70s. Las Vegas continues to offer tributes to Elvis nightly, 365 days a year.
A year after Elvis' death a statue was dedicated in his honor at the International (now known as Westgate Las Vegas) hotel. 
Elvis is also honored with a star on Las Vegas' Walk of Stars. He was inducted in 2008.
At the Hard Rock Café gold records, belts, a smashed guitar and a telegram from Elvis and the Colonel to the Beatles are just some of the Elvis memorabilia on display.
In 2010 the Strip's entertainment titan, Cirque du Soleil, partnered with CYK and its subsidiary, Elvis Presley Enterprises, plus MGM Mirage to create an Elvis Presley show at Aria. 
"Cirque du Soleil's Viva Elvis" closed after a two-year run, but tributes to the King continue to this day including "Legends in Concert" at the Flamingo Las Vegas and "All Shook Up" at Planet Hollywood. 
Long live the King.