EDC 2018 Lineup
The list features tons of DJs and producers providing dance music fans with a wide spectrum of musical offerings. This year's lineup is: 
FRIDAY:
ADIN · ADRENALIZE · ALAN WALKER · ALPHA 9 · ANGERFIST · ANIMATO · ASTRIX · AVALON BOOGIE T B2B SQUNTO · BORGORE · BRENNAN HEART · CALYX & TEEBEE B2B BREAK · CHARLIE · CHRIS LORENZO · CHRISTOFI · CIREZ D · CLAUDE VONSTROKE · COLD BLUE · DA TWEEKAZ · DASH BERLIN (CLASSICS SET) · DATELESS · DIGITAL PUNK · DIMITRI VEGAS & LIKE MIKE · DIPLO · DJ STEPHANIE B2B LADY FAITH · DOMBRESKY · DR. PHUNK · EPTIC · EXCISION · FIREBEATZ VS. DUBVISION · FLUX PAVILION B2B DOCTOR P · FURY B2B FALLEN · G JONES B2B EPROM · GANESH · GETTER · GG MAGREE · GRIFFIN SOLLER · GRYFFIN (DJ SET) · HEROBUST · HOT SINCE 82 · IVY LAB · JACE MEK · JACK BEATS · JAI WOLF · JAMIE JONES PRESENTS PARADISE · JOHN 00 FLEMING · JORDAN SUCKLEY PRESENTS 3FECT · JOYRYDE · KASKADE · KEIJI · LATMUN · LAURENT LANE · LEE FOSS · LO'99 · LOST FREQUENCIES · LOUDPVCK · MC DINO · MIJA · MIKE WILL MADE-IT · MISTER BLAQK · MK · NGHTMRE & SLANDER PRESENT: GUD VIBRATIONS · PARKER · PENDULUM (DJ SET) · PULSATORZ · REDLIGHT · ROBOTAKI · SAM JONES · SAN HOLO · SHMITTY B2B NO REQUESTS · SINDEN · SLUSHII · SNAILS · SUB ZERO PROJECT · SUBSET · VIRTUAL SELF · WHETHAN · WILL CLARKE · WONGO · XIE · YHETI B2B TOADFACE.
SATURDAY:
4B · AC SLATER · ANDREW BAYER · ANDY C · ARMIN VAN BUUREN · ATMOZFEARS · BIJOU · BLANKFACE · BLOODTHINNERZ · CARMADA · CHEAT CODES · CHRIS LAKE · CODE BLACK · CRANKDAT B2B DIRTY AUDIO · DABIN · DARKSIDERZ B2B MEKANIKAL · DARREN STYLES · DATSIK · DEFINITIVE · DETLEF · DOMBRESKY · DR. FRESCH · DR. RUDE · DROELOE · EKALI · FISHER · GABRIEL & DRESDEN · GENIX B2B SUNNY LAX · GENTLEMENS CLUB · GORGON CITY · GREEN VELVET PRESENTS LA LA LAND · GRUM · GTA · HABSTRAKT · HARDWELL · ILAN BLUESTONE · ILLENIUM · JASON ROSS · JAUZ · JOHN DIGWEED · KAYZO · KITTENS · KSHMR · KYGO · LOADSTAR B2B MIND VORTEX · LONDON ON DA TRACK · MARIANA BO · MARSHMELLO · MASTER OF THE PEOPLE · MATT MEDVED · MAZE · MELÉ · MOKSI · NGHTMRE · NOTORIOUS TWO · OLIVER SMITH · OOKAY (LIVE) · SAGE ARMSTRONG · SAYMYNAME · SHIMON B2B BENNY L · SLATIN · SNAVS · SOLARDO B2B CAMELPHAT · SPACE JESUS · SPENCER BROWN · STRANGE CLUB · SUAE · TIËSTO · TNT AKA TECHNOBOY 'N' TUNEBOY · TONESHIFTERZ · VINI VICI · VOLAC · WASTED PENGUINZ · YELLOW CLAW · YULTRON · YUUKI YOSHIYAMA · ZEDS DEAD.
SUNDAY:
12TH PLANET B2B KILL THE NOISE · A-TRAK · ADRIATIQUE · AFK B2B SVDDEN DEATH · AFROJACK · ANIME B2B MAD DOG · ARKHAM KNIGHTS · ATB · BIG WILD · THE BINCHES (DOTCOM · KAYZO · OOKAY · YULTRON) · BLACK TIGER SEX MACHINE · BLACKGUMMY · BASTOYX · BORGEOUS · BORN DIRTY · BOYS NOIZE · CASPA · CHARLOTTE DE WITTE · CONRANK · COONE · COSMIC GATE · CRIME FAMILY · DASH BERLIN · DIRTY MONKEY · DJ HYPE B2B HAZARD · DJ ISSAC · DJ MUSTARD · DON DIABLO · DRUMSOUND & BASSLINE SMITH · DUBLOADZ B2B MONXX · ELEPHANTE · ERIC PRYDZ · FERRY CORSTEN · GAMMER · GRAVEDGR · HEADHUNTERZ · HEKLER · HONEY SOUNDSYSTEM · JACK BEATS · JESSICA AUDIFFRED · JSTJR · JUNKIE KID · K?D · KHALID · LOCO DICE · MACEO PLEX · MARKUS SCHULZ · MARTIN GARRIX · MERCER · MK · NIGHTSTALKER B2B SOOTHSLAYER · OMAIR · PAUL VAN DYK · PAUL WOOLFORD ·  THE PITCHER · THE PROTOTYPES B2B TC · R3HAB · RAWTEK · RELL THE SOUNDBENDER · REZZ · ROGER SHAH (LIVE) · SEVEN LIONS · SHIBA SAN · SLANDER · SPACEPRODIGI · SPAG HEDDY · TANTRUM DESIRE · TCHAMI X MALAA (NO REDEMPTION) · WARFACE · YOOKIE · ZEDD · ZEKE BEATS · ZOMBOY
EDC - Electric Daisy Carnival - 2018 Tips
Are you excited? We're so excited. We are ready to freak the funk out at EDC Las Vegas. And we hope our editors note that we said fuNk. We're trying to be good so they don't take away our EDC tickets. As long as we're clutching them tighter than the outfit we're wearing to the show – it's gonna be sick yo – we'll hook you up with some advanced info just to get your juices flowing. It's a tease only, for now. But keep an owl's eye out for more excitement as we get closer to EDC Las Vegas 2018.
Tickets 
Can you hear it? That beat in the air? They're here! Tickets for EDC Las Vegas 2018 are now available directly from Insomniac. Get them quick. You never want to be that person who has to beg for a spare ticket because you waited too long. And you never want to have that moment when you collapse on to the ground in a state of disbelief because tickets sold out while you were nine hours deep into a trance binge. So buy your tickets soon. Then worry about which shoes give you the best dance to impressiveness ratio. And if you're one of the unfortunate ones who can't get tickets to EDC, we've got a whole slew of Las Vegas shows for you to watch instead.  
Tips
First off, pace yourself. There's a lot to do and plenty of time to do it. You've also got plenty of time to prep. Try some smaller parties first, you know, like Las Vegas nightclubs. Build up to EDC. There's a giant praying mantis at Downtown Container Park that shoots little balls of fire. Maybe you dance around that for a half hour to get in the spirit. It's all about balance.
The one other thing we want to tell you right away, other than stay hydrated, is stay energized. Energy drinks do not count. You'll be walking, dancing, maybe even hanging off somebody while they try to remember how their life ever felt complete before you. You need calories to burn. Ideally, of course, you should stuff your face off at a Las Vegas restaurant before heading out to the festival grounds. Be safe and know your body's requirements and limits.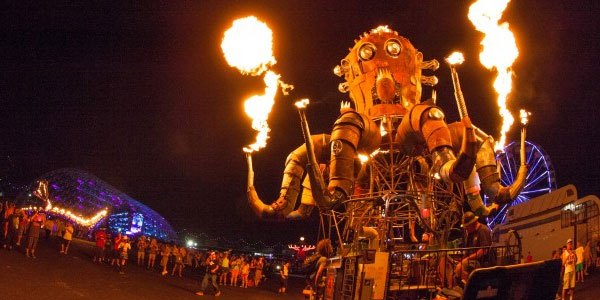 Hotels
You're going to need a place to stay, and we're obviously going to suggest staying at Las Vegas hotels. We know that partying nonstop for three days looks good on your social media accounts, but you're not actually going to do it. And deep down you know that. Hell, we're party goddesses and we only went non-stop for 52 hours at EDC 2015. Don't compare yourself to us. If you're looking for something right near the Speedway then you've still got some time. Hurry and book a room today. Otherwise we know a guy who's renting his van out on Airbnb.
Your best options are always on the Las Vegas Strip. Those silly people who aren't into blaring EDM and rainbow miniskirts probably won't be trying to book for that weekend, so you've got free reign for now. As long as you stay at hotels on the Las Vegas Strip or downtown Las Vegas hotels you'll be sure to find transportation out to the festival grounds. Speaking of…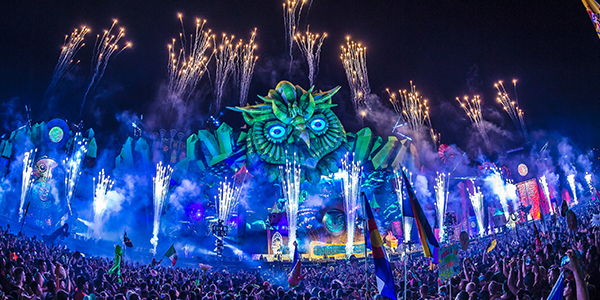 Camping
You read that right. Festy goers will be able to camp on EDC grounds! But this ain't your usual "pitch a tent" camping experience. EDC camping has its own pool, go-kart race track and way more. The Oasis pool will host DJ sets and for germaphobes and earth lovers alike, this eco-friendly pool is cleaned and filtered every hour on the hour. But like we said, there's activities out the wazoo. Aerobics, yoga, hula-hoop classes, a barbershop, guided meditation and so many more things are available for campers to enjoy. If we're being honest, this place should probably be its own festival. But back to the camping, the ShiftPod2 tents come equipped with air-conditioning, pillow, beds and linens. Even better? You ain't gotta set the tents up or tear them down. Dream come true? We think yes.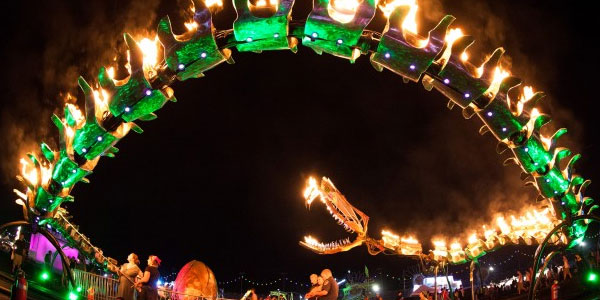 You can rent cars in advance. You could also just go out and buy a car and keep it in your garage until EDC. If you're going to do that, could you buy us one too? We'll be your BFFFEs. We've seen people trying to ride bicycles out to the fest. We don't recommend that. But honestly, you've got some time to figure that out. What really important is getting to Vegas.
Airlines have some good deals when you book early. We have good deals all the time and you should totally just book a Las Vegas vacation package with us. Not to self-promote, even though this is our website and our Best Price Guarantee is pretty great. Whatever you do, don't wait too long to book your flight. Most people do it second after buying tickets. Be one of the smart ones who gets it all done early.