On May 5, 1862, Mexican troops beat the French during the famous Battle of Puebla, defending their independence. Mark the historic day of Mexican unity and patriotism with a festive celebration. Check out the parties, pubs/restaurants and entertainment.
Cinco de Mayo Parties and Events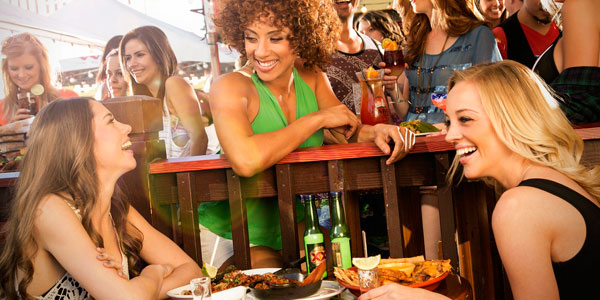 Cabo Wabo Cantina, located inside Miracle Mile Shops at Planet Hollywood Resort & Casino, will celebrate Cinco de Mayo with drink specials, live music and more on its Strip-side patio. Drink specials will include the Cabo flight, three sample shots of different Cabo Wabo tequilas, including blanco, reposado and anejo, priced at $21; a variety of ice-cold cervezas and signature margaritas priced at $14. Live music on the patio will begin at 7 p.m., and will continue late into the evening.
Aliante Casino Hotel will celebrate Cinco de Mayo with music and drink specials at The Salted Lime on Thursday, May 5. The festive Mexican restaurant will host a Cinco de Mayo celebration complete with live Latin music, a complimentary shot of Cazadores tequila for each diner and two-for-one Roca Patron margaritas.
Social media personality and international model Jessa Hinton will host T&T's "Sexy de Mayo Très" fiesta in honor of Cinco de Mayo from 6 to 9 p.m. on Thursday, May 5. The celebration will include a variety of food and drink specials, interactive games and more throughout the evening. The restaurant with offer a Mexican pizza priced at $10. Those looking to really get the party started can partake in the Cincorita made with El Jimador tequila or bottles of Dos Equis, both priced at $5.
Get ready for an epic fiesta at Crazy Horse III! The gentlemen's club will offer Cinco de Mayo specials all day on Thursday, May 5. Along with hundreds of entertainers, the club will offer its "Double D" special, featuring buy-one-get-one shots of DeLeón tequila throughout the night to pay homage to the holiday.
TREVI Italian Restaurant inside The Forum Shops at Caesars will honor Cinco de Mayo with a specialty tequila cocktail exclusively on Thursday, May 5. TREVI will toast to Mexico with the sweet and spicy Mariachi Mule, made with Sweet Heat Tequila, Crabbie's Ginger Beer and lime, priced at $12. In addition, guests joining TREVI for an Italian twist on the Cinco de Mayo celebration may enjoy happy hour specials from 2 to 6 p.m. and 9 p.m. to close, including fried calamari, eggplant crisps, homemade meatballs, and more, all for $6, as well as additional drink specials at the bar.
Celebrate Mexico's Independence Day at El Cortez with traditional Mexican snacks and drinks at all casino bars. Guests will receive free chips and salsa and the bar will offer drink specials including $5 Patron shots and Patron margaritas, available only on May 5, 2016.
Dog Haus Vegas will celebrate Cinco de Mayo with happy hour and drink specials Thursday, May 5. Dog Haus Vegas' exclusive Cinco de Mayo celebration will feature $5 tequila shots and happy hour all day. Happy hour food and drink specials include dog, burger and corn dog sliders, fries and tater tots for $1.25 each, along with two-for-one craft beers and red and white Haus wine.
Hussong's Cantina at the Shoppes at Mandalay Place will feature special offers in honor of Cinco de Mayo May 5 - 8. Enjoy $5 pints of Corona Light, Modelo Especial, Negra Modelo and Pacifico; $35 beer towers of Corona Light, Modelo Especial, Negra Modelo and Pacifico; $20 pitchers of Corona Light, Modelo Especial, Negra Modelo and Pacifico; $20 Buckets of Corona Extra, five per bucket; $12 Casa Noble Reposado Original Margaritas and $4 Casa Noble Crystal shots.
La Comida will keep the tequila and beer flowing with Cinco de Drinko, a three-day triple fiesta celebrating Cinco de Mayo, the cantina's three-year anniversary and the birthday of resident "funologist" John 'JOD' O'Donnell, from Thursday, May 5 through Saturday, May 7. Mariachi will perform throughout the three-day weekend, which will also feature piñata smashings and the Cinco Trio: a fish taco, a Coronita and shot of Milagro tequila, priced at $9.99.
Pink Taco celebrates Cinco de Mayo with food and beverage specials and a Pinko de Mayo fiesta on May 5. The Pinko de Mayo fiesta will kick off at 6 p.m. In addition to the party inside the restaurant, Pink Taco's patio will have a taco cart serving chicken and steak tacos, street corn and adult snow cones; piñatas stuffed with a mix of candy and prizes; a Don Julio Blanco tequila ice luge; beachside games such as cornhole and beer pong; music from a DJ and a mariachi band; and much more. Patrons can also participate in taco eating contests throughout the night. The first person to finish 25 tacos will win a Pink Taco T-shirt and gift certificate.
El Burro Borracho, Guy Fieri's Mexican-inspired restaurant at Rio All-Suite Hotel & Casino, will be celebrating Cinco de Mayo all weekend long. On Thursday evening, restaurant guests will be treated to live entertainment while enjoying the famed chef's take on tacos, burritos, nachos and more. On Friday, May 6 and Saturday, May 7, El Burro's taco shop will be open from 11-4 p.m. at VooDoo Beach, where guests can eat, drink and fiesta poolside.
Carlos 'n Charlies at Flamingo Las Vegas will be throwing an all-day fiesta with live entertainment and the following drink specials- $5 shots of el Jimador- 9 a.m. to close; $5 Bloody Marys, mimosas and frozen margaritas – 9 a.m. - noon; 2 for 1 frozen margaritas & Bud Light drafts- 2 – 6 p.m. & 9 p.m. - close; Guests can purchase all-you-care-to-drink packages from 10 p.m. - close.
Gold Spike will throw a Drinko de Mayo party starting at 6 p.m. featuring drink specials ($3 Modelo Especial and Pacific pints, 6 – 9 pm; $4 Modelo Especial and Pacifico pints, 9 pm – 4 am; $5 Corona and Corona Light bottles and Casa Noble Crystal shots, all day), food trucks, Mariachi band, Skee Ball lanes, and a tequila limbo contest. DJs IMPAkt and Wizdumb will play in the Living Room, and live music from Avivado (aka Stoked!).
The Plaza Hotel & Casino has a weekend full of festivities planned for the Cinco de Mayo holiday. Under the dome, guests will be greeted with a DJ and festive décor, including an eight-foot-tall piñata that will be popped at 6 p.m., a photo booth with life size Fiesta Couple cutouts, and Pin the Tail on the Burro. Zaba's Mexican Grill will be selling refreshments under the dome May 5-7 from 11 a.m. until 8 p.m., including chicken and beef burritos for $5 as well as chips and guacamole for $3. Beer Garden will also offer a $15 Mexican beer bucket special and tequila shots for $3 each. There will be special entertainment Thursday, May 5 through Saturday, May 7. Los Gitanoz will play top 40 Spanish and English hits in the Omaha Bar, located off of the casino floor, on Thursday, May 5 from 8:30 p.m. to midnight. Hugo Mix Rancheras will perform Cumbia and the top 20 Spanish Billboard hits in the Beer Garden next to the Plaza's iconic dome May 5-6 from 5 to 10 p.m. and May 7, 2 to 10 p.m.
Oscar's steakhouse inside the iconic glass dome will offer a special cocktail to celebrate Cinco de Mayo. On May 5, Palomas made with Cazadores Reposado Tequila, Crème de Pamplemousse, Jarritos Grapefruit Soda, lime juice and a pinch of salt and served on the rocks in a Burgundy glass with a Grapefruit garnish will be available for $7.
Best Cinco de Mayo Bars in Vegas
Vegas is home to several Mexican restaurants and festive bars where visitors can celebrate Cinco de Mayo. These bars are fun any day of the year, but come Cinco de Mayo they can't be beat for the fun atmosphere, mouthwatering margaritas and Mexican cuisine.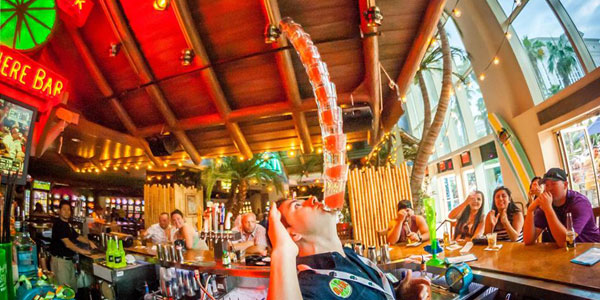 Cabo Wabo Cantina at Planet Hollywood: Sammy Hagar's bar is definitely about partying, but it's also about having some good food and keeping things just a little more laid back than usual. The menu features tasty Tex-Mex cuisine and lots of tequila including Hagar's own Cabo Wabo brand. There is also a Strip-side patio, which is a great place for watching all of the action.
Carlos 'n Charlie's at the Flamingo: From the same team that created south-of-the-border sensation Señor Frogs, comes Carlos'n Charlie's, the laid-back restaurant and bar that is one of the most popular destinations in Mexico. Carlos'n Charlie's is known for partying and the place to party is outside on the massive wooden deck overlooking the Flamingo's lush pool and garden area. Guests are free to unwind and encouraged to dance to the tunes of the '70s, '80s and current hits of today. Party-goers can choose from an extensive bar menu featuring Carlos'n Charlie's famous margaritas, sangria and a lengthy selection of signature cocktails.
Diablo's Cantina at the Monte Carlo: Diablo's is Vegas' take on a Mexican cantina. With drink specials offered up at the whim of a party wheel-of-fortune, lots of entertainment options, a large outdoor patio and better bar food than you'll find just about anywhere, Diablo's is a hot spot in Las Vegas nightlife for good reason.
Señor Frog's at Treasure Island: Every day is spring break at Señor Frogs. The well-known Mexican party staple has brought its raucous brand of fun and its anything-goes atmosphere to Las Vegas with a location at Treasure Island. Those who have visited a Señor Frog's in Mexico on spring break know that it's all about partying and drinking. The staff makes sure you are having a good time whether it's pulling you out onto the dance floor or encouraging you to participate in a beer-chugging contest. Señor Frogs serves just about every rum and tequila-based drink you can think of including margaritas, daiquiris, mojitos and more, which you can take to go in a souvenir palm tree-shaped cup.
Jimmy Buffett's Margaritaville at the Flamingo: There's no better place to grab a margarita than a place called Margaritaville. Buffett fanatics will get their fix as the singer's signature songs play continually along with accompanying video throughout the restaurant. Patrons can also dance the night away to live entertainment, performing both indoors and outdoors. The three-level facility features a large outdoor balcony overlooking the Strip. There are several bars including the centerpiece Volcano Bar, a three-story volcano that erupts over the bar, spilling margarita mix into two giant 300-gallon blenders every hour.