Celebrate Cinco de Mayo in Vegas in 2017!
Before we throw back too many shots, let's get a few facts straight about Cinco de Mayo – no, it isn't Mexican Independence Day. Bear with us we promise shots will follow. On May 5, 1862 Mexican troops beat the French during the famous Battle of Puebla defending their independence. And for that reason, it marks a historic day of Mexican unity and patriotism – which basically led to a huge party you didn't want to miss. And for that, one tequila, two tequila, three tequila, floor. It's tequila time, let's go on an adventure.
Cinco de Mayo Parties and Events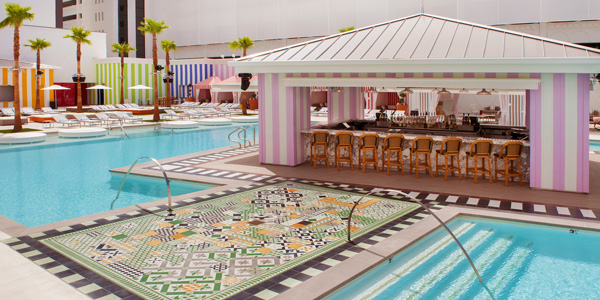 Foxtail
Suns out, guns out. There's no better way to drink tequila than poolside where you can catch some rays and a good buzz. Make it a party and buy a bottle – this is a fiesta, not a siesta. For $500 you can get your hands on a bottle of Grand Patron Platinum, a 12-pack of Corona and chips and salsa to soak up all the drinks you're about to consume. Hell, what else do you really need?
Therapy
If you're not singing by the end of the night, you definitely didn't hold your own in the tequila department. Therapy, in downtown Las Vegas, is going all out with $5 Dos Armadillos tequila shots and $10 margs. If you're a tequila snob, this is the perfect spot to plop your culo.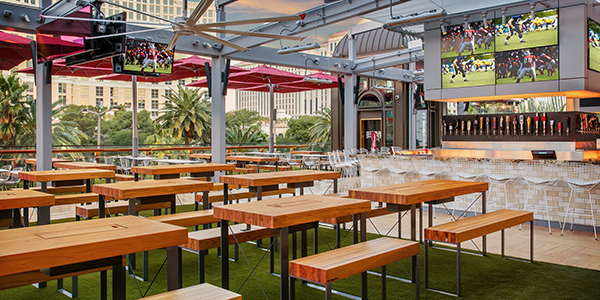 Beer Park
Taco carts, rooftop party and a lot of tequila. These are our three favorite things, can you blame us? Beer Park has the best real estate when it comes to finding a party – it's right in the middle of the Strip and gives you something pretty to look at (aka the Bellagio Fountains) and all the other shaking mamis. Here's the breakdown of deals: $3 tacos, $9 Hornitos tequila shots and views on views on views. This shots for you.
El Cortez
Don't worry you haven't had that many tequila shots yet. El Cortez coincidentally has a Spanish name and is in the middle of all the action. So obvs, it's only proper that they have drink specials throughout the whole joint. Purchase a $5 Patron drink from any casino bar and get a free taco ticket. Hang on to those – they'll come in handy five or six drinks down the line. And if that wasn't enough – they'll also have a mariachi band from 9 p.m. – 11 p.m.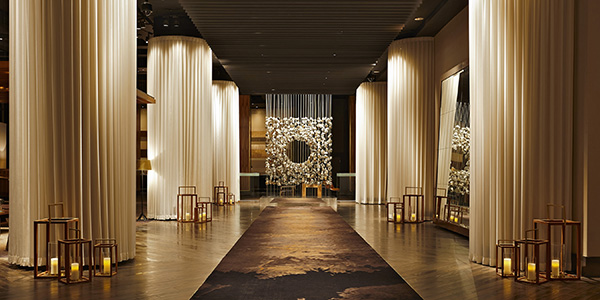 Delano
Get the most out of the special holiday by heading to the Delano. For $100 you get the whole package. Start off with a cocktail reception, move to a 4-course dinner and end with a super swanky party with saucy Latin performance, Andy Vargas. We understand that not all parties end in a blackout haze – but at least you still have a chance. Dig in, Cinco de Mayo is about to party on your taste buds.
Best Cinco de Mayo Bars in Vegas
Vegas is home to several Mexican restaurants and festive bars where visitors can celebrate Cinco de Mayo. These bars are fun any day of the year, but come Cinco de Mayo they can't be beat for the fun atmosphere, mouthwatering margaritas and Mexican cuisine.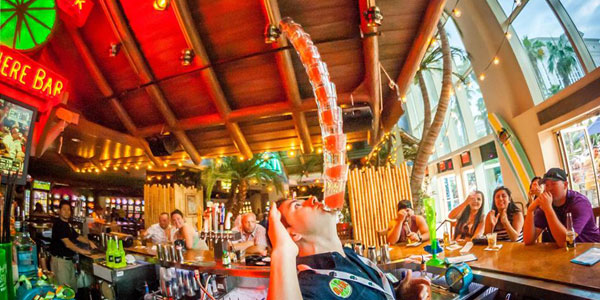 Cabo Wabo Cantina at Planet Hollywood: Sammy Hagar's bar is definitely about partying, but it's also about having some good food and keeping things just a little more laid back than usual. The menu features tasty Tex-Mex cuisine and lots of tequila including Hagar's own Cabo Wabo brand. There is also a Strip-side patio, which is a great place for watching all of the action.
Carlos 'n Charlie's at the Flamingo: From the same team that created south-of-the-border sensation Señor Frogs, comes Carlos'n Charlie's, the laid-back restaurant and bar that is one of the most popular destinations in Mexico. Carlos'n Charlie's is known for partying and the place to party is outside on the massive wooden deck overlooking the Flamingo's lush pool and garden area. Guests are free to unwind and encouraged to dance to the tunes of the '70s, '80s and current hits of today. Party-goers can choose from an extensive bar menu featuring Carlos'n Charlie's famous margaritas, sangria and a lengthy selection of signature cocktails.
Diablo's Cantina at the Monte Carlo: Diablo's is Vegas' take on a Mexican cantina. With drink specials offered up at the whim of a party wheel-of-fortune, lots of entertainment options, a large outdoor patio and better bar food than you'll find just about anywhere, Diablo's is a hot spot in Las Vegas nightlife for good reason.
Señor Frog's at Treasure Island: Every day is spring break at Señor Frogs. The well-known Mexican party staple has brought its raucous brand of fun and its anything-goes atmosphere to Las Vegas with a location at Treasure Island. Those who have visited a Señor Frog's in Mexico on spring break know that it's all about partying and drinking. The staff makes sure you are having a good time whether it's pulling you out onto the dance floor or encouraging you to participate in a beer-chugging contest. Señor Frogs serves just about every rum and tequila-based drink you can think of including margaritas, daiquiris, mojitos and more, which you can take to go in a souvenir palm tree-shaped cup.
Jimmy Buffett's Margaritaville at the Flamingo: There's no better place to grab a margarita than a place called Margaritaville. Buffett fanatics will get their fix as the singer's signature songs play continually along with accompanying video throughout the restaurant. Patrons can also dance the night away to live entertainment, performing both indoors and outdoors. The three-level facility features a large outdoor balcony overlooking the Strip. There are several bars including the centerpiece Volcano Bar, a three-story volcano that erupts over the bar, spilling margarita mix into two giant 300-gallon blenders every hour.