The Big Game and Valentine's Day aren't the only parties going on in Vegas in February. Every year we like to throw a party for Lunar New Year. Don't be surprised to see parade-like lion dances winding their way through casinos. Restaurants will be offering special meals to celebrate, and you'll see beautiful displays of flowers at the Bellagio Conservatory and Venetian - Palazzo Atrium. Many hotels put up decorations and symbols of luck throughout their properties. Who couldn't use a little more of that when they're in Vegas? Each year is a new celebration and 2017 is the Year of the Rooster, beginning Jan. 28.
Lunar New Year 2017 Events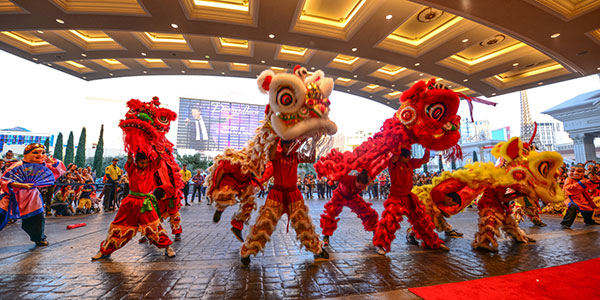 Traditional lion and dragon dances:
LINQ Promenade: Jan. 27 at 6 - 9 p.m., Jan. 28 and Jan.29 at 1:30 - 9 p.m., Jan. 30 at 6 - 9 p.m.
Fashion Show Mall: Jan. 27 at 6:30 p.m.
Venetian - Palazzo: Jan. 28 at 3 p.m.
Aria: Jan. 28 at 4 p.m.
Downtown Las Vegas & Container Park: Jan. 28 at 11 a.m. to 6 p.m.
MGM Grand: Jan. 29 at 4 p.m.
Forum Shops at Caesars Palace: Jan. 30 at 10 a.m.
Bellagio: Jan. 30 at 6:30
Palace Station: Jan. 30 at 7:15 p.m.
Golden Nugget: Jan. 31 at 5 p.m., 6 p.m. and 7 p.m.
Other Celebrations
Chinese New Year in the Desert at the LINQ
Enjoy a variety of performances, activities and celebrations at The LINQ Promenade Jan. 27 and 30 from 6 to 9 p.m. and Jan. 28 and 29 from 1:30 p.m. to 9 p.m. All events are complimentary and open to the public. The New Year will be greeted with a live authentic dragon dance, an eye-painting ceremony and performers dressed in elaborate costumes. Dragon dance performances by Sichuan dance troupe will also be held nightly at 6 p.m. Join thousands of people around the world on Jan. 27 to toss their red ribbons up into the wishing tree with the hope that it will stick and their wish will come true for good fortune in the coming year. The High Roller will be colored red and gold all weekend to celebrate the new year.
DragonFest Benefit Concert
The LINQ Theatre will host a benefit concert with performers from a variety of local and international Chinese troupes. Here's your moment of "awww," the J.D. Miller Middle School will join the Sichuan Song and Dance Theater Company onstage, Jan. 29 from 2 - 4 p.m. as they ring in the new year.