You may be asking yourself, "what's the difference between Cirque du Soleil shows in Las Vegas?" Well, we're glad you asked. For starters, they're some of the best shows on the Las Vegas Strip. Known for their illustrious sets and world-class entertainment, each large-scale production creates an almost dream-like sequence for audience members to enjoy. Their cutting-edge technology harnesses elements like fire and water and is paired with eye-popping performances from spiraling aerialists to underwater dancers. Cirque collaborates with some of the most-talented performers from all over the world, to deliver a truly impressive experience you won't soon forget. Great for families, couples, groups and even solo seats, there's a Cirque du Soleil show for everyone.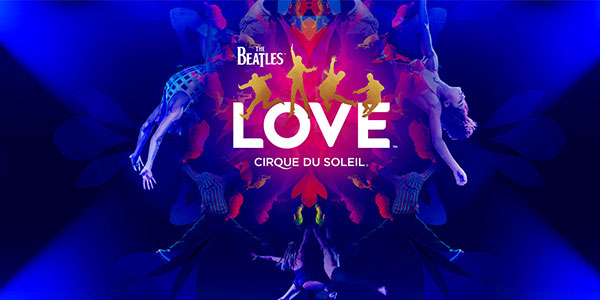 All you need is LOVE, and a ton of great music and stunts to make one of the best Cirque du Soleil shows around. Celebrating the timeless tunes of a group of gangly British teens, LOVE is a testament to the impact John Lennon, Paul McCartney, George Harrison and Ringo Starr had on people all over the world. Set to the backdrop of the psychedelic '60s, LOVE explores political issues and social strains during the Vietnam War. But their songs "All You Need is Love," "Yesterday" and "Hey Jude" encourage a message of solidarity through these tough times.
What you'll love:
Of course, the aerialists, acrobatics and stunts are amazing, especially in a round theater. But when you see these incredible feats of strength and agility, choreographed to music that changed the course of history, it moves your soul. Considered a rock 'n' roll poem by its creators, this timeless show has also won three Grammys.
Who it's for:
Music lovers. LOVE is vibrant, playful and poetic, making it appeal to a wide variety of audiences, including kids. But at the heart of this show is the legacy the band and their music left on the world.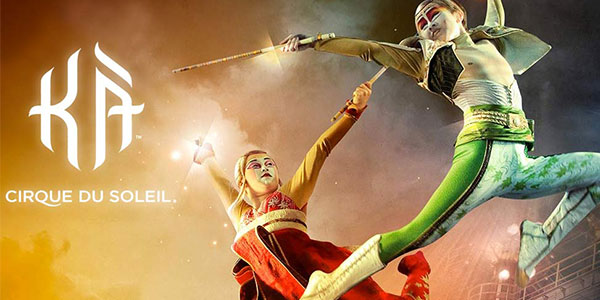 If action is what you want, there are no better fight sequences in a Cirque du Soleil production than in KÀ. While the plots are not always crystal-clear in other Cirque shows, KÀ is easy to follow. It's a tale of a brother and sister who are torn apart during war. The brother searches high and low for his sister, encountering villains from distant lands until the show culminates in a Hollywood-worthy fight scene.
What you'll love:
The unbelievable stunts take place around the theater, putting the audience in the heart of the action. But the most impressive detail is the 360 degree-rotating, hydraulic stage that spins, floats and even turns completely upright, setting the scene for vertical combat you won't find anywhere else.  
Who it's for:
Good for just about everybody, KÀ has a mass appeal that is perfect for adventure lovers and action-movie buffs. And if no one in your party is scared by loud sounds or special effects, it's also considered family-friendly.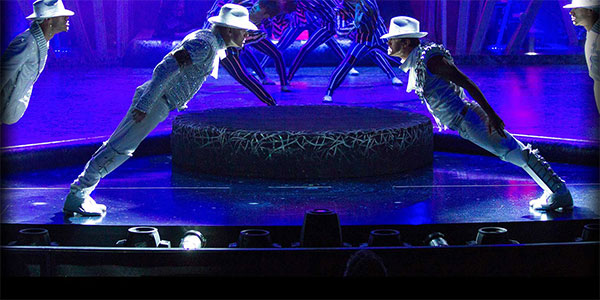 Icon, legend, history maker, Michael Jackson ONE embodies the spirit of Cirque du Soleil and delivers dance moves befitting of the "King of Pop." The soaring acrobats create an immersive experience by flying down from the ceiling, racing through the aisles and performing stunts that make you want to get up and dance. The show follows four adventurers as they battle the pressures of constantly being in the spotlight. Finding strength and courage from some of Jackson's most memorable objects (his white glove, his signature dance shoes and more). Cirque du Soleil pulls out all the stops (and then some) with Michael Jackson ONE.
What you'll love:
The timeless music you still play in your car, played through a state-of-the-art surround-sound system. You'll sing along to all of his hits while the Cirque cast recreates the dance moves MJ was known for. That's right, you'll recognize some of the choreography from Jackson's most popular music videos. And the use of trampolines, slacklines and other objects to pull off their jaw-dropping stunts only gets you more into the show. If you were a fan before, you'll be a super fan after this Cirque du Soleil show.
Who's it for:
People who love to sing and dance. If you're a big Michael Jackson fan, or your loved ones are, you'll think this Cirque show has the best music. It's fun for the whole family and from beginning to end, you'll have a hard time staying in your seat.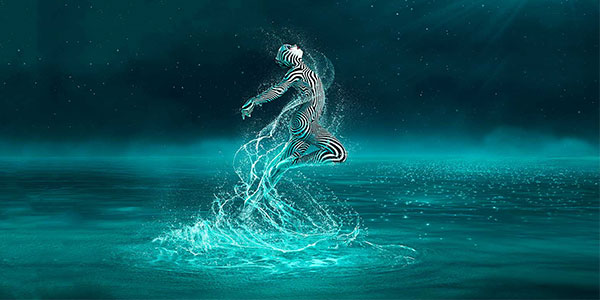 "O" by Cirque du Soleil is an aquatic wonderland in the middle of the desert. With a 1.5-million-gallon pool as the main stage, it's one of the only marine features that comes close to complementing the Bellagio Fountains. The show is an abstract celebration of all things nautical with its own ghost ship, synchronized swimmers and divers who leap from 60 feet above into impossibly small holes in the stage. Pair that with Cirque's signature aerialists, acrobats and incredible set design and you've got yourself one unparalleled show.
What You'll Love:
Quite simply: the water. An homage to the French word "eau," which literally translates to "water," this Las Vegas show is all things H2O, all the time. There are 150 techs that work on the production and 80 of them are certified scuba divers. But what's really mind-blowing is what you don't see. There are 14 underwater technicians during each and every performance offering oxygen and other support services to submerged performers.
Who it's for:
The theatre lover. "O" is a classic Cirque show, wrought with elegance and sophistication. So, if you appreciate fine art and theatrics, this is the show for you. While it is kid-friendly, make sure they are entertained by a good water ballet before you book these tickets.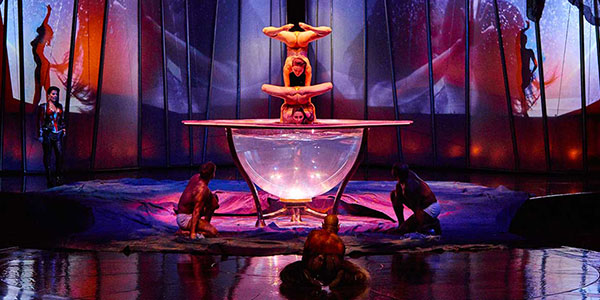 Welcome to the sexy, saucy side of Cirque du Soleil. This erotic cabaret-style show features raunchy and raucous acts that'll give you a case of the nervous giggles. Nearly-nude performers slip and slide over each other in bath tubs, swing from leather straps and chains and insinuate erogenous group activities, if you know what we mean. Hosted by an over-the-top drag queen, this hilarious show features Cirque's always-impressive acrobatics, but they're laced with enough sensuality to put the "sin" in "Sin City."
What you'll love:
The audience participation. You'll feel like you stumbled into a den of seduction and forbidden delights, where you're encouraged to let your hair down and throw caution to the wind. The liberation from polite society gives you a heady sense of amusement. Pair it with some naughty jokes and scantily-clad performers, and you've got yourself one deliciously-pleasurable evening.
Who it's for:
Leave the kids at home because this adult-oriented show is great for bachelor parties, bachelorette parties and couples, alike. The exploration of your most primal urges is not for the faint of heart, so be prepared to let loose, laugh and love every naughty minute.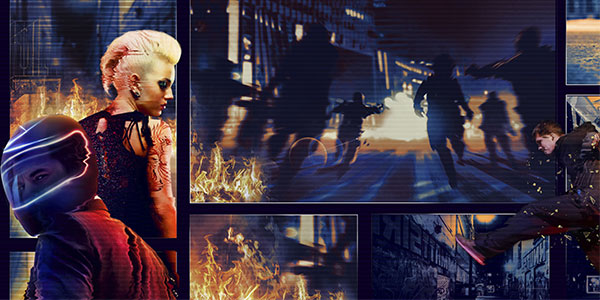 Their first live-action thriller, R.U.N is unlike any other Cirque du Soleil production in the world. This adrenaline-fueled show is packed with octane-induced stunts and immersive experiences for the audience. More reminiscent of a graphic novel than a traditional Las Vegas show, R.U.N has a gritty, cinematic feel that drops audiences in the middle of sets you're more likely to see in Grand Theft Auto or a Jason Statham movie. Follow the cast as they run for their lives, from whom or what remains to be seen.
What you'll love:
The stunts. You won't find the usual acrobatics here, only heart-racing, blood-pumping tricks. With insane parkour and motorcycle stunts, pyrotechnics, a narrator and live DJ, R.U.N is a white-knuckle ride you won't forget.
Who it's for:
This sinister side of Cirque is an unexpected departure from what we've come to expect from the entertainment juggernaut. That's why this show is perfect for a Millennial crowd who can appreciate a good Quentin Tarantino-esque torture scene.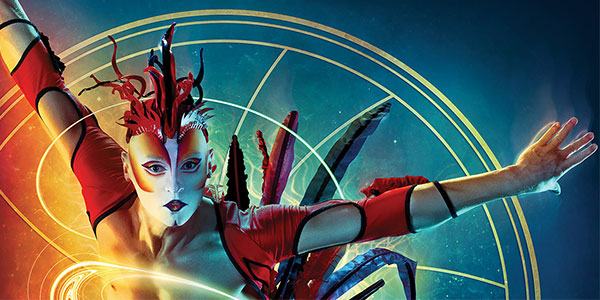 Opening on Christmas Day in 1993, the magical, mystical Mystère has been entertaining audiences longer than any other Cirque du Soleil show in Las Vegas. Filled with graceful dancers, ethereal acrobatics and enchanting creatures, this show is quintessential Cirque. There is no singular storyline to follow here, just a vibrant array of acts that include high-flying trapeze artists, a mischievous giant baby, an inflatable snail, Jack's beanstalk towering above the stage and so much more. And if you're on a budget, Mystère typically has the best price point.
What you'll love:
The costumes and props. This elaborate production is an exploration through a child-like imagination, so everything about the show is grandiose. The costumes are unusual and quirky, emphasizing each performer's expressive movements.
Who it's for:
This is one of the best Las Vegas shows for kids. The most family-friendly Cirque du Soleil show in the bunch, Mystère will appeal to those who want to entertain children of all ages.