About Us
Vegas.com Press Releases
VEGAS.com Creates Unique Vacation Experience with its New Vegas Insider Card™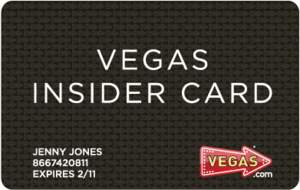 (LAS VEGAS, May 4, 2010) -- What's better than being a Vegas VIP? Being a VEGAS Insider. VEGAS.com, the world's largest city travel web site, launches an exclusive way to get all the great perks of a local, by using the VEGAS Insider Card™. Travelers who make a purchase of $200 or more on VEGAS.com for any Vegas hotel stay, air/hotel package, show ticket, nightclub pass or tour will receive a personalized insider card to enhance their trip. By flashing their insider card, VEGAS.com customers gain special access to retail shopping discounts, show merchandise discounts, dining and drink specials, spa bonuses and more. Equipped with both a magnetic stripe and bar code, the card will tie back into future technological innovations created by VEGAS.com.
"There's nothing better than having the insider experience in Vegas," said Howard Lefkowitz, president and CEO of VEGAS.com. "VEGAS.com has always made the 'high-roller' vacation affordable and easy to research, but with the VEGAS Insider Card™ customers can enhance their trip even further with perks for almost anything you can do here."
The VEGAS Insider Card™ features countless deals and add-ons from dozens of hospitality partners in and around Las Vegas. Card members benefit from deals designed exclusively for them, and 24/7 customer service provided by the local experts at VEGAS.com, should they need help redeeming offers or selecting activities.
Those who qualify will receive the card in the mail before their trip date and can simply show the card at any participating partner for the desired deal or giveaway. To find out more about this program and see the most up-to-date deals, visit www.vegas.com/insider.
About VEGAS.com
VEGAS.com is the largest city destination travel website in the world with extensive, constantly updated information and a full range of travel products including hotel rooms, air-hotel packages, show tickets, tours and golf. A state-of-the-art contact center provides customer support, expert information and sales 24 hours a day, 7 days a week, 365 days a year to complement the information on www.VEGAS.com and espanol.VEGAS.com. VEGAS.com, through its Casino Travel & Tours unit, operates retail and concierge desks at more than 70 locations including the Palms, Paris, Harrah's, Bally's, Mandalay Bay, Excalibur, New York-New York, Luxor and more. The company also offers a variety of excursions including city tours, the Hoover Dam and the Grand Canyon. VEGAS.com is a member of the Greenspun Family of Companies, privately owned and operating in Southern Nevada for more than 60 years.
Media Contact:
Michelle Kruczynski / Terri Maruca
Kirvin Doak Communications
mkruczynski@kirvindoak.com / tmaruca@kirvindoak.com
702-737-3100