Planning a wedding can be stressful – especially if you're coming to Las Vegas from out of town and aren't familiar with all of the ins and outs of weddings here. Or maybe you weren't planning a wedding at all but spontaneously decided to get married in Vegas once you were here.
We have a few tips for anyone getting married in Las Vegas that will help make planning your big day a little easier: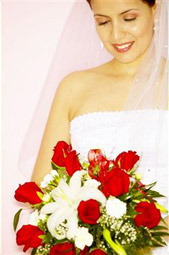 Keep holidays in mind when choosing your Las Vegas wedding date. Valentine's Day is a hugely popular date for weddings in Las Vegas, and while it might seem romantic, you may change your mind after waiting in line for a wedding chapel for up to five hours. New Year's Eve is another busy wedding day in Las Vegas. It's also party central for tourists, which means your out-of-town wedding guests may have trouble finding a flight or a hotel room unless you book a year in advance. Keep in mind that reception sites also will be booked solid during these holidays.

If you're bringing guests, consider a Las Vegas hotel chapel wedding. You'll save money on the accommodations if your party stays at the hotel where your wedding is held. Hotels are also staffed with all the vendors you need to plan your entire wedding and you can save money by booking an all-in-one package. Look for packages that include your caterer, décor, flowers, music and photography. At many of the casino chapels, you'll score yourself the much-needed services of a wedding coordinator for free – because it's usually included in the overall package price. Given the complications of a destination wedding, having a planner in Vegas can be a godsend. Let someone else see to the details while you can have a stress-free day!

Want a ceremony that is completely different? Vegas does unusual weddings better than anyone. Whether it's pirates, Elvis, mobsters, dancing fountains or the Eiffel Tower, Vegas has a unique wedding for you. 

Vegas is all about giving you choices on what you want to do. And when it comes to your wedding we have more than hundred wedding chapels who can help you tie the knot. Each offers their own unique packages, from hotel chapels to local wedding chapels catering to your specific needs, Vegas has the chapel for you.

A wedding in Las Vegas requires some advanced planning – not just for the couple, but also for their families and friends! Airfare and time off from work are just a few of the considerations they'll need to handle. So send save-the-date cards with hotel, transportation and other pertinent information well ahead of the nuptials to prevent your guests from missing out on the action.

Las Vegas has beautiful, sunny weather most of the year. However, even though the summer months are popular for weddings, the weather here can be extremely hot and downright uncomfortable if you're dressed in a tuxedo or a long, heavy gown. The hot sun can melt everything from the bride's makeup to the icing on the wedding cake. Las Vegas temperatures can top the 100-degree mark from May until September. However, temperatures can be pleasant at night, so you might want to think about an evening ceremony if you absolutely must get married during the summer. Check out our weather section for a list of average temperatures.

Couples can speed up the process by filling out their marriage application in advance and bringing the completed application with them.  The form must be submitted in person. Applications and marriage license instructions are available on the marriage bureau's website.

Do you and your intended come from a foreign country? Make sure you know the legalities over there so that your marriage will be validated when you return home. Although a wedding in Las Vegas is fast and easy, it may not be recognized in your native land (which is rare!) or it may just require some extra paperwork. For example, British citizens must provide formal notification of an overseas marriage with the General Register Office (GRO) by depositing a certified copy of their marriage certificate and an Apostille from the Nevada Secretary of State.

Book your wedding during the off-season. Search for local vendors and call casinos and hotels to find out what time of the year their rates are the lowest.

Since Las Vegas has no waiting period for getting married, spur-of-the-moment weddings are a common occurrence. So where can you find a wedding dress with only a couple of hours notice? There are several places in Vegas that actually rent wedding dresses. Who wants to spend $2,000 on a dress you're only going to wear once anyway? Oh, and remember the 100-degree temperatures? You might want to pick a dress that's sleeveless.

What if you come to Las Vegas to get married but you don't speak English? Have no fear. Many wedding chapels in Las Vegas will perform ceremonies in Spanish, French, Italian, German, Japanese and other languages. Check out our hotel chapel guide to find chapels that offer foreign language ceremonies.

Forget your rings at home? Or need rings for a last-minute wedding? There are numerous jewelry stores in Las Vegas (and inside hotels) offering a variety of price ranges for rings or other wedding jewelry. Many of the stores have extended hours to accommodate weddings at any time of the day.

If you're looking for an easy, no-fuss way to feed your wedding guests, try a hotel buffet. Buffets in Las Vegas have private rooms that can accommodate large parties. You generally only have to pay for the specific number of guests you have, not for how many you anticipate like at some reception venues, which means you won't be paying for any no-shows. Another benefit is that you don't have to choose a menu for your guests. Each guest gets to choose exactly what they want to eat, which means everyone goes home happy.

If you're not booking your wedding in a chapel where the package includes a cake, ask your hotel concierge for some suggestions on local bakeries. The hotel convention and catering staff can also provide cakes. Or check out some of the luxury chocolate stores in town like Jean Philippe Pâtisserie where they also do amazing cakes.

If your reception is relatively small, you could book a nice hotel suite that might be less expensive than booking a traditional reception space. A benefit of a suite is you don't have to worry about everyone being out of the space at a set time like you would with a reception hall.

If you're from out of town and you're in Vegas for your wedding, you will probably want to find a hairstylist to help you prepare for the big day. Most large hotels have a spa and/or salon on site and they can help you with hair, makeup, manicures, pedicures and more before your big day. You also might want to try a local salon off the Strip. In either case, be sure to book your appointment well in advance and keep those holidays and weekends in mind. The salons can get booked up fast. There also are some services in town that will come directly to your hotel room to fix your hair for your wedding.

Vegas hotels are well known for providing a romantic atmosphere for your honeymoon. You can book suites with amazing views of the city or hotel rooms with whirlpool tubs. Any hotel concierge can also help set up romantic touches in your room like strawberries and champagne or rose petals.

In the nights following your wedding, put on a couple of "Just Married" T-shirts and hit Sin City's most talked about bars and nightclubs. You just may score yourself some free drinks!