Las Vegas is known for its many wedding chapels and crazy themed ceremonies but if you're looking for something a little more romantic -- perhaps in an outdoor setting or a location with breathtaking views -- there are many choices. From gardens to lakes to mountains, Las Vegas has the perfect place for you to celebrate your wedding. Here are some of our choices for the most romantic wedding locations in town:
Springs Preserve
The Springs Preserve, a 180-acre cultural center, offers both indoor and outdoor ceremonies and is committed to sustainability and making wedding ceremonies green. Some of the scenic locations available include the courtyard rotunda, which features a grand staircase; an arboretum where you can wed amidst lush botanical gardens and the courtyard plaza with trees adorned with white lights. The Springs Preserve can also accommodate receptions at the Springs Cafe, which offers a 180-degree view of Las Vegas from floor-to-ceiling windows and an outdoor balcony.
Lake Las Vegas
What could be more romantic than a lakeside wedding? Lake Las Vegas, located about 17 miles from the Strip, offers beautiful desert and mountain scenery in a romantic Italian village setting. You can choose to get married in the village at a wedding gazebo with lake views or near a fountain with a lakeside background. Lake Las Vegas is also home to the Ravella hotel, which has several wedding packages with locations like a white sand beach or a Tuscan-style courtyard. The Westin hotel at Lake Las Vegas also hosts weddings in its beautiful gardens or courtyard with views of the water. End your wedding day with a romantic gondola ride on the lake and kiss under the Ponte Vecchio bridge.
The Smith Center 
The Smith Center is a beautiful art deco-style performing arts center downtown that can host elegant weddings in a one-of-a-kind setting. Couples can get married in the stunning Reynolds Hall, the more intimate Cabaret Jazz room or an outdoor courtyard.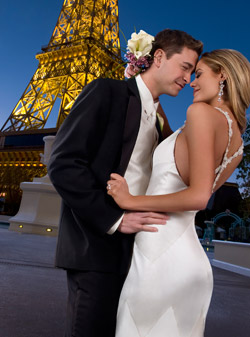 Bellagio Fountains
The Bellagio Fountains offer a spectacular backdrop for weddings. The Bellagio features its Terrazza Di Sogno wedding package where you can be married on a terrace overlooking the hotel's lake. To add to the romance, the Bellagio Fountains will soar at the moment when the bride and groom kiss.
The Eiffel Tower at Paris Las Vegas
Every girl dreams of falling in love in Paris, so why not get married there? The Paris Chapel at Paris Las Vegas makes that a possibility, giving you the chance to exchange vows in an exquisite Parisian setting. Packages even include a ceremony atop the Eiffel Tower, overlooking the Las Vegas Strip amid the romantic air of Paris Las Vegas. It's sure to be a once-in-a-lifetime experience not soon forgotten.
Red Rock
Just 20 miles from Las Vegas lies a brilliant red splash of sandstone that proves Mother Nature can put on a show worthy of any Las Vegas act. The strata of exposed rocks reveals more than 500 million years of geological history. The canyon is a bed of an ancient deep sea, where over time sediments washed in and the water evaporated. The boulders and pinnacles range in color from deep red to white. The red color is the result of weathered iron composites. Red Rock's natural beauty provides the perfect backdrop to make any wedding more breathtaking. Red Rock is visible from a number of areas around Las Vegas, including golf courses and country clubs in the Summerlin area. You also can check with the Red Rock Canyon National Conservation Area (702) 363-1921 for renting picnic areas.
Mount Charleston
If pine trees and crisp mountain air are more your fantasized scenic wonder, check out Mount Charleston. It is Nevada's fifth highest mountain at 11,918 feet and offers skiing in winter and weekend scenic tours during the summer. Mount Charleston is located 36 miles north of Las Vegas on Highway 95 in the Toiyabe National Forest. Two large picnic areas are available for reservation if you'd like an outdoor wedding. Contact the U.S. Forest Service at (702) 872-5500 for more information. Or, if you'd like a more formal wedding with the romance of a mountain backdrop, try the Mount Charleston Hotel & Restaurant at (800) 794-3456.
Lake Mead
How's this for romance -- you and your significant other exchange your vows on a boat as it glides through the water while granite cliffs tower above. Or perhaps you would prefer a ceremony along the beach. Las Vegas may be in the desert, but it's only 45 minutes from Lake Mead. Lake Mead is the largest man-made lake in the Western Hemisphere. It was created by the Hoover Dam along the Colorado River and occupies about 1.5 million acres with 820 miles of shoreline. Lake Mead offers year-round recreation, everything from boating to swimming to hiking to wildlife viewing. Lake Mead facilities include eight campgrounds, five motels, six RV campgrounds with hookups, four marinas, boat and jet ski rentals, beaches and restaurants.
Spring Mountain Ranch
Nestled at the base of the Spring Mountain Range, Spring Mountain Ranch has hosted everything from raiding mountain men and Ute Indians to the famed Krupp diamond. It's a unique combination of Hollywood glamour and Western charm. In its early history the ranch was home to cattlemen. In 1929 the ranch became the property of Willard George, a prominent Hollywood furrier who raised chinchillas in addition to cattle. In 1944, the ranch was leased to Chet Lauck, famed for his character as Lum on the "Lum and Abner" radio show. In 1955 Lauck sold the ranch to Vera Krupp, wife of German munitions industrialist Alfred Krupp von Bohlen und Halbach. The ranch was renamed Spring Mountain Ranch and was Vera Krupp's residence until 1967. Her bedroom and secret passageway are just as they were when she owned the ranch. Spectacular views of the surrounding mountains and the historic ranch house make it an ideal spot to marry.