Almost 120,000 people get hitched in Las Vegas annually, so it goes without saying that some of your favorite actors, actresses, musicians and other assorted celebrities are part of that big love-in. If you choose to marry in Vegas, you'll be in luminous company: some distinguished (Paul Newman and Joanne Woodward) and some ridiculous (Dennis Rodman and Carmen Electra -- why?), but all as bright as any star in the sky.
Dec. 9, 2011 - - Sinead O' Connor, famous for her hit, "Nothing Compares 2 U," wed therapist Barry Herridge, whom she met on the internet. The couple got married in the back of a pink Cadillac at the Little White Chapel in Vegas on her 45th birthday. Seventeen days later, O'Connor announced their marriage ended. However, on Jan. 3, 2012, O'Connor announced on her website the couple reunited. This is her fourth marriage.
May. 20, 2011 - Actor Doug Hutchison, best known for roles in "The Green Mile," "Lost" and "24," married former beauty pageant queen/aspiring pop star Courtney Alexis Stodden in The Little Chapel of Flowers. At the time of wedding, he was 51 and she was 16. While Stodden wasn't of age to marry, her mother signed a consent form to permit the marriage. Despite the their controversial 35-year age gap, the pair stated they are madly in love with each other. Stodden is Hutchison's third wife.
Sept. 4, 2009 - R&B singers Christina Milian and The Dream eloped at the Little White Chapel, just one week before they announced they were expecting their first child together. They had another wedding celebration in Rome, Italy. On Feb. 26, 2010, Milian gave birth to Violet Madison Nash. This was Milian's first child and the fourth for The Dream, who had three children with ex-wife Nivea. In July 2010, The Dream announced the couple's separation in late 2009, just three months after their wedding. They kept the separation a secret for the sake of their unborn child.
June 6, 2009 - Heavyweight boxing champion Mike Tyson wed girlfriend Lakiha Spicer in a private, modest ceremony at La Bella Wedding Chapel. The couple have two children, daughter Milan and son Morocco. Spicer is Tyson's third wife. Spicer lived in Henderson, a suburb just outside of Las Vegas.
Oct. 6, 2007 - Former Baywatch babe Pamela Anderson slipped away from her role as Hans Klok's magician's assistant at Planet Hollywood to wed the other star of Paris Hilton's sex tape, Rick Salomon. The courtship was brief, involving poker debts and "sexual favors," according to the 40-year-old Playboy Playmate and mother of two. The marriage was also brief, ending in an annulment just two months later, with both parties citing fraud as the reason. This was the third marriage for both Anderson and Solomon.
July 14, 2007 - She played the typical middle child, Stephanie Tanner, on television sitcom "Full House" for eight seasons. But on July 14, 2007, Jodie Sweetin became a "full housewife" when the 25-year-old actress walked down the aisle with Cody Herpin, 30. The couple tied the knot at the Little Church of the West. This is the second marriage for Sweetin, whose marriage to Los Angeles police officer Shaun Holguin ended in 2006.
April 22, 2006 - You'll be suprised - even Hollywood stars can't resist an Elvis Presley impersonator at their wedding. "Entourage" star Kevin Dillon married model/actress Jane Stuart in a downtown wedding chapel ceremony which included several serenades by Elvis. That day, Dillon also had his own "entourage" present -- co-star Jerry Ferrara was Dillon's best man while fellow cast member Kevin Connolly walked Stuart down the aisle. Stuart gave birth to their daughter Ava in May 2006.
Aug. 15, 2004 - Fashion designer Nicky Hilton wed money manager Todd Andrew Meister at the Vegas Wedding Chapel at 2:30 a.m. Tabloid princess Paris Hilton and gal-pal actress Bijou Phillips were present to witness the early morning ceremony. It was reported Paris' dog, Tinkerbell wore a tiara and carried the ring pillow. The marriage ended after less than two months.
Jan. 3, 2004 - Pop princess Britney Spears extended her New Year's festivities and wed childhood friend, Jason Allen Alexander at the Little White Wedding Chapel. Donning a baseball cap, jeans and a midriff-baring tee, her bridal attire was far from elegant. After celebrating in their hotel suite, the marriage ended a mere 55 hours later. Spears stated that she "lacked understanding of her actions." Both were 22 at the time.
July. 19, 2003 - After dating her real "King of Queens" sweetheart for seven (lucky) years, funny gal Leah Remini wed actor Angelo Pagan at Bellagio hotel's beautiful poolside. VH1's "(Inside)/Out" filmed a documentary of the events leading up to their wedding, including the actual ceremony. Remini and Pagan welcomed daughter, Sofia Bella in 2004.
Oct. 22, 2001 - In tennis, the term "love" means nothing. But with tennis champions Andre Agassi and Steffi Graf, love means the world. The couple held a private wedding ceremony in their Las Vegas home. Although both had recently come out of relationships -- Agassi's two-year marriage to actress Brooke Shields and Graf's seven-year relationship with German race car driver Michael Bartels -- they wanted to get married before becoming parents. Today, the tennis supercouple resides in Las Vegas with their son, Jaden Gil and daughter, Jaz Elle.
May 5, 2000 - With a visible "Billy Bob" tattoo on her upper arm, Angelina Jolie wed "Pushing Tin" co-star Billy Bob Thornton in a 20-minute ceremony at the Little Church of the West. The couple, who have been known to wear vials of each other's blood around their necks, both wore blue jeans for the ceremony. The marriage, the fifth for Thornton and second for Jolie, ended in divorce in 2003.
Nov. 15, 1998 - Colorful Chicago Bulls star Dennis Rodman married "Baywatch" actress Carmen Electra, whose real name is Tara Patrick, at A Little Chapel of the Flowers. Rodman reportedly tried to have the marriage annulled, claiming he was drunk at the ceremony; Electra countered that Rodman's comments had been taken out of context and that they were truly in love. Whatever the case, the move to annul has been annulled, and Electra/Rodman remain married to other people and are living as far from each other as they possibly  can.
June 5, 1997 - You're a champagne supernova, baby. One of Oasis' nefarious brothers Gallagher -- Noel, the quiet one -- married Meg Mathews at the Little Church of the West. An Elvis impersonator performed, and Beatles music was played quietly on a piano, despite Quentin Tarantino's edict that Beatles people and Elvis people shouldn't mix.
May 18, 1996 - Artis Ivey Jr. -- better known as superstar rapper Coolio -- married Los Angeles DJ Josefa Salinas. The two immediately moved into his own private Gangsta's Paradise.
May 1, 1996 - Will it last? Tune in tomorrow. "All My Children" stars Mark Consuelos and Kelly Ripa married in a touching ceremony at the "Chapel of Cheese" (according to Ripa; the name of the actual chapel apparently eluded them). The couple has three children. 
October 29, 1994 - Master impressionist Rich Little married Jeannette Markey at the MGM Grand hotel-casino.
October 27, 1991 - Oh, lay your hands on me! Two members of hit new wave trio Thompson Twins -- Tom Bailey and Alannah Currie -- married at Graceland Wedding Chapel. No laws were broken -- they're not really twins, you know.
December 12, 1991 - Ooh, they're so pretty. Squinty actor Richard Gere married supermodel Cindy Crawford in 1991 and began a whirlwind, four-year media campaign that went something like this: No, Richard is not gay. They divorced in 1995.
September 2, 1989 - Hey, we wanna be like Mike, too! Basketball legend Michael Jordan wed Juanita Vanoy in Vegas in 1989, and while Jordan has retired from playing hoops, his marriage still has got game.
August 6, 1989 - Remember when the name Corey Feldman struck fear in the hearts of moviegoers? Apparently the "Lost Boys" actor didn't intimidate "Beverly Hills 90210's" Vanessa Marcil -- they tied the knot here in 1989. But they divorced in 1993.
April 29, 1989 - He may give love a bad name on paper, but not in practice. In 1989, fluffy-hair rock star and budding actor Jon Bon Jovi married Dorothea Hurley at the Graceland Wedding Chapel. No "slippery when wet" punning, please -- we beg you.
January 21, 1989 - Following in his father's footsteps -- Fernando tied the knot here in 1954 -- Lorenzo Lamas wed Kathleen Kinmont Smith at the Graceland Wedding Chapel. They divorced in 1993, but we can hardly blame Elvis for that.
February 21, 1988 - He raced cars, he fondled women ... Dudley "Arthur" Moore married makeup artist Brogan Lane at Little Chapel of the West.
June 21, 1986 - Shortly after his Live Aid support efforts for Ethiopia -- a crusade that earned him a knighthood -- former Boomtown Rats singer Bob Geldof wed Paula Yates in The Little Church of the West. They divorced in 1995; she was later engaged to INXS singer Michael Hutchence, but he died before they could marry. Yates died in 2000.
1982 - Robert Goulet married Vera Chochorovska Novak. After the ceremony the newlyweds rode in a horse-drawn surrey down the Strip. The reception was held at the Dunes hotel-casino and was attended by 1,200 guests, some of whom could even pronounce the bride's middle name.
April 1977 - Singer/former teen heartthrob David Cassidy and actress Kay Lenz were married at the Little Church of the West. Cassidy starred in the ABC television series "The Partridge Family" opposite Danny Bonaduce, which is more than enough to make anyone seek the comforts of matrimony. He would return to Las Vegas in the 1990s to star in "EFX" at the MGM Grand hotel-casino.
October 1972 - Actor George Hamilton married Alana Collins at the Las Vegas Hilton.
June 1968 - Wayne Newton, 26, married former airline stewardess Elaine Okamura at the Flamingo Hotel. Today, although he divorced Okamura and is now married to attorney Kathleen McCrone, he's still Mr. Entertainment and his voice has changed only a little.
May 1967 - Actress Leslie Ann Warren married her hairdresser Jon Peters at the Sahara hotel-casino. Warren would go on to be a successful television star and Peters became a successful producer, pulling the purse strings on "Rain Man," Tim Burton's "Batman," the Barbra Streisand remake of "A Star is Born" and many others.
May 1967 -Rarr, rarr, rarr! Ann-Margret of "Viva Las Vegas" fame and Roger Smith, who starred in television's "77 Sunset Strip," were married by District Judge John Mowbray at the Riviera. The hotel's manager and the public relations director served as witnesses to the wedding. You gotta love it.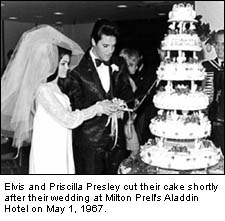 May 1, 1967 - Elvis Presley, 32, reportedly the highest-salaried entertainer in the world, married Priscilla Anne Beaulieu, 21, at Milton Prell's Aladdin Hotel. It was the first marriage for both. The couple was wed in a quiet ceremony in Prell's suite at the Aladdin at 9 a.m. The Memphis troubadour and his bride-to-be landed at McCarran Airport early in the morning and drove with friends to county courthouse where they obtained their marriage license at 3:30 a.m. Following the ceremony, attended by a few relatives and close friends, an elaborate banquet was held just below the hotel's casino. An estimated 100 people attended the reception including Mr. and Mrs. Milton Prell, the former Las Vegas Sun Publisher Hank Greenspun and his wife, Barbara, and state Supreme Court Justice David Zenoff, who performed the eight-minute ceremony.
August 7, 1966 - Latin music king Xavier Cugat and singer Charo were the first couple to exchange vows at Caesars Palace. Cugat discovered Charo -- whose birth name is María Rosario Pilar Martínez Molina Baeza -- performing in Spain in a production of "Night of the Iguana." She went on to bring a little "Coochie, coochie" into the lives of millions.
July 19, 1966 - Ol' Blue Eyes had as sure a way with the "dolls" as he had with ballads. Frank Sinatra married actress Mia Farrow at the Sands, practically Sinatra's second home for the better part of a decade. They divorced in 1968.
1965 - Actress and singer Judy Garland married Mark Herron at the Little Church of the West, then located just over the rainbow. At that point her acting career was well behind her; sadly, she died just four years later.
August 14, 1965 - Jane Fonda and director/producer Roger Vadim were married in Vegas. Barbarella, psychedela! The reception was held at the Dunes and was almost spoiled when galactic arch-villain Duran Duran tried to level the hotel with his Positronic Ray, a feat Steve Wynn would complete three decades later by simply buying the joint.
1963 - Actress/"Golden Girl" Betty White married Allen Ludden, host of television's "Password" and "Liar's Club," at the Sands hotel-casino. They remained married until Ludden's death in 1981.
1962 - Mary Tyler Moore married then-NBC Vice President Grant Tinker, a full eight years before Tinker and Moore produced "The Mary Tyler Moore Show" on CBS and Moore turned the world on with her smile. You got spunk, kid.
1959 - Under an arch knitted from Louisville Sluggers, Cleveland Indian second baseman and eventual New York Yankees manager and whipping boy Billy Martin married Gretchen Winkler at the Desert Inn. George Steinbrenner wasn't at the reception, thank God.
January 29, 1958 - Movie stars Paul Newman and Joanne Woodward were married at the El Rancho hotel-casino. They have remained married to this day. Said Newman of his professional collaborations with his wife: "You should see us when we get back to the bedroom."
December 29, 1957 - Steve Lawrence and Eydie Gorme were married at the home of Beldon Katleman in Las Vegas. Katleman was then the owner of the El Rancho hotel-casino. Steve and Eydie continue to perform to packed houses as a husband-and-wife team.
July 1956 - Broadway star Carol Channing married Las Vegas advertising and television executive Charles Lowe at a ceremony in Boulder City.
May 1955 - But you are, Blanche ... you are in that chair! Clothes-hanger fetishist Joan Crawford and Alfred Steele, then-chairman of the board of Pepsi-Cola, were married at the Flamingo hotel-casino. Steele died in 1959; a tell-all cinematic memoir of that period, "Mommie Dearest," was released in 1981, based on a novel by Crawford's adopted daughter Christina.
June 1954 -Quien es mas macho? Fernando Lamas and Arlene Dahl married in The Little Church of the West, but divorced in 1960; nine years later he married waterlogged actress Esther Williams.
May 28, 1954 - He was Spartacus, he was Vincent Van Gogh, he was master harpooner Ned Land -- but all he wanted was to be loved. Kirk Douglas married Parisian Ann Buydens at the Sahara, and they remain married to this day.
September 24, 1953 - The Sands hotel-casino was host to the wedding of singer Dick Haymes and Hollywood actress Rita Hayworth. They were married two years, then divorced. Previous to that, Hayworth had been married to Prince Aly Khan and Orson Welles.
1949 - Dahling, Zsa Zsa Gabor married actor George Sanders -- best known today as the voice of murderous tiger Shere Khan in Disney's "Jungle Book" -- at the Little Church of the West.
1943 - Actress/original "pinup girl" Betty Grable married bandleader/trumpeter Harry James in The Little Church of the West. They divorced in 1965. 
January 10, 1942 - One should hope he got a "buy one, get one free coupon" or something. Mickey "let's put on a show" Rooney first married Ava Gardner in Las Vegas at The Little Church of the West. He remarried seven more times, each time with a different blushing bride: Betty Jane Rase in 1944, Martha Vickers in 1949, Elaine Mahnken in 1952, Barbara Ann Thompson in 1958, Marge Lane in 1967, Carolyn Hockett in 1969 and January Chamberlin in 1978.