Romantic Vegas
If you want to impress your spouse or significant other with the perfect Valentine's Day getaway, Vegas is your answer. Take advantage of the city's abundance of romantic shows, attractions and restaurants.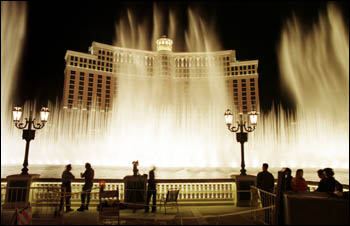 The Bellagio Fountains have been the site of many proposals and even a few weddings. Once you see the romantic setting on the lake in front of the resort, hear the beautiful music, watch the soaring water and just take in the sheer beauty of the attraction, you'll understand why.
Venice is one of the world's most romantic cities and if you can't make the trip across the pond, the Venetian hotel has created canals and gondolas modeled after the real thing. The gondolas, complete with singing gondolier, will take you on a romantic cruise through the resort's indoor and outdoor canals, and there is also a wedding gondola available, elaborately decorated in white and gold, that serves as the site for numerous wedding ceremonies.
Located just 17 miles from the Strip, Lake Las Vegas is a beautiful manmade lake featuring MonteLago Village, a shopping and dining area created to look like an Italian village. Gondola cruises are available here as well. Three boats venture out for glorious lake cruises with singing gondoliers. As is custom in Venice, couples are expected to kiss when passing under the Ponte Vecchio bridge. Guests also can request upgrades to their cruises such as roses, disposable cameras and a "Message in a Bottle." The staff also will help to arrange proposals.
Love is in the air -- literally -- at the Paris Las Vegas Eiffel Tower. For the ultimate romantic setting, there's no need to travel across the globe to capture the feeling of Paris. Visitors who venture to the top of the tower, which is a half-size replica of the real thing, will enjoy views nearly 50 stories above the ground.
For more Vegas attractions, click here.
Las Vegas is the wedding capital of the world and Valentine's Day is one of the busiest days of the year for wedding chapels here. To accommodate all of the happy couples on Valentine's Day, the Clark County Marriage License Bureau has extended hours for the holiday. For all of the information you need to know to plan your wedding, check out our wedding section. You can find all of the legal information you need to know before tying the knot in Vegas here.