Lifestyle: The Thrill Seeker
Life is short. So listen up all you adrenaline junkies -- these thrills have been hand-selected for you.
Q: I want to be close to the thrill rides. Where should I stay?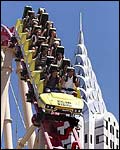 A: Ah, you've got a great selection. Stay at the Stratosphere, and you'll be near the Big Shot, Insanity and X Scream, and Circus Circus is home to the Adventuredome. And at New York-New York you have The Roller Coaster; and the midway. Heading out near Primm? You'll want to stay at Buffalo Bill's to be near the Desperadoroller coaster.
Q: What rides are the best?
A: This one is a tough call. We have tons of rides, including the popular The Roller Coaster at New York-New York. Other favorites are X-Scream, Insanity and the Big Shot at Stratosphere. The best time to go up there is at night, when you can see Vegas at its finest. Real adrenaline junkies can take the plunge and jump of the top of the Stratosphere Tower at SkyJump. Other great thrills: the Canyon Blaster at the Adventuredome, or Turbo Drop and Desperado in Primm. Desperado will scare the scream right out of you!
Q: What else should I check out?
A: When you visit the Adventuredome, be sure to check out other rides such as Canyon Blaster,Chaos,Disk 'O, Inverter, and the motion rides.
For those of you who are into fast cars, head out to the Las Vegas Motor Speedway. You can drive a race car or ride along with an experienced driver. The state-of-the-art Pole Position Raceway features indoor race karts guaranteed to stimulate both novice and experienced drivers.
Looking for wild outdoor adventures? Then check out Flightlinez Bootleg Canyon.
If you're seeking an out-of-this-world experience, check out ZERO-G, a unique attraction which allows guest to experience commercial weightless flights. Used by NASA to train its astronauts, individuals can feel true 'weightlessness' without going into space. The adventure takes place inside a Boeing 727-200 aircraft complete with a padded floor and walls.
Q: Is there anywhere to go skydiving in Vegas?

A: Do you want to take the plunge indoors or outdoors? If you can handle jumping out of a plane, there are several skydiving companies in Vegas you can call to take you up. Check the phone book in your hotel room or ask the front desk. If the great outdoors is not for you, you can find an indoor wind tunnel at Vegas Indoor Skydiving.