Romantic Spots in Las Vegas
So you want to win her over with a romantic Las Vegas trip. We like your style.
Q: Where can I find sweets for my sweetie in Vegas?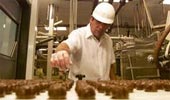 A: When we want to impress the ladies with some sweets, we make a stop at the Ethel M Chocolate factory . If you can't make it out that far, you'll find Ethel M Chocolates for sale at the Showcase Mall , the Fashion Show mall and various hotels in town. Jean Philippe Pâtisserie not only features a freestanding fountain of flowing chocolate, it also offers amazing chocolates, as well as a variety of delectable pastries and other goodies. If she's into the high-end chocolate, make sure to make a trip to Caesars Palace and check out Payard Pâtisserie & Bistro and Vosges Haut-Chocolat.
Max Brenner, Chocolate by the Bald Man at the Forum Shops at Caesars Palace offers an array of chocolate items including fondue for two and cozy mugs of hot chocolate.
Sugar Factory at Paris Las Vegas has an adjacent chocolate lounge that serves candies, fondue and the most delectable drinks you'll find in a sophisticated, romantic atmosphere.
If you really want to make a statement, you can spoil her with the $750 cupcake at Sweet Surrender, inside The Shoppes at Palazzo . This fancy cupcake is made up of rare Venezuelan chocolate, Tahitian gold vanilla caviar (which takes almost a year to make) and is topped with Louis XIII Remy Martin Cognac and gold flakes. Talk about a cupcake fit for a princess!
Q: Where is the most romantic view in Vegas?
A: We have a couple of contenders for this title -- the observation deck of the Stratosphere Tower and the view of the Bellagio fountains from the Eiffel Tower at Paris. There also are a number of restaurants at Bellagio offering a fantastic view of the fountains, including Prime and Jasmine. The Foundation Room at Mandalay Bay features an exclusive balcony with an awesome view of the Strip. If sharing your view with hundreds of other lovers fits your concept of romance, you might enjoy the views from Mix at THEhotel, the VooDoo Lounge & Cafe at the top of the Rio or ghostbar or Moon at the top of the Palms. At Wynn's Bartolotta Ristorante di Mare , diners may opt to sit at one of the cabana tables, which overlook a lake dotted with shiny silver globes.
Q: What romantic restaurants or bars would you recommend?
A: Now you're talking. Mon Ami Gabi at Paris incorporates a view of those fab Bellagio fountains with an authentic Paris outdoor café setting. Try André's , a rustic and friendly Vegas original. More romantic eateries with great views include Alizé or Nove Italiano at the Palms and Top of the World at the Stratosphere, Mix , atop THEhotel at Mandalay Bay, offers amazing views of the Strip and you can get a romantic table on the outdoor balcony. The Capital Grille , located on the third floor of the Fashion Show mall, also caters to more expensive palates. For a casual, elegant atmosphere dine at The Country Club at the Wynn. Here, you'll also get a gorgeous view of the hotel's golf course.
The Peppermill Fireside Lounge is a great place to take a date for drinks. This old-school Vegas spot has cozy firepits and cocktail servers in long black gowns.
Another romantic spot with a view is Mandarin Bar at the Mandarin Oriental. This hidden hot spot on the hotel's 23rd floor features dim lighting, floor-to-ceiling windows and jazz music. What could be more romantic than that?
Q: Besides eating and looking at nice views, what else can we do that's romantic?

A: Very few places are more romantic than Lake Las Vegas, where you can take your sweetie on a moonlit dinner cruise on the gondolas -- there are even champagne and chocolate packages available. For something closer to the Strip, check out the Gondola Ride at the Venetian. Maybe a couples massage is what you need to get in the mood. Check our spas page -- most of these places offer some sort of package for pairs. For something romantic and adventurous, treat yourself and your honey to the Rasul Ceremony for Two at Venetian's Canyon Ranch SpaClub.
If you visit in the colder months, nothing says "romance" like a horse-drawn carriage ride through the snow at the Mount Charleston Lodge. You can also rent one of the cabins and cozy up with your sweetie by the fireplace.
Q: What are some romantic shows to see in Vegas?
A: In the Entertainment Capitol of the World, there are plenty of shows for couples who want a little romance.
Beatles fans can't go wrong with "LOVE Cirque du Soleil" at the Mirage. You won't want to miss hearing your favorite songs brought to life by the fantastical Cirque du Soleil performers in this show. Hearing the music and seeing the stunning imagery is an experience worth sharing with your sweetheart.
Fantastical dreams become reality in this bedtime story about a woman saying goodnight to her man and then drifting off to sleep dreaming about her prince charming. French for the dream, "Le Rêve" at Wynn depicts a colorful aquatic wonderland of beautiful and mystifying characters that perform in, on and around a 68-and-a-half-foot pool.For couples who want an extra-special experience the show offers champagne circle seating featuring chocolate dipped strawberries, chocolate truffles and a complimentary bottle of champagne. Now that's something to celebrate.
Couples who want to see something different, edgy and with a whole lot of sex appeal will have plenty to enjoy at "Zumanity, The Sensual Side of Cirque du Soleil" at New York-New York. This show takes couples for a walk on the wild side. Through stunning imagery, aerialists, comical vignettes and sultry dancing each scene portrays a different theme of sexuality from playful lust to self-inflicted pleasure and pain. This show is naughty by nature and even has a segment in it where audience members are asked to join in a simulated group orgasm. There's no shortage of excitement here.
Q: We'd love to get married in Vegas, where do you recommend?
A: Ah, here in Vegas, we've got something for everyone when it comes to tying the knot. If you want to get married by Elvis, (and really, who doesn't?) check out the Graceland Wedding Chapel . If you're looking more for a themed wedding, you'd love the Viva Las Vegas Wedding Chapel. If you'd like a more elegant affair, you'd love the chapels at Bellagio, Paris or the Venetian. Of course, the number of choices when it comes to wedding chapels in Vegas is almost endless, so check out our chapels and hotel chapels pages for listings of the most popular. But if you want to get above all the hustle and bustle of the Strip, opt for a romantic champagne helicopter wedding, offered by Maverick Tours . For more romantic wedding ideas, click here.