Travel Tips for a Las Vegas Road Trip
So you like to hit the open road, do you? Well, you're not alone. Never fear, our Las Vegas road trip guide will keep you on the straight and narrow!
Q: I'm coming from Los Angeles. What is the traffic like on a holiday weekend? Is it worse than any other weekend?
A: On any weekend, you'll see traffic. To make your drive to Vegas a little more pleasant, check out our laundry list of tips for L.A. drivers on our L.A. Drive Guide page. Before you go, check out our reservations system for the best deal on your hotel room.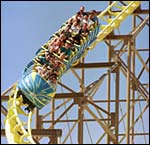 Q: Are there any attractions along the way I shouldn't miss?
A: About halfway to Vegas, you'll hit Barstow -- it's a good place to stop and fill your tank and your stomach, and gas is usually cheaper than the other big stop along the way, Baker (home to the world's tallest thermometer and the Mad Greek diner).
If you need a longer break, Barstow also has an outlet mall. As you cross the border into Nevada at Primm, you'll see Buffalo Bill's. The roller coaster there, Desperado, features one of the tallest and fastest roller coasters in the nation. Try the other thrill rides too. You can get wet on the Adventure Canyon log flume ride. There's also an outlet mall next door in the Primm Valley Resort & Casino, and it's one of the better ones -- the Fashion Outlets of Las Vegas.
Q: I've only got a few days. Where do I connect with the "in" crowd?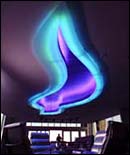 A: Here are your absolute musts: The Chandelier bar, a multistory bejeweled wonder, at The Cosmopolitan, Ghostbar -- it's on the 55th floor of the Palms (be sure to line up early, as this one always fills up fast), Haze at Aria is always a party, and don't miss LAX. To see pop, hip-hop and rock stars, Pure at Caesars and Tao at The Venetian are a must.
Q: I'm coming in from Arizona. What do I need to know before I leave?
A: Because of security at the Hoover Dam, traffic backs up quickly there. It's usually at its worst in the midday, so plan your drive accordingly. While you are there, stop and take the tour. Hoover Dam has a great view and a lot of Art Deco style. The visitor's center provides a great history of the dam's construction.
Of course, there's now a faster route into Las Vegas via the four-lane Hoover Dam bypass bridge (formally known as the Mike O'Callaghan-Pat Tillman Memorial Bridge). It opened in October 2010 and is the longest concrete arch bridge in the Western Hemisphere. It sits 840 feet above the Colorado River. However, you cannot stop on the bridge and views of Hoover Dam are not available from the road. Instead there's a parking area on the Nevada side where an exhibit about the construction of the bypass bridge has been set up. Pedestrians are welcome to walk through that and onto the bridge for an unforgettable, bird's-eye view of Hoover Dam and Black Canyon.