Planning a Class or Family Reunion in Las Vegas
Vegas is a great place to gather the family or your friends and enjoy fantastic food, spectacular shows and each other's company. Use our guide below to make the most of your upcoming class or family reunion in Las Vegas.
Q: I'm meeting up with six of my buddies in Vegas -- we're all married men with kids, but want to have a respectably crazy Vegas weekend.
A: Since you're only here for the weekend, here are some quick picks: Hit Casa Fuente in The Forum Shops at Caesars or Napoleon's Cigar Bar/Lounge over at Paris Las Vegas. You can bring your own stogies or take your pick from their well-stocked humidor. Visit Stripsteak at Mandalay Bay for some fine dining and a hearty steak dinner. Or you might check out the Golden Steer, just off the Strip. Opened in 1958, it's got a swanky Old Vegas vibe. For your nighttime festivities, try titillating shows like "Fantasy" at Luxor or "Peepshow" at Planet Hollywood Resort & Casino. Catch a comedy act if a night of laughs is more your game. If you are looking for a place to enjoy a few drinks and maybe some live music stop by Jimmy Buffet's Margaritaville at the Flamingo. There is an outdoor balcony area where you can check out all the action on the Strip while sipping a specialty margarita. If you really want to let loose, head over to VooDoo Lounge at the Rio or Tao at the Venetian. They both have restaurants where you can have dinner and then party at the club afterwards to avoid waiting in line. For late night munchies, Vegas steak dinners are a must. And sometime during the weekend, make your way over to the Carnival World Buffet at the Rio -- it has become a Vegas classic.
Are you and your buddies golf lovers? Of course you are. In between your shows and dinners, book a little tee time on one of Vegas' plentiful fairways. Another great way to spend the afternoon and fuel men's competitive streaks is to race karts at the Pole Position Raceway.
Q: We are planning a family reunion in Vegas for 25 people, ages 15-74. What hotels and restaurants can accommodate us?
A: Twenty-five people? Wow! What an entourage. VEGAS.com can easily take care of you. Send all inquiries and requests to our group specialist. Now, regarding restaurants. Many people means many taste buds. First off, let's get the obvious out of the way: Buffet, buffet, buffet and more buffets. But don't despair. Buffets are not your only options. Here's a list of a few of the many restaurants that offer private dining or who cater to big groups at a good price: Buca di Beppo,Prime at Bellagio and Delmonico Steakhouse at the Venetian.
Q: I'm coming to Vegas with my girlfriends from high school. We want to go dancing, see a show, fancy dinners, shopping, maybe a spa. What do you suggest?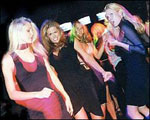 A: Sounds like you want a fun-filled, all-out weekend...with a hint or relaxation, of course. Spend Friday night dancing at Carnaval Court located in front of at Harrah's. This always-happening hot spot offers live music and flair bartenders who add to the entertainment. You can party all night without the pomp and circumstance of being at a nightclub. Further south on the Las Vegas Strip you can enjoy the pre-dancing hours sipping martinis in the The Chandelier bar at The Cosmopolitan. The next day, get buffed, wrapped and massaged over at Canyon Ranch SpaClub at the Venetian. It is the largest spa in town with 62 treatment rooms. If you are looking for something more intimate, visit the Spa at the MGM Grand. For the after-dinner stop, make your way to Chateau at Paris Las Vegas. This sprawling nightclub boasts an elegant interior with ornate chandeliers and a marble mantel fireplace, along with a Strip-facing terrace situated directly beneath the replica of the Eiffel Tower. If you are up for another night of dancing head to Diablo's Cantina at the Monte Carlo. There is a restaurant downstairs and a bar up top where you can dance on the balcony while staying in tune with all the action on the Strip below. And to top the night off, share in the experience of keepsake mementos -- get yourselves small, inconspicuous tattoos.
Finally, a fun and unique bonding activity -- just for ladies -- that is unique to Vegas is to take stripper classes. Stripper 101 at the V Theater. Alternatively, if you prefer to see men take it off, head over to Chippendales at the Rio.