Lifestyle: The People Watcher
So you've heard that Vegas is a great place to see celebs and other beautiful people. Well, you've heard right. Here are a few places you can go to and watch all the action.
Q: I'm addicted to celebrity gossip and would love to see some stars while in Vegas. Where's the best place to observe them?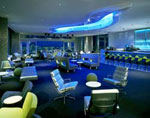 A: Planet Hollywood has a 1,500-seat showroom that is sometimes used to premier motion pictures. Downstairs the Extra Lounge is the Las Vegas headquarters for the correspondents and crew of television's "Extra."
Next stop would be to park yourself in the patio dining area of Spago at the Forum Shops. Celebs love to shop and they love to do it at this extravagant mall. Crystals at City Center is an incredible high-end entertainment, dining and shopping complex filled with stores the celebs love to shop at.
If you're more in the mood for clubbing, check out Chateau at Paris Las Vegas. It's a virtual celebrity playground every weekend. Tao at the Venetian and Haze at Aria are also hot spots for the celeb crowd. If you're looking to spot a celebrity in a restaurant, try N9NE at the Palms or anywhere at the Hard Rock Hotel. Those two hotels are where you'll have the most success in stargazing. STK at The Cosmopolitan is also known to attract the celebrities for dinner.
The stars always seem to stop by Sugar Factory at Paris Las Vegas for dinner and one of the couture lollipops for sale in the retail store.
Whenever there's a major boxing match or awards show, you can't turn around without seeing a celebrity. Most of those events are held at either MGM Grand or Mandalay Bay.
Vegas is convention central, and some of the big shows attract the big stars. MAGIC and ShoWest are two that are attended by a lot of Hollywood's heavy hitters.
If it's a show you want to see, the celebs seem to flock to Cirque du Soleil's Beatles extravaganza LOVE at the Mirage. They're also often spotted taking in the big headliners at Caesars Palace like Celine Dion and Shania Twain.
And if all else fails, we have just one word for you: Palms .
Q: Vegas seems so glamorous. Where do the young, beautiful people hang out?
A: If you want to see the young kids having a grand time in Vegas, head over to the Hard Rock Hotel . Odds are they're seeing one of their favorite headliners at The Joint . During the summer, the Hard Rock's pool area turns into Rehab , one of the most sizzling club scenes around. Another happening place is the Palms . Head up to ghostbar or Moon and check out the view of Vegas along with the view of the beautiful people. Marquee nightclub or The Chandelier bar at The Cosmopolitan are hot nightspots where you'll find a very well-heeled crowd. If you're looking for a place where the beautiful people hang out, this is it.
Q: Where's a more casual spot to watch all of the crazy party people that come to Vegas?
A: Well, apart from all of the clubs, high-end restaurants and upscale shopping there are some other fun places in Vegas where you can entertain yourself with some good old-fashioned people watching, accompanied by a few drinks of course. Head over to Cabo Wabo Cantina at Planet Hollywood. You can enjoy dinner and drinks on the patio overlooking the Strip and watch all of the people walk by.
Margaritaville at the Flamingo also has a balcony overlooking the Strip.
If you really want to see some hardcore Vegas tourists head down to the Fremont Street Experience where you will find old Vegas casinos and a multitude of wacky, tacky souvenir shops all under a canopy of neon lights.You never know who or what you are going see downtown, but is it definitely worth the trip to get a taste of some of the hotels that first put Vegas on the map -- or at least the 99-cent shrimp cocktail. While you're down there, check out Gold Diggers at the Golden Nugget, which has a balcony overlooking the whole street.