Lifestyle: The Pampered Princess
The French villa is being remodeled. You're tired of Beverly Hills. And the vacation home in Martha's Vineyard can be so dull. So you've come to Vegas for a little vacation and expect to be treated like royalty? Well, with our help, you'll get nothing but the best.
Q: First things first, I need to shop.
A: When only the best will do, visit the Forum Shops or the Grand Canal Shoppes for stores such as Gucci, Armani, Jimmy Choo, Judith Leiber and Burberry. Fashion Show mall is a must if you're looking for Talulah G. or Louis Vuitton. Neiman Marcus and Saks Fifth Avenue also can be found there, and if you're too jet lagged to do the shopping yourself, they even offer personal shopping services. And for the absolute crème de la crème, stop by Via Bellagio, home to Tiffany & Co., Fred Leighton, Prada and Hermès, or Wynn Esplanade, which features Manolo Blahnik, Cartier, Jean Paul Gaultier, Oscar de la Renta and Louis Vuitton. Just steps away at Encore Esplanade shoppers can check out the Chanel store, which resembles Coco Chanel's apartment in Paris. For hardcore Louis Vuitton fans, there is a two-story store inside Crystals at CityCenter. And last but certainly not least, you can visit Barney's New York at the Shoppes at the Palazzo.
Q: I'm exhausted from shopping and desperately need a spa. Which one is the best in town?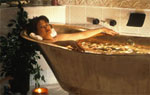 A:Canyon Ranch at the Venetian has to be seen to be believed. If you're staying at one of the hotels inside CityCenter, the complex offers three spas that are in close proximity to each other. These include Vdara, Mandarin Oriental and Aria. If you really want to escape the hustle and bustle of the Strip, other fabulous spa getaways include Spa Mandalay, and the Spa Moulay at the Loews Lake Las Vegas Resort. The Spa at Encore is a luxurious 60,000-square-foot facility. The spa features several areas to relax before your treatment including a den with a fireplace and a wet spa area with hot and cold plunge pools. Separate quiet lounges for men and women are also available where guests can indulge in the tranquil ambiance before their treatment begins.
Q: Where should we stay? Money is no object.
A:Bellagio and Four Seasons have continuously set the standard in beauty, luxury and guest satisfaction. Venezia, the tower at the Venetian, has some of the most extravagant suites in town, and we can hook you up with a good deal. Wynn Las Vegas, Encore and Aria all set a new example of fine living. If you want the utmost in luxury and customized service the 47-story Mandarin Oriental in Vegas can't be beat. Check in is on the resort's 23rd floor Sky Lobby, featuring incredible views of the Strip.
If you're willing to trade the fast-paced feel of the Strip for something a little more laid back, Loews Lake Las Vegas Resort would suit you perfectly.
Q: I'm famished and need world-class cuisine pronto! Where should I go?
A: If world-class cuisine is what you are looking for, you've come to the right place. Home to a number of the world's top chefs, Vegas offers some of the best in fine dining. The finest gourmet evening has to be Joël Robuchon at The Mansion at MGM Grand. For award-winning French cuisine, try Picasso or Le Cirque. For the ultimate French cuisine experience, be sure to make reservations for Guy Savoy far in advance. Nobu at the Hard Rock is the place to go for sushi. And for Italian food, you can never go wrong with Postrio or Spago. When it comes to French cuisine, Twist at Mandarin Oriental has everything you need to straighten out your hunger. Three Michelin Star Chef Pierre Gagnaire excites the palate at this fine dining restaurant located off the 23rd floor of the Mandarin's lobby.
Q: What shows should I see?
A: Vegas is known for its wide variety of entertainment and perhaps the most popular production show is "O" at Bellagio. A cast of 81 swimmers, acrobats and other performers has left audiences in awe for almost a decade, and the show is still going strong. If you'd like to enjoy champagne and chocolate-covered strawberries during a show, Le Rêve offers Champagne Circle seating. For guests who want to take a walk on the wild side and have plush seating to comfort them along the way, Cirque du Soleil's Zumanity at the New York-New York has just the thing. This show features a series of vignettes that each explore a different theme of sexuality. The show offers sofa seating for two for guests who want to be close to all the action on the stage and each other.
Q: I need a change of pace. What is something special we can do in Vegas?
A: Unless you're from England, you probably won't find a better high tea anywhere else than Bellagio and Four Seasons. If you are looking to get off the Strip, take a relaxing ride in the Gondolas at Lake Las Vegas. During the summer months, you can be fed frozen grapes while lounging alongside the Garden of the Gods pool at Caesars Palace. It just doesn't get much better than that.